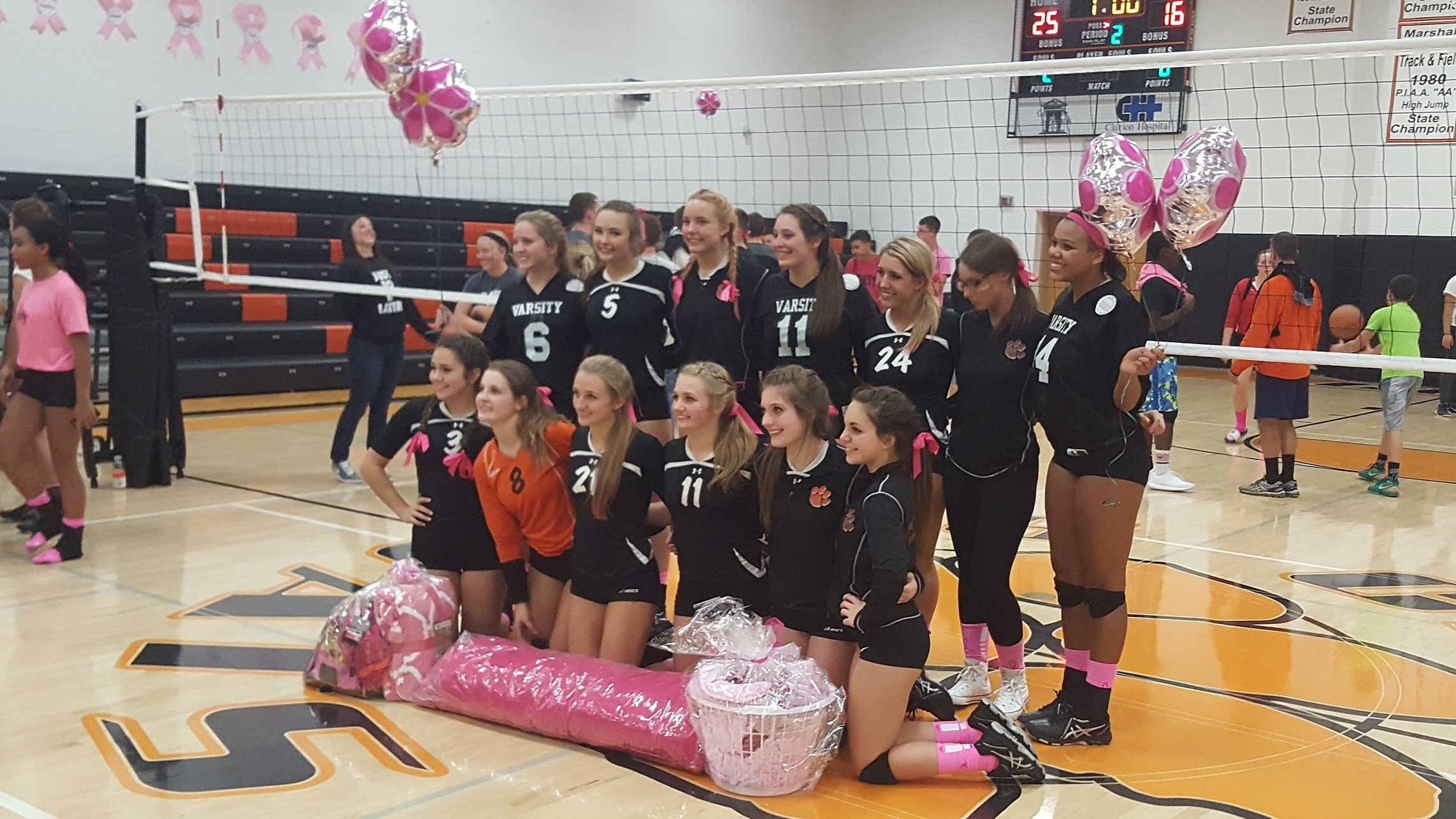 Oct. 13 volleyball and soccer recaps.
CLARION 3, REDBANK VALLEY 0
CLARION, Pa. – After losing the KSAC crown last year to A-C Valley, Clarion reclaimed its place on top of the conference with a 3-0 (25-11, 25-21, 25-16) win over visiting and previously unbeaten Redbank Valley.
Gloria Kroh had a strong match for the Lady Cats with 31 set assists, 10 digs and four kills, while Olivia Burns added nine kills, Dorothy Kalinowski eight kills and a block and Maya Thornton seven kills.
Heather Traister and Macy King each had six kills for Redbank Valley with Traister adding four blocks.
OTTO-ELDRED 3, COUDERSPORT 1
COUDERSPORT, Pa. – Otto-Eldred took a large step towards claiming the North Tier League title by going on the road and beating Coudersport, 3-1 (25-22, 25-18, 24-26, 25-20).
With the victory, the Lady Terrors swept the season series from Coudersport and hold a two-game lead, which is really three with the tiebreaker over the Lady Falcons in league play with just five conference matches left.
Camryn Thomas led Otto with 13 kills and four aces with Alyssa Shelander adding 12 kills, 16 digs and two aces. Tiffany Blair also had 11 kills, eight digs and four aces for the Lady Terrors who also got 11 kills, 17 digs and two aces from Ali Cousins and 32 set assists and two aces from Emily Smith.
Ally Easton had 11 kills and six blocks to lead Coudersport with Kiara Perkins adding eight kills and Ady Paige five. Joplin Osgood had 38 digs with Macy Gleason adding 234 digs. Haley Keck had 27 set assists.
A-C VALLEY 3, MERCER 0
MERCER, Pa. – Thanks to a kill/dig double-doubles by Josey Terwilliger and Olivia Boocks, visiting A-C Valley rolled past Mercer, 3-0 (25-14, 25-15, 25-14).
Terwilliger had 14 kills and 15 digs, while Boocks added 11 kills and 10 digs. Sydney Rankin also had a double-double with 17 set assists and 12 digs while also adding six aces.
Kylee Eaton added 10 kills for the Lady Falcons with Emily Wetzel chipping in 20 set assists.
BRADFORD 3, RIDGWAY 1
BRADFORD, Pa. – Bradford rebounded from a marathon first-set loss to visiting Ridgway to top the Lady Elkers, 3-1 (31-33, 25-22, 25-10, 25-9).
Kam Piscitelli and Ashton McGriff each reached double-digits in kills for the Lady Owls with Piscitelli finishing with 16 kills, five aces and three blocks and McGriff getting 14 kills and two blocks.
Katie O'Neill added eight kills and three blocks for Bradford, Bryn Manion had four kills, two set assists and a block, Lauryn Kahle seven set assists, Bri Buck six digs and an ace, Brinya Moffett three kills and two blocks and Morgan Roggenbaum 34 set assists and three aces.
Emily Fullem led Ridgway with 11 kills with Hannah Park and Toni Della each adding four kills. Kylee Wall had 13 set assists.
CLARION-LIMESTONE 3, VENANGO CATHOLIC 0
STRATTANVILLE, Pa. – Paige Aaron had nine set assists, three aces and two kills to help Clarion-Limestone to a 3-0 (25-10, 25-17, 25-18) win over visiting Venango Catholic.
Nikki Shumaker added two aces for the Lady Lions, who also got two kills from Amanda Kucic and seven set assists from Maddi Griffith.
SMETHPORT 3, OSWAYO VALLEY 1
SMETHPORT, Pa. – Abbey Woodard and Katie Treat combined for 41 kills in a 3-1 (25-23, 17-25, 25-15, 25-15) Smethport win over visiting Oswayo Valley.
Woodard had 21 kills, five blocks, five digs, two aces and two set assists, while Treat added 20 kills, six digs, three blocks and two aces.
Olivia Goodwill added 10 kills, seven digs, two blocks and an ace for the Lady Hubbers, while Fait Button and Alana Durphy each had 12 digs. Meagan DeLuca set the offense with 41 set assists.
Tiffany Dickerson had seven kills, 11 blocks, a digs and four aces for Oswayo Valley with Shayla Bickel coming away with 18 digs and Maddison Miller 23 set assists and six digs.
CRANBERRY 3, UNION 0
SENECA, Pa. – Another strong match from Erin Merryman helped Cranberry to a 3-0 (25-21, 25-15, 25-23) win over visiting Union.
Merryman had 29 set assists, nine digs, five kills and a block for the Berries, while Bree Swartzfager added 10 kills, 15 digs, four aces and a block and Kaylee Weaver seven kills and a an ace. Natalie Barcinas chipped in six kills and and nine digs, Nicole Hutchison four kills and a block and Ellie Kahle 11 digs and two aces.
DUBOIS 3, PUNXSUTAWNEY 2
DUBOIS, Pa. – Lexi Ray and Danessa Allison each recorded 10 kills, as DuBois held off visiting Punxsutawney, 3-2 (23-25, 25-12, 25-13, 21-25, 15-10).
Ray added eight blocks and five aces and Allison five blocks for the Lady Beavers, who also got 17 digs from Kylee Bundy and 30 set assists from Ashley McCluskey.
ELK COUNTY CATHOLIC 3, KANE 1
KANE, Pa. – Reilly Herzing and Cassidy Cunningham combined for 25 kills to give visiting Elk County Catholic a 3-1 (10-25, 25-11, 25-20, 25-19) win at Kane.
Herzing had 13 kills for the unbeaten Lady Crusaders with Cunningham chipping in with 12 kills. Jordyn Fox added eight kills and Taylor Newton seven for ECC.
Kara Detsch had 41 set assists to run the ECC offense.
Alyssa Zampogna paced Kane with 13 kills, nine digs and three aces. Ella Marconi had eight kills and six blocks, Trinity Clark five kills, 10 digs and three aces, Marcie Stanisch 14 digs, Ashley Jordan 18 set assists and Hannah Buhl 10 set assists.
KEYSTONE 3, KARNS CITY 2
KARNS CITY, Pa. – Mackenzie Byerley had eight kills, seven set assists and four aces to lead Keystone to a come-from-behind 3-2 (10-25, 25-27, 25-17, 25-16, 16-14) win at Karns City.
Alyssa Beichner paced the Lady Panthers offense with 13 kills, while Danica Hurrelbrink ran the offense with 16 set assists. Kacie Weaver chipped in six kills and an ace. Katie Brown and McKenzie Hovis each added three kills with Sydney Easton coming up with two aces.
Mackenzie Craig led Karns City with nine kills and 11 set assists, Brooke Moore had 14 set assists, Brooke Snow five kills and eight blocks, Makayla Waltman four kills and Alyssa Stitt five digs.
NORTH CLARION 3, MONITEAU 1
FRILLS CORNERS, Pa. – Thanks to big matches from Cassie Wagner and Tori Obenrader, North Clarion handed visiting Moniteau a 3-1 (21-25, 25-22, 25-15, 25-18) loss.
Obenrader had 17 kills, seven blocks and two aces with Wagner adding 15 kills and five aces. Gena Caldwell added four kills for the She-Wolves with Sydney Greenawalt getting 15 set assists and Paige Sherbine 10 set assists.
PORT ALLEGANY 3, NORTHERN POTTER 0
ULYSSES, Pa. – Kierra Keck had 10 kills and Erin Stauffer nine kills to help visiting Port Allegany to a 3-0 (25-13, 25-14, 25-15) win over Northern Potter.
Hannah Lathrop added six kills and five blocks for the Lady Gators with Makenzie Burr chipping in six kills and Mira Terrett 26 set assists.
Gracie Hamilton led Northern Potter with nine kills, Kalie Cowburn had 12 digs and Jenna Hyde nine set assists.
BROCKWAY 3, DUBOIS CENTRAL CATHOLIC 0
BROCKWAY, Pa. – Brockway swept visiting DuBois Central Catholic, 3-0 (25-21, 25-16, 25-11).
Libby Maurer led DCC with five kills and three digs, Macey Hanes added four kills and three digs and Shayleigh Gulvus three aces.
Brockway statistics weren't available.
ST. MARYS 3, SHEFFIELD 2
ST. MARYS, Pa. – Despite nine kills and six aces from Clair Pierson, visiting Sheffield fell in five sets, 3-2 (25-15, 25-27, 25-13, 15-25, 15-8) at St. Marys.
Mya Grubbs added 14 set assists, Rachel Lemay nine set assists and nine kills and Taya Bailey 13 digs for the Lady Wolverines.
St. Marys' stats weren't available.
BOYS' SOCCER
PORT ALLEGANY 1, BROCKWAY
PORT ALLEGANY, Pa. – In a battle of two of the top teams in District 9 boys' soccer, Brandon McCaslin scored to lift one-loss Port Allegany to a 1-0 win over previously unbeaten Brockway in Port Allegany.
McCaslin scored off a Mackenzie Elliott pass, and Josh Mealy made the goal stand up making 10 saves to earn the shutout.
COUDERSPORT 4, ST. MARYS 2
ST. MARYS, Pa. – Behind a Michael Kane hat trick, visiting Coudersport doubled up St. Marys, 4-2.
Dustin Kudrick also scored for the Falcons, while Nathan Schneider and Nathan McAnany scored for St. Marys.
ELK COUNTY CATHOLIC 3, RIDGWAY 1
RIDGWAY, Pa. – Visiting Elk County Catholic got goals from Charlie Bobby, Erick Mader and Valentyn Wolfe to get a 3-1 win over Ridgway.
Lukas McClain scored for the Elkers.
KARNS CITY 8, DUBOIS CENTRAL CATHOLIC 0
KARNS CITY, Pa. – Behind five Spenser Myers goals, Karns City shutdown visiting DuBois Central Catholic, 8-0.
Jace Ebbitt added a goal and an assist and became Karns City's single-season all-time leader in helpers with 26. Marcus Lantz and Noah Pollock also scored for the unbeaten Gremlins (15-0).
CLARION-LIMESTONE 3, FOREST AREA 0
MARIENVILLE, Pa. – Braden Peters scored twice to help Clarion-Limestone secure a playoff bid, thanks to at least a .500 record (it's an open playoff system), with a 3-0 win over Forest Area at East Forest.
The Lions took a 1-0 lead on an own goal in the first half before Peters scored twice in the second half off of feeds from Kyle Schonbachler and Donovan Montgomery.
REDBANK VALLEY 2, KEYSTONE 1
NEW BETHLEHEM, Pa. – Thanks to a pair of Corben Beamer goals, Redbank Valley picked up its first win of the season, 2-1, over visiting Keystone.
GIRLS' SOCCER
BROCKWAY 7, KANE 1
KANE, Pa. – Morgan Decker scored twice to lead Brockway to a 7-1 win at Kane.
Lauren Duttry, Chanel Britton, Leah Lindemuth, Layken McMeekin and Adrianna Azzato also scored for the Lady Rovers.
CLARION 2, FOREST AREA 1, OVERTIME
CLARION, Pa. – Forest Mills took a pass from Natalie Glenn in overtime and scored to give Clarin a 2-1 win over visiting Forest Area.
Clarion also scored on an own goal by the Fires, while Forest Area got a tally from Allison Carll.
REDBANK VALLEY 4, KEYSTONE 1
NEW BETHLEHEM, Pa. – Four different Redbank Valley players scored to lift the Lady Bulldogs to a 4-1 win over visiting Keystone.
Scoring for Redbank were Kalyn Kunselman, Megan Gourley, Kimmy Westover and MArissa Hageter.
CLEARFIELD 7, BROOKVILLE 1
BROOKVILLE, Pa. – Visiting Clearfield rolled to a 7-1 win at Brookville.
Grace Johnson, Sara Snyder, Ally Lindstrom, Alayna Ryan, Mazzy Aughenbaugh and Alexis Mayhew scored for Clearfield, which also was the beneficiary of Brookville own goal.
Emily Kramer scored her first career goal for Brookville.
BOYS' GOLF
SAEGERTOWN 354, RIDGWAY 366
DUBOIS, Pa. – In the PIAA sub-regional team boys' golf match at Treasure Lake, Saegertown beat Ridgway, 354-366.
Ben Ames had the top score for Ridgway with an 85.
Ryan Peters paced Saegertown with a 78.
Also for Ridgway, Nick Simons shot an 87, Aaron Shilk a 96, Greg Simon a 99 and Josh Thorwart a 101.
For Saegertown, Jake Sada shot an 85, Will Phelan a 94, Ricky Hanline a 97 and Michael Costello a 106.