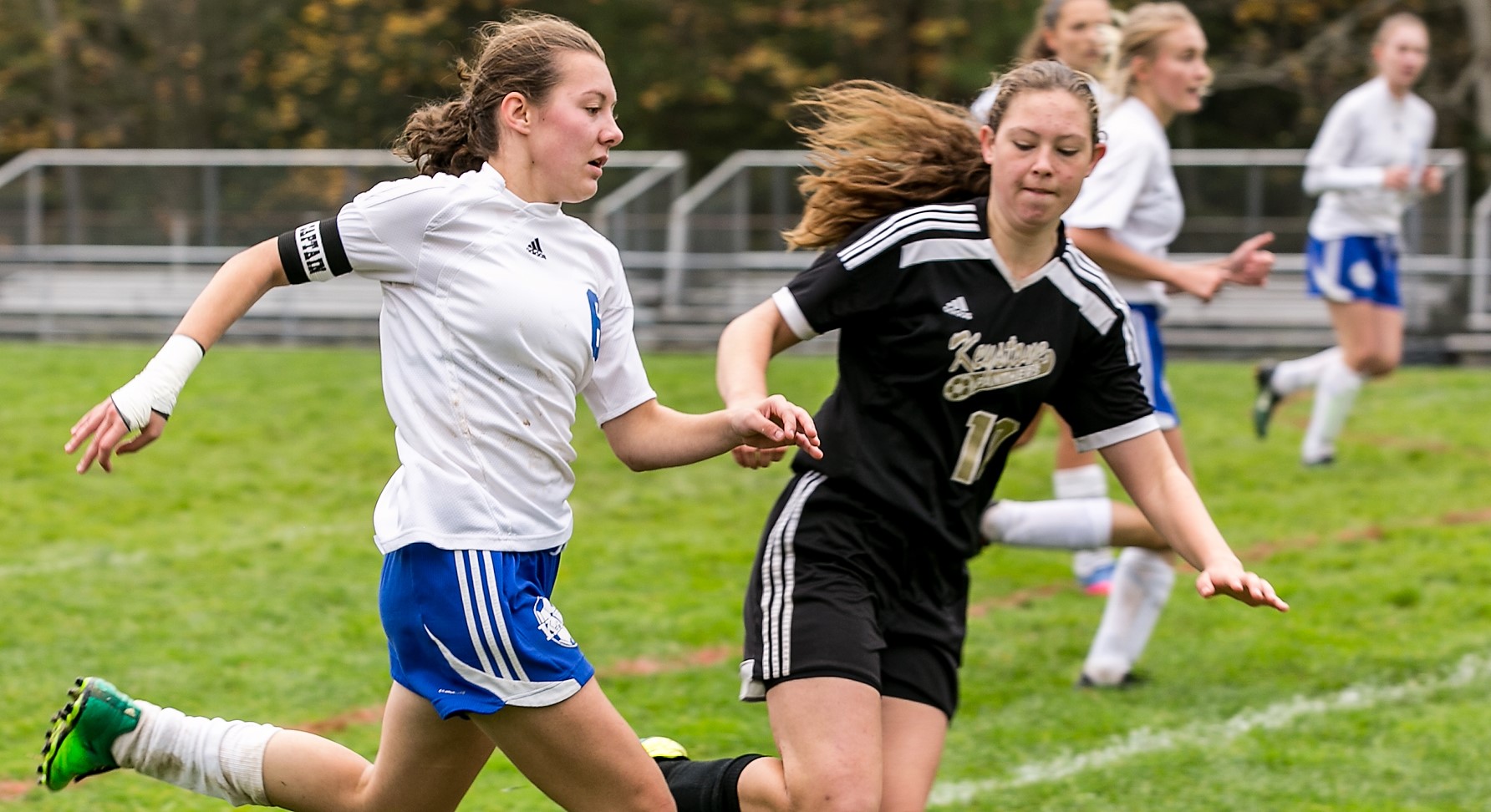 Saturday, Oct. 14, soccer and volleyball recaps.
(Cover photo: Action from the Kane vs. Keytsone girls' soccer game won by Keystone, 2-1, Saturday. Photo by Tessa Boschert. Check out more of Boschert's work here)
GIRLS' SOCCER
KEYSTONE 2, KANE 1
KANE, Pa. – Paige Cotton and Jessica Cotton both scored to lift visiting Keystone to a 2-1 win over Kane Saturday.
BROCKWAY 3, BROOKVILLE 0
BROCKWAY, Pa. – Behind a Chanell Britten hat trick Brockway took care of visiting Brookville, 3-0.
Morgan Lindemuth and Leah Lindemuth had assists for the Lady Rovers.
BOYS' SOCCER
KARNS CITY 3, CLARION-LIMESTONE 0
STRATTANVILLE, Pa. – Karns City captured its 14th consecutive Upper Allegheny Valley Soccer League South title with a 3-0 win at Clarion-Limestone.
The seventh consecutive unbeaten league title featured a pair of Dakota King goals and one from Nate Rondinelli. Jake Weckerly made five saves to get the win in net.
It was just the second loss of the season for the Lions, but both have come to the Gremlins.
COUDERSPORT 3, NORTHERN POTTER 0
COUDERSPORT, Pa. – Three different Coudersport Falcons scored to lead the home team to a 3-0 win over Northern Potter.
Aristotle Smith, Jonathon Barroqueiro and David Kudrick scored for the winners.
ST. MARYS 6, BROOKVILLE 1
BROOKVILLE, Pa. – Nathan Schneider scored twice to help visiting St. Marys to a 6-1 win over Brookville.
Isaac Caretti, Jackson Lindemuth, Vinicius Nunes and Matt Krull also scored for the Dutch.
Peyton Shaw had Brookville's lone tally.
VOLLEYBALL
COUDERSPORT 3, WELLSBORO 0
COUDERSPORT, Pa. – Emma Rae Easton had 15 kills to lift Coudersport to a 3-0 (25-19, 25-23, 25-20) win over visiting Wellsboro.
Joplin Osgood paced the Lady Falcons defense with 42 digs, Haley Keck ran the offense with 35 set assists and Adrian Page (eight kills) and Shaelyn Black (6 kills) helped Easton at the net.