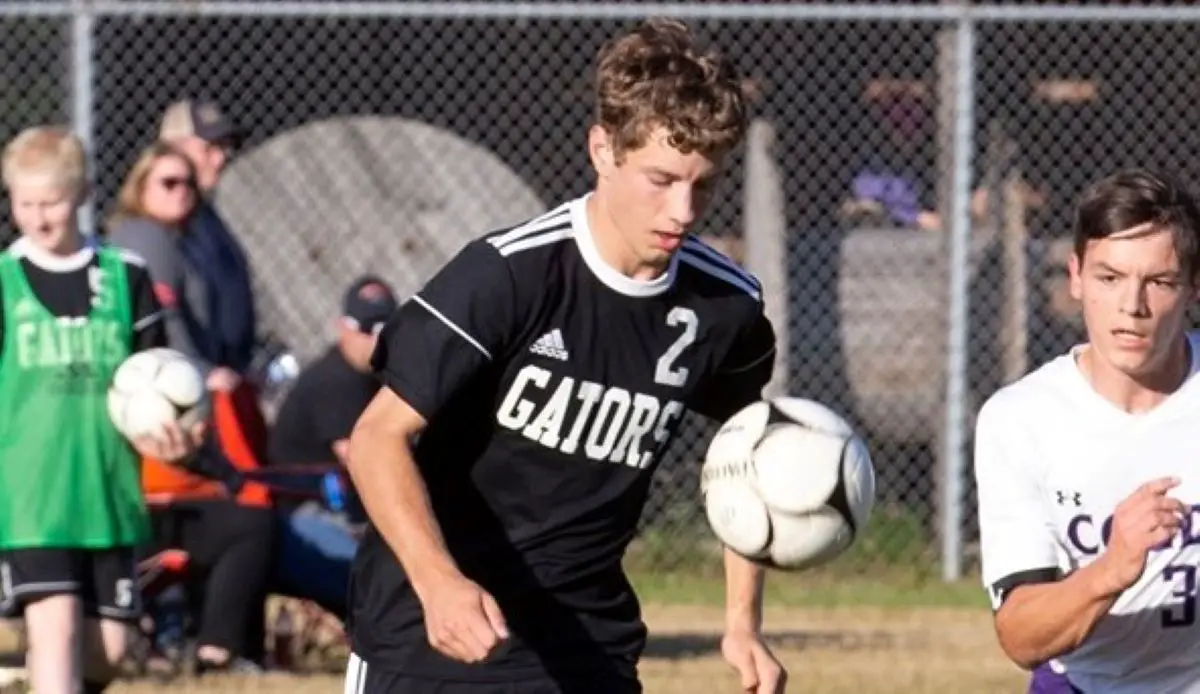 Oct. 14 soccer and volleyball recaps.
(Photo: Howie Stuckey of Port Allegany had four goals Monday in the Gators 7-2 win over St. Marys. Photo by Patrick Crants. See more of Crants work here.)
BOYS' SOCCER
PORT ALLEGANY 7, ST. MARYS 2
ST. MARYS, Pa. – Howie Stuckey had four goals and two assists to lead visiting Port Allegany to a 7-2 win over St. Marys.
Ben Lawton, Aidan Emerick and AJ Edgell also scored for the Gators.
Vini Nunes and Matt Palmer scored for St. Marys.
Ty Guilds had nine saves for Port Allegany and Aidan McKay had 8 saves for St Marys.
CLARION-LIMESTONE 8, FOREST AREA 3
STRATTANVILLE, Pa. – In a game that started Oct. 7 and finished Monday, Beau Verdill scores six times to lead Clarion-Limestone to an 8-3 win over visiting Forest Area.
The Lions were leading, 3-1, when a power outage with less than 30 seconds left in the first half Oct. 7 forced a suspension of the game.
Ryker Bingham and Nate Megnin also scored for C-L.
Noah Burke had two goals for Forest Area with Luke Cussins also scoring. Braden Ochs made 16 saves for the Fires.
REDBANK VALLEY 4, DUBOIS CENTRAL CATHOLIC 0
NEW BETHLEHEM, Pa. – Declan Fricko scored twice to lead Redbank Valley to a 4-0 win over visiting DuBois Central Catholic.
Koltin Kline and Tyson Adans also scored for the Bulldogs, while Owen Magagnotti made nine saves to record the shutout in net.
BROOKVILLE 4, ELK COUNTY CATHOLIC 4
BROOKVILLE, Pa. – Two Isaac Wortman second-half goals helped visiting Elk County Catholic rally from a 4-2 halftime deficit to earn a 4-all tie with Brookville.
Wortman also had an assist on a Gabe Kear goal in the first half – Kear assisted on Wortman's game-tying goal in the 63rd minute – while Edward Messineo also scored in the opening 40 minutes for the Crusaders.
For Brookville, Zakk Wolfe converted a penalty kick and assisted on two other goals. Hayden Kramer had a goal and assisted on a Garner McMaster goal. Bryce Kunselman also scored for the Raiders.
COUDERSPORT 1, NORTHERN POTTER 0
ULYSSES, Pa. -Jonathan Barroqueiro's first-half goal lifted visiting Coudersport to a 1-0 win over Northern Potter.
BRADFORD 6, FRANKLIN 0
FRANKLIN, Pa. – Gavin McGee scored twice to lead visiting Bradford to a 6-0 win over Franklin.
Ian Grady added a goal and four assists for the Owls with Ryan Miller, Jerid Wilmoth and Alex Marrone each added a tally.
Evan Schmidt made two saves for the shutout.
CLEARFIELD 1, PENNS VALLEY 0
SPRING MILLS, Pa. – Andrew Lopez scored early in the second half to give visiting Clearfield a 1-0 win over Penns Valley.
Graeson Graves made six saves for the Bison.
Dristen Wolfe had six saves for Penns Valley.
GIRLS' SOCCER
CLARION 3, RIDGWAY 1
RIDGWAY, Pa. – Evelyn Lerch, Ava Cherico and Anna Gribik all scored to lead Clarion to a 3-1 road win over Ridgway.
WEST BRANCH 3, CURWENSVILLE 1
CURWENSVILLE, Pa. – Trinity Prestash scored twice to lead visiting West Branch to a 3-1 win over Curwensville.
Mariah Hayles also scored for the Warriors.
Chloe Davis scored off an assist from Emma Rebar for Curwensville.
Maura Bunnell made 14 saves for the Lady Tide.
REDBANK VALLEY 1, ELK COUNTY CATHOLIC 0
NEW BETHLEHEM, Pa. – Kennedy Heeter scored off a cross from Carley Shick about three minutes into the game lead Redbank Valley to a 1-0 win over visiting Elk County Catholic.
Gabby Dinger recorded the shutout in net for the Lady Bulldogs.
BROOKVILLE 4, FOREST AREA 0
BROOKVILLE, Pa. – Madison McAninch had the hat trick to lead Brookville to a 4-0 win over visiting Forest Area.
McAninch now has 24 markers on the season.
Brookville also scored on a Forest Area own goal.
VOLLEYBALL
UNION 3, MERCER 0
RIMERSBURG, Pa. – Kiera Zitzman had seven aces to help Union to a 3-0 (25-23, 25-12, 25-19) win over visiting Mercer.
Dominika Logue led the Golden Damsels offense with five kills, while Drew Yoder added two kills, three aces and five digs.
REDBANK VALLEY 3, MONITEAU 0
NEW BETHLEHEM, Pa. – Taylor King had 11 kills to pace a 3-0 (25-21, 25-11, 25-14) Redbank Valley win over visiting Moniteau.
Montana Hetrick added eight kills and Becca Kunselman six kills and four aces for the Lady Bulldogs who also got five kills apiece from Lauren Smith and Kianna Schreckengost.
Tara Hinderliter ran the Redbank Valley offense with 32 set assists.
For Moniteau, Rylee Hoffman and Samantha Broerman each had three aces with Broerman also adding a block and a dig. Aslyn Pry chipped in two kills and three blocks and Ivie Scott had three kills and a block.
CLARION-LIMESTONE 3, VENANGO CATHOLIC 0
STRATTANVILLE, Pa. – A balanced offensive effort helped Clarion-Limestone beat visiting Venango Catholic, 3-0 (25-16, 25-21, 25-15).
Brooke Kessler led the Lady Lions with four kills, while Ruby Smith and Regan Husted each added three kills. Ruby Smith also had three digs and three aces while Husted added six set assists.
Bailey Smith led C-L with four digs and added three aces, Summer McClaine also had three digs and Kendall Dunn chipped in three set assists.
For Venango Catholic, Chenoa Rudder had five aces and 13 digs while Hope Winger added three aces, three kills and a block.
CURWENSVILLE 3, BROCKWAY 2
BROCKWAY, Pa. – Curwensville used 12 kills from Raylee Sunderlin to pick up a road win over Brockway, 3-2 (26-24, 25-17, 25-13, 25-23, 15-13).
Also for Lady Tide, Emma Caldwell ran the offense with 36 set assists.
SHEFFIELD 3, FOREST AREA 0
SHEFFIELD, Pa. – Lynzie Grubbs and Ana McCracken each had five kills, while Emily Leichtenberger added 16 service aces to lead Sheffield to a 3-0 (25-10, 25-9, 25-15) win over visiting Forest Area.
Megan Johnson ran the Lady Wolverines offense with 15 set assists and added seven digs.
BROOKVILLE 3, KARNS CITY 0
KARNS CITY, Pa. – Morgan Johnson had 10 kills to help visiting Brookville sweep Karns City, 3-0 (25-18, 25-17, 25-20).
Lauren Hergert added seven kills for the Lady Raiders, while Maggie Mackins had two blocks and Leah Kammerdiner added three aces.
For Karns City, Cassidy Nolan and Emma Clark each had five digs and two blocks while Mackenzie Dunn added five kills and 18 digs. Peyton Turner (10 set assists) and Rosalie Carden (7 set assists) ran the offense for the Lady Gremlins with Ashley Fox pacing the defense with 20 digs.
ELK COUNTY CATHOLIC 3, JOHNSONBURG 0
ST. MARYS, Pa. – Taylor Newton recorded 15 kills, seven aces and a block to lead Elk County Catholic to a 3-0 (25-19, 25-7, 25-23) win over visiting Johnsonburg.
Madyson Dellaquila chipped in four kills and two blocks for the Lady Crusaders with Brooke Bauer and Julia Aikens also each contributing four kills.
Elle Fledderman ran the ECC offense with 27 set assists.
A-C VALLEY 3, OIL CITY 0
OIL CITY, Pa. – Andrea Meals had seven kills, five digs and a block to lead A-C Valley to a 3-0 (25-6, 25-15, 25-14) road victory over Oil City.
Hannah Farrington, Mia Sherman and Meah Ielase each added five kills for the Lady Falcons with Sherman and Ielase also picking up nine digs and Farrington five digs.
Emily Wetzel (11 set assists), Tarra Stefanacci (7 set assists) and Rachel Cullen (4 set assists) ran the offense with Cullen and Stefanacci also recording six digs apiece and Wetzel adding three digs, seven aces and two kills. Sherman also had five aces.
GALETON 3, NORTHERN POTTER 0
GALETON, Pa. – Behind 14 kills, three digs, two aces and a set assist from Alexis Johnson Galeton beat visiting Northern Potter (25-9, 25-18, 25-16).
Alli Macensky added six kills, thee blocks and a set assist for the Lady Tigers, while Cara Parsell contributed eight digs, three aces and a kill.
Kate Kulish (11 set assists) and Makenna Shuemaker (8 set assists) ran the offense with Kulish also adding four digs and three aces and Shuemaker seven digs, four aces and three kills. Maddie Sauley added six aces and Tressa Succowich three kills, two set assists and a dig in the win.
Courtney Martin had four kills, eight digs and three aces for Northern Potter with Rebecca Martin adding six aces, 10 digs and a kill and Madison Hoopes 15 digs, a kill and an ace.