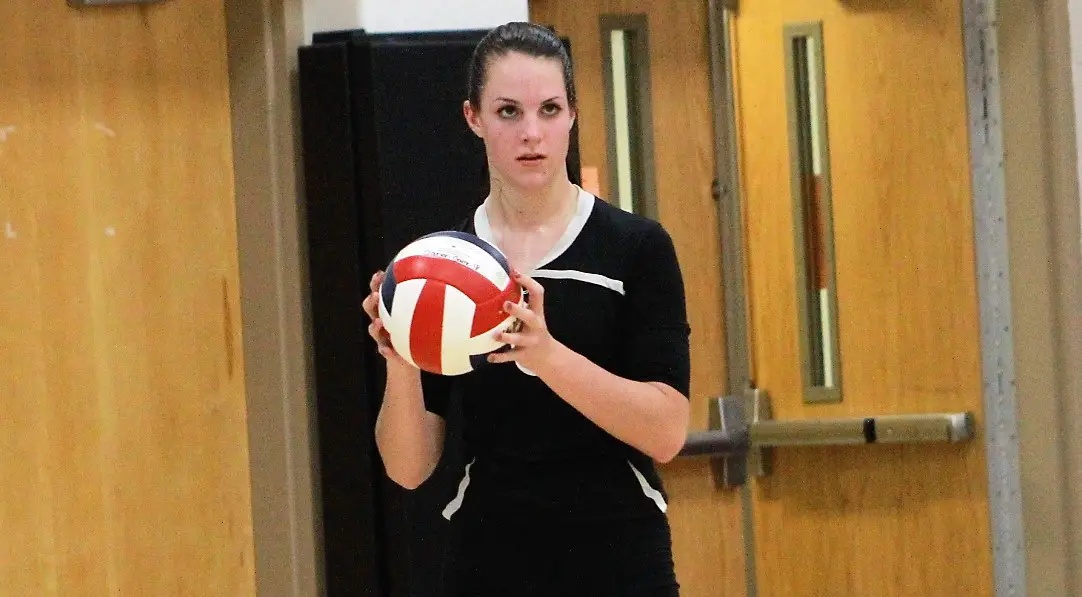 Oct. 15 volleyball and soccer scores.
(Photo of Clarion's Maddie Schill. Photo by Jared Bakaysa of JB Graphics. See more of Bakaysa's work here)
VOLLEYBALL
CLARION 3, ALTOONA 1
CLARION, Pa. – Three underclassmen led Clarion to a 3-1 (25-20, 25-19, 24-26, 25-19) win over visiting Altoona Monday.
Junior Maddie Schill had a team-best 13 kills to go with 11 digs and two blocks, freshman Korrin Burns added 11 kills and three digs and sophomore Brenna Campbell had 30 assists, 12 digs, six aces and a block.
Schill talked about the win.
Also for Clarion, Dorothy Kalinowski and Kait Constantino added five kills each and KK Girvin had 13 digs.
Bridgid Fox had a match-high 23 kills for Altoona.
CAMERON COUNTY 3, SMETHPORT 0
EMPORIUM, Pa. – Behind 10 aces and four assists from Alyvia McKimm, Cameron County swept visiting Smethport, 3-0 (25-14, 25-19, 25-6).
Hailey Hilfiger recorded five kills and four digs for the Lady Raiders with Morgan Lorenzo chipping in for five kills and Taylor Britton adding four digs.
PORT ALLEGANY 3, AUSTIN 0
PORT ALLEGANY, Pa. – Kalyn Naylor had 12 aces and five kills to help Port Allegany defeat visiting Austin, 3-0 (25-11, 25-8, 25-11).
Kierra Keck tallied 14 kills and four aces while Jenna Sprankle ran the Lady Gators offense with 23 assists.
For Austin, Angelina Watson tallied 10 digs and three aces.
UNION 3, MERCER 2
MERCER, Pa. – A strong offensive night from Morgan Cumberland helped Union defeat Mercer, 3-2 (25-15, 16-25, 25-13, 23-25, 15-11).
Cumberland racked up 23 assists and 5 aces for Union while Bryn Davis had 13 kills. Vanessa Reddick chipped in for six kills and four aces.
WELLSBORO 3, COUDERSPORT 0
WELLSBORO, Pa. – Wellsboro shut out Coudersport, 3-0 (25-11, 25-15, 25-11).
For Coudersport, Shaelyn Black paced the way with three aces and three kills with Dana Dubots chipping in for four aces and four kills.
GALETON 3, NORTHERN POTTER 2
ULYSSES, Pa. – Galeton rallied from a 1-0 deficit to defeat Northern Potter, 3-2 (24-26, 25-10, 25-17, 23-25, 15-10).
Makenna Shuemaker had 15 assists, seven aces and two kills to lead the Lady Tigers with Erin Cimino chipping in nine recording a team-best nine kills. Brielle Kalacinski had seven kills and two aces.
Mirissa Bliss had 23 assists, 14 digs, five kills and three aces for Northern Potter while Madison Hoopes added four aces, 16 digs and 12 kills. Savannah Herring chipped in for 11 kills and three blocks.
TIDIOUTE CHARTER 3, VENANGO CATHOLIC 0
OIL CITY, Pa. – Despite six digs, eight assists and two aces from Kelsey Kresinski, Venango Catholic fell to visiting Tidioute Charter, 3-0 (25-12, 25-8, 27-25).
Emmy Ekis added 10 digs and five kills for the Lady Vikings while Chenoa Rudder tallied 16 digs.
BROCKWAY 3, CURWENSVILLE 0
BROCKWAY, Pa. – Brockway defeated Curwensville, 3-0 (25-20, 25-15, 28-26).
Mikayla Duffalo led the Lady Rovers with 13 kills, seven digs and seven aces with Abby Alford adding 12 kills, 11 digs and seven aces. Kenzie Webster chipped in for nine kills and Jordan Faith ran the offense with 18 assists.
Liz Mathews paced the Lady Tide with seven kills, three digs, five blocks and an ace while Emma Caldwell had four digs, an ace and 15 assists.
ROCKY GROVE 3, FOREST AREA 0
ROCKY GROVE, Pa. – Forest Area was defeated by Rocky Grove, 3-0 (25-16, 25-15, 25-15).
Shawna Carbaugh paced Forest Area with three aces, two kills and two digs, Angelina Harp had a kill and two digs and Taylor Andrews added a kill and a dig.
Rocky Grove stats weren't reported.
OSWAYO VALLEY 3, OTTO-ELDRED 2
SHINGLEHOUSE, Pa. – Behind 14 kills and four blocks from Naomi Cook Oswayo Valley beat visiting Otto-Eldred, 3-2 (25-18, 19-25, 25-23, 24-26, 15-13).
Madi Smith chipped in four kills and seven blocks, and Macy West added six kills, five aces and three blocks,
For Otto-Eldred, Haley Cousins had 23 kills and 17 digs, Reilly Raught added 17 kills, 19 digs and three blocks, Emmalee Sheeler ran the offense with 28 assists while adding two aces, Morgan Dalton had seven kills, two blocks, 24 digs and seven aces and Brianna Silvis chipped in five aces.
REDBANK VALLEY 3, KEYSTONE 0
NEW BETHLEHEM, Pa. – TL Nelson and Josie Rupp each had nine kills to lead Redbank Valley to a 3-0 (25-14, 25-18, 26-24) sweep of Keystone.
Taylor King added six kills for the Lady Bulldogs who saw Carissa Rearick run the offense with 30 assists while adding eight digs and two aces. Hope Spence had a team-best 14 digs.
Keystone was paced by Mandy Wingard's nine digs and two aces with McKenna Kaye adding four blocks and three kills and Emma Weaver nine set assists and three blocks.
BROOKVILLE 3, CLEARFIELD 0
BROOKVILLE, Pa. – Cheyenne Gotwald and Mikaya Aikens each had four kills to help Brookville to a 3-0 (25-9, 25-14, 24-15) win over visiting Clearfield.
Madison Johnson served seven aces for the Lady Raiders, and Lexis Hatzinikolas and Lauren Hergert each chipped in three kills.
ELK COUNTY CATHOLIC 3, JOHNSONBURG 2
JOHNSONBURG, Pa. – Taylor Newton had 20 kills to lead visiting Elk County Catholic to a 3-2 (25-19, 25-22, 17-25, 20-25, 15-13) win over Johnsonburg.
Ellie Fledderman ran the offense for the Lady Crusaders with 32 assists, while Hannah Barnett added eight kills.
Lindsey Kocjancic had 18 kills to lead Johnsonburg with Jenna Morgan adding 11 kills.
BOYS SOCCER
NORTHERN POTTER 2, COUDERSPORT 1, 2 OVERTIMES
COUDERSPORT, Pa – Carter Anderson netted the game-winner in double overtime for Northern Potter in a 2-1 victory at Coudersport.
Anderson's goal was assisted by Dakota Perkins, who scored late in the first half for the Panthers.
Owen Chambers set up Donovan Olney for the Falcons only tally of the game.
BRADFORD 4, FRANKLIN 1
FRANKLIN, Pa. – Colton Swanson scored two goals and added two assists to help Bradford overcome an early deficit and pick up a 4-1 win at Franklin.
Brennan Grady and Ian Grady also scored for the Owls.
Zachary Taylor gave Franklin the 1-0 lead.
WEST SHAMOKIN 4, KARNS CITY 3
RURAL VALLEY, Pa. – West Shamokin rallied on three different occasions to hand Karns City its first loss of the season, 4-3, in overtime at West Shamokin.
Owen Collwell, Brayden Christie and Austin Fahlor scored the Gremlins' goals.
ELK COUNTY 4, BROOKVILLE 3
BROOKVILLE, Pa. – Elk County Catholic rallied from a goal down in the second half to pick up a 4-3 road win over Brookville.
Regis Worthman scored twice for the Crusaders who also got goals from Isaac Brock and Josh Bauer.
Scoring for Brookville was Brian Pangallo, J.P. Young and Jacob Cable. Young added a helper as did Hayden Kramer.
GIRLS SOCCER
KEYSTONE 3, WEST MIDDLESEX 1
KNOX, Pa. – Paige Cotton scored all three goals to help Keystone defeat visiting West Middlesex, 3-1.
Cotton tallied a goal in the first half and the other two in the second.
Myrissa Donaldson scored the lone goal for West Middlesex.
Goalkeeper Jessi Phillippi made nine saves.