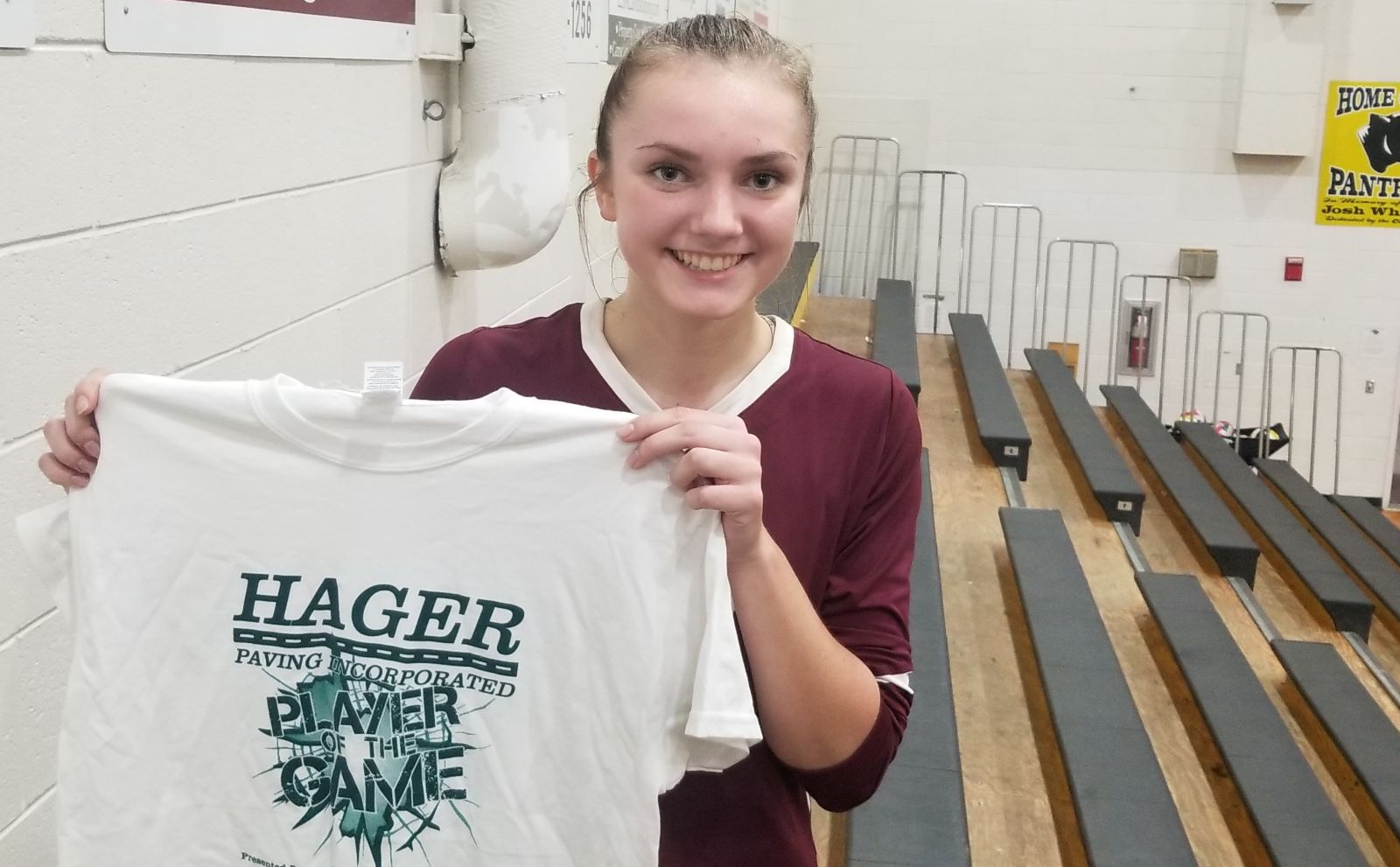 Oct. 15 volleyball and soccer recaps.
(Photo of Ava Ferringer of Cranberry, who was the Hager Paving Player of the Match in the Berries 3-1 win over Keystone after recording 22 kills and four blocks)
VOLLEYBALL
KNOX, Pa. – Ava Ferringer recorded 22 kills to lead visiting Cranberry to a 3-1 (25-15, 19-25, 25-21, 25-23) win over Keystone.
Relisten to the match:
Ferringer was strong throughout the night but especially in the final two sets when she recorded seven kills in each set to help the Berries pull away.
Abby Hanna added 12 kills, including seven in the fourth set, a set that saw Cranberry rally from a 17-11 deficit to win 25-23 with Hanna recording all seven of her kills during the 14-6 run and Ferringer adding four of her kills.
Ferringer also had 19 digs and four blocks and was named the Hager Paving Player of the Match. She talked about the win.
Emily Duncan ran Cranberry's offense with 32 set assists, while Maddie Cornelius paced the defense with 21 digs.
McKenna Kaye paced Keystone with 11 kills, seven digs, three blocks and three aces with Alyssa Dunlap adding 10 kills and Ceayra Altman nine digs and nine kills. Emma Burrow also had nine digs for the Lady Panthers, while Alexandria Johnston ran the offense with 23 set assists and added five kills and four digs.
CLARION 3, VENANGO CATHOLIC 0
CLARION, Pa. – Korrin Burns had 15 kills, a block and a dig to help Clarion clinch the KSAC title with a 3-0 (25-5, 25-8, 25-6) win over visiting Venango Catholic.
Aryana Girvin served well for the Lady Cats with eight aces, as Clarion recorded 18 aces in the match including three by setter Brenna Campbell, who also had 13 set assists, four kills and a dig.
Maddie Schill also recorded four kills for Clarion with Payton Simko adding three kills and two aces.
It is the second straight KSAC title for the Lady Cats.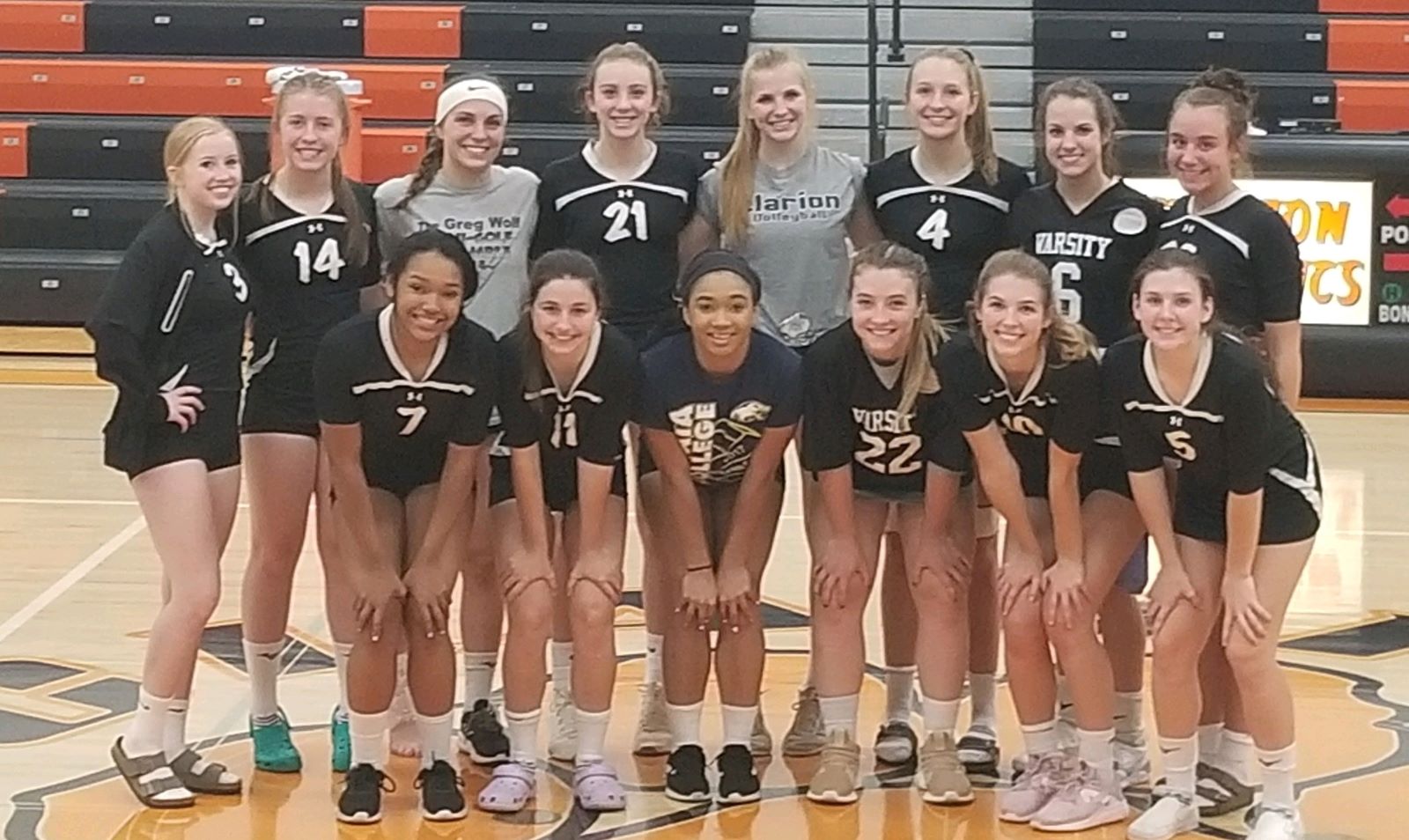 A-C VALLEY 3, UNION 0
FOXBURG, Pa. – Mia Sherman, Meah Ielase and Andrea Meals combined for 18 kills to lead A-C Valley past visiting Union, 3-0 (25-17, 25-7, 25-5).
Sherman led the Lady Falcons with seven kills while adding three blocks, five digs, two aces and a set assists with Ielase adding six kills, nine digs and two aces and Meals five kills, seven digs and two aces.
On Senior Night, A-C Valley's two seniors also played well with Hannah Farrington chipping in two kills, two aces and seven digs and Emily Wetzel adding 10 set assists, two aces and three kills.
Tarra Stefanacci paced the Lady Falcons defense with 14 digs while adding four set assists and a kill, and Rachel Cullen had seven digs, six set assists and a kill.
Dominika Logue had two kills and Maggie Minich two aces for Union.
OSWAYO VALLEY 3, PORT ALLEGANY 0
ULYSSES, Pa. – Avaree Kellert and Jayn Brabham combined for 23 kills to help Oswayo Valley defeat visiting Port Allegany, 3-0 (25-11, 25-16, 25-14).
Kellert tallied 13 kills along with 16 digs while Brabham had 10 kills and 12 digs for the Green Wave. Mackenzie George added two kills, five digs and 15 set assists and Trinity Lundy chipped in nine digs and 11 assists.
Maleah Daniels and Kalyn Naylor each had three kills to pace the Lady Gators. Madeline Smith added a pair of kills, seven digs and three blocks.
KANE 3, SHEFFIELD 0
SHEFFIELD, Pa. – Audri Marconi and Sarri Swanson each had eight kills to lead Kane to a 3-0 (25-17, 25-23, 25-13) road win over Sheffield.
Marconi added 13 digs, while Ronnie Costanzo chipped in 10 digs. Moira Stanisch ran the offense with 25 set assists and added four aces, and Sierra Hillman had four blocks.
Emily Leichtenberger paced Sheffield with six kills and added 12 digs while Megan Johnson had 10 digs and 12 set assists and Marissa Grubbs 11 digs.
COUDERSPORT 3, CAMERON COUNTY 0
COUDERSPORT, Pa. – Behind a strong performance by Lauren Stimaker Coudersport defeated visiting Cameron County, 3-0 (25-11 25-22 25-16).
Stimaker had 27 set assists, four digs, two aces and a kill, while Claudia Miller and Sarah Atherholt each had four kills. Miller chipped in 17 digs and an ace with Atherholt adding three digs, a block and a set assist.
Kaelee Bresslin had seven kills for Cameron County with Mallory McKimm and Hailey Hilfiger each adding five kills. Hilfiger also had 11 digs and three aces, while Reggie Goodrow had 20 set assists and 11 digs.
DUBOIS 3, DUBOIS CENTRAL CATHOLIC 0
DUBOIS, Pa. – Sydney Kaschalk had 11 kills and two blocks to pace a 3-0 (25-13, 25-14, 25-18) DuBois win over visiting DuBois Central Catholic.
Taylor Smith and Kaylee Sadowski each added six kills with Sadowski also recording 13 digs. Alayna Cornelius chipped in three aces and nine digs, and Cate Gregory ran the Lady Beavers offense with 28 set assists and added two aces.
Maia Cogley and Hannah Holdren each had four kills for DCC with Cogley adding 16 digs and 10 set assists and Holdren two blocks. Bella Mangiantini chipped in three kills and two blocks, and Shay Gulvas had 22 digs.
BRADFORD 3, JOHNSONBURG 1
BRADFORD, Pa. – Erica Marshall recorded 10 kills to help Bradford defeat visiting Johnsonburg, 3-1 (23-25, 25-20, 25-23, 25-18).
Laney Kahle ran the offense for the Lady Owls with 27 set assists while adding eight kills and eight blocks, Sarie Yohe had nine kills and four blocks and Alex Asp seven kills and five blocks.
CLARION-LIMESTONE 3, FOREST AREA 0
STRATTANVILLE, Pa. – Clarion-Limestone topped visiting Forest Area, 3-0 (25-14, 25-2, 25-10).
Brooke Kessler led the Lady Lions with five kills while Cassidy Makray had four. Kendall Dunn ran the offense with 10 set assists.
SMETHPORT 3, AUSTIN 0
SMETHPORT, Pa. – Behind 14 kills, six digs and two blocks from MyKayla Deyarmin, Smethport swept visiting Austin, 3-0 (25-19, 25-20, 25-13).
Baylee Fitz led the Lady Hubbers offense with 11 set assists and eight digs. Chloe Costa had 19 digs and a kill while Alexis Shall added nine kills, six digs and a pair of blocks.
PUNXSUTAWNEY 3, CURWENSVILLE 0
PUNXSUTAWNEY, Pa. – A balanced team effort lifted Punxsutawney over Curwensville, 3-0 (25-13, 25-4, 25-17).
Katelyn Griebel led the Lady Chucks 10 kills while Grace Hall ran the offense with 26 set assists. Murphy White and Lizzie Neal each had six assists and Bella McDivitt chipped in 17 digs.
BROOKVILLE 3, BROCKWAY 0
BROOKVILLE, Pa. – Lauren Hergert had five kills and seven blocks and Morgan Johnson and Maggie Mackins each added five kills to lead Brookville to a 3-0 (25-10, 25-10, 25-19) win over visiting Brockway.
Lexi Gorham paced Brockway with four set assists and one block.
REDBANK VALLEY 3, NORTH CLARION 1
FRILLS CORNERS, Pa. – Using a balanced offense that saw five players record at least six kills, Redbank Valley picked up a 3-1 (25-19, 25-14, 21-25, 25-12) road win over North Clarion.
Taylor King led the Lady Bulldogs with nine kills with Becca Kunselman and Montana Hetrick each adding eight kills and Kianna Shreckengost chipping in seven kills. Lauren Smith and Alivia Huffman each added six kills for Redbank Valley, while Tara Hinderliter ran the offense with 37 set assists.
MONITEAU 3, KARNS CITY 1
KARNS CITY, Pa. – Twenty-seven kills from Ashlyn Pry helped visiting Moniteau defeat Karns City, 3-1 (25-22, 25-27, 25-13, 25-21).
Samantha Broerman added seven kills and four blocks with Ivie Scott chipping in four kills and two blocks. Logan Barnhardt ran the offense with 43 set assists and three aces.
For Karns City, Emily Huff had 12 kills, six digs and two aces, Emma Clark added six kills, two blocks and three aces, Cassidy Nolan had five kills, five blocks and four digs and Rosalie Carden added five kills, nine digs, six set assists and an ace.
Peyton Turner ran the Lady Gremlins offense with 19 set assists while adding three digs, two aces and a kill and Ashley Fox had 22 digs and an ace.
RIDGWAY 3, ST. MARYS 2
ST. MARYS, Pa. – After blowing a 2-0 lead Ridgway held on to pick up a 3-2 (25-13, 27-25, 20-25, 24-26, 16-14) road win over St. Marys.
Meghan McGonnell had 10 kills and Saige Heigel eight kills for St. Marys with Maddie Bowes recording 43 digs and Lindsey Reiter 10 set assists.
Ridgway stats weren't available.
BOYS' SOCCER
ST. MARYS 4, KANE 2
ST. MARYS, Pa. – St. Marys beat visiting Kane, 4-2.
Justin Mishic and Jon Mishic each scored for Kane.
St. Marys' goal scorers were not available.
BROCKWAY 3, CLARION-LIMESTONE 2, 2 OVERTIME
BROCKWAY, Pa. – Noah Bash scored the game-winning goal 54 seconds into the second overtime as Brockway topped visiting Clarion-Limestone, 3-2.
Bash scored the first goal of the game for the Rovers which was assisted by Marcus Bennett. Bennett also added a goal in the second half.
Paul Leonhardt and Byron Cruz each scored a goal for the Lions.
GIRLS' SOCCER
CLARION 3, KANE 2
KANE, Pa. – Evelyn Lerch, Lauren Troutman and Joyce Kim alls scored to lead Clarion to a 3-2 road win over Kane.
Rachel Buhl scored twice for Kane.
KARNS CITY 12, PUNXSUTAWNEY 0
PUNXSUTAWNEY, Pa. – Brooke Stahlman and Emma Dailey combined for seven goals to lead visiting Karns City to a 12-0 win over Punxsutawney
Stahlman scored four times and Dailey three for the Lady Gremlins. Alexis Moore added a pair of goals for Karns city with McKenna Martin, Chloe Linamen and Cameron Roofner also scoring.
Rossi McMillen had the shutout in goal.
BROCKWAY 6, RIDGWAY 0
BROCKWAY, Pa. – Chanell Britten recorded a hat trick and added an assist to lead Brockway to a 6-0 win over visiting Ridgway.
Paris Stern chipped in a pair of goals for the Lady Rovers while Morgan Lindemuth had a goal and an assist and Morrigan Decker had two helpers.
Mackenzie Overbeck and Brianna Thomas combined on the shutout in net.
BRADFORD 2, ERIE HIGH 2
ERIE, Pa. – Goals from Maddi Cowburn and Regan Johnson staked visiting Bradford to a 2-0 lead over Erie High only to watch the Lady Royals rally to forge a two-all tie with the visiting Lady Owls.
Emily Prince and Chloe Shaw had assists for Bradford, while Mackenzie Lucas stopped nine shots including making what head coach Warren shaw described as "one beautiful save" late to keep the score tied at two.
CLEARFIELD 2, PENNS VALLEY 2
HYDE, Pa. – Elle Smith's unassisted goal in the 65th minute helped Clearfield forge a 2-all tie with visiting Penns Valley.
The Lady Bison took a 1-0 lead a minute-and-a-half into the game when Maddie Davis took a feed from Lydia Brown and buried into the back of the net.
Penns Valley tied the game at one before halftime on a goal by Hannah Montminy, and then Montminy gave the Lady Rams the lead with her second goal, this one in the 43rd minute.