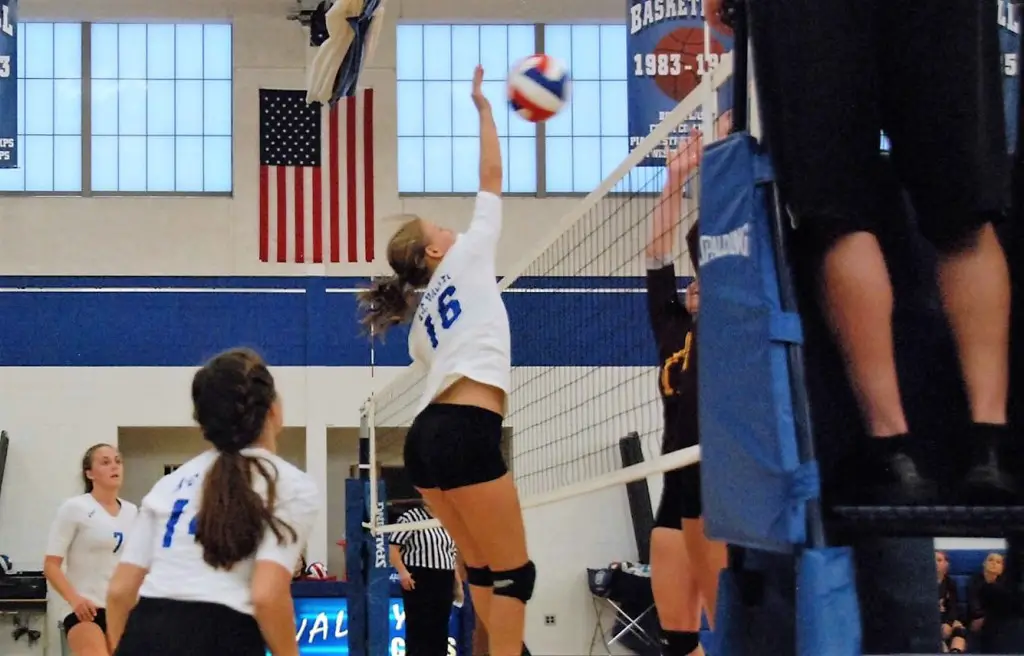 Oct. 16 volleyball and soccer recaps.
(Cover photo: Josie Terwilliger, A-C Valley)
VOLLEYBALL
A-C VALLEY 3, KEYSTONE 0
FOXBURG, Pa. – Behind 13 kills, nine digs and two blocks from Josie Terwilliger, A-C Valley rolled past visiting Keystone, 3-0 (25-12, 25-11, 25-5).
Kylee Eaton chipped in 11 kills and eight digs for the Lady Falcons, while Olivia Boocks had eight kills, 10 digs and five aces. Cassie Schwalm had a team-best 12 digs to go with three aces and three kills, Syd Rankin added 17 set assists, 11 digs and three aces, Kaylie Merwin had seven set assists and Emily Wetzel six set assists and seven digs.
Jenny McConnell had 37 digs for Keystone with Danica Hurrelbrink adding two kills and three set assists and Katie Brown one kill.
BROCKWAY 3, CURWENSVILLE 0
CURWENSVILLE, Pa. – Behind 13 kills from Mikayla Duffalo, visiting Brockway topped Curwensville (27-25, 25-17, 26-24).
Lexi Gorham added 10 set assists for the Lady Rovers.
Elizabeth Mathews had five kills for Curwensville.
JOHNSONBURG 3, ELK COUNTY CATHOLIC 2
ST. MARYS, Pa. – Brianna Quiggle, Skylar Sherry and Jensen Furlong combined for 38 kills to lead visiting Johnsonburg to a 3-2 (25-20, 19-25, 22-25, 25-20, 16-14) come-from-behind win over Elk County Catholic.
Quiggle had 11 kills and 23 digs, Sherry added 15 kills, 12 digs and six aces and Furlong 12 kills for the Ramettes. Haylee Zimmerman chipped in four aces.
Taylor Newton had 19 kills for ECC while Jenna Weisner added eight kills and Maggie Dinsmore chipped in 17 set assists.
KARNS CITY 3, MONITEAU 0
WEST SUNBURY, Pa. – Livia Andreassi had six kills and four blocks to lead visiting Karns City to a 3-0 (25-20, 25-13, 25-20) win over Moniteau.
Makayla Waltman and Rayna Miller each added three kills for the Lady Gremlins with Alyssa Stitt running the offense with 25 set assists while adding three aces.
Emma Bair led the Lady Warriors with five kills, 11 blocks and three aces with Cambrie Campbell added five kills.
OTTO-ELDRED 3, NORTHERN POTTER 0
ULYSSES, Pa. – Camryn Thomas had eight kills, eight digs and two aces to give Otto-Eldred a 3-0 (25-9, 25-15, 25-15) win at Northern Potter.
Allison Cousins chipped in six kills, four aces and three digs for the Lady Terrors with Harlee VanScotter added five kills. Emily Smith ran the offense with 17 set assists, seven digs and two aces.
Ashley Kunselman paced Northern Potter with three kills and nine digs, Kalie Cowburn added two digs and 13 digs and Jenna Hyde chipped in eight set assists.
COWANESQUE VALLEY 3, OSWAYO VALLEY 2
SHINGLEHOUSE, Pa. – Despite five kills and 18 digs by Makenzie Carr Oswayo Valley dropped a 3-2 (16-25, 25-17, 25-23, 18-25, 15-10) decision to visiting Cowanesque Valley.
Madison Miller had a strong match for the Green Wave with 33 set assists, 25 digs, three blocks and two aces with Jayden Snyder adding 27 digs.
BOYS' SOCCER
TROY 3, NORTHERN POTTER 2, 2 OVERTIMES
TROY, Pa. – Nat Graybill's goal in the second overtime lifted Troy to a 3-2 win over visiting Northern Potter.
AJ Lehman and Carter Anderson scored for Northern Potter with Anderson's tally giving the Panthers a 2-1 lead at the time.
But Kris Howland tied the game for Troy two minutes after Anderson's goal. Alex Johnson also scored also had a tally for the winners.
BRADFORD 3, MEADVILLE 1
BRADFORD, Pa. – Evan Schmidt made 10 saves to help Bradford to a 3-1 win over visiting Meadville.
Rob Jimerson, Cadyn Sutherland and Brent Kennedy scored the goals for the Owls with Kennedy adding a pair of helpers and Jared Lucas also getting an assist.
Ali Laylani scored for Meadville, while Mark Conrad made eight saves for the Bulldogs.
GIRLS' SOCCER
CLARION 3, RIDGWAY 1
JOHNSONBURG, Pa. – Three different Clarion players scored, as the Lady Cats picked up an impressive road victory, 3-1, over Ridgway in Johnsonburg avenging an early loss to the Lady Elkers in Clarion.
Alexa Hannold scored on a penalty kick for Clarion while Alish Nagy and Lauren Troutman also had goals.
Madeline Cowan had the lone goal for Ridgway, which was tied at one at halftime before goals from Nagy and Troutman in the second half turned the game Clarion's way.
BROOKVILLE 1, FOREST AREA 0, OVERTIME
BROOKVILLE, Pa. – Emily Kramer's goal 4:45 into overtime lifted Brookville to a 1-0 win over visiting Forest Area.
Jillian Taylor set up the winning tally. Alissa Watterson picked up the shutout making four saves.