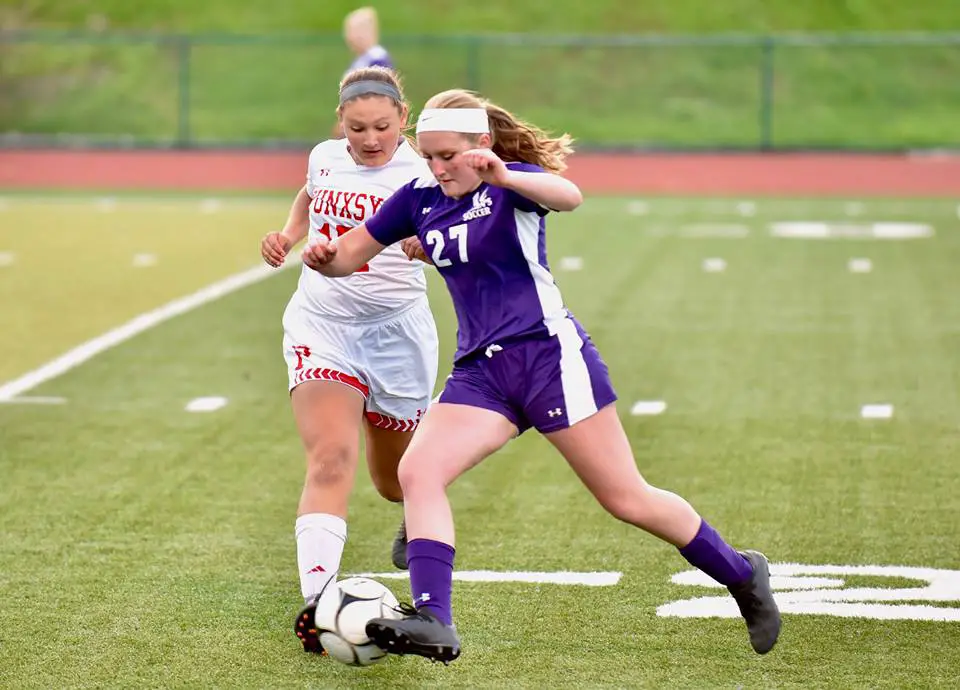 Oct 16 soccer and volleyball recaps.
(Photo: Senior Hunter Dittman had two goals on Senior Night for Karns City, including the first goal of the game in a 12-0 win over Punxsutawney. Photo by Howie Dittman.)
GIRLS' SOCCER
KARNS CITY 12, PUNXSUTAWNEY 0
KARNS CITY, Pa. – Hunter Dittman, Kaitlyn Behrens and Brooke Stahlman each scored twice to help Karns City blowout visiting Punxsutawney, 12-0, on Senior Night.
Also scoring for the Lady Gremlins were McKenna Lavella, Rossi McMillen, Olivia Coyle, Alexis Moore, Breanna Tomsey and Cambree Powers.
BROCKWAY 4, RIDGWAY 3
JOHNSONBURG, Pa. – Morrigan Decker netted two goals and an assist to help visiting Brockway defeat Ridgway, 4-3.
Chanell Britten also had a goal and an assist for the Lady Rovers and Bailey Allison netted a goal as well.
For Ridgway, Amanda Williams tallied two goals and Madeline Cowan chipped in for one.
Mackenzie Overbeck made eight saves in net for Brockway.
KANE 4, CLARION 3
CLARION, Pa. – Rachael Buhl and Sadie Walters each scored twice to lead visiting Kane to a 4-3 win over Clarion.
Lindsey Kemmer netted two goals for Clarion with Wendy Beveridge also scoring for the Lady Cats.
ELK COUNTY CATHOLIC 4, BROOKVILLE 0
BROOKVILLE, Pa. – Maddie Kear scored four times to lift visiting Elk County Catholic to a 4-0 win at Brookville.
Kear scored three times in the first half, twice off assists from Gina Carnovale and once on a penalty shot then scored in the second half off an assist from Sady VanAlstine.
Kara VanEerden had nine saves to record the shutout for the Lady Crusaders.
PENNS VALLEY 2, CLEARFIELD 0
SPRING MILLS, Pa. – Hannah Montminy scored twice to lead Penns Valley to a 2-0 win over visiting Clearfield.
Montminy scored late in the sixth minute and then again early in the 68th minute for the Lady Rams.
Kylie Auman made eight saves to get the shutout for Penns Valley.
Hayley Moore had eight 10 saves for Clearfield.
VOLLEYBALL
CLARION 3, VENANGO CATHOLIC 0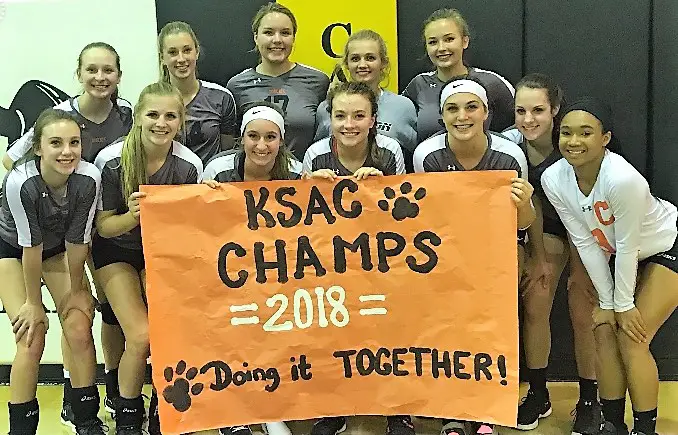 OIL CITY, Pa. – A team effort helped Clarion claim the KSAC Title with a sweep at Venango Catholic, 3-0 (25-12, 25-5, 25-12).
Brenna Campbell ran the Lady Cats offense with 19 assists while also adding three digs. Hailey Sintobin had six kills and Maddie Schill had five. Dorothy Kalinowski had five kills and Payton Simko chipped in for two kills and a dig.
Venango Catholic was led by Kelsey Kresinski, who tallied six digs and six assists while Chenoa Rudder racked up 18 digs.
KARNS CITY 3, MONITEAU 1
WEST SUNBURY, Pa. – A strong offensive night from Alyssa Stitt helped Karns City defeat Moniteau, 3-1 (25-11, 25-22, 18-25, 25-19).
Stitt ran the Lady Gremlins offense with 24 assists and six aces while also chipping in for four digs. Emily Huff had 11 kills and five digs, Emily Wolfe tallied four kills, three blocks and 17 digs, and Cassidy Nolan had three kills, four blocks and four aces. Mackenzie Dunn had a match-high 20 digs.
For Moniteau, Logan Barnhart had four blocks and a kill while Madison Bresnehan chipped in for two kills.
A-C VALLEY 3, UNION 0
RIMERSBURG, Pa. – A double-double of 15 digs and 25 assists from Emily Wetzel helped A-C Valley go on the road and defeat Union, 3-0 (25-11, 25-14, 25-13).
Olivia Boocks racked up 11 kills and 11 digs for the Lady Falcons while Kylee Eaton tallied seven aces, 12 digs, 11 kills, two assists and three blocks. Kaylie Merwin had eight digs and two assists and Wetzel also chipped in seven aces on offense.
Dominika Logue led Union with seven kills with Morgan Cumberland adding 10 assists and Bryn Davis two aces.
CRANBERRY 3, KEYSTONE 1
SENECA, Pa. – Malliah Schreck had a strong night with 34 digs and 17 kills to help Cranberry defeat visiting Keystone, 3-1 (25-18, 25-27, 25-17, 25-11).
The Berries also got help from Ally Young and Kaylee Bruce, who had 29 and 27 digs respectively. Emily Duncan ran the offense with 27 assists and also chipped in for six kills and seven digs.
Alyssa Dunlap paced the Lady Panthers with 12 digs and seven kills and Kenzie Hovis had 16 digs and six kills.
PUNXSUTAWNEY 3, CURWENSVILLE 1
CURWENSVILLE, Pa. – Punxsutawney rallied to defeat Curwensville, 3-1 (23-25, 25-10, 25-21, 25-19).
For the Lady Tide, Liz Mathews had two aces, three kills and two digs, Raylee Sunderlin tallied three kills, a dig and two blocks and Ally Hess had an ace, three kills and two digs.
Punxsutawney stats weren't available.
BRADFORD 3, JOHNSONBURG 2
JOHNSONBURG, Pa. – Alexis Huber had 18 kills and Ashton Himes added 14 kills to lead visiting Bradford to a 3-2 (25-12, 18-25, 25-20, 26-28, 15-13) win over Johnsonburg.
Morgan Tyger chipped in eight kills for the Lady Owls, while Laney Kahle ran the offense with 41 assists.
Lindsey Kocjancic paced Johnsonburg with 18 kills.
CLARION-LIMESTONE 3, FOREST AREA 0
MARIENVILLE, Pa. – Emma Smith had three kills and a block to help visiting Clarion-Limestone to a 3-0 (25-16, 25-9, 25-22) win over Forest Area at East Forest.
Brooke Kessler added two kills for the Lady Lions, while Madison Craig, Liz Gruver and Keara Henry each had three aces. Kate Daily and Sadie Mahle chipped in three digs apiece, and Henry had six set assists.
Angelina Harp paced Forest Area with three kills and four digs with Shawna Carbaugh adding two digs, a kill and an ace, Lauren McLaughlin two digs and a kill, Desaray Fox two aces, Taylor Andrews two digs and an ace and Savannah Miller three digs and an ace.
BROOKVILLE 3, BROCKWAY 0
BROOKVILLE, Pa. – Lauren Hergert had six kills to lead Brookville to a 3-0 (25-13, 25-18, 25-20) win over visiting Brockway.
Cheyenne Gotwald and Lexis Hatzinkolas each added four kills for the Lady Raiders with Mikayla chipping in three kills.
Madison Barefield had a match-high seven kills while adding 13 digs for Brockway.
REDBANK VALLEY 3, NORTH CLARION 0
NEW BETHLEHEM, Pa. – Carissa Rearick had 18 assists, seven aces and four digs to help Redbank Valley top visiting North Clarion, 3-0 (25-8, 25-12, 26-24) on Purple Out Night in New Bethlehem,
Taylor King and Josie Rupp each added six kills with Rupp also chipping in four aces. Hope Spence paced the Lady Bulldogs defense with 16 digs.
All proceeds from the Purple Out are going to former Redbank Valley student Branden Truitt and current Redbank Valley student Cassie Westover who are both fighting cancer. The color purple represents both forms of cancer the duo are battling. Branden is currently a student at DuBois Elementary School and his parents are both Redbank Valley alumnus. He was slated to serve as captain of the varsity team for the game.
KANE 3, SHEFFIELD 0
KANE, Pa. – Ella and Audri Marconi combined for 21 kills to lead Kane to a 3-0 (25-14, 25-14, 25-10) win over visiting Sheffield.
Ella Marconi had 12 kills and three blocks with Audri Marconi adding nine kills. Hannah Buhl ran the offense with 27 assists, and Lexie Woods added six aces.
DUBOIS 3, DUBOIS CENTRAL CATHOLIC 0
DUBOIS, Pa. – Thanks in part to nine kills and six digs from Kaylee Sadowski, DuBois swept crosstown rival DuBois Central Catholic, 3-0 (25-9, 25-15, 25-23).
In a match played at DCC, Sydney Kachalk added six kills and two blocks and Cate Gregory had 29 assists and 12 digs.
BALD EAGLE AREA 3, CLEARFIELD 0
HYDE, Pa. – Lacee Barnhart had six kills and five aces to help Bald Eagle claim the Mountain League title with a 3-0 (25-12, 25-3, 25-20) win at Clearfield.
Madison Rockey ran the Lady Eagles offense with 30 assists while adding six aces, Grace Hugar had a match-high 10 kills and Elita Brown added seven kills, two aces and a block. Makenna Baney and Lexi Skripek had 10 digs each.
BOYS' SOCCER
PORT ALLEGANY 9, EISENHOWER 1
EISENHOWER, Pa. – Thanks to hat-tricks from Noah Costa and Howie Stuckey, Port Allegany cruised to a 9-1 victory over Eisenhower.
Kylar Carpenter, Simon Burleson and Justin Gallup all tallied a goal apiece for the Gators as well.
Ian Goldthwaite netted the lone goal for Eisenhower.
KANE 5, ST. MARYS 3
KANE, Pa. – Three goals from Patrick Detsch was enough to help Kane defeat visiting St. Marys, 5-3.
Clayton Detrick also tallied a goal for the Wolves while Detrick, Mason Feikls, Josh Greville and Jon Mishic each chipped in for an assist.
Vinnie Nunes had all three goals for St. Marys.
REDBANK VALLEY 2, FOREST AREA 1, OVERTIME
NEW BETHLEHEM, Pa. – Koltin Klines goal at 5:30 in the first overtime lifted Redbank Valley over Forest Area, 2-1.
Nick Smith tallied the first goal for the Bulldogs.
Jarrett Kahle assisted on the Noah Burke goal late in the second half for Forest Area.
TROY 3, NORTHERN POTTER 1
TROY, Pa. – Nat Graybill scored twice to lift Troy to a 3-1 win over visiting Northern Potter.
Will Dibble also scored for the Trojans.
Forster Kosa scored off a feed from Kasey Freeman for Northern Potter.
Holden Cowburn made seven saves in net for the Panthers, while Aaron Sparling had six saves for Troy.
BROCKWAY 7, RIDGWAY 1
JOHNSONBURG, Pa. – Behind four Hunter Allenbaugh goals visiting Brockway rolled to a 7-1 win over Ridgway in Johnsonburg.
Tino Inzana, Jake Anderson and Zane Puhala each added a goal for the Rovers with Puhala and Anderson picking up two assists each and Inzana and Noah Bash a helper apiece.