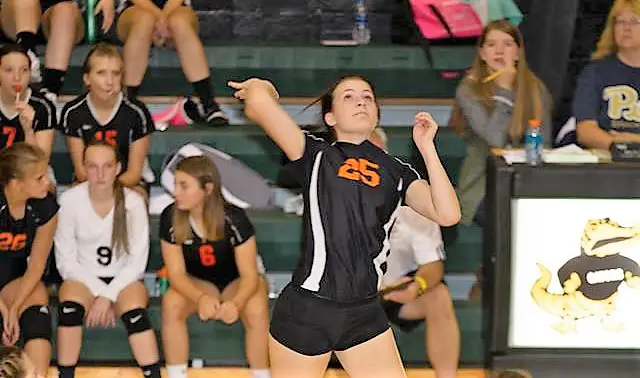 Oct. 17 volleyball and soccer recaps.
(Photo: Kayla Pesock had five kills in Port Allegany's win over Otto-Eldred Wednesday. Photo by Patrick Crants. See more of Crants work here.)
VOLLEYBALL
PORT ALLEGANY 3, OTTO-ELDRED 0
DUKE CENTER, Pa. – Jenna Sprankle had 20 assists, eight aces and 11 digs to help visiting Port Allegany sweep Otto-Eldred, 3-0 (25-16, 25-15, 25-18).
Kierra Keck added five kills and two blocks, Erin Stauffer had five kills and six digs and Kalyn Naylor and Kayla Pesock had five kills apiece.
COUDERSPORT 3, CAMERON COUNTY 0
COUDERSPORT, Pa. – Shaelyn Black had nine kills and two aces to lead Coudersport to a 3-0 (25-22, 25-22, 25-15) win over visiting Cameron County.
Dana Dubots added two kills and five aces for the Lady Falcons with Mikayla Kavounas adding three kills, five assists and six aces and Sarah Atherholt chipping in three kills and three blocks.
For Cameron County, Hailey Hilfiger had three kills and six blocks with Morgan Lorenzo adding three aces, three kills and three digs.
OSWAYO VALLEY 3, SMETHPORT 0
SMETHPORT, Pa. – Naomi Cook had 10 kills to help visiting Oswayo Valley sweep Smethport, 3-0 (25-19, 25-11, 27-25).
Mackenzie George added 10 assists and five aces for the Green Wave with Karely Carpenter chipping in six aces.
Willow Lapp had four kills and 17 digs for Smethport with Emily Gustafson adding five kills and four blocks, Alexis Schall 10 digs, six kills and three blocks and Mykayla Deyarmin three kills, six assists and four digs.
NORTHERN POTTER 3, AUSTIN 2
AUSTIN, Pa. – Thanks in part to 12 kills from Savannah Herring, visiting Northern Potter rallied from two sets down to beat Austin, 3-2 (19-25, 21-25, 25-15, 25-22, 15-10).
Courtney Martin added 10 digs, six aces and two kills for NoPo with Alyssa Hoopes chipping in six aces and nine digs and Mirissa Bloss three aces, three kills, eight digs and 25 assists.
Cerissa Glover and Angelina Watson each had seven kills for Austin with Taylor Brewer adding six kills. Watson chipped in 10 digs and five aces, Brewer six aces and Glover three aces.
CLARION-LIMESTONE 3, NORTH CLARION 0
FRILLS CORNERS, Pa. – Madison Craig had eight kills, seven digs and two aces to lead Clarion-Limestone to a 3-0 (25-16, 25-23, 25-23) win at North Clarion.
Emma Smith chipped in five kills for the Lady Lions, while Rachel Greeley had 13 digs and two blocks and Keara Henry 18 assists. Ruby Smith also added three kills and two blocks.
REDBANK VALLEY 3, HOMER-CENTER 0
HOMER CITY, Pa. – Josie Rupp had 14 kills and an ace to lead visiting Redbank Valley to a 3-0 (26-24, 25-20, 25-14) win at Homer-Center.
Jordan Milliron added seven kills and an ace for the Lady Bulldogs with Taylor King contributing four kills and six blocks, Hope Spence 22 digs and Carissa Rearick 28 assists, three kills and a block.
KARNS CITY 3, FOREST AREA 0
TIONESTA, Pa. – Emily Wolfe and Rayna Miller combined for seven kills to help visiting Karns City to a 3-0 (25-6, 25-7, 25-7) win over Forest Area.
Wolfe had four kills with Miller adding three kills and three aces.
Alyssa Stitt ran the offense with 12 assists while adding four aces, Mackenzie Dunn paced the defense with seven digs and Emily Huff and Emma Clark had two kills apiece.
BOYS' SOCCER
BROOKVILLE 1, DUBOIS CENTRAL CATHOLIC 0
BROOKVILLE, Pa. – An early Nathan Burkett goal was enough for Brookville to top visiting DuBois Central Catholic, 1-0.
Burkett scored in the seventh minute off an assist from Jace Miner. Darius Sorbin made that lead stand up making 13 saves for the shutout.
KANE 1, RIDGWAY 0
RIDGWAY, Pa. – Brennan Schultz made seven saves to lead visiting Kane to a 1-0 win over Ridgway.
Mason Feikls scored the goal for the Wolves.
KARNS CITY 5, FRANKLIN 0
KARNS CITY, Pa. – On Senior Night at Karns City, Dakota King's hat trick paced a 5-0 Gremlins win over Franklin.
Nate Rondinelli and Austin Fahlor each added goals for Karns City, while Jake Weckerly recorded his 10th shutout of the year to help the Gremlins finish the regular campaign at 17-1.
FOREST AREA 3, KEYSTONE 2
TIONESTA, Pa. – Noah Burke's hat trick lifted Forest Area to a season-ending 3-2 win over visiting Keystone at West Forest.
Jarrett Kahle assisted on all three tallies for the Fires, while Daniel Schwab had 12 saves.
Keystone's goal scorers weren't reported.
GIRLS' SOCCER
HOLLIDAYSBURG 2, DUBOIS 1
HOLLIDAYSBURG, Pa. – Despite what head coach Scott Creighton said was one of his team's best efforts of the season, visiting DuBois dropped a heartbreaking 2-1 decision at Hollidaysburg.
Izzy Beers scored the lone goal to give DuBois a lead it held midway through the second half before Hollidaysburg tied it up. The Lady Tigers then scored a late goal to pull out the come-from-behind victory.
PORT ALLEGANY 1, EISENHOWER 0
PORT ALLEGANY, Pa. – Turning around a one-goal loss to Eisenhower 13 days ago, Patty Todd's goal helped Port Allegany beat the visiting Lady Knights, 1-0.
The Lady Gators dropped a 3-2 decision at Eisenhower Oct. 4, but this time Cailey Barnett had a clean sheet making five saves to help the Todd goal stand up.
KANE 3, FOREST AREA 2
KANE, Pa. – Two Rachael Buhl goals help Kane top visiting Forest Area, 3-2.
Sadie Walters also scored for the Lady Wolves.
Mackenzie Bauer had a goal and an assist for Forest Area with Shawna Pack also scoring for the Lady Fires. Haley Sherman assisted on the Bauer goal.
CLEARFIELD 3, CENTRAL-MARTINSBURG 2
HYDE, Pa. – Emma Hipps' second goal of the game midway through the 69th minute gave Clearfield a 3-2 win over visiting Central-Martinsburg.
Hipps took a feed from Alayna Ryan, who also assisted on Hipps' first goal in the 15th minute, to break a 2-all tie.
Clearfield had led 2-0 on goals by Hipps and Sarah Snyder 17 seconds apart – Hipps assisted on the Snyder tally – but Alanda Padula in the 36th minute and Ashley Negley late in the 58th minute scored to tie the game for the Lady Dragons.
Hayley Moore made nine saves in net for Clearfield, while Kathryn Longnecker made five saves for Central-Martinsburg.