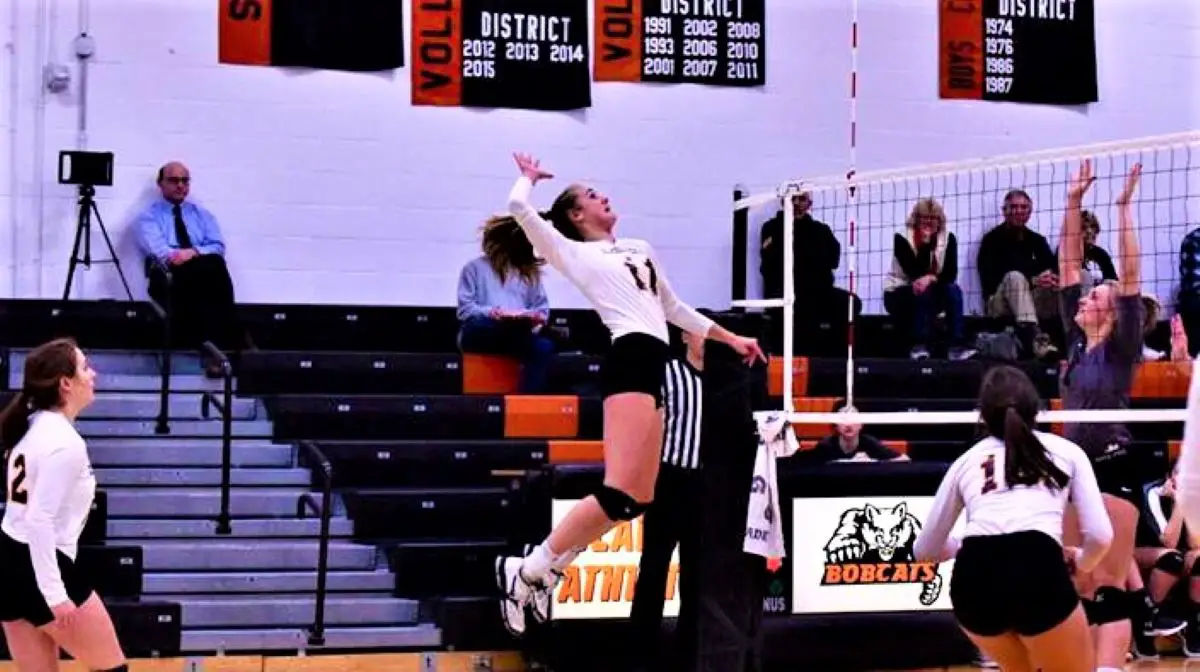 Oct. 17 volleyball/soccer recaps.
(Photo of ECC's Taylor Newton)
VOLLEYBALL
ELK COUNTY CATHOLIC 3, SHEFFIELD 0
SHEFFIELD, Pa. – Behind 27 kills from Taylor Newton visiting Elk County Catholic beat Sheffield, 3-0 (25-12, 25-17, 25-17).
Julia Aikens added 11 kills for the Lady Crusaders with Ellie Fledderman running the offense with 31 set assists.
Emily Leichtenberger led Sheffield with eight digs and five kills, while Megan Johnson ran the offense with 15 set assists while adding 12 digs. Lexi Goldthwaite chipped in four kills, Lynzie Grubbs had three kills and three blocks and Marissa Grubbs recorded 17 digs.
COUDERSPORT 3, AUSTIN 0
AUSTIN, Pa. – Coudersport topped Austin, 3-0 (25-8, 25-5, 25-18) on the road.
Paige Watson led the Lady Falson with four kills, four digs and a block while Mikayla Gunn added a kill and 31 digs.
Taylor Brewer paced Austin with five kills and four digs.
A-C VALLEY 3, KARNS CITY 0
FOXBURG, Pa. – Behind 15 kills and 13 digs from Meah Ielase A-C Valley downed visiting Karns City, 3-0 (25-20, 25-17, 25-21).
Emily Wetzel ran the offense with 17 set assists and added four kills and 17 digs with Tarra Stefanacci adding 13 digs, eight assists and two kills and Andrea Meals adding four kills and eight digs.
Emily Huff and Emma Clark each had four kills for Karns City with Huff adding five digs and Clark three blocks and three digs. Mackenzie Dunn added three kills, 18 digs and three aces and Ashley Fox had 13 digs.
OTTO-ELDRED 3, SMETHPORT 0
SMETHPORT, Pa. – Otto-Eldred used six aces from Brianna Silvis to beat Smethport, 3-0 (25-13, 25-11, 25-10).
Also for Lady Terrors, Reilly Raught added five kills and three blocks with Emilie Reitler recording three aces. Morgan Dalton chipped in four digs and three kills.
MyKayla Dayarmin led Smethport with five kills, two blocks and three digs. While Alexis Shall added three blocks, four kills and three digs.
UNION 3, TIDIOUTE CHARTER 0
RIMERSBURG, Pa. – Union used six kills and two aces from Dominika Logue to beat Tidioute Charter, 3-0 (25-13, 25-13, 25-17).
Also for the Golden Damsels, Hailey Kriebel added two kills with Morgan Cumberland running the offense with 15 set assists and five aces. Emma Pritchard chipped in two kills. While Kiera Zitzman recorded five aces.
JOHNSONSBURG 3, ST. MARYS 1
JOHNSONSBURG, Pa. – Johnsonsburg used 22 kills from Jenna Morgan to beat St. Marys, 3-1 (25-9, 22-25, 25-11, 25-12).
Also for Ramettes, Elle Stauffer added five kills with Alaina Sherry earning seven kills. Kenzie Sallack chipped in nine digs and Emma King records five kills.
Saige Heigel had seven kills and eight blocks for St. Marys.
MONITEAU 3, FARREL 1
FARRELL, Pa. – Behind 15 kills, two blocks and an ace from Aslyn Pry visiting Moniteau secured a 3-1 (27-25, 25-17, 24-26, 25-16) win over Farrell.
Samantha Breoerman added seven kills, two blocks and an ace, while Logan Barnhart ran the offense with 26 set assists while adding three aces.
CAMERON COUNTY 3, OSWAYO VALLEY 1
EMPORIUM, Pa. – Homestanding cameron County got 15 kills from Mallory McKimm to beat visiting Oswayo Valley, 3-1 (25-17, 17-25, 25-17, 25-21).
Hailey Hilfiger added six blocks, eight kills and 20 digs for the Lady Raiders with Kaelee Bressling contributing 10 kills and two aces. Reggie Goodrow ran the Cameron County offense with 29 set assists.
Jadyn Brabham had 11 kills, 22 digs, a block and two aces for OSwayo Valley, while Avaree Kellert also had 11 kills, 13 digs and a block and Macy West four kills, three digs, five blocks and an ace.
STATE COLLEGE 3, CLARION 1
STATE COLLEGE, Pa. – Class 4A State College handed Class 1A Clarion its first loss of the season, 3-1 (25-19, 23-25, 27-25, 25-16), in State College.
Korrin Burns led Clarion with 14 kills and 19 digs while Kait Constantino had nine kills and 10 digs and Aryana Girvin seven kills and five digs.
KK Girvin also had 19 digs for the Lady Cats, while Brenna Campbell ran the offense with 26 set assists while adding six digs.
KEYSTONE 3, NORTH CLARION 0
KNOX, Pa. – Alyssa Dunlap had six kills to help Keystone beat visiting North Clarion, 3-0 (25-11, 25-12, 25-9).
Jozee Weaver added four blocks and two kills for the Lady Panthers, while Alexandria Johnston had six aces and 13 set assists.
GALETON 3, PORT ALLEGANY 0
PORT ALLEGANY, Pa. – Alli Macensky had 12 kills and four blocks visiting Galeton beat Port Allegany, 3-0 (25-18, 25-18, 25-9).
Alexis Johnson added six kills, seven aces, two blocks and a dig with Maddie Sauley chipping in four kills and Kate Kulish 14 set assists, three aces, two digs and one kill.
Maleah Daniels had 19 digs and three aces for Port Allegany with Shannon Curfman adding seven kills and four digs, Kalyn Naylor three kills, four blocks and five digs and Jade Evens six aces.
WARREN 3, DUBOIS 0
WARREN, Pa. – Grace Wortman and Jordan Sitler each had 16 kills to help Warren hand visiting DuBois its first loss, 3-0 (27-25, 25-16, 26-24).
For DuBois Cayla Donahue had nine kills and 10 digs, Kaylee Sadowski added seven kills and 13 digs and Sydney Kaschalk had six kills and seven blocks. Cate Gregory ran the offense with 31 set assists.
REDBANK VALLEY 3, BROCKWAY 0
BROCKWAY, Pa. – Montana Hetrick had nine kills and three aces to lead visiting Redbank Valley to a 3-0 win over Brockway.
Taylor King added eight kills and a block, and Becca Kunselman had eight kills and two aces for the Lady Bulldogs who also got five kills from Kianna Shreckengost and kills each from Brianna Minich and Lauren Smith.
Tara Hinderliter ran the Redbank Valley offense with 34 set assists while adding an ace.
DUBOIS CENTRAL CATHOLIC 3, CURWENSVILLE 2
CURWENSVILLE, Pa. – Jordy Kosko had 12 kills and 26 digs to help DuBois Central Catholic to a wild five-set win at Curwensville, 3-2 (25-23, 21-25, 29-27, 9-25, 17-15).
Bella Mangiantini added eight kills and two blocks for the Lady Cardinals who also got five kills and a block from Hannah Holdren and four kills from Juliana Stine.
Shay Gulvas paced the DCC defense with 55 digs and added six aces, while Maia Cogley ran the offense with 24 set assists while adding two aces and 21 digs.
BROOKVILLE 3, PUNXSUTAWNEY 0
PUNXSUTAWNEY, Pa. – Lauren Hergert had six kills and six blocks to lead Brookville to a 3-0 (25-21, 25-20, 25-14).
Morgan Johnson added four kills and two blocks with Maggie Mackins had four kills and four blocks and Leah Kammerdiner four kills. Madison Johnson chipped in two blocks.
GIRLS' SOCCER
BROCKWAY 2, ELK COUNTY CATHOLIC 0
ST. MARYS, Pa. – Chanell Britten scored twice to lead visiting Brockway to a 2-0 win over Elk County Catholic in a game that was shortened by 20 minutes due to cold and windy conditions.
Morrigan Decker and Danielle Wood had assists for the Lady Rovers, while Mackenzie Overbeck recorded the shutout.
Oct. 17 Recaps.
CLEARFIELD 3, CENTRAL-MARTINSBURG 1
MARTINSBURG, Pa. – Behind a pair of goals and an assist from Elle Smith, visiting Clearfield defeated Central-Martinsburg, 3-1
Lydia Brown also added a goal and an assist for the Lady Bison. Emma Hipps assisted the first Smith goal.
Alyssa Bartley netted the lone Central goal.
CLARION 6, PUNXSUTAWNEY 0
CLARION, Pa. – Ruby Smith recorded a hat trick to lead Clarion to a 6-0 win over visiting Punxsutawney.
Ava Cherico, Lauren Troutman and Anna Gribik also scored for the Lady Cats.
BRADFORD 4, DUBOIS 1
BRADFORD, Pa. – Behind a pair of Regan Johnson goals, Bradford beat visiting DuBois, 4-1.
Maddi Cowburn and Emily Price also scored for the Lady Owls, while Rachel Sicekri scored for DuBois.
FORT LEBOEUF 5, KARNS CITY 2
WATERFORD, Pa. – Despite a pair of goals from McKenna Martin, Karns City dropped its first game of the season, 5-2 at Fort LeBoeuf.
BOYS' SOCCER
BROCKWAY 2, ELK COUNTY CATHOLIC 2
ST. MARYS, Pa. – In a game shortened to a pair of 25-minute halves because of weather, Brockway and Elk County Catholic played to a 2-all draw in Kersey.
Noah Bash and Linkin Nichols scored for Brockway, while Regis Wortman had one of the two ECC goals – the other wasn't available.
ST. MARYS 6, NORTHERN POTTER 5
ST. MARYS, Pa. – Jake Meeker scored twice, as St. Marys held off visiting Northern Potter, 6-0.
Meeker's two goals came in the first half to help the Dutch open up a 5-0 lead before Ezra Sprow scored the first of his two goals for Northern Potter to make it 5-1 at halftime.
The Panthers, though, controlled the second half and got within a goal with 3:44 to play when AJ Lehman scored his second goal.
St. Marys held off the late charge to get the win.
Also scoring for the Dutch where Nicolas Greenthaner, Dylan Aiello, Connor Gausman and Tim Schrecengost.
Ryan Langworthy added a tally for Northern Potter.