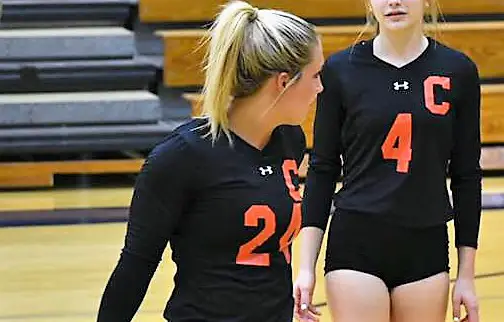 Oct. 18 volleyball and soccer recaps.
(Cover photo: Maya Thornton, Clarion. Photo by Kim Constantino)
CLARION 3, ERIE MCDOWELL 1
CLARION, Pa. – Behind 16 kills and 14 digs from Maya Thornton, Clarion knocked off visiting Erie McDowell, 3-1 (25-18, 25-19, 12-25, 25-19).
Sydney Kiser added five kills and 11 digs for the Lady Cats with Lexi Lauer chipping in seven kills and five digs, Alexis Constantino 37 digs and Breanna Campbell 28 set assists and eight digs.
It was Clarion's second win over a bigger school in as many nights. On Tuesday, in a match moved from Oct. 24 because of the District 9 volleyball playoff schedule changing, the Lady Cats beat Altoona, 3-2 (25-17, 23-25, 25-11, 17-25, 15-13), rallying for the final five points of the match.
Thornton led the way with 15 kills and 18 digs, Maddie Schill had seven kills, Kiser added seven kills and 20 digs, Hailey Sintobin had eight kills, Laurer 17 digs, Constantino 26 digs and Campbell 39 set assists and 13 digs.
TIDIOUTE CHARTER 3, VENANGO CATHOLIC 0
OIL CITY, Pa. – Despite three kills, three digs and three aces from Emmy Ekis, Venango Catholic dropped a 3-0 (25-9, 25-17, 25-7) decision to visiting Tidioute Charter.
Hope Winger added two aces, two kills and three blocks, Mackenzie Merz had two set assists and five digs, Ashley Barletta had five digs and Natalie Janidlo two digs.
BOYS' SOCCER
BROOKVILLE 3, DUBOIS CENTRAL CATHOLIC 1
BROOKVILLE, Pa. – Three different Brookville players scored to lead Brookville to a 3-1 win over visiting DuBois Central Catholic.
Bryce Kunselman, A.J. Lachnicht and Hayden Kramer scored for the Raiders.
Jon Schoenmenan scored for DCC.
REDBANK VALLEY 4, SMETHPORT 4
SMETHPORT, Pa. – Koltin Kline scored twice, as Redbank Valley picked up its first point of the year with a 4-4 tie at Smethport.
Daniel Landers and Declan Fricko also scored for the Bulldogs.
Smethport stats weren't available.
GIRLS' SOCCER
REDBANK VALLEY 6, SMETHPORT 0
SMETHPORT, Pa. – Haley Minich and Rhiannon Laughlin each scored twice to pace visiting Redbank Valley to a 6-0 win over Smethport.
BLACKHAWK 5, KARNS CITY 1
BEAVER FALLS, Pa. – Katie Eaton scored twice to help Blackhawk down visiting Karns City, 5-1.
Alondra Gonzalez, Britney Adrian and Katie Lane also scored for the Cougars.
Hunter Dittman headed off a free kick into the net for Karns City.