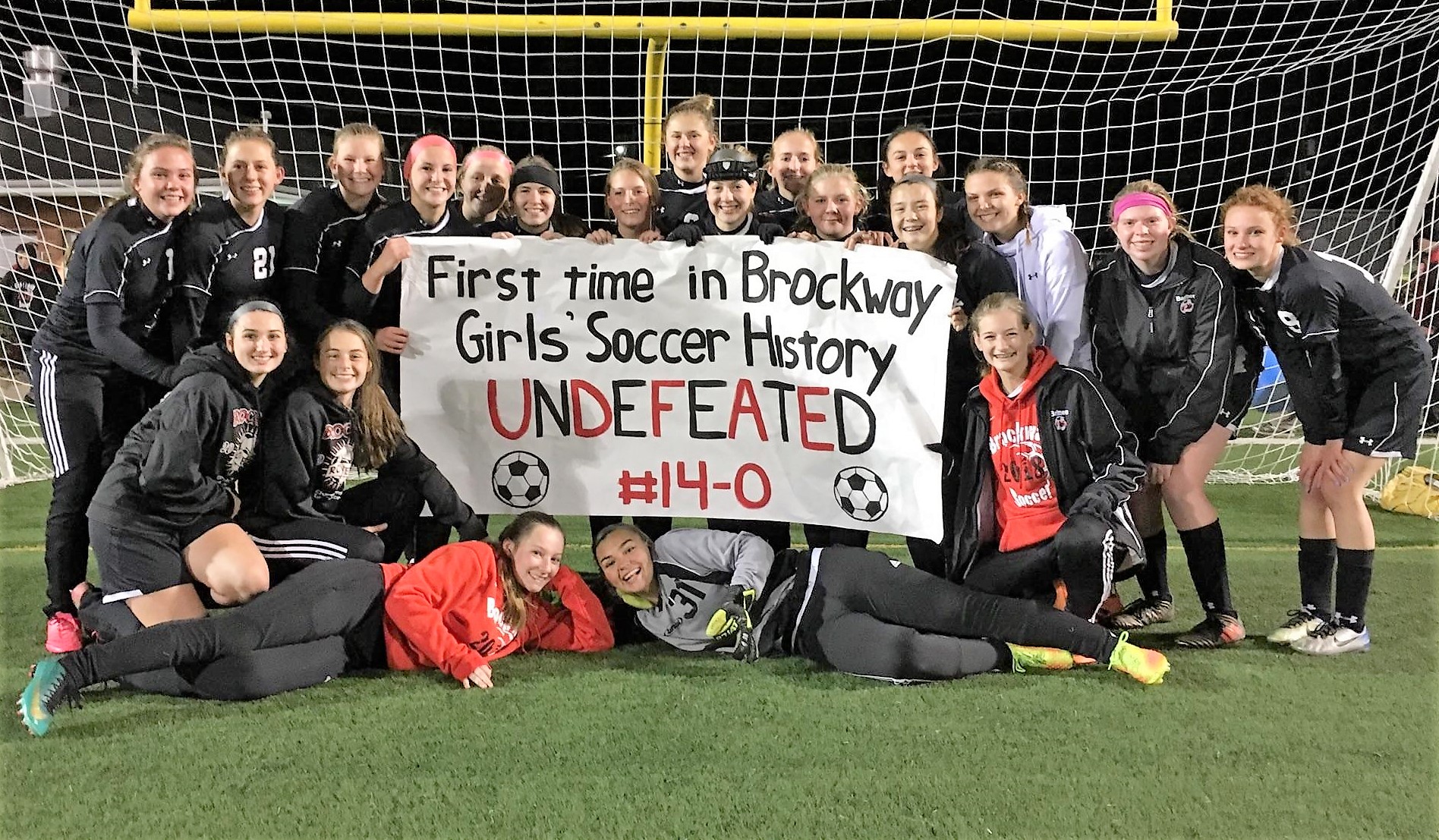 Oct. 18 recaps.
(Photo: Brockway's girls' soccer team completed the first unbeaten regular season in its history with a win over ECC Thursday. Submitted photo)
GIRLS' SOCCER
BROCKWAY 5, ELK COUNTY CATHOLIC 1
BROCKWAY, Pa. – Thanks to four Chanell Britten goals, Brockway finished off the first unbeaten regular season in school history with a 5-1 win over visiting Elk County Catholic.
Kate McMeekin added a goal and an assist for the Lady Rovers, who finished 14-0 on the year. Morrigan Decker added a pair of helpers for Brockway with Lilly Sysko and Callie Barber also adding assists.
Mackenzie Overbeck made 12 saves in net for the Lady Rovers.
CLEARFIELD 3, CURWENSVILLE 0
HYDE, Pa. – A pair of Alayna Ryan goals helped Clearfield knock off visiting Curwensville 3-0.
Amanda Hazel scored the first goal for Clearfield with all three tallies coming before halftime.
The Lady Bison outshot Curwensville 32-7 with Maura Bunnell making 29 saves for the Lady Tide. Hayley Moore stopped all seven shots for the shutout for Clearfield.
WILMINGTON 3, KARNS CITY 1
KARNS CITY, Pa. – Visiting Wilmington topped Karns City, 3-1.
Olivia Rumbaugh scored for the Lady Gremlins off a feed from Hunter Dittman.
CLARION 5, PUNXSUTAWNEY 0
PUNXSUTAWNEY, Pa. – A Lauren Troutman hat trick lifted visiting Clarion to a 5-0 win over Punxsutawney.
Lindsey Kemmer and Joyce Kim also scored for the Lady Cats, while Hannah Hazlett and Wendy Beveridge combined on the shutout in net.
BRADFORD 3, DUBOIS 0
DUBOIS, Pa. – Thanks to a pair of Regan Johnson goals visiting Bradford beat DuBois, 3-0.
Marissa Miller also scored for the Lady Owls. Mackenzie Lucas made five saves to get the shutout.
VOLLEYBALL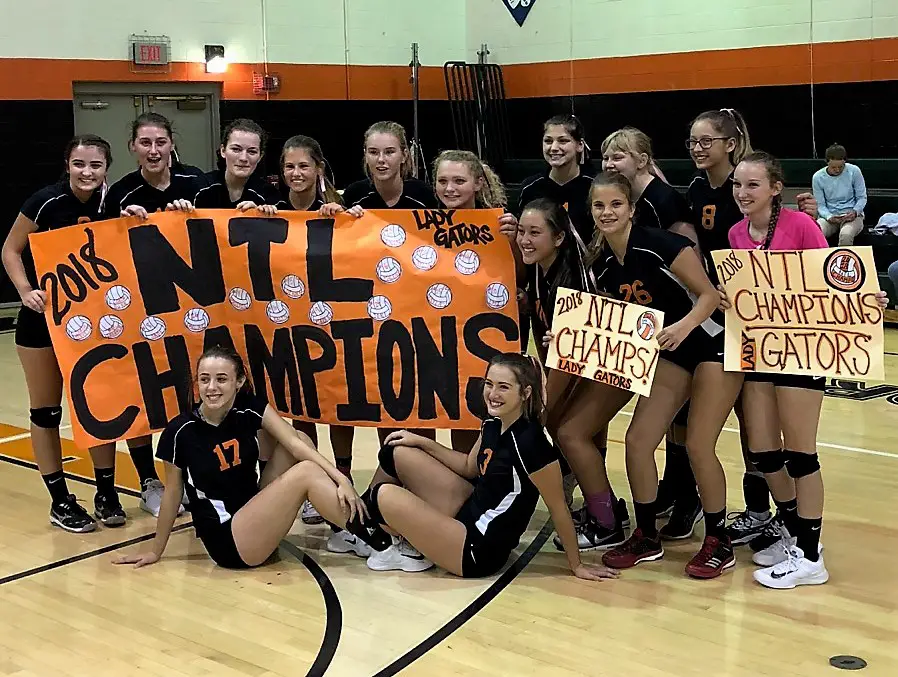 PORT ALLEGANY 3, SMETHPORT 0
PORT ALLEGANY, Pa. – A strong offensive night from Jenna Sprankle lifted NTL champion Port Allegany over visiting Smethport, 3-0 (25-15, 25-14, 25-15).
Sprankle ran the Lady Gators offense racking up 20 assists, four aces and eight digs. Erin Stauffer added eight aces and Kierra Keck had seven kills and five aces.
CRANBERRY 3, OIL CITY 0
OIL CITY, Pa. – Behind 30 digs and three aces from Ally Young, visiting Cranberry swept Oil City, 3-0 (25-15, 25-12, 25-15).
Maddie Cornelius racked up 17 digs and three kills for the Berries while Ava Ferringer tallied 14 kills and two digs. Emily Duncan ran the offense with two aces and a game-high 24 assists and Malliah Schreck chipped in for nine kills and 10 digs.
COUDERSPORT 3, OSWAYO VALLEY 1
COUDERSPORT, Pa. – Shaelyn Black had five aces and 15 kills to help Coudersport defeat Oswayo Valley, 3-1 (25-18, 25-16, 23-25, 25-20).
Dana Dubots added five aces and 11 kills for the Lady Falcons and Erica Williams chipped in for five aces and five kills. Mikayla Kavounas had 11 assists.
For Oswayo Valley, Kayley Carpenter had three aces, six blocks and two kills while Naomi Cook tallied three aces and seven kills.
OTTO-ELDRED 3, NORTHERN POTTER 2
ULYSSES, Pa. – Otto-Eldred rallied from a 2-0 deficit to defeat Northern Potter, 3-2 (21-25, 17-25, 25-20, 25-17, 15-10).
Reilly Rought led the Lady Terrors with a double-double of 13 digs and 17 kills while Haley Cousins added six aces, 10 digs and 10 kills. Emma Lee Sheeder ran the offense with four aces and 21 assists.
Mirissa Bliss had 12 assists, 15 digs and three kills and Courtney Martin tallied three aces, two assists, six digs and eight kills for Northern Potter.
STATE COLLEGE 3, CLARION 0
CLARION, Pa. – Despite six kills from Kait Constantino, Clarion dropped a 3-0 (25-19, 25-14, 25-8) decision to visiting State College.
Maddie Schill and Dorothy Kalinowski each added three kills for the Lady Cats with Brenna Campbell adding 15 set assists and KK Girvin 13 digs.
DUBOIS 3, CENTRAL MOUNTAIN 0
DUBOIS, Pa. – A balanced team effort helped DuBois take care of visiting Central Mountain, 3-0 (25-16, 25-10, 25-13).
Cayla Donahue led the Lady Beavers with 10 kills and nine digs, Sydney Kaschalk tallied eight kills and three blocks and Cate Gregory had a match-high 22 assists.
JOHNSONBURG 3, ST. MARYS 0
JOHNSONBURG, Pa. – Johnsonburg swept St. Marys, 3-0 (28-26, 25-16, 25-12).
Lindsey Kocjancic led the Lady Rams with 14 kills, Jena Morgan tallied 10 and Kensie Sallack added six.
REDBANK VALLEY 3, BROCKWAY 0
NEW BETHLEHEM, Pa. – Josie Rupp and Jordan Milliron each had seven kills to lead Redbank Valley to 3-0 (25-18, 25-8, 25-11) win over visiting Brockway.
Rupp added five aces in the win, while TL Nelson had five kills. Carissa Rearick ran the offense with 24 assists while adding two aces and Hope Spence had 12 digs and four aces.
Abby Alford had five kills, eight digs and two aces for Brockway.
A-C VALLEY 3, KEYSTONE 0
KNOX, Pa. – Kylee Eaton and Olivia Boocks combined for 28 kills and 19 digs to lead A-C Valley to a 3-0 (25-19, 25-14, 25-9) road win over Keystone.
Eaton had 17 kills and nine digs with Boocks adding 11 kills and 10 digs for the Lady Falcons.
Emily Wetzel ran the A-C Valley offense with 19 assists while chipping in nine digs and six aces, while Andrea Meals had 10 digs, three blocks and two kills.
McKenzie Hovis had six kills and six digs for Keystone with McKenna Kaye adding 10 digs, five kills and five assists, Mandy Wingard 12 digs and Emma Weaver eight assists.
TIDIOUTE CHARTER 3, UNION 2
TIDIOUTE, Pa. – Tidioute Charter won a back-and-forth affair with visiting Union, 3-2 (25-22, 11-25, 25-23, 22-25, 16-14).
Bryan Davis had a team-best 16 kills for Union with Dominika Logue adding 10 kills and Vanessa Reddick seven. Morgan Cumberland (30 assists) and Marli Hawk (17 assists) ran the Golden Damsels offense.
BROOKVILLE 3, PUNXSUTAWNEY 2
BROOKVILLE, Pa. – Cheyanne Gotwald and Mikayla Aikens combined for 18 kills to lead Brookville to a 3-2 (19-25, 25-17, 25-14, 19-25, 15-9) win over visiting Punxsutawney.
Both Gotwald and Aikens had nine kills apiece with Lexis Hatzinkolas adding seven and Lauren Hergert four.
Elliott Ferrent paced Punxsutawney with 15 kills with Cassidy Reed adding 13 kills and 25 digs.
RIDGWAY 3, KANE 2
RIDGWAY, Pa. – Ridgway dropped visiting Kane, 3-2 (21-25, 25-10, 11-25, 25-18, 15-13).
Ella Marconi had 22 kills and four blocks for Kane with Audri Marconi adding 12 kills and two blocks. Hannah Buhl had 36 assists.
Ridgway stats weren't available.
ELK COUNTY CATHOLIC 3, SHEFFIELD 0
ST. MARYS, Pa. – Taylor Newton's 19 kills lifted Elk County Catholic to a 3-0 (25-19, 26-24, 25-20) win over visiting Sheffield.
Hannah Barnett added seven kills for the Lady Crusaders with Ellie Fledderman running the offense with 28 assists.
DUBOIS CENTRAL CATHOLIC 3, CURWENSVILLE 1
DUBOIS, Pa. – Alyssa Bittner had 14 kills and two blocks to lead DuBois Central Catholic to a 3-1(25-23, 25-16, 23-25, 25-15) win over visiting Curwensville.
Shay Gulvas paced the Lady Cardinals defense with 28 digs while adding four aces. Maia Cogley had six aces, Ashley Wruble ran the offense with 20 assists and Jordy Kosko and Gabby Sabatose each had four kills.
Tarah Jacobson had 11 kills, six digs and an ace for Curwensville with Liz Mathews adding 11 kills, three aces and a dig and Emma Caldwell 34 assists and a dig.
BOYS' SOCCER
BRADFORD 2, PORT ALLEGANY 0
BRADFORD, Pa. – Goals by Ian Grady and Cadyn Sutherland helped Bradford beat visiting Port Allegany, 2-0.
Evan Schmidt made one save for the Owls, who dominated play but got just two goals thanks to 19 stops by Port Allegany keeper Brandon Peterson.
BROCKWAY 6, ELK COUNTY CATHOLIC 1
BROCKWAY, Pa. – Santino Inzana scored twice to to lead Brockway to a 6-1 win over visiting Elk County Catholic.
Zane Puhala, Hunter Allenbaugh, Jake Anderson and Ryan Lin each added a tally for the Rovers, while Allenbaugh had two assists and Puhala, Anderson, Elijah Fremer and Marcus Bennett one helper each.
BROOKVILLE 11, OIL CITY 2
BROOKVILLE, Pa. – Jace Miner had four goals and two assists to lead Brookville to an 11-2 win over visiting Oil City.
Garner McMaster added two goals and an assist for the Raiders with Tim Steele and J.P. Young also scoring twice. Hayden Kramer added a penalty kick goal for Brookville.