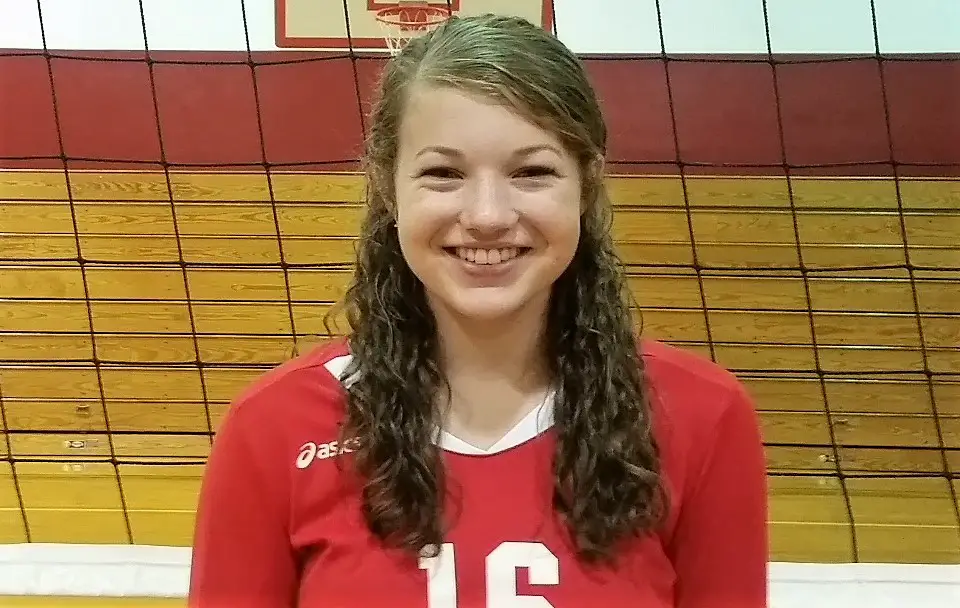 Oct. 2 volleyball and soccer recaps.
(Cover photo: Emily Gourley, Redbank Valley)
VOLLEYBALL
REDBANK VALLEY 3, KEYSTONE 2
KNOX, Pa. – Emily Gourley had 13 kills and six blocks to help Redbank Valley rally for a 3-2 (25-20, 14-25, 19-25, 25-20, 17-15) win at Keystone.
Montana Hetrick added seven kills and three aces for the Lady Bulldogs who also got seven kills and 29 set assists from Torrilynn Nelson and 21 kills and a block from Josie Rupp.
Makenzie Byerley led Keystone with 10 kills and five set assists. Sydney Easton had 31 digs, Danica Hurrelbrink five kills and five assists and Jenny McConnell 48 digs.
A-C VALLEY 3, SHARPSVILLE 1
FOXBURG, Pa. – Led by Olivia Boocks, Kylie Eaton and Josey Terwilliger A-C Valley beat visiting Sharpsville, 3-1 (25-23, 25-15, 22-25, 25-20).
Boocks led the Lady Falcons with 15 kills with Eaton and Terwilliger each adding 13 kills.
Boocks also had 29 digs, Eaton added 20 digs and Terwilliger 25 digs.
Syd Rankin (30 set assists, 26 digs), Emily Wetzel (13 set assists, 22 digs) and Kaylie Merwin (seven set assists, 9 digs) ran the offense.
NORTH CLARION 3, BROOKVILLE 2
BROOKVILLE, Pa. – Gena Caldwell had 13 kills and five blocks to help visiting North Clarion to a 3-2 win over Brookville.
Tori Obenrader added 12 kills, five blocks, 10 digs and three aces for the She-Wolves, while Paige Sherbine had 23 set assists, Gabby Schmader 11 digs and Katie Burkett six blocks and two aces.
Kira Powell led Brookville with 10 kills and five aces. Olivia Pearson had 13 kills and Morgan Johnson seven aces and a kill.
KARNS CITY 3, UNION 1
RIMERSBURG, Pa. – A team-wide effort helped visiting Karns City to a 3-1 (28-26, 26-28, 25-14, 25-15) win over Union.
Emily Wolfe and Makayla Waltman each had seven kills for the Lady Gremlins with Emily Hegedus and Livia Andreassi chipping in six kills apiece and Alyssa Stitt 26 set assists. Rayna Miller added three kills.
COWANESQUE VALLEY 3, AUSTIN 0
AUSTIN, Pa. – Despite 11 set assists, nine digs and two aces from Jordan Brewer, Austin dropped a 3-0 (25-16, 25-18, 25-17) decision to visiting Cowanesque Valley.
Taylor Brewer added two aces, two kills and four blocks for the Lady Panthers.
OSWAYO VALLEY 3, WELLSVILLE (N.Y.) 0
WELLSVILLE, N.Y. – Thanks in part to 10 kills, 10 aces and five digs from Shayla Bickel Oswayo Valley crossed into New York and defeated Wellsville (N.Y.), 3-0 (25-12, 25-11, 25-12).
Naomi Cook added five kills, three assists, five digs and two blocks for the Green Wave who also got 16 set assists and six digs from Madison Miller.
BOYS' SOCCER
BROCKWAY 5, DUBOIS CENTRAL CATHOLIC 1
DUBOIS, Pa. – Anthony Esposito scored twice to help visiting Brockway to a 5-1 win over DuBois Central Catholic.
Hunter Allenbaugh added a goal and two assists for the Rovers, who also got tallies from Carter Adams and Santino Inzana.
Egan Peck scored for DCC off a free kick.
BRADFORD 7, SAEGERTOWN 4
BRADFORD, Pa. – Colton Swanson netted a hat trick to help Bradford to a 7-4 win over visiting Saegertown.
Ian Grady chipped in a pair of goals and an assist for the Owls, who also got goals from Brett Degolier and Brent Kennedy. Kennedy added a helper as did Brennan Grady, Aryon Hart, Jason French, Colton Nichols and Alex Marrone.
Lain Scott also had a hat trick for Saegertown with an own goal accounting for the visitors other tally.
Evan Schmidt made four saves in the win, while Peyton Crays took the loss in goal despite 12 stops.
WILLIAMSON 3, NORTHERN POTTER 0
TIOGA, Pa. – Zach Emmert, Andrew Learn and Simon Fish all scored to lead Williamson to a 3-0 win over visiting Northern Potter.
Justin Robins had the shutout in goal making eight saves.
Holden Cowburn had nine saves for Northern Potter with AJ Lehman making three.
KARNS CITY 2, WILMINGTON 0
KARNS CITY, Pa. – Clay Gering and Nolan Riley both scored to lift Karns City to a 2-0 win over visiting Wilmington.
Garing scored off an Austin Rumbaugh pass, while Riley scored on a direct kick from 30 yards out.
Jake Wecklery recorded the shutout making five saves.
KANE 10, REDBANK VALLEY 4
KANE, Pa. – Aiden Zampogna and Clayton Detrick each recorded hat tricks to lift Kane to a 10-4 win over visiting Redbank Valley.
Pat Detsch added a pair of goals for the Wolves, who also scored on two Redbank Valley own goals.
Jordan Hicks scored twice for Redbank Valley with Dan Landers and Kolton Kline adding tallies.
GIRLS SOCCER
BROCKWAY 4, DUBOIS CENTRAL CATHOLIC 0
DUBOIS, Pa. – Another Chanell Britten hat trick helped visiting Brockway to a 4-0 win over DuBois Central Catholic.
Britten, only a sophomore who scored her 50th goal in the contest, also assisted on Morrigan Decker's goal, while Emily Botwright and Leah Lindemuth also added helpers for the Lady Rovers.
KARNS CITY 10, KEYSTONE 0
KNOX, Pa. – Haley Scherer scored the first of her five goals 19 seconds into the game, and Karns City rolled past Keystone, 10-0.
Hannah Knoll and Hunter Dittman added a pair of goals each for the Lady Gremlins, while Grace Genaway also scored.
PORT ALLEGANY 5, KANE 0
PORT ALLEGANY, Pa. – Emma Fox scored twice off feeds from Cailey Barnett, and Port Allegany scored four second-half goals on its way to a 5-0 win over Kane.
Bri Roys, Leah Garzel and Shaylee Caulkins also scored for the Lady Gators.
Roys and Barnett, who started the game in goal, combined on the shutout.
RIDGWAY 3, CURWENSVILLE 1
RIDGWAY, Pa. – Ridgway erased an early 1-0 deficit and beat visiting Curwensville, 3-1.
After Maddi Weber gave the Lady Tide a 1-0 lead, Katie Dybowski tied the score before Josie Benninger gave Ridgway the lead. Amanda Williams then made it 3-1 before halftime, and that score stood up in the second half.
CLARION 2, REDBANK VALLEY 1, OVERTIME
CLARION, Pa. -Alex Hannold scored in overtime to give Clarion a 2-1 win over visiting Redbank Valley.
Emily Grabiak also scored for the Lady Cats.
Hailey Minich scored for Redbank Valley.
ST. MARYS 6, SMETHPORT 1
ST. MARYS, Pa. – Thanks in part to two goals apiece from Lauren Eckert and Nicole Muccio, St. Marys topped visiting Smethport, 6-1.