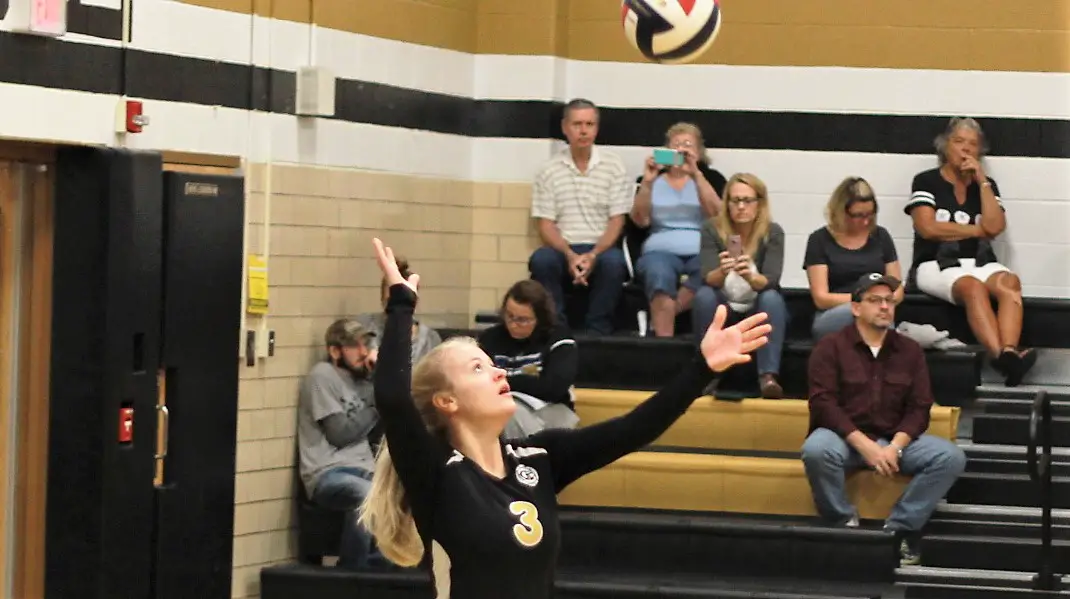 Oct. 22 volleyball recaps.
(Photo of Emma Caldwell of Curwensville. Photo by Jared Bakaysa of JB Graphics. See more of Bakaysa's work here)
CURWENSVILLE 3, CLEARFIELD 2
HYDE, Pa. – Visiting Curwensville held on to defeat Clearfield, 3-2 (25-23, 25-17, 21-25, 17-25, 15-7).
For the Lady Tide, Liz Mathews had five aces, eight kills and six blocks with Emma Caldwell adding three aces and a game-high 40 assists. Tarah Jacobson chipped in for two aces, seven kills and four digs and Erica Buck had four aces and 13 kills.
SHEFFIELD 3, BROCKWAY 2
SHEFFIELD, Pa. – Sheffield rallied to defeat visiting Brockway, 3-2 (14-25, 20-25, 25-22, 25-12, 15-12).
Annabel Sheldon led the Lady Wolverines with nine kills and 16 digs, Megan Johnson had 16 assists and 11 digs and Emily Leichtenberger added four kills and 18 digs.
Mikayla Duffalo paced the Lady Rovers with 11 kills and eight aces while Abby Alford chipped in for eight kills and eight digs.
KEYSTONE 3, NORTH CLARION 1
FRILLS CORNER, Pa. – Emily Lauer and McKenna Kaye led visiting Keystone to a 3-1 (25-19, 23-25, 25-20, 25-3) victory over North Clarion.
Lauer racked up two aces, seven digs and five kills while Kaye added six aces, five digs and nine assists for the Lady Panthers. Emma Weaver had a game-high 16 assists.
A-C VALLEY 3, OIL CITY 0
FOXBURG, Pa. – Kylee Eaton had 10 kills five digs and four aces to lead A-C Valley to a 3-0 (25-9, 25-8, 25-9) win over visiting Oil City.
Olivia Boocks added six kills, 10 digs and five aces for the Lady Falcons with Emily Wetzel adding 16 assists and 10 digs.
RIDGWAY 3, ELK COUNTY CATHOLIC 1
ST. MARYS, Pa. – Despite 26 assists from Ellie Fledderman, Elk County Catholic fell to Ridgway, 3-1 (17-25, 25-15, 25-19, 27-25).
Hannah Barnett had seven kills and Taylor Newton added 22 for the Lady Crusaders.
Ridgway's stats weren't available.