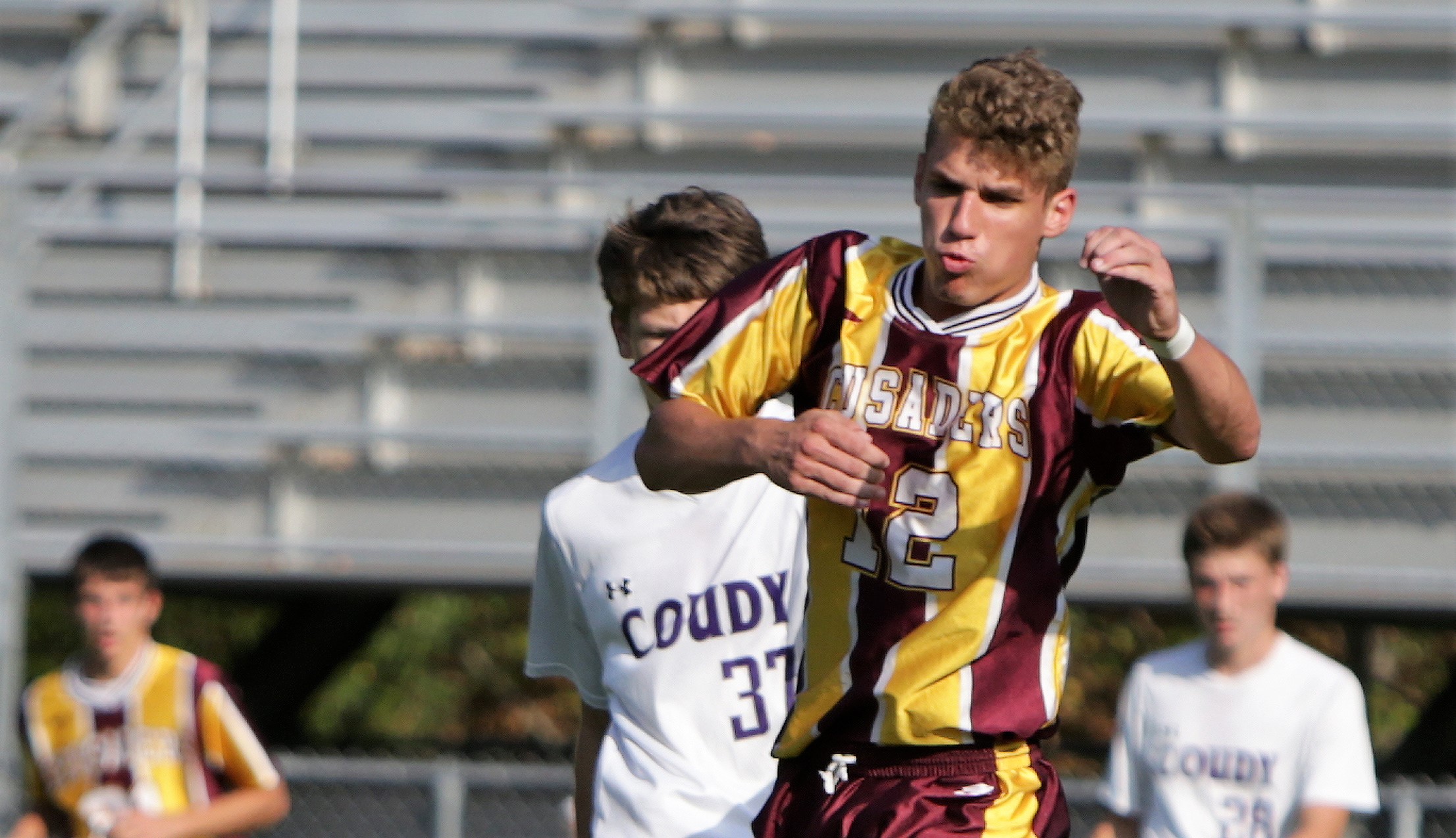 Oct. 23 soccer and volleyball recaps.
(Cover photo by Paul Burdick. Check out more of Burdick's work here)
BOYS' SOCCER
ELK COUNTY CATHOLIC 1, COUDERSPORT 0, SHOOTOUT
COUDERSPORT, Pa. – Fifth-seeded Elk County Catholic got shootout goals from Erick Mader, Joe Aiello and Regis Wortman to down fourth-seeded Coudersport, 1-0, in the District 9 Class 1A quarterfinals at Coudersport.
The teams played to a nil-nil score through regulation and sudden-death overtime before the shootout goals helped the Crusaders take the shootout, 3-1. David Kudrick scored in the shootout for the Falcons.
ECC will take on top-seeded Brockway at 7 p.m. Thursday at DuBois High School in the semifinals.
PORT ALLEGANY 2, FOREST AREA 1
PORT ALLEGANY, Pa. – Second-half goals just a little over three minutes apart helped defending District 9 Class 1A champion and third-seeded Port Allegany hold off an upset attempt by sixth-seeded and visiting Forest Area, 2-1.
The Fires, who didn't even get to a needed .500 record until the last regular-season game, took a 1-0 lead at halftime on a scramble in front of the net that ended up on the net off the foot off Seth Berlin.
But Port Allegany tied the game in the 53rd minute on a goal by Tyler Lashway, and in the 56th minute, David Talkington put home a rebound off a Payton Caden shot to give the Gators the lead.
Port Allegany will take on second-seeded Clarion-Limestone at 7 p.m. at Varischetti Field in Brockway.
VOLLEYBALL
A-C VALLEY 3, SLIPPERY ROCK 0
SLIPPERY ROCK, Pa. – Josey Terwilliger recorded 16 kills and 16 digs to lead visiting A-C Valley to a 3-0(25-15, 25-15, 25-18) win at Slippery Rock.
Olivia Boocks added 10 kills and 15 digs for the Lady Falcons, while Cassie Schwalm had eight kills and 11 digs and Kylee Eaton seven kills, five blocks and 16 digs. Syd Rankin ran the offense with 25 set assists while adding 10 digs, while Emily Wetzel chipped in 10 set assists and 10 digs.
NORTHERN POTTER 3, AUSTIN 1
AUSTIN, Pa. – Behind 19 kills and four digs from Kalie Cowburn and eight kills, five aces and four digs from Ashley Kunselman visiting Northern Potter topped Austin, 3-1 (20-25, 25-20, 25-21, 26-24).
Jenna Hyde ran the Lady Panthers offense with 31 set assists while adding five aces and three kills, while Savannah Herring had nine kills and six aces in the final game of the year for NoPo.
Jordan Brewer had 12 set assists, five kills and four aces for Austin with Rylee Hooftallen chipping in five aces and three digs and Taylor Brewer three aces and three kills.
CURWENSVILLE 3, CLEARFIELD 1
CURWENSVILLE, Pa. – Anna Hoover had 13 kills and Elizabeth Mathews added 10 kills to help Curwensville finish the season on a winning note with a 3-1 (24-26, 25-17, 25-22, 25-20) win over visiting Clearfield.
Tarah Jacobson and Raylee Sunderlin each chipped in four kills for the Lady Tide with Emma Caldwell running the show with 21 set assists.
JOHNSONBURG 3, DUBOIS CENTRAL CATHOLIC 0
JOHNSONBURG, Pa. – On Senior Night in Johnsonburg, senior Brianna Quiggle had six kills and two aces to help the Ramettes to a 3-0 (25-8. 25-16, 25-14) victory over visiting DuBois Central Catholic.
Dora Nelson (nine set assists) and Rylee Casilio (10 set assists, 4 aces) ran the offense for Johnsonburg with Lindsey Kocjancic recording a team-best eight kills while chipping in four aces and Skylar Sherry coming away with eight aces.
SMETHPORT 3, OSWAYO VALLEY 0
SMETHPORT, Pa. – Abbey Woodard's 20 kills, seven digs, six aces and three blocks helped Smethport to a 3-0 (25-15, 25-21, 25-20) win over visiting Oswayo Valley.
Haleigh Larson chipped in six kills, eight digs and two aces for the Lady Hubbers who also got three kills, 15 digs and five aces from Emily Treat and 20 set assists and four digs from Kiara Orner.
Shayla Bickel led Oswayo Valley with eight kills, 12 digs and three aces, Macy West had two kills and two blocks and Madison Miller chipped in 22 set assists and a kill.
OTTO-ELDRED 3, PORT ALLEGANY 0
DUKE CENTER, Pa. – Camryn Thomas had 16 kills and three blocks to lead Otto-Eldred to a 3-0 (25-10, 26-24, 25-11) win over visiting Port Allegany.
Emily Smith quarterbacked the offense for the Lady Terrors with 30 set assists while adding four aces, Harley VanScoter chipped in four aces and three kills and Ali Cousins had seven kills and 13 digs.
CRANBERRY 3, KARNS CITY 0
SENECA, Pa. – A combined 33 kills from Malliah Schreck (12), Lauren Conkle (11) and Ava Ferringer (10) led Cranberry to a 3-0 (25-19, 25-13, 25-21) win over visiting Karns City.
Schreck added six digs and a block for the Berries who also got 40 set assists from Erin Merryman.