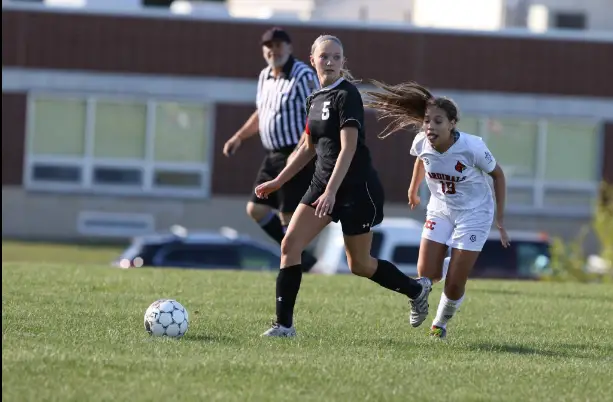 District 9 Class 1A girls' quarterfinals recaps from Oct. 24.
(Photo of Adrianna Azzato, Brockway. Submitted photo)
(2) BROCKWAY 7, (7) ELK COUNTY CATHOLIC 2
BROCKWAY, Pa. – Chanell Britten, Lauren Duttry and Adrianna Azzato each scored twice, as second-seeded Brockway rolled past seventh-seeded Elk County Catholic, 7-2, at Brockway in the District 9 girls' 1A quarterfinals at Johnsonburg.
Callie Barber also scored for the Lady Rovers (13-3), while Maddie Sorg netted both goals for Elk County Catholic (10-8).
Brockway will play third-seeded Ridgway, a 4-1 winner over Redbank Valley, in the semifinals at a date, time and location to be announced.
(3) RIDGWAY 4, (6) REDBANK VALLEY 1
JOHNSONBURG, Pa. – Cassidy King scored the game-winning goal in the 42nd minute, and Madeline Cowan added a pair of insurance markers as third-seeded Ridgway beat sixth-seeded Redbank Valley, 4-1, in the District 9 girls' 1A quarterfinals at Johnsonburg.
The teams were tied at 1-1 at halftime thanks to goals from Ridgway's Julie Alford and Redbank Valley's Emma Reddinger, but King wasted little time after halftime breaking the tie.
Cowan then added her two insurance goals in the final 18 minutes.
The Lady Elkers will play second-seeded Brockway, a 7-2 winner over Elk County Catholic, in the semifinals at a time, date and location to be announced.
Ridgway is 13-3-2 on the year, while Redbank Valley finishes 9-8-1.
(4) Port Allegany 2, (5) Clarion 1
PORT ALLEGANY, Pa. – Autumn Buchsenschutz scored a goal and added an assist to lead fourth-seeded Port Allegany to a 2-1 win over fifth-seeded Clarion in the District 9 1A girls' quarterfinals at Port Allegany.
The Lady Gators (12-6-1) grabbed a 2-0 halftime lead thanks to an Autumn Freer goal off a Buchsenschutz pass and a Buchsenschutz penalty kick.
That scored held up until the 76th minute when Alexa Kriebel scored off a corner kick to close the gap to one for the Lady Cats (9-7-2), but Clarion couldn't get the equalizer.
Port Allegany will face top-seeded DuBois Central Catholic, who had a quarterfinal bye, in the semifinals at a time, place and date to be determined. It's the Lady Gators first trip to the semifinals under head coach Travis Cowburn.