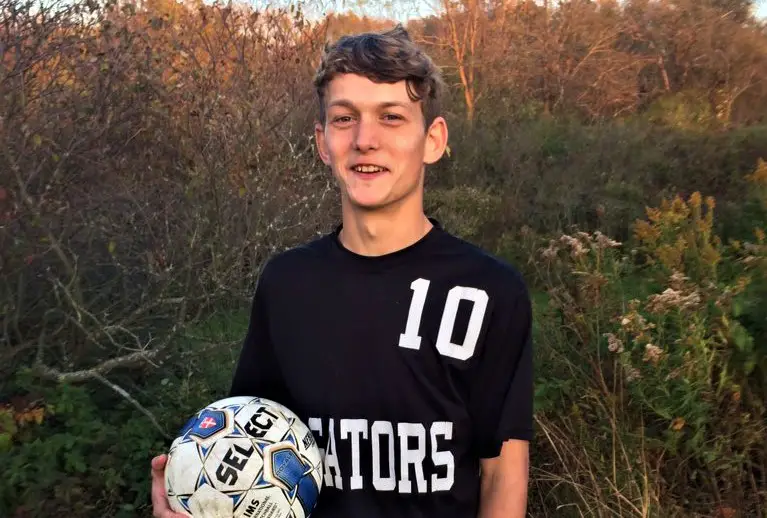 Oct. 25 soccer and volleyball recaps.
BOYS' SOCCER
PORT ALLEGANY 3, CLARION-LIMESTONE 2, OVERTIME
BROCKWAY, Pa. – Payton Caden's second goal of the game with 3:07 left in overtime lifted defending champion Port Allegany to a 3-2 win over Clarion-Limestone in the District 9 Class 1A semifinals at Brockway's Varischetti Field.
Caden, who scored the Gators first goal of the game with 6:53 left in the first half to tie the game at one at the time, had appeared to give Port Allegany, the third seed, the lead late in regulation but had the goal waved off.
After falling behind 1-0 when Jake Burns scored on a header off a corner about 12 minutes into the game for the Lions, the second seed, Caden tied the game with his 33rd goal of the year.
David Talkington then put Port Allegany ahead five minutes into the second half when he buried a rebound off a Caden shot.
The Gators lead remained at one for most of the second half before Braden Peters tied the game with 8:37 to play.
Port Allegany will play the winner of Thursday's other semifinal game between top-seeded Brockway and fifth-seeded Elk County Catholic.
KARNS CITY 4, PUNXSUTAWNEY 3, SHOOTOUT
DUBOIS, Pa. – Ryan Truax's goal in the sixth round of the shootout lifted Karns City to a 4-3 shootout win over Punxsutawney in the District 9 Class 2A semifinals at DuBois High School.
The game was tied at three at the end of regulation before the teams engaged in an epic shootout that saw each team score on its first four shots of the shootout with Karns City's coming from Austin Rumbaugh, Nate Rondinelli, Nolan Riley and Dakota King.
After Truax scored on the sixth shot for the Gremlins, Karns City's keeper Jake Weckerly stopped the Punxsutawney attempt to tie the shootout sending the Gremlins to the title game against St. Marys.
Karns City fell behind by a goal on three different occasions only to tie the game each time.
Riley tied the contest at one on a direct kick from 30 yards, Rondinelli then tied the game at two on a penalty kick and with eight minutes to play, Rondinelli scored on a header off a corner kick from Riley to knot the game at three. It was Rondinelli team-leading 18th goal of the year.
Karns City then strategically decided to pack it in and play for the shootout with the idea that the Gremlins had done well in shootouts all season, and the strategy paid off.
Punxsutawney goal scorers were not available.
VOLLEYBALL
DUBOIS 3, KARNS CITY 0
DUBOIS, Pa. – Danessa Allison had 12 kills and five aces to lead DuBois to a 3-0 (25-16, 25-15, 25-13) win over visiting Karns City.
Lexi Ray added six kills, six aces and four blocks for the Lady Beavers with Kylee Bundy chipping in 25 set assists.