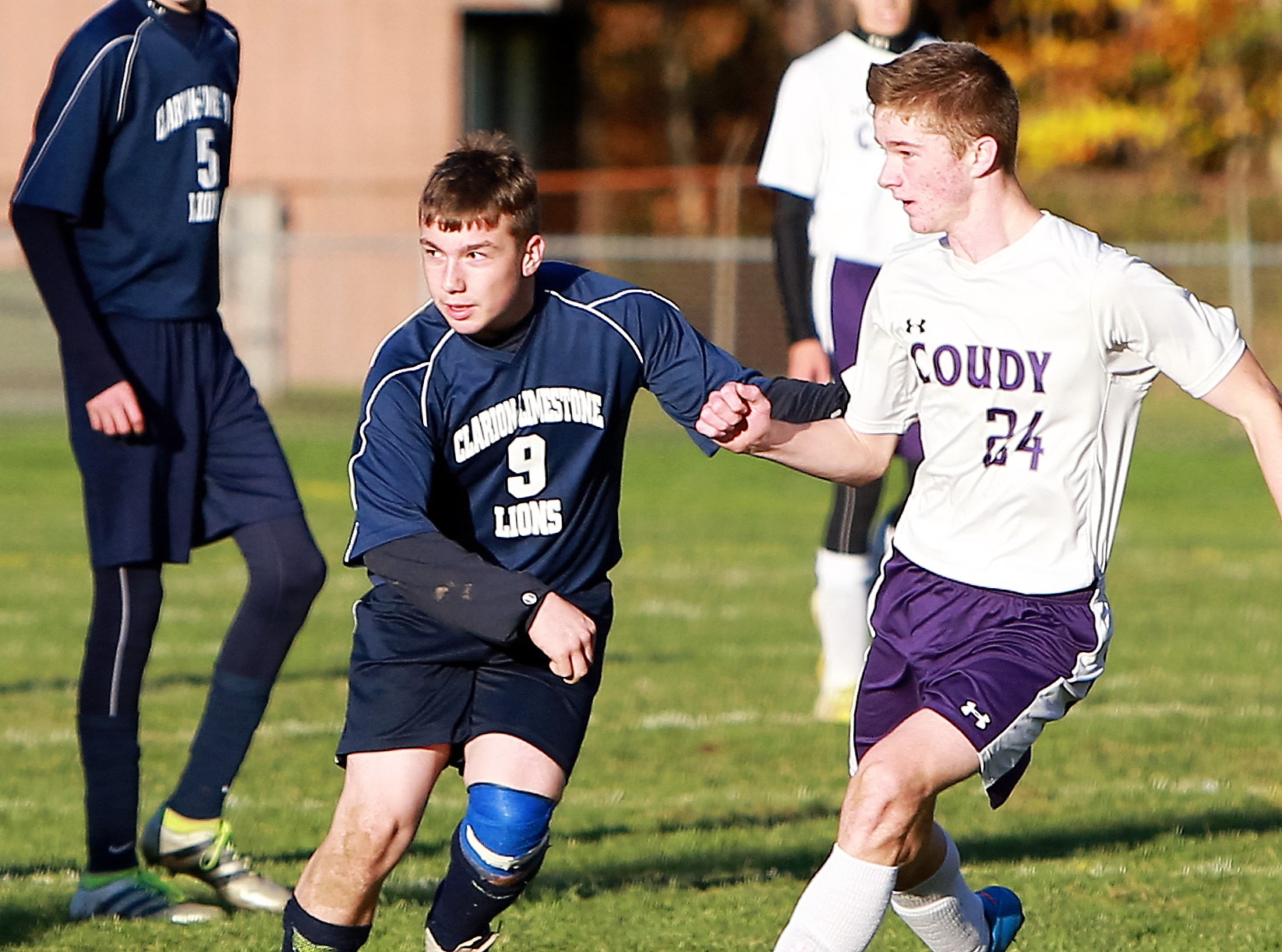 District 9 soccer playoff recaps from Oct. 25.
(Cover photo: Coudersport's David Kudrick (24) and Clarion-Limestone's Braden Peters (9) look for the ball during the Falcons 8-4 win over the Lions Tuesday in the D9 1A quarterfinals. Kudrick scored twice and Peters once. Photo by Paul Burdick. Check out more of Burdick's work here)
BOYS' SOCCER
COUDERSPORT 8, CLARION-LIMESTONE 4
COUDERSPORT, Pa. – David Kudrick's penalty kick goal in the 36th minute broke a 2-all tie and started a run of six straight goals for the fourth-seeded Falcons, who knocked off visiting fifth-seeded Clarion-Limestone, 8-4, in the District 9 1A boys' quarterfinals.
The Falcons (13-6) and Lions (6-7) were tied at two when Kudrick was awarded the penalty kick late in the first half. The Coudersport junior then beat C-L keeper Harrison Potter, who made 14 saves, with the go-ahead goal that gave the home squad a 3-2 halftime lead.
That lead grew to 8-2 when Coudersport scored the first five goals of the second half.
Kudrick had a pair of tallies, both in the first half, for the Falcons as did Michael Kane and Eli Trimbur. Owen Chambers and Donovan Olney also scored for Coudersport.
Blake Phillips had the hat trick for C-L, including both Lions' first-half tallies. His penalty kick goal tied the game at two. Braden Peters also scored for C-L.
Coudersport will take on top-seeded Brockway in the semifinals at a site, date and time to be announced. Brockway had a bye in the quarterfinals.
DUBOIS 1, BRADFORD 0
BROCKWAY, Pa. – Jared Hawkins' second-half goal lifted second-seeded DuBois to a 1-0 win over third-seeded Bradford in the District 9 Class 3A soccer semifinals at Brockway.
DuBois (12-4-2) will take on top-seeded Clearfield in the championship game at a date, site and time to be announced. The Bison had a bye into the title contest.
Bradford finishes the season 8-10.
GIRLS' SOCCER
ST. MARYS 2, BRADFORD 1
BROCKWAY, Pa. – Third-seeded St. Marys built a 2-0 lead and held off a late Bradford comeback attempt to knock off the second-seeded Lady Owls, 2-1, in the District 9 3A girls' soccer semifinals.
Kira Pesce and Lauren Eckert scored for the Lady Dutch (12-6), who led 1-0 at halftime.
Payton Kloss scored late for Bradford (10-6).
St. Marys will take on top-seeded DuBois in the title game at a date, time and location to be announced. The Lady Beavers had a bye into the title game.