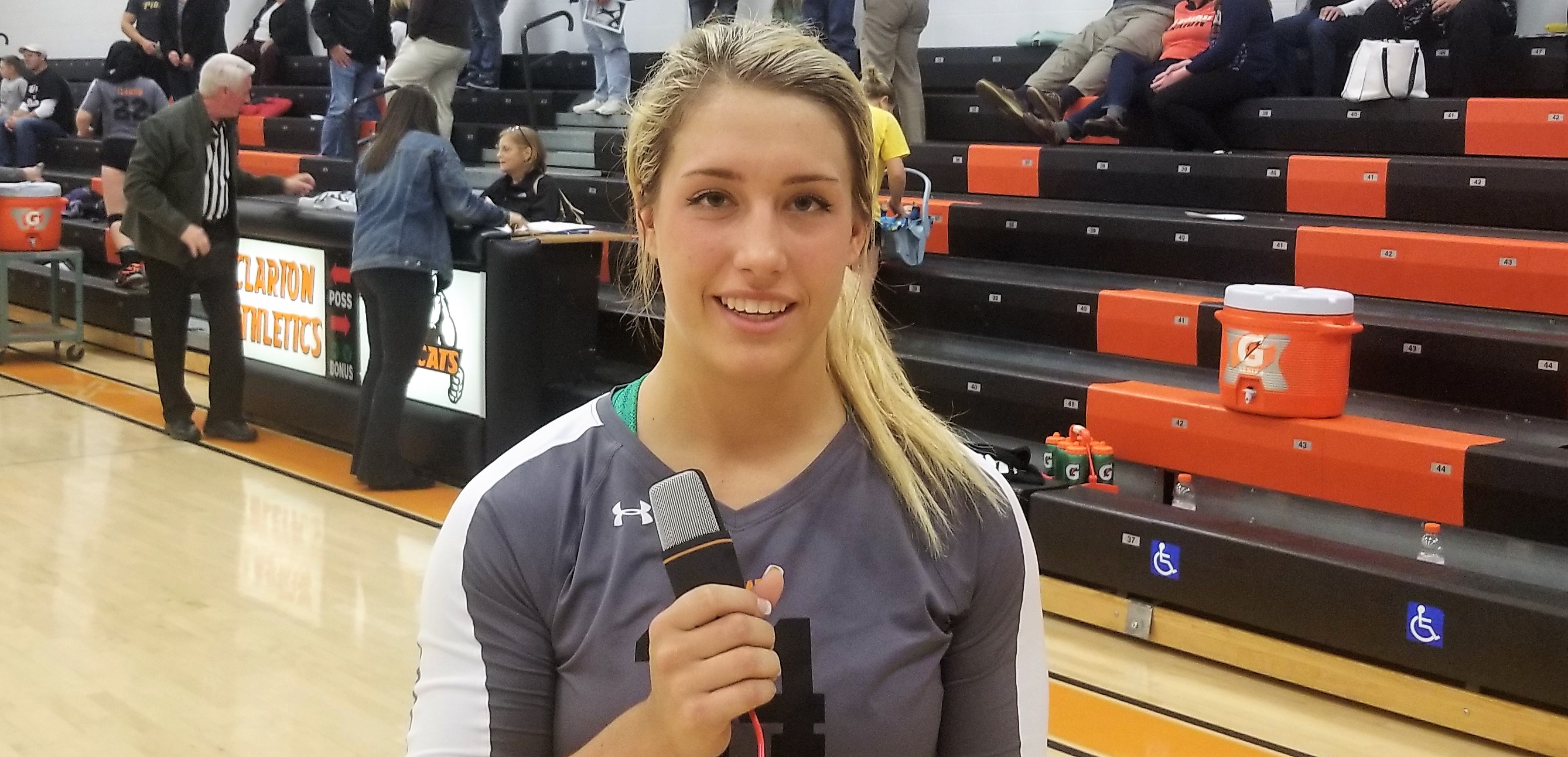 Oct. 26 volleyball and soccer scores.
(Cover photo: Maya Thornton, Clarion)
BOYS' SOCCER
BROCKWAY 2, ELK COUNTY CATHOLIC 0
DUBOIS, Pa. – Hunter Allenbaugh and Zane Puhala scored to lift Brockway back to the District 9 Class 1A championship game and the PIAA playoffs with a 2-0 win over Elk County Catholic in the semifinals at DuBois High School.
Allenbaugh's goal came with 6 ½ minutes left in the first half on a penalty kick after he got tripped in the box.
Puhala then added to the lead 16 minutes into the second half when he took a feed from Devin Velez and scored.
Austin Moore made the goals stand up by making four saves.
Top-seeded Brockway will get a rematch with Port Allegany, the third seed who defeated the Rovers in last year's title game, in the championship contest. Details on that game are still TBA according to District 9.
BRADFORD 3, CLEARFIELD 0
BROCKWAY, Pa. – Brent Kennedy's hat trick lifted second-seeded Bradford into the District 9 Class 3A championship game with a 3-0 win over third-seeded Clearfield at Varischetti Field in Brockway.
Colton Swanson assisted on a pair of Kennedy's goals while Brett Degolier also picked up a helper for the Owls.
Evan Schmidt made five saves to record the shutout.
Bradford faces top-seeded DuBois at 6 p.m. Monday at Clarion University's Memorial Stadium in the championship game.
GIRLS' SOCCER
DUBOIS 1, BRADFORD 0
BROCKWAY, Pa. – Maddison King scored the lone goal in a 1-0 DuBois win over Bradford in the District 9 Class 3A semifinals at Brockway's Varischetti Field.
The second-seeded Lady Beavers will take on top-seeded St. Marys in the championship game at 8 p.m. Monday at Clarion University's Memorial Stadium. Third-seeded Bradford's season is over.
VOLLEYBALL
D9 Class 1A First Round
CLARION 3, DUBOIS CENTRAL CATHOLIC 0
CLARION, Pa. – Maya Thornton had 11 kills, three digs and two aces to help third-seeded Clarion to a 3-0 (25-12, 25-13, 25-10) win over visiting and 14th-seeded DuBois Central Catholic.
Thornton talked about the victory.
Hailey Sintobin added seven kills for the Lady Cats with Maddie Schill chipping in five and Lexi Lauer four.
Alexis Constantino led the Clarion defense with 10 digs, and Lauer added nine.
Brenna Campbell ran the offense with 29 set assists.
Sophomore Jordan Kosko had four kills to pace DCC, including three in the first set, while Alyssa Bittner chipped in three kills and Keri Hollenbaugh two.
Clarion scored 18 points directly off of serves including six aces.
The Lady Cats will host sixth-seeded Johnsonburg at 6:30 p.m. Tuesday in the quarterfinals.
NORTH CLARION 3, OSWAYO VALLEY 1
FRILLS CORNERS, Pa. – Tori Obenrader had 18 kills and five blocks to lift eighth-seeded North Clarion to a 3-1 (25-16, 16-25, 27-25, 25-21) win over visiting and ninth-seeded Oswayo Valley.
Paige Sherbine was strong in running the offense finishing with 57 set assists while adding nine digs. Gena Caldwell chipped in seven kills and three blocks with Katie Burkett adding five kills and two blocks and Gabby Schmader 18 digs.
North Clarion will travel to top-seeded A-C Valley for a 6:30 p.m. match Tuesday in the quarterfinals.
CRANBERRY 3, PORT ALLEGANY 0
SENECA, Pa. – Lauren Conkle and Malliah Schreck combined on 21 kills to lead seventh-seeded Cranberry to a 3-0 (25-14, 25-19, 25-20) win over visiting and 10th-seeded Port Allegany.
Conkle led the Berries with 11 kills while adding four blocks, and Schreck had 10 kills, 16 digs and three blocks.
Erin Merryman ran the show with 26 set assists and added 14 digs and two kills, while Ellie Kahle had 19 digs and Emily Duncan 13 digs.
Kenzie Burr had eight kills and Hannah Lathrop seven for Port Allegany.
Cranberry will travel to second-seeded Otto-Eldred for a 6:30 p.m. Tuesday quarterfinal match.
COUDERSPORT 3, KEYSTONE 0
COUDERSPORT, Pa. – EmmaRae Easton had 10 kills and three blocks to help defending champion Coudersport, the fifth seed, beating 12th-seeded and visiting Keystone, 3-0 (25-15, 25-8, 25-11).
Adrian Page added six kills, 13 digs and three aces for the Lady Falcons with Haley Keck running the show with 25 set assists and added eight aces and a kill. Joplin Osgood paced the defense with 29 digs with Shaelyn Black chipping in 13 digs and Dana Dubots 10 digs.
Coudersport had 20 aces in the match with Emma Powell adding four and Osgood three.
Jenny McConnell and Mandy Wingard each had 16 digs for Keystone, while McKenzie Hovis and Tessa Weaver added two kills and two blocks each and Alyssa Dunlap had two kills.
Coudersport will travel to fourth-seeded Ridgway for a quarterfinal game at 6:30 p.m. Tuesday.
RIDGWAY 3, ELK COUNTY CATHOLIC 0
RIDGWAY, Pa. – Emily Fullem had 13 kills to lead Ridgway, the fourth seed, to a 3-0 (25-21, 25-20, 25-15) win over visiting and 13th-seeded Elk County Catholic.
Tonimarie Della chipped in 10 kills for the Lady Elkers, who will host fifth-seeded Coudersport in the quarterfinals at 6:30 p.m. Tuesday.
JOHNSONBURG 3, SMETHPORT 2
JOHNSONBURG, Pa. – Sixth-seeded Johnsonburg overcame a 2-0 deficit to knock off 11th-seeded and upset-minded Smethport, 3-2 (22-25, 10-25, 25-12, 25-18, 15-7) in Johnsonburg.
Skylar Sherry led the Ramettes with 12 kills and five digs, while Jensen Furlong had 11 kills and Riley Casilio 25 set assists and three aces. Brianna Quiggle chipped in eight kills and 15 digs, Haylee Cherry had 14 digs and Lindsay Kocjancic nine kills.
Abbey Woodard led Smethport with a match-high 25 kills to go with 10 blocks and nine digs. Haleigh Larson added seven kills and 19 digs, Kiara Orner chipped in 21 set assists and six digs and Emily Treat contributed five kills, 19 digs and four aces.
Johnsonburg travels to third-seeded Clarion for a 6:30 p.m. quarterfinal match Tuesday.
SHEFFIELD 3, YOUNGSVILLE 0
SHEFFIELD, Pa. – In regular-season action, Sheffield seniors led the way to a 3-0 (25-11, 25-14, 25-9) Senior Night win over visiting Youngsville.
Eliza Davidson had six kills and six digs, Lexi Lyon added six kills, Taya Bailey had 12 digs, Madison Finch two kills and a block and Mya Grubbs four aces, three kills and 16 set assists.
KANE 3, BRADFORD 0
KANE, Pa. – Twelves kills each from Ella Marconi and Kenda Udovich helped Kane close out the regular season with a 3-0 (25-23, 25-23, 25-23) win over visiting Bradford.
Ella Marconi added five blocks and five digs with Udovich chipping in seven digs. Also for the Lady Wolves, Trinity Clark had nine kills, 11 digs and a block, Audri Marconi had four kills, three aces and two blocks and Hannah Buhl 34 set assists.
BROOKVILLE 3, ST. MARYS 0
BROOKVILLE, Pa. – On Senior Night at Brookville, the Lady Raiders captured their 11th win – their most since winning 11 times in 2004 – with a 3-0 (25-8, 25-11, 25-16) win over St. Marys.
Olivia Pearson and Madison Batie, both seniors, had nine kills each with Batie adding four aces. Kira Powell chipped in three kills and three aces and Lily Palumbo four aces.
REDBANK VALLEY 3, PUNXSUTAWNEY 1
NEW BETHLEHEM, Pa. – Redbank Valley dropped the first set to visiting Punxsutawney but then won three straight to pick up a 3-1 (24-26, 25-19, 25-23, 25-15) win in its regular-season finale.
Emily Gourley had seven kills and seven blocks for the Lady Bulldogs with Josie Rupp adding eight kills, Jordan Milliron five kills, Kianna Shreckengost five kills and two blocks, Torrilynne Nelson five kills, Montana hetrick four kills, Tara Hinderliter 31 set assists and Kristen Shaffer 24 digs.