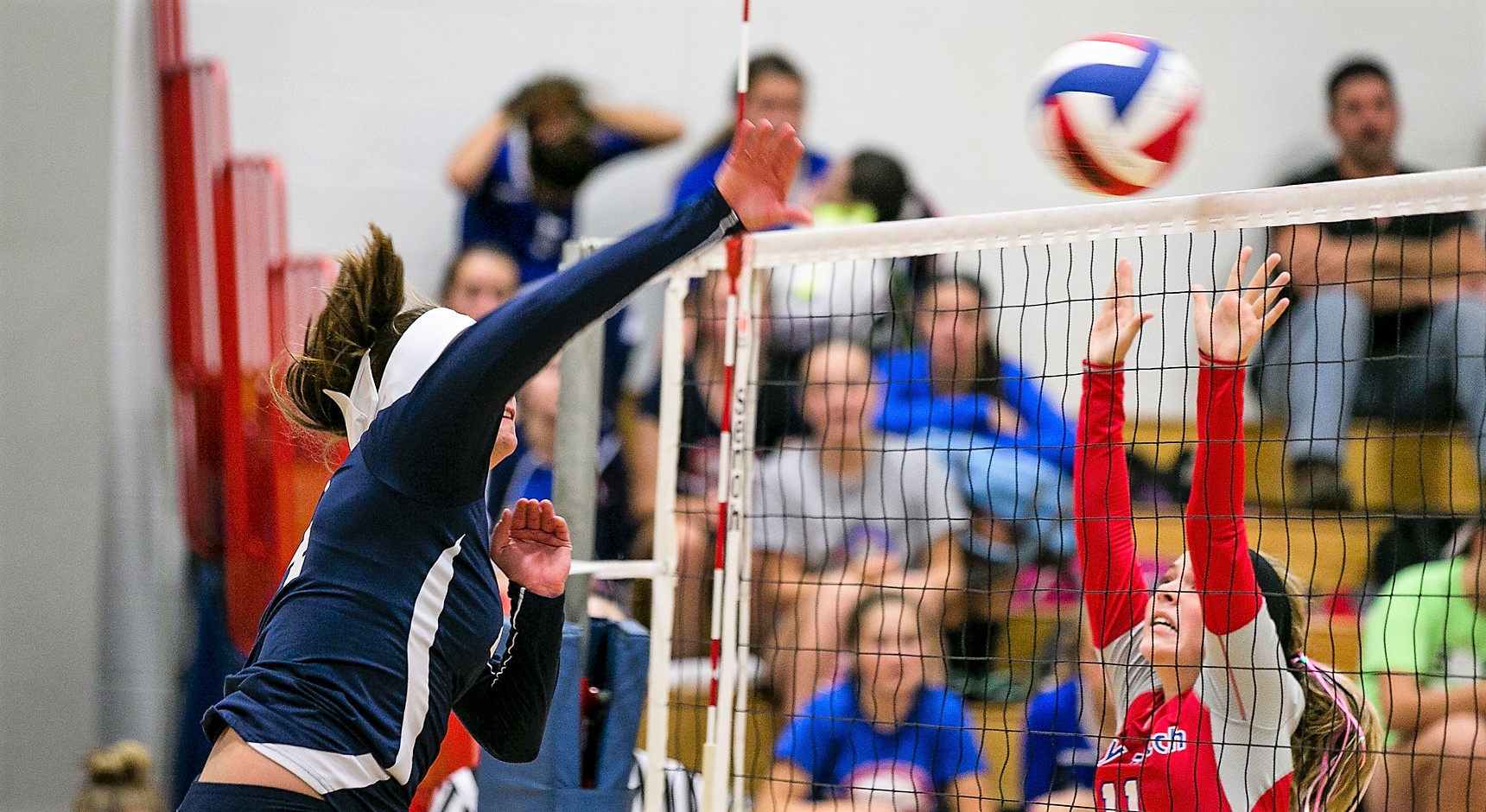 Oct. 3 volleyball and soccer recaps.
(Cover photo of Trinity Clark. Photo by Tessa Boschert. Check out more of Boschert's work here)
VOLLEYBALL
KANE 3, ST. MARYS 1
KANE, Pa. Thanks to 15 kills, six digs and four aces from Trinity Clark Kane beat visiting St. Marys, 3-1 (25-20, 25-7, 28-30, 25-14).
Ella Marconi added nine kills and four blocks for the Lady Wolves, who also got 26 set assists and six aces from Hannah Buhl, three kills, two aces and two blocks from Audri Marconi, eight digs from Lexi Woods and four aces and five kills from Kalen Johnson.
COUDERSPORT 3, PORT ALLEGANY 0
COUDERSPORT, Pa. – EmmaRae Easton and Adrian Page each had nine kills to help Coudersport to a 3-0 (25-17, 25-21, 25-18) win over visiting Port Allegany.
Page chipped in 21 digs and five aces for the Lady Falcons, who also got 42 digs from Joplin Osgood and 32 set assists from Haley Keck.
Kenzie Burr paced Port Allegan with seven kills and 23 digs. Erin Stauffer added 41 digs.
A-C VALLEY 3, KEYSTONE 0
KNOX, Pa. – Olivia Boocks had 13 kills, 17 digs and five aces, as visiting A-C Valley rolled to a 3-0 (25-16, 25-22, 25-14) win over Keystone.
Josey Terwilliger added 12 kills and 15 digs for the Lady Falcons with Kylee Eaton chipping in 11 kills, two blocks, eight digs and four aces. Syd Rankin had 19 set assists and 16 digs and Emily Weitzel added 10 set assists and nine digs.
Makenzie Byerley had five kills and an ace for Keystone with Jenny McConnell adding 34 digs, McKenzie Hovis four kills and Danica Hurrelbrink six set assists and two kills.
MONITEAU 3, CLARION-LIMESTONE 2
WEST SUNBURY – Thanks to 11 kills and three blocks from Emma Bair Moniteau outlasted visiting Clarion-Limestone, 3-2 (27-25, 25-21, 17-25, 21-25, 15-9).
Carolyn Kelly added six kills for the Lady Warriors who also got 21 set assists from Logan Barnhart and four kills from Madison Bresnehan.
Madison Craig had six kills for C-L with Erica Hetrick adding five kills and 11 digs, Rachel Greeley four blocks and a kill, Nikki Shumaker 21 digs and four aces and Keara Henry four set assists and eight digs. Madi Griffith also had five set assists and three aces.
UNION 3, DUBOIS CENTRAL CATHOLIC 2
DUBOIS, Pa. – Frankee Remmick had 17 kills, 10 digs and three aces to help visiting Union top DuBois Central Catholic, 3-2 (25-22, 28-30, 20-25, 25-18, 15-11), in a back-and-forth affair.
Marli Hawk added 17 digs for the Golden Damsels who also got 14 kills and nine digs from Bryn Davis seven digs and six kills from Amy Henry and 45 set assists from Hannah Atzeni.
DUBOIS 3, ELK COUNTY CATHOLIC 0
ST. MARYS, Pa. – Behind 13 kills, 11 digs and two aces from Danessa Allison visiting DuBois swept past Elk County Catholic, 3-0 (25-22, 25-11, 25-17).
Lexi Ray added seven kills and seven aces for the Lady Beavers with Kyle Bundy running the offense with 27 set assists and Abby Lecker pacing the defense with 34 digs.
FOREST AREA 3, VENANGO CATHOLIC 0
OIL CITY, Pa. – Bianca Hetrick had 15 kills, three aces, a dig and a set assist to lift visiting Forest Area to its first KSAC win, 3-0 (25-16, 25-19, 25-17), over Venango Catholic.
Makiya Bellotti chipped in 10 aces, a kill, two digs and 10 set assists for the Fires, who also got three aces and two kills from Jessica Wagner, an ace, a kill and two digs from Jasmine Ginnery, five aces from Angelina Harp and four aces, a kill and six set assists from Shawna Carbaugh.
REDBANK VALLEY 3, KARNS CITY 0
KARNS CITY, Pa. – Josie Rupp and Emily Gourley combined on 23 kills to lead visiting Redbank Valley to a 3-0 (25-23, 25-18, 25-16) win over Karns City.
Rupp had 12 kills, three aces and a block with Gourley adding 11 kills and seven blocks. Also for Redbank Valley, Torrilynne Nelson chipped in 12 set assists, four kills, three blocks and two aces, Kristen Shaffer had 17 digs and Jordan Milliron four kills and two aces.
OTTO-ELDRED 3, GALETON 0
DUKE CENTER, Pa. – Alyssa Shelander and Camryn Thomas each had nine kills in a 3-0 (25-12, 25-11, 25-22) Otto-Eldred win over visiting Galeton.
Shelander added nine digs and Thomas three aces for the Lady Terrors who also got 29 set assists, three kills and two aces from Emily Smith and seven kills, eight digs and three aces from Harlee VanScoter.
RIDGWAY 3, BROCKWAY 0
BROCKWAY, Pa. – Visiting Ridgway rolled to a 3-0 (25-11, 25-17, 25-18) win over Brockway.
Mikayla Duffalo had five kills and Morgan Rendos 10 set assists for Brockway.
Ridgway stats weren't available.
CRANBERRY 3, NORTH CLARION 0
SENECA, Pa. – Malliah Schreck and Lauren Conkle combined for 19 kills to help Cranberry to a 3-0 (25-18, 25-18, 25-22) win over visiting North Clarion.
Schreck led the Berries with 10 kills and added 16 digs with Conkle adding nine kills and four blocks. Erin Merryman had 22 set assists, nine digs and five kills, Ellie Kahle added 16 digs and Natalie Barcinas had four kills and five digs.
Gena Caldwell paced North Clarion with five kills, Tori Obenrader added three kills and four digs and Gabby Schmader had 13 digs.
SMETHPORT, Pa. – Abbey Woodard had 10 kills, seven blocks, two set assists and an ace to help Smethport to a 3-0 (25-19, 25-4, 25-15) win over visiting Northern Potter.
Emily Treat added 10 aces, five kills and three digs for the Lady Hubbers who also got 11 set assists, five aces and two kills from Kiara Orner and 14 digs, a kill and an ace from Alana Durphy.
Jenna Hyde led Northern Potter with four kills, seven set assists and three aces. Kalie Cowburn chipped in two aces, two kills and nine digs and Ashley Kunselman had three kills and three digs.
JOHNSONBURG 3, CURWENSVILLE 0
CURWENSVILLE, Pa. – Jensen Furlong recorded 16 kills to help visiting Johnsonburg to a 3-0 (25-20, 25-23, 25-11) win over Curwensville.
Skylar Sherry added 10 kills, four aces and four digs for the Ramettes who also got four kills, four digs and three aces from Brianna Quiggle and 14 set assists from Riley Casilio.
Elizabeth Mathews paced Curwensville with six kills, seven digs, four aces and four blocks. Emma Caldwell had 10 set assists and two digs, Olivia McGarry four aces an Annie Hoover six kills and four digs.
BOYS' SOCCER
RIDGWAY 1, COUDERSPORT 0, OVERTIME
COUDERSPORT, Pa. – Nico Heredero scored in overtime to lift visiting Ridgway to a 1-0 win over Coudersport.
BROCKWAY 10, PUNXSUTAWNEY 0
BROCKWAY, Pa. – Carter Adams, Angelo Inzana, Anthony Esposito and Zane Puhala each scored twice to lead Brockway to a 10-0 win over visiting Punxsutawney.
Hunter Allenbaugh and Jacob Anderson also scored for the Rovers.
Austin Moore and Lewis Painter combined on the shutout.
CLARION-LIMESTONE 14, KANE 1
STRATTANVILLE, Pa. – Braden Peters scored six times and added two assists as Clarion-Limestone scored 13 unanswered goals in getting a 14-1 win over visiting Kane.
Beau Verdill added a pair of tallies for the Lions who also got goals from Ty Blake, Isaac Kim, Kyle Schonbachler, Ben Murtha, Austin Coull and Marshall Powers.
Clayton Detrick scored for Kane.
ST. MARYS 1, ELK COUNTY CATHOLIC 1
ST. MARYS, Pa. – In a rivalry game Jacob Koss and Nathan Schneider both scored, as St. Marys and Elk County Catholic played to a one-all draw.
Schneider netted the tally for the visiting Dutch, while Kloss scored for ECC.
PORT ALLEGANY 10, SMETHPORT 0
SMETHPORT, Pa. – Getting goals from Payton Caden, David Talkington, Shawn McNeil and Simon Burleson visiting Port Allegany rolled past Smethport, 10-0.
Josh Mealy and Seth Bowser combined on the shutout for the Gators.
GIRLS' SOCCER
BRADFORD 6, TITUSVILLE 0
BRADFORD, Pa. – Behind Regan Johnson's hat trick Bradford beat visiting Titusville, 6-0.
BROCKWAY 11, PUNXSUTAWNEY 0
BROCKWAY, Pa. – Leah Lindemuth and Chanell Britten each scored twice to lead Brockway to an 11-0 win over visiting Punxsutawney.
Morgan Lindemuth, Callie Barber, Morrigan Decker, Emily Botwright, Kayla Jamison, Delaney Wineburg, Lily Sysko and Katie McMeekin also scored for the Lady Rovers.
ST. MARYS 2, ELK COUNTY CATHOLIC 2
ST. MARYS, Pa. – Visiting St. Marys played to a two-all tie with rival Elk County Catholic.
Scoring for the visitors were MaryKatelyn Pyne and Lauren Eckert. Netting goals for ECC were Maddie Kear and Maddie Sorg.
KEYSTONE 3, FOREST AREA 2, 2 OVERTIMES
KNOX, Pa. – Ali Clark's goal with four minutes left in the second overtime lifted Keystone to a 3-2 come-from-behind victory over visiting Forest Area.
The Fires took a 2-0 lead in the first half on goals by Annah Burke and Morgan Miller before Jessica Cotton scored twice in the second half to tie the game.
Jessi Phillippi made 12 saves in getting the win for the Lady Panthers.