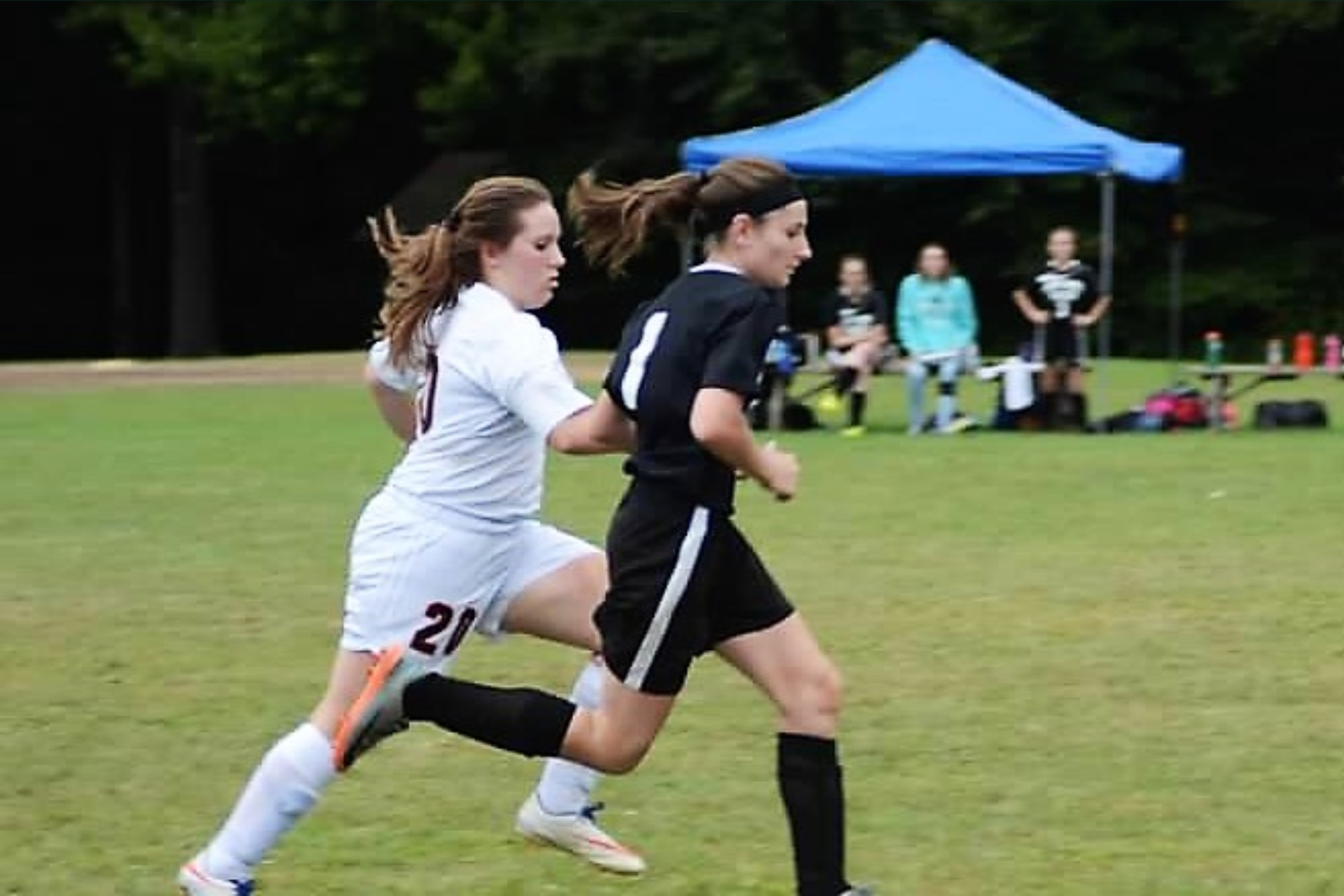 Oct. 3 recaps volleyball and soccer recaps.
(Photo of Mackenzie Bauer, who had a hat trick and two assists for Forest Area Wednesday. Photo by Deb Arner)
GIRLS SOCCER
FOREST AREA 6, KEYSTONE 0
TIONESTA, Pa. – Three goals and two assists from Mackenzie Bauer helped lift Forest Area over visiting Keystone, 6-0.
Abby Gatesman scored two goals while Shawna Pack had a goal and an assist for Forest Area.
Pack and Gatesman also combined for the shutout.
The game lasted two days after being halted in the first half Tuesday with the Fires up 2-0.
PORT ALLEGANY 2, RIDGWAY 1, OVERTIME
PORT ALLEGANY, Pa. – Rylie Lawton's penalty kick goal in overtime lifted Port Allegany over Ridgway, 2-1.
Bree Garzel netted the first Lady Gators goal in regulation.
Madeline Cowan tallied the lone goal for Ridgway.
KARNS CITY 5, GROVE CITY 0
KARNS CITY, Pa. – Balanced scoring helped Karns City cruise past Grove City, 5-0.
Olivia Rumbaugh and Brooke Stahlman netted two goals apiece for the Lady Gremlins with Ally Fennell scoring the other goal.
BROOKVILLE 5, CLARION 0
CLARION, Pa. – Madi McAninch had the hat trick to lead Brookville past Clarion, 5-0.
Payton Brosius and Leila Heagy also scored for the Lady Raiders.
BALD EAGLE AREA 2, CLEARFIELD 0
HYDE, Pa. – Clearfield falls to visiting Bald Eagle Area, 2-0.
Emily Shiels scored one of the two goals for Bald Eagle Area.
Goalkeeper Hayley Moore recorded nine saves for the Lady Bison.
VOLLEYBALL
CLARION 3, CRANBERRY 0
SENECA, Pa. – Korrin Burns had 10 kills and seven digs to lead visiting Clarion to a 3-0 (25-18, 25-19, 25-7) victory over Cranberry.
Maddie Schill seven kills and five digs for the Lady Cats with Brenna Campbell running the offense with 22 assists.
Malliah Schreck had five kills for Cranberry with Ava Ferringer also recording five kills and Ally Young.
KEYSTONE 3, VENANGO CATHOLIC 0
KNOX, Pa. – Led by Alyssa Dunlap's five kills and five aces, Keystone swept visiting Venango Catholic, 3-0 (25-12, 25-8, 25-8).
Emma Weaver ran the Lady Panthers offense with 10 assists, one kill, one dig and an ace while Danae Hurrelbrink tallied four aces. McKenzie Hovis led the team with six kills.
Emmy Ekis had four kills, 10 digs and three aces for Venango Catholic with Cheona Rudder adding 12 digs and Kelsey Kresinski 10 assists, three aces and four digs.
OSWAYO VALLEY 3, ARCHBISHOP WALSH 0
SHINGLEHOUSE, Pa. – Karley Carpenter and Macy West combined for 14 aces to help Oswayo Valley defeat Archbishop Walsh, 3-0 (25-6, 25-17, 25-10).
McKenzie Gross tallied four kills while Naomi Cook chipped in for six aces and six kills for Oswayo Valley.
KARNS CITY 3, UNION 0
KARNS CITY, Pa. – A strong night from Alyssa Stitt helped Karns City defeat Union, 3-0 (25-21, 25-22, 25-16).
Stitt ran the Lady Gremlins offense with 22 assists and 12 digs with Rayna Miller adding seven kills and two aces and Emma Clark chipping in for six kills, two aces and two blocks. Mackenzie Dunn had a match-high 20 digs and Emily Wolfe had five kills, 18 digs and three blocks.
Dominika Logue paced Union with nine kills with Bryn Davis and Vanessa Reddick adding five kills apiece.
COUDERSPORT 3, GALETON 2
COUDERSPORT, Pa. – Shaelyn Black and Dana Dubots combined for 30 kills to lead Coudersport to a come-from-behind 3-2 (25-27, 24-26, 25-18, 25-17, 15-7).
Black had 16 kills and Dubots had 14 kills. Addie Myers added 10 kills for the Lady Falcons, while Erica Williams had eight aces.
Maddie Sauley and Erin Cimino each had five kills for Galeton with Regan Fuller and Kate Kulish adding four kills apiece.
BOYS SOCCER
WEST SHAMOKIN 5, REDBANK VALLEY 0
RURAL VALLEY, Pa. – Visiting Redbank Valley was blanked by West Shamokin, 5-0.
Sophomore Luke Alese netted all five goals for the Wolves.
DUBOIS CENTRAL CATHOLIC 3, CLARION-LIMESTONE 1
STRATTANVILLE, Pa. – DuBois Central Catholic defeated Clarion-Limestone, 3-1.
Isaac Kim tallied the lone goal for the Lions.
DCC's goal scorers weren't reported.