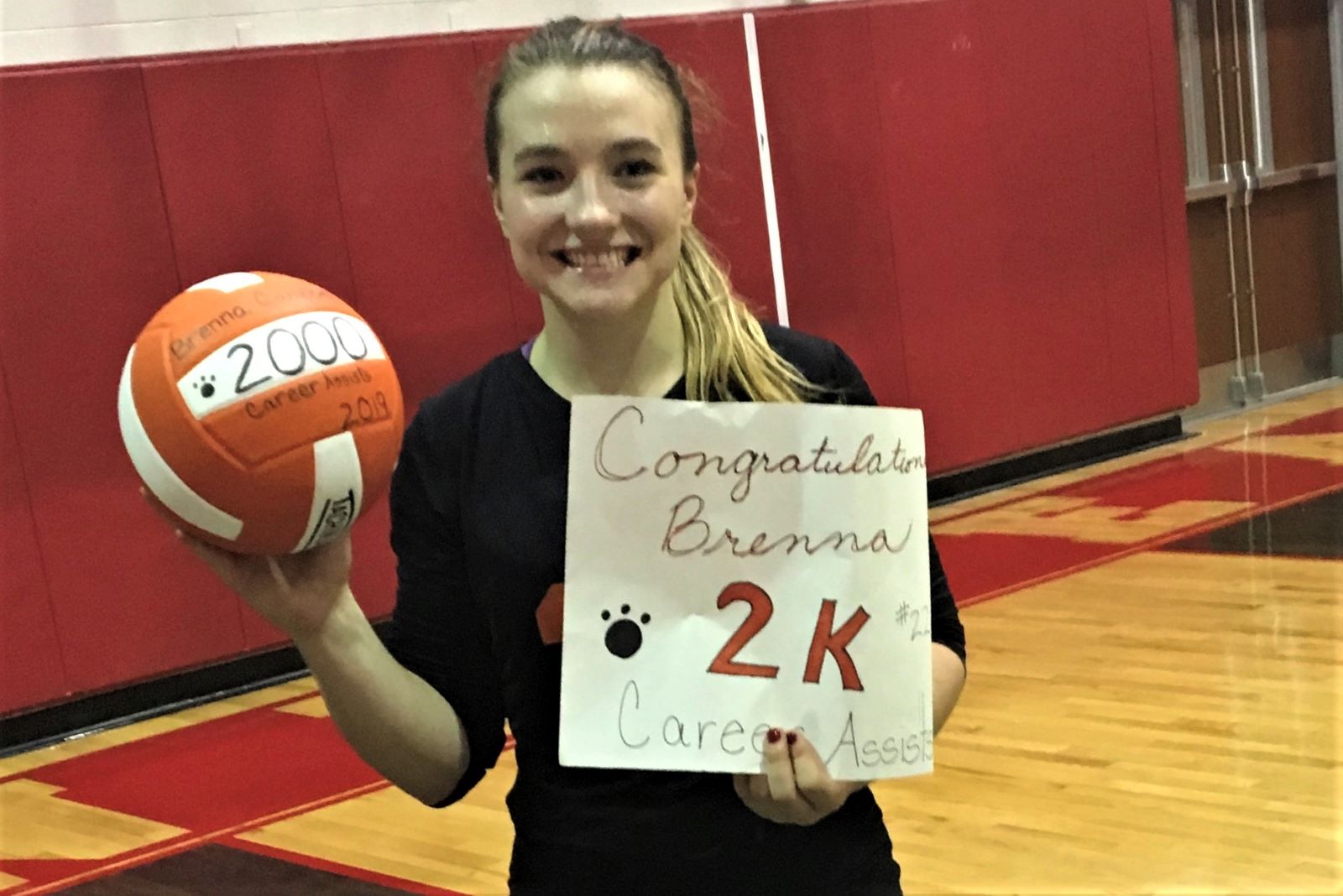 Oct. 3 volleyball/soccer recaps.
(Photo: Brenna Campbell of Clarion recorded her 2,000th career points)
VOLLEYBALL
CLARION 3, MONITEAU 0
WEST SUNBURY, Pa. – Brenna Campbell recorded her 2,000th career set assists while assisting on 24 kills to help Clarion to a 3-0 (25-6, 25-13, 25-16) win at Moniteau.
Campbell, a junior, also added five aces and three digs.
Kait Constantino continued her strong play for the Lady Cats with 12 kills, eight digs and two aces, while Korrin Burns added six kills, two digs and an ace/ Aryana Girvin also had five kills and three digs, Payton Simko five kills and a digs, Jordan Best three kills and four digs and Grace Matson two kills and three aces for Clarion.
Ivie Scott had two aces, three blocks and three digs for Moniteau with Aslyn Pry chipping in a kill and two blocks and Logan Barnhart two set assists and an ace.
BROOKVILLE 3, KANE 1
KANE, Pa. – Visiting Brookville handed Kane just its second loss of the season, 3-1 (25-23, 20-25, 25-22, 25-15).
Lauren Hergert had 10 kills to lead Brookville, while Morgan Johnson and Maggie Mackins each added seven kills with Mackins chipping in five blocks. Madison Johnson had three blocks.
For Kane, Audri Marconi had 16 kills and 22 digs with Sarri Swanson adding nine kills and four blocks. Kalen Johnson also had 27 digs with Emma Ely adding 23 digs, Moira Stanisch 19 digs and Ronnie Costanzo 17 digs.
ELK COUNTY CATHOLIC 3, BRADFORD 0
ST. MARYS, Pa. – Taylor Newton, Julia Aikens and Madyson Dellaquilla combined for 28 kills to pace a 3-0 (25-16, 25-13, 25-23) Elk County Catholic win over visiting Bradford.
Newton had a match-best 14 kills with Aikens adding nine kills and Dellaquilla five kills.
Ellie Fledderman ran the offense for ECC with 23 set assists.
OSWAYO VALLEY 3, COUDERSPORT 2
COUDERSPORT, Pa. – a Big match from Jadyn Brabham helped visiting Oswayo Valley to a 3-2 (25-16, 24-26, 25-22, 23-25, 15-6) win over Coudersport.
Brabham recorded 20 kills, 18 digs, three blocks and an ace for the Green Wave, while Macy West had eight kills, nine blocks, six digs and an ace and Trinity Lundy 12 digs, 10 assists and two aces.
Mackenzie George ran most of the offense with 22 set assists and added two blocks, four aces and a kill.
Paige Watson had nine kills, four digs, four blocks and an ace for Coudersport with Vanessa VanWhy adding six kills and 10 digs and Liz Frame 20 digs and six aces. Emma Saulter was beast on defense with 50 digs.
KEYSTONE 3, VENANGO CATHLOIC 0
OIL CITY, Pa – Alyssa Dunlap recorded eight aces and six kills for Keystone in a 3-0 (25-12, 25-12, 25-15) win at Venango Catholic.
Also for the Lady Panthers, McKenna Kaye had eight set assists and six kills. Alexandria Johnston also helped out with nine set assists.
Emmy Ekis and Hope Winger each had four kills for Venango Catholic with Ekis adding six digs and Winger five blocks. Ashley Barletta chipped in two kills and two blocks.
A-C VALLEY 3, SHARPSVILLE 1
FOXBURG, Pa. – Meah Ielase had 13 kills, 15 digs and three aces to lead A-C Valley to a 3-1 (23-25, 25-16, 25-17, 25-8) win over visiting Sharpsville.
Mia Sherman added 12 aces, eight kills and six digs in the win, while Emily Wetzel had seven kills, 12 set assists and 14 digs and Andrea Meals eight kills and 15 digs.
Also for the Lady Falcons, Tarra Stefanacci led the team with 13 set assists while adding 11 digs, and Hannah Farrington had 10 digs, three aces and a kill.
CLARION LIMESTONE 3, NORTH CLARION 1
STRATTANVILLE, Pa. – Celia Shaffer had four kills to push Clarion-Limestone over visiting North Clarion, 3-1 (25-17, 22-25, 25-23, 25-17).
Cassidy Makray added four kills and three assists for the Lady Lions with Regan Husted contributing six set assists and Ruby Smith five digs and six aces.
KARNS CITY 3, UNION 2
RIMERSBURG, Pa. – Emily Huff had nine kills, six aces and for digs to lead Karns City to a 3-2 (25-23, 22-25, 25-20, 24-26, 15-5) win at Union.
Emma Clark added eight kills, two aces, two blocks and two digs for the Lady Gremlins with Mackenzie Dunn chipping in seven kills, 10 digs, two aces and a block and Cassidy Nolan adding seven kills, two blocks and two aces.
Peyton Turner ran the offense with 21 set assists and added 12 digs and three kills with Rosalie Carden adding eight ser assists and five digs and Ashley Fox 19 digs.
Dominika Logue paced Union with 12 kills and five blocks while Drew Davis had five kills.
Morgan Cumberland ran the Golden Damsels offense with 25 set assists, and Drew Yoder chipped in three aces.
PUNXSUTAWNEY 3, ST. MARYS 0
ST. MARYS, Pa. – Katelyn Griebel recorded 11 kills and four aces to help Punxsutawney in a 3-0 (25-14, 25-21, 25-14) win at St. Marys.
Elliott Ferrent added five kills and three aces, while Lizzie Neal had five kills and three blocks. Grace Hall ran the offense with 19 set assists and Bella McDivitt had 11 digs to help out the Lady Chucks.
Janelle Krug had 20 digs for St. Marys.
GALETON 3, SMETHPORT 0
SMETHPORT, Pa. – Alli Macensky had 13 kills and three blocks, and Kate Kulish chipped in 11 aces, 10 set assists and two digs to give visiting Galeton a 3-0 (25-16, 25-19, 25-7) win over Smethport.
Makenna Shuemaker also had eight set assists, 10 digs and three aces for the Lady TSiders with Alexis Johnson adding four kills, four digs, a block and a set assists and Olivia Rohrbaugh four kills.
OTTO-ELDRED 3, NORTHERN POTTER 0
DUKE CENTER, Pa. – Behind 14 kills, four aces, four blocks and two digs from Reilly Raught, Otto-Eldred cruised to a 3-0 (25-18, 25-17, 25-15) win over visiting Northern Potter.
Emmalee Sheeler ran the Lady Terrors offense with 19 set assists and added two aces, two digs and a kills, while Morgan Dalton had six kills, six blocks, an ace and a dig and Haley Cousins chipped in four kills, three aces, two digs and a block.
Savannah Herring had six kills, two blocks and a dig for Northern Potter, while Courtney Martin added six kills, three aces, 10 digs and a set assists. Madison Hoopes chipped in with 17 digs and two kills, and Faith Zdrojewski had six set assists, five digs, four aces and a kill.
DUBOIS CENTRAL CATHOLIC 3, RIDGWAY 0
RIDGWAY, Pa. – Jordy Kosko and Bella Mangiantini combined for 13 kills to lead visiting DuBois Central Catholic to a 3-0 (25-20, 25-16, 25-16) win over Ridgway.
Kosko led the Lady Cardinals with seven kills while adding a pair of aces, and Mangiantini chipped in six kills and two blocks.
Maia Cogley ran the offense for DCC with 24 set assists and added four kills, Shay Gulvas paced the defense with 24 digs while adding three aces, Hannah Holdren contributed four kills and two blocks, Avery Sickeri had five aces and Martina Swalligan chipped in three kills and three aces.
PORT ALLEGANY 3, AUSTIN 0
AUSTIN, Pa. – Helped by nine kills, seven digs and five aces from Maleah Daniels visiting Port Allegany picked up a 3-0 (25-19, 25-21, 25-20) win over Austin.
Shannon Curfman added eight kills for the Lady Gators with Kalyn Naylor contributing seven aces, 10 digs and four kills.
Taylor Brewer paced Austin with eight kills and three blocks, Kylie Welsh added five kills and a block and Kendra Valenti had four kills.
JOHNSONBURG 3, SHEFFIELD 0
JOHNSONBURG, Pa. – Johnsonburg picked up a 3-0 (25-11, 25-20, 25-9) win over visiting Sheffield.
Jenna Morgan led Johnsonburg with 11 kills and four aces with Kenzie Salack adding seven kills and an ace and Emma King nine kills. Haley Cherry had six digs.
For Sheffield, Emily Leichtenberger had nine kills and Megan Johnson 14 set assists.
BOYS' SOCCER
COUDERSPORT 4, KANE 3
KANE, Pa. – Coudersport picked up a 4-3 road win over Kane.
Aristotle Smith scored twice for the Falcons with Jonny Barroqueiro adding a goal and three assists. Jacob Hooftallon also scored and added a helper, while Ethan Ross had an assist.
Rosalyn Page made 18 saves to get the win in net for Coudersport.
Kane's goals came from Jon Mishic, Ben Westerburg and Johnny Feikis. Jordan Lima-Lopez had an assist for the Wolves.
CLEARFIELD 6, BROOKVILLE 3
BROOKVILLE, Pa. – Luke Winters scored twice and added an assist to guide visiting Clearfield to a 6-3 win over Brookville.
Andrew Lopez also found the back of the net twice for the Bison with Luke Sidorick and Hugh Brickley also scoring. Nick Ryan and Jason Stanko chipped in assists.
Hayden Kramer scored twice for Brookville with Ganen Cyphert also adding a tally. Bryce Kunselman had an assist
Graeson Graves made two saves in the win for Clearfield while Darius Sorbin stopped eight shots for Brookville.
JASPER-TROUPSBURG (N.Y.) 8, NORTHERN POTTER 1
ULYSSES, Pa. – Eight different players scored to lead Jasper-Troupsburg (N.Y.) to an 8-1 win at Northern Potter.
Scoring for the Wildcats were Tyler Flint, Ethan Draper, Oliver Rowe, Camden Miles, Thomas Flint, Colby Cornish, Blake Lawson and Sujayn Malik.
Northern Potter's goal came on a header from A.J. Lehman off a corner kick from Ryan Langworthy.
REDBANK VALLEY 4, OIL CITY 2
OIL CITY, Pa. – Kolton Kline scored twice, including on a penalty kick, to help visiting Redbank Valley to a 4-2 win at Oil City.
Jimmy Gundlach added a goal and two assists for the Bulldogs, while Declan Fircko also scored.
Owen Magagnotti made six saves.
KARNS CITY 7, FRANKLIN 1
FRANKLIN, Pa. – Behind four goals from Dakota King visiting Karns City picked up a 7-1 win at Franklin.
Owen Collwell added two goals and an assist for the Gremlins with Nate Rondinelli scoring a goal and adding an assist. Kaden Scherer had two assists in the win as well.
GIRLS' SOCCER
KEYSTONE 6, SHARPSVILLE 1
SHARPSVILLE, Pa. – Behind two goals from Maddie Dunlap Keystone beat Sharpsville, 6-1.
Thea Haugh, Ali Clark, Josie Kinsler and Kay Fulmer also scored for the Lady Panthers.
Haugh and Natalie Bowser had a combined five saves for Keystone.
Sharpsville one goal came from Aeryal Marsteller. Sharpsville's Neva Turner had eight saves.
BROCKWAY 5, RIDGWAY 0
JOHNSONBURG, Pa – Chanell Britten scored three goals to help Brockway to a 5-0 win over Ridgway in Johnsonburg.
Delaney Wineberg and Morgan Lindemuth also scored for the Rovers, while Emily Botwright had two assists and Katie McMekeenin added a helper.
Mackenzie Overbeck made eight saves for the shutout.
REDBANK VALLEY 2, ELK COUNTY CATHOLIC 1, OVERTIME
ST. MARYS, Pa. – Carley Shick's second goal of the game, this one 51 seconds into overtime, sent visiting Redbank Valley home victorious with a 2-1 win over Elk County Catholic.
Elena Root and Rhiannon Laughlin had the assists for the Lady Bulldogs.
Gina Carnovale scored ECC's lone goal assisted by Italia Cicione.
BALD EAGLE AREA 2, CLEARFIELD 1
HYDE, PA. – Emily Shiels scored with just 30 seconds left in regulation to lift visiting Bald Eagle Area to a 2-1 win over Clearfield.
Shiels also assisted on the game-tying goal early in the second half that was scored by Falen McHenry.
Elle Smith staked Clearfield to a 1-0 halftime lead with a goal in the 13th minute.
Hayley Moore made 11 saves for the Lady Bison, while Rachen Veneziano had three saves for BEA.
MEADVILLE 3, BRADFORD 2
MEADVILLE, Pa. – Despite a pair of Regan Johnson goals, visiting Bradford dropped a 3-2 decision to Meadville.
KARNS CITY 5, FOREST AREA 0
KARNS CITY, Pa. – A pair of McKenna Martin goals helped Karns City to a 5-0 win over visiting Forest Area.
Emma Dailey added a goal and an assist for the Lady Gremlins with Brooke Stahlman and Cecelia Morrow also scoring. Alexis Moore added two helpers in the win.
Rossi McMillen recorded the shutout in net.