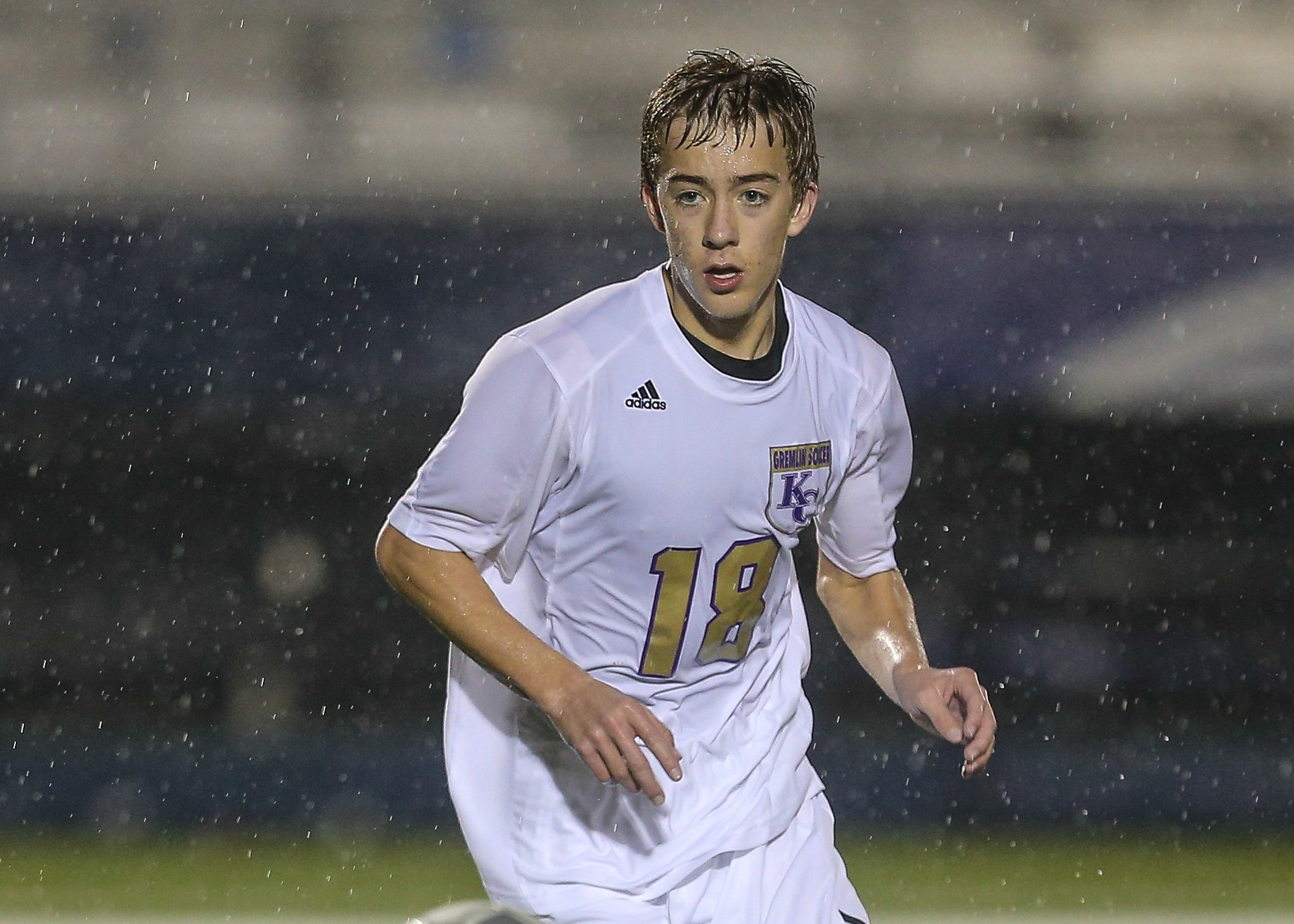 Oct. 3 volleyball and soccer recaps.
(Cover photo of Karns City's Spenser Myers, who had a pair of goals for the Gremlins in a 6-0 win over Wilmington Monday. Photo by Mike Schnelle. Check out more of Schnelle's work here)
VOLLEYBALL
NORTH CLARION 3, BROOKVILLE 0
FRILLS CORNERS, Pa. – Tori Obenrader, Cassie Wagner and Avari Schwabenbauer combined for 16 kills to lead North Clarion to a 3-0 (25-18, 25-19, 25-11) over visiting Brookville.
Obenrader led the She-Wolves (6-2), winner of six straight, with seven kills, five aces and four blocks. Wagner added five kills and five aces and Schwabenbauer four kills and five aces.
Abby Karg chipped in 20 digs and three aces for North Clarion with Paige Sherbine adding nine set assists.
CRANBERRY 3, OIL CITY 2
OIL CITY, Pa. – In an interdistrict matchup of former District 10 rivals, visiting Cranberry rallied from a 2-1 deficit to beat Oil City, 3-2 (17-25, 25-10, 24-26, 25-12, 15-4).
Erin Merryman played a key role in the victory with 26 set assist, eight digs and four kills. Malliah Schreck led the Berries (6-3) with 15 kills, eight digs and two blocks. Lauren Conkle added six kills and two blocks, while Bree Swartzfager had five kills and 12 digs. Ellie Kahle added 14 digs, Natalie Barcinas four kills and eight digs, Laykn Vonda two blocks and Kaylee Weaver four kills.
ALTOONA 3, DUBOIS 0
ALTOONA, Pa. – Despite 17 combined kills from Danessa Allison and Lexi Ray, DuBois fell on the road to Altoona, 3-0 (25-20, 25-15, 27-25).
Allison had nine kills and three blocks, while Ray added eight kills. Ashley McCluskey ran the Lady Beavers (7-3) offense with 24 set assists, and Kylee Bundy paced the defense with eight digs.
UNION 3, FOREST AREA 0
RIMERSBURG, Pa. – Frankee Remmick and Bryn Davis each recorded six kills to lead Union to a 3-0 (25-14, 25-11, 25-14) win over visiting Forest Area.
Remmick chipped in nine digs and four aces, while Davis added four digs.
Also for the Golden Damsels (4-3), Vanessa Reddick had five kills and two digs, Taylor Adams five kills, 19 set assists and two blocks and Marli Hawk six digs.
SHEFFIELD 3, EISENHOWER 0
SHEFFIELD, Pa. – Sheffield picked up its second straight win with a 3-0 (25-15, 25-19, 25-8) win over visiting Eisenhower.
Lexi Lyon paced the Lady Wolverines (2-6) with seven kills and two blocks. Rachel Lemay added 11 set assists and seven aces, Claire Pierson had three kills and Mya Grubbs five kills.
BOYS' SOCCER
BROOKVILLE 8, KANE 2
BROOKVILLE, Pa. – Behind a pair of goals each from Keelan Kunselman and Brodie Joiner, Brookville dispatched of visiting Kane, 8-2.
Adam Martz, Jacob Cable, John Matheny and Bryce Kunselman also scored for the Raiders (4-7).
Patrick Detsch scored twice for Kane (1-8).
KARNS CITY 6, WILMINGTON 0
NEW WILMINGTON, Pa. – Spenser Myers and Jace Ebbitt each scored two goals to pace visiting Karns City to a 6-0 win at Wilmington.
Noah Pollock and Ryan Truax also scored for the unbeaten Gremlins (11-0).
PORT ALLEGANY 2, RIDGWAY 0
RIDGWAY, Pa. – Behind first-half goals by Brandon McCaslin and Howie Stuckey, visiting Port Allegany topped Ridgway, 2-0.
The win moves the Gators to 10-1 on the season with the Elkers falling to 4-5-2.
BROCKWAY 5, DUBOIS CENTRAL CATHOLIC 2
BROCKWAY, Pa. – Brockway kept rolling with a 5-2 win over visiting DuBois Central Catholic.
Jarrett Esposito paced the unbeaten Rovers (7-0-1) with three goals.
SAYRE 5, NORTHERN POTTER 2
SAYRE, Pa. – Jordan Rockwell had the hat trick before halftime to lead Sayre to a 5-2 win over visiting Northern Potter.
Behind Rockwell's trick, the Redskins led 3-1 at the break. Rockwell finished with four tallies, and Northern Potter had an own goal.
Tucker Kosa off an assist from Levi Kosa and Foster Kosa assisted by Ryan Slawson scored for the Panthers (3-8-1).
GIRLS' SOCCER
RIDGWAY 4, CURWENSVILLE 0
CURWENSVILLE, Pa. – Cassidy King netted a hat trick to pace a 4-0 win for visiting Ridgway over Curwensville.
King scored all three of her goals in the first half, and Jovana Marzell also scored for the Lady Elkers (10-1-1), who bounced back from their first loss of the season last week.
Curwensville fell to 2-8.
ST. MARYS 3, SMETHPORT 0
ST. MARYS, Pa. – St. Marys shutout visiting Smethport, 3-0.
Nicole Muccio, Kira Pesce and Lauren Eckert scored for the Lady Dutch (8-4).
Smethport dropped to 2-11.
DUBOIS CENTRAL CATHOLIC 2, BROCKWAY 1
BROCKWAY, Pa. – Visiting DuBois Central Catholic got a pair of second-half goals from Jordy Frank to stay unbeaten with a 2-1 win at Brockway.
It was a battle of two of the top 1A teams in District 9 with the Lady Cardinals moving to a perfect 12-0 on the season and the Lady Rovers falling to 7-2.
CLARION 3, BROOKVILLE 1
CLARION, Pa. – Forest Mills scored twice and assisted on a third goal to help Clarion topple visiting Brookville, 3-1.
Mills assisted on a goal by Alexa Kriebel, scored off an assist from Alexa Hannold and also tallied an unassisted marker for the surging Lady Cats (7-6).
Megan Mealy scored for Brookville (2-8-1).
PORT ALLEGANY 8, KANE 3
PORT ALLEGANY, Pa. – Autumn Buchsenschutz, Autumn Freer, Shaylee Caulkins and Leah Garzel each scored twice for the Lady Gators.
Mackenzie Thayer scored the hat trick for Kane (3-9).
Port is now 9-3.