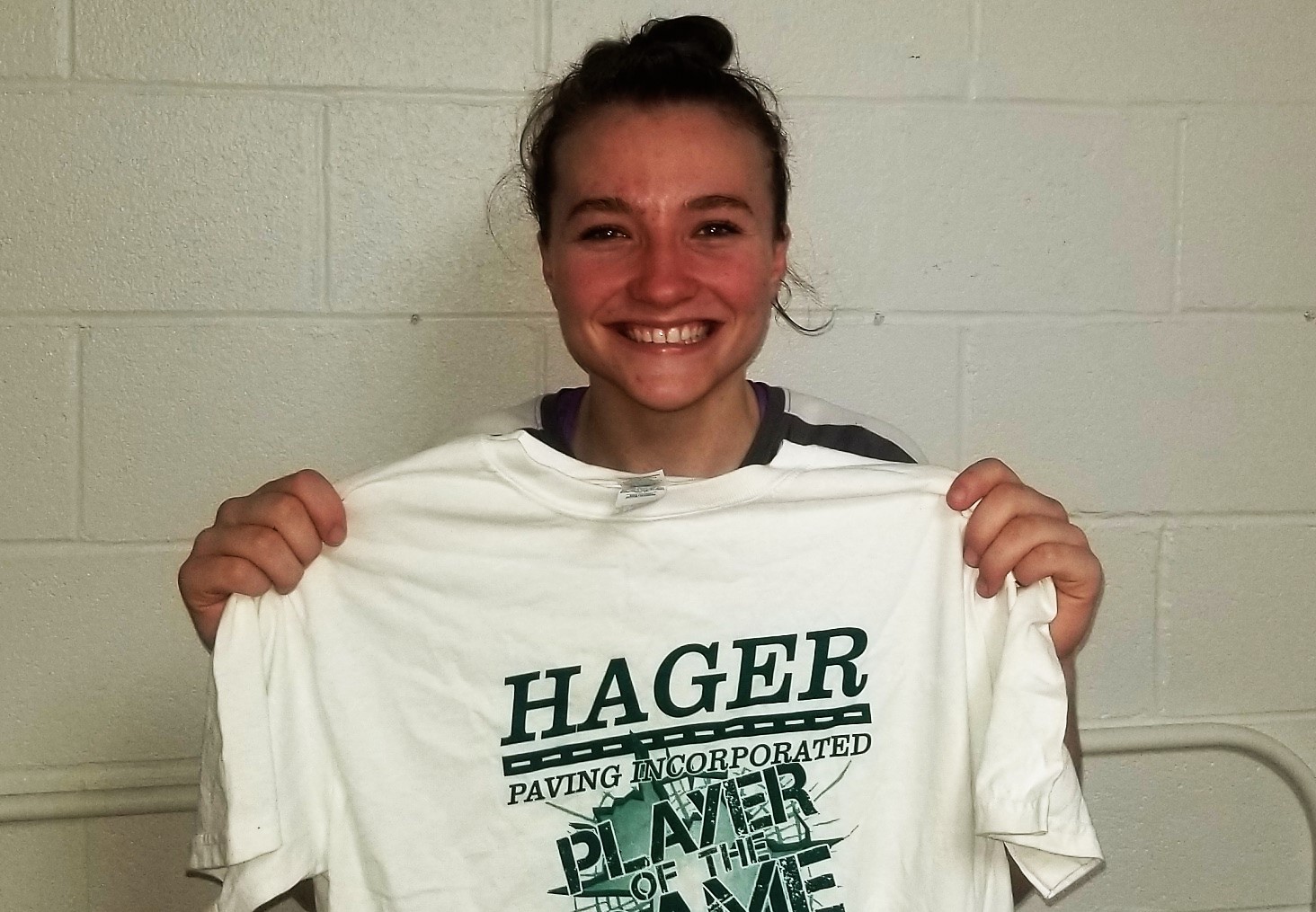 Oct. 30 District 9 volleyball playoff recaps.
(Photo: Brenna Campbell helped lead Clarion into the District 9 Class 1A semifinals with a win over Elk County Catholic)
CLARION 3, ELK COUNTY CATHOLIC 1
CLARION, Pa. – Clarion is back in the District 9 Class 1A semifinals after rallying from a 1-0 deficit to defeat visiting Elk County Catholic, 3-1 (22-25, 25-17, 25-20, 25-18).
Relisten to the audio broadcast of the game here:
Korrin Burns, despite not playing most of the first set, led the second-seeded Lady Cats with 11 kills and completed a double-double with 10 digs. Maddie Schill chipped in nine kills and seven digs, while Kait Constantino and Hailey Sintobin each had five kills. KK Girvin led the defense with 18 digs with Jordan Best and Schill each adding seven digs. Brenna Campbell ran the show with 31 set assists while adding four digs.
Campbell talked about the win.
Taylor Newton had a monster night for seventh-seeded ECC with 17 kills. Hannah Barnett added six kills.
Clarion will host rival A-C Valley at 6:30 p.m. Thursday in the semifinals.
CRANBERRY 3, JOHNSONBURG 0
SENECA, Pa. – Behind 11 kills, eight digs, four blocks and an assist from Ava Ferringer, Cranberry is headed to the District 9 Class 1A semifinals after a 3-0 (25-19, 25-21, 25-18) win over visiting Johnsonburg.
Also for the fifth-seeded Berries, Malliah Schreck added nine kills, 24 digs, two blocks, two aces and an assist, Maddie Cornelius chipped in six kills, 10 digs and two assists, Kaylee Bruce had 20 digs, Ally Young 18 digs and Emily Duncan 17 set assists, 1 kills, 11 digs and a block.
Lindsey Kocjancic paced 13th-seeded Johnsonburg with seven kills.
Cranberry will visit top-seeded Ridgway in the semifinals at 7 p.m. Thursday.
RIDGWAY 3, OTTO-ELDRED 0
RIDGWAY, Pa. – Top-seeded Ridgway advanced to the District 9 Class 1A semifinals thanks to a 3-0 (27-25, 25-8, 25-21) win over eighth-seeded and defending champion Otto-Eldred in Ridgway.
According to Ridgway head coach Josh Burrs, it was a team-wide effort.
"The entire team played strong the whole way around," Burrs said. "We had strong serving tonight and a great serve receive, which led to great setting and great hitting."
Individual match stats weren't available.
A-C VALLEY 3, COUDERSPORT 0
FOXBURG, Pa. – A double-double of 11 kills and 12 digs from Olivia Boocks lifted third-seeded A-C Valley to a 3-0 (25-15, 25-10, 25-11) win over sixth-seeded and visiting Coudersport.
Boocks added six aces for the Lady Falcons, while Kylee Eaton had eight kills, five digs, four blocks and five aces.
Emily Wetzel ran the offense with 20 set assists while adding eight digs. Meah Ielase chipped in four kills and four digs and Andrea Meals had nine digs.
Shae Black paced Coudersport with seven kills with Dana Dubots adding five kills and Mikayla Kavounas three kills and 10 assists.
A-C Valley will travel to Clarion to take on the rival Lady Cats in the semifinals at 6:30 p.m. Thursday.