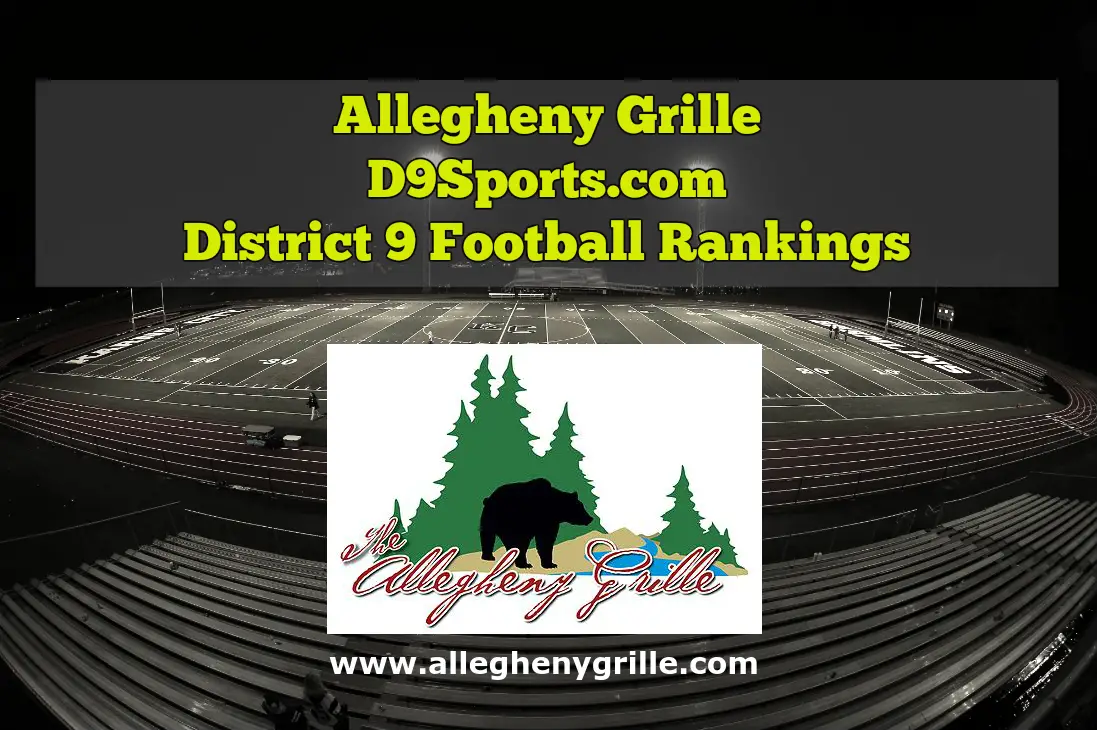 SHIPPENVILLE, Pa. – With the District 9 playoffs starting this week, there is one new addition to the Oct. 31, 2017, Allegheny Grille of Foxburg D9Sports.com Football Rankings.
Clarion-Limestone (6-4) moves into the rankings at No. 10 after the Lions stunning come-from-behind win over Punxsutawney last week. C-L replaces Otto-Eldred (6-4), which fell out of the Top 10 after a 33-0 loss in the AML Title game to No. 1 Kane (10-0).
The only other change in the rankings was the flip-flopping of Clearfield and Karns City after the Bison beat the Gremlins last week. Clearfield (6-4) is now at No. 8 up from No. 9 with Karns City (6-4) dropping from No.  8 to No. 9.
The top five stayed the same with Clarion (9-0) following Kane at No. 2, Brookville (9-1) at No. 3, Bradford (7-2) at No. 4 and Curwensville (8-2) at No. 5.
Ridgway (7-3) stays at No. 6 and Brockway (6-3) remains at No. 7.
The big games of the week are in Class 2A where Kane hosts Brockway and Clarion entertains Brookville in the semifinals.  
The Allegheny Grille is a restaurant situated alongside the Allegheny River in Foxburg with breathtaking views, stellar service and fine cuisine. It's open daily at 11 a.m. and on Sunday's features the "Best Brunch in Town" from 11 a.m. to 4 p.m. Not only that, come on Monday's for Burger Night, Tuesdays are all about Taco, Thursday's are Wing Night featuring their soon-to-be-famous Pun sauce (and 10 other great choices) and Friday's is Fish Night. Also, don't forget about their 10 under 10 menu Monday through Thursday. The Allegheny Grille is the perfect spot for your luncheons, dinner, meetings, wedding or anything your heart desires. For more information or to make a reservation, call the Allegheny Grille at 724-659-5701 or visit it on the web at www.alleghenygrille.com or follow them on Twitter at @GrilleAllegheny.
| | | | |
| --- | --- | --- | --- |
| RANK | TEAM | RECORD | LAST WK |
| 1 | Kane | 10-0 | 1 |
| 2 | Clarion | 9-0 | 2 |
| 3 | Brookville | 9-1 | 3 |
| 4 | Bradford | 7-2 | 4 |
| 5 | Curwensville | 8-2 | 5 |
| 6 | Ridgway | 7-3 | 6 |
| 7 | Brockway | 6-3 | 7 |
| 8 | Clearfield | 6-4 | 9 |
| 9 | Karns City | 6-4 | 8 |
| 10 | Clarion-Limestone | 6-4 | NR |
| | | | |