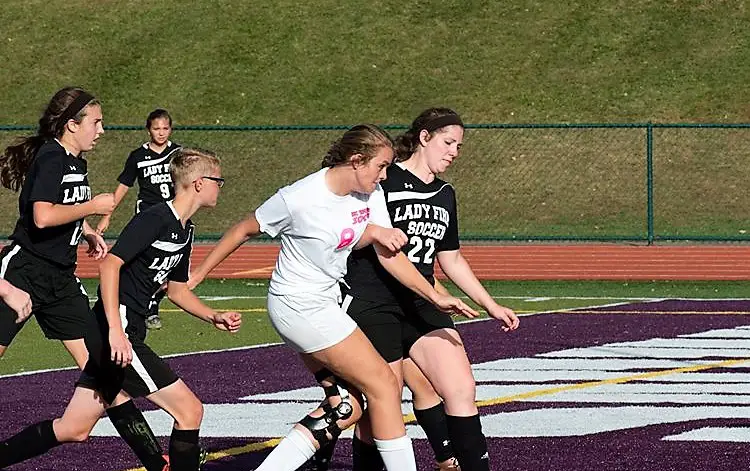 Oct. 4 soccer and volleyball recaps.
(Cover photo by Howie Dittman)
GIRLS' SOCCER
KARNS CITY 9, FOREST AREA 0
KARNS CITY, Pa. – Hannah Knoll and Haley Scherer each netted hat trick to lead Karns City to a 9-0 win over visiting Forest Area.
Brooke Stahlman, Grace Genaway and McKenna Lavella also scored for the Lady Gremlins.
ST. MARYS 3, KANE 0
KANE, Pa. – Three different players scored, as visiting St. Marys topped Kane, 3-0.
Kyla Johnson, Nicole Muccio and Lauren Eckert netted the goals for the Lady Dutch.
VOLLEYBALL
COUDERSPORT 3, CAMERON COUNTY 0
COUDERSPORT, Pa. – Led by nine kills, six digs, three aces and two blocks from Shaelyn Black Coudersport topped visiting Cameron County, 3-0 (25-9, 25-14, 25-10).
Adrian Page added eight kills, 18 digs and three aces for the Lady Falcons while EmmaRae Easton had seven kills and three aces and Haley Keck six kills, seven digs, four aces and 35 set assists. Joplin Osgood chipped in17 digs.
NORTHERN CAMBRIA 3, CLARION 2
CLARION, Pa. – Visiting Northern Cambria rallied from a 2-1 deficit to top Clarion, 3-2 (25-21, 22-25, 24-26, 25-21, 15-10).
Maya Thornton led the Lady Cats with 15 kills and 31 digs. Maddie Schill added eight kills, Hailey Sintobin had seven kills and Sydney Kiser six kills and six digs. Brenna Campbell ran the offense with 37 set assists and added 11 digs with Alexis Constantino chipping in 20 digs.
MONITEAU 3, MERCER 0
WEST SUNBURY, Pa. – Logan Barnhart had 13 set assists to help Moniteau to a 3-0 (25-18, 26-24, 25-13) win over visiting Mercer.
Carolyn Kelly and Emma Bair each added four kills with Bair chipping in five blocks as well and Cambrie Campbell had three blocks.
OSWAYO VALLEY 3, ARCHBISHOP WALSH (N.Y.) 0
OLEAN, N.Y. – Shayla Bickel and Paige Smith each recorded four kills and six aces to help visiting Oswayo Valley to a 3-0 (25-6, 25-13, 25-8) win over Archbishop Walsh of Olean, N.Y.
Naomi Cook led the Green Wave with eight kills, and Madison Miller chipped in nine aces.