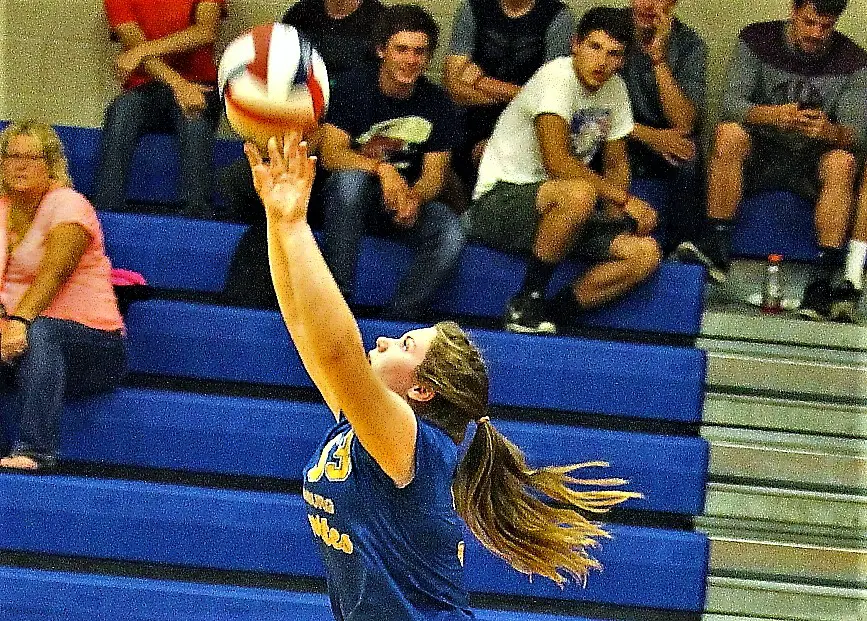 Oct. 5 volleyball and soccer recaps.
(Cover photo: Johnsonburg's Skylar Sherry, who had 11 kills in the Ramettes win over Sheffield. Photo by Rich Quiggle)
VOLLEYBALL
JOHNSONBURG 3, SHEFFIELD 0
JOHNSONBURG, Pa. – Skylar sherry had 11 kills, six aces and four digs to help Johnsonburg to a 3-0 (25-22, 25-16, 25-21) win over visiting Sheffield.
Brianna Quiggle added 10 kills, five digs and four aces for the Ramettes with Jensen Furlong pitching in seven kills, Dora Nelson 12 set assists and Haylee Cherry four aces.
Lexi Lyon had six kills for Sheffield with Laurel Connolly adding four blocks and Eliza Davidson 11 digs.
A-C VALLEY 3, VENANGO CATHOLIC 0
FOXBURG, Pa. – Olivia Boocks had eight kills and six digs to help A-C Valley to a 3-0 (25-3, 25-3, 25-9) win over visiting Venango Catholic.
Kylee Eaton chipped in five kills for the Lady Falcons with Emily Wetzel (seven assists) and Syd Rankin (six assists) running the offense.
Hope Winger had a pair of blocks for Venango Catholic.
DUBOIS 3, CURWENSVILLE 0
CURWENSVILLE, Pa. – Sydney Kaschalk had eight kills and two blocks to lead visiting DuBois to a 3-0 (25-6, 25-13, 25-8) win over Curwensville.
Danessa Allison added seven kills and three aces for the Lady Beavers with Kelli Hoffer chipping in 20 digs and three aces. Kylee Bundy and Cate Gregory combined on 28 set assists.
Elizabeth Mathews and Anna Hoover each had two kills for Curwensville.
OTTO-ELDRED 3, AUSTIN 0
AUSTIN, Pa. – Ali Cousins and Alyssa Shelander combined for 17 kills and 18 digs to pace a 3-0 (25-10, 25-14, 25-10) Otto-Eldred win at Austin.
Cousins had nine kills and nine digs with Shelander adding eight kills and nine digs. Also for the Lady Terrors, Camryn Thomas added five kills and five digs and needs six more kills for 1,000 in her career, while Emily Smith had 16 set assists and two aces.
For Austin, Jordan Brewer had two aces, a kill and 12 set assists, while Taylor Brewer chipped in an ace, three kills and three digs and Cerissa Glover two aces and four digs.
CLARION 3, UNION 0
RIMERSBURG, Pa. – Behind 13 kills from Maya Thornton, visiting Clarion swept past Union, 3-0 (25-3, 25-19, 25-22).
Lexi Lauer added three kills and 13 digs for the Lady Cats with Brenna Campbell chipping in 26 set assists and seven digs and Sydney Kiser seven digs.
Hannah Atzeni had 16 sets assists for Union with Frankee Remmick adding nine kills and seven digs, Marli Hawk five digs and Morgan Cumberland four blocks.
NORTH CLARION 3, KARNS CITY 2
FRILLS CORNER, Pa. – Tori Obenrader had 21 kills, 11 blocks and five aces to help North Clarion hold off visiting Karns City, 3-2 (25-16, 25-22, 22-25, 20-25, 15-10).
Megan Baumcratz added 11 kills and two digs for the She-Wolves who also got seven kills and eight blocks from Gena Caldwell, four kills and seven blocks from Katie Burkett, 12 digs from Gabby Schmader and 33 set assists from Paige Sherbine.
Alyssa Stitt had 34 set assists to run a Karns City offense that featured nine kills from Emily Hegedus, seven from Livia Andreassi and six each from Makayla Waltman and Rayna Miller.
SMETHPORT 3, GALETON 2
GALETON, Pa. – Abby Woodard had 19 kills, 10 blocks, five digs and six aces to help visiting Smethport pull off a 3-2 (24-26, 25-18, 25-21, 18-25, 15-8) win over Galeton.
Haleigh Larson chipped in six kills, 13 digs and an ace for the Lady Hubbers, who also got five kills, 24 set assists and four digs from Kiara Orner.
MONITEAU 3, FOREST AREA 0
TIONESTA, Pa. – Behind six kills and four aces from Cambrie Campbell visiting Moniteau topped Forest Area, 3-0 (25-21, 25-19, 26-24), at West Forest.
Emma Bair added five blocks and Logan Barnhart 13 set assists for the Lady Warriors.
Bianca Hetrick led Forest Area with 12 kills, three aces, three digs and a block. Makiya Bellotti adding seven set assists, three digs, two aces and a kill, Shawna Carbaugh had nine set assists, three kills and two aces and Jasmine Ginnery six kills, an ace and a dig.
PORT ALLEGANY 3, CAMERON COUNTY 0
PORT ALLEGANY, Pa. – Kierra Keck had eight kills to help Port Allegany to a 3-0 (25-13, 25-12, 25-9) win over visiting Cameron County.
Kenzie Burr added seven kills, Hannah Lathrop six kills and Kayla Pesock five kills for the Lady Gators.
COUDERSPORT 3, NORTHERN POTTER 0
ULYSSES, Pa. – Eight kills, three digs, two blocks and five aces from EmmaRae Easton helped visiting Coudersport to a 3-0 (25-17, 25-5, 25-15) win over Northern Potter.
Haley Keck added 19 set assists, 11 digs and a kill for the Lady Falcons, while Adrian Page chipped in 19 digs, seven aces and four kills, Madison Smith five kills and three digs and Shaelyn Black four kills, four aces and nine digs.
Kalie Cowburn had four kills for Northern Potter with Ashley Kunselman adding two kills, six digs and an ace and Jenna Hyde eight set assists.
KANE 3, BROOKVILLE 2
KANE, Pa. – Kane rallied from an 0-2 hole to beat visiting Brookville, 3-2 (26-28, 14-25, 25-19, 25-13, 15-12).
Ella Marconi led the way for the She-Wolves with 24 kills, four digs and two blocks. Kalen Johnson added seven kills and three aces with Audri Marconi chipping in six kills and four blocks and Trinity Clark five kills, 14 digs and two blocks. Hannah Buhl ran the offense with 37 set assists while adding eight digs and two aces, and Alexis Woods had eight digs and four aces.
Lexi Lyon paced Sheffield with six kills with Laurel Connolly adding four blocks and Eliza Davidson 11 digs.
BRADFORD 3, ELK COUNTY CATHOLIC 0
ST. MARYS, Pa. – Despite 28 combined kills from Taylor Newton and Josie Smith, Elk County Catholic dropped a 3-0 (25-23, 25-23, 25-23) decision to visiting Bradford.
Newton had 17 kills for the Lady Crusaders with Smith adding 11. Brianne Weisner had 13 set assists.
Bradford sets were not available.
BOYS' SOCCER
PUNXSUTAWNEY 5, BROOKVILLE 0
BROOKVILLE, Pa. – Matt Wehrle had a hat trick to help visiting Punxsutawney to a 5-0 win at Brookville.
Vincent Gigliotti added a pair of goals for the Chucks.
BROCKWAY 8, RIDGWAY 0
JOHNSONBURG, Pa. – Anthony Esposito and Carter Adams each scored twice to help visiting Brockway to an 8-0 win over Ridgway in Johnsonburg.
Dominic Inzana, Angelo Inzana, Chase Azzato and Austin Moore also scored for the Rovers, while Esposito added a pair of helpers and Hunter Allenbaugh, Zane Puhala, Adams, Ian Koehler and Elijah Fremer also had tallies.
Moore got the shutout in net – his goal came on a penalty kick.
NORTHERN POTTER 1, TOWANDA 0
ULYSSES, Pa. – AJ Lehman goal five minutes into the game lifted Northern Potter to a 1-0 win over visiting Towanda.
Towanda had a chance to tie the game with about four minutes to play after a Panthers' handball in the penalty area, but the kick went wide.
Holden Cowburn got the shutout in goal making 12 saves.
MERCER 4, KARNS CITY 1
MERCER, Pa. – Despite a direct kick goal from Nolan Riley, visiting Karns City lost, 4-1, to Mercer.
GIRLS' SOCCER
RIDGWAY 5, BROCKWAY 1
JOHNSONBURG, Pa. – Cassidy King scored twice to help Ridgway hand visiting Brockway its first loss of the season, 5-1, in Johnsonburg.
Madeline Cowan, Rylee Casilio and Amanda Williams also scored the Elkers.
Chanell Britten had Brockway's lone goal, thee 55th of the sophomore's career.
BELLEFONTE 5, CLEARFIELD 1
HYDE, Pa. – Mallorie Smith scored four times to lift visiting Bellefonte to a 5-1 win over Clearfield.
Madalyn Morelli also scored the visitors.
Clearfield's lone goal came from Alayna Ryan.