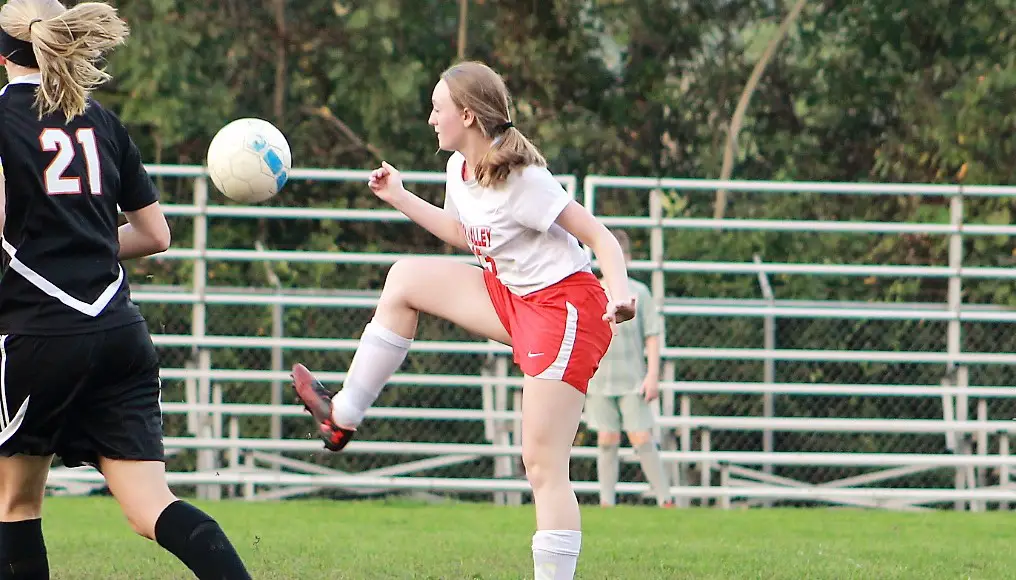 Oct. 6 soccer recaps.
(Photo of Brooke Eberle of Redbank Valley. Photo by Jared Bakaysa of JB Graphics. See more of Bakaysa's work here)
GIRLS
REDBANK VALLEY 4, FOREST AREA 0
TIONESTA, Pa. – Brooke Eberle scored a hat trick to lead visiting Redbank Valley to a 4-0 win over Forest Area at West Forest.
Raegen Beamer also scored for the Lady Bulldogs, while Molly Nolf, Kassidy Lee and Rhiannon Laughlin all had assists.
CURWENSVILLE 7, PUNXSUTAWNEY 0
CURWENSVILLE, Pa. – Behind four Chloe Davis goals, Curwensville beat visiting Punxsutawney, 7-0.
Emma Rebar added a pair of two goals, and Madison Weber chipped in one tally. Breanne Spencer had three assists for the Lady Tide, who had 20 shots.
Maura Bunnell recorded her second shutout of the season in goal.
BOYS
REDBANK VALLEY 3, FOREST AREA 1
TIONESTA, Pa. – Three different players scored to lead visiting Redbank Valley to a 3-1 win over Forest Area at West Forest.
Nick Smith, Jimmy Gundlach and Anthony Baileys all scored for the Bulldogs with Kolton Kline assisting on a pair of tallies and Corben Beamer on one.
NORTHEAST BRADFORD 5, NORTHERN POTTER 4
ULYSSES, Pa. – Brady Brown's goal in the 78th minute completed an extraordinary comeback for Northeast Bradford in a 5-4 win at Northern Potter.
NE Bradford trailed 4-0 following a second-half goal by Northern Potter's Carter Anderson with 34 minutes left to play.
But the visitors quickly responded with five unanswered goals in a span of 16 minutes to stun the Panthers.
Jude Jampo started the onslaught at the 58-minute mark, and Gavin Merritt cut the NoPo lead to 4-2 late in the 69th minute. Just 34 seconds after the Merritt tally, Jampo scored again to make it 4-3, and then Collin Cowles tied the game on a penalty kick early in the 75th minute.
Dakota Perkins scored twice in the first half for Northern Potter with Esra Sprow also scoring in the half for the Panthers.