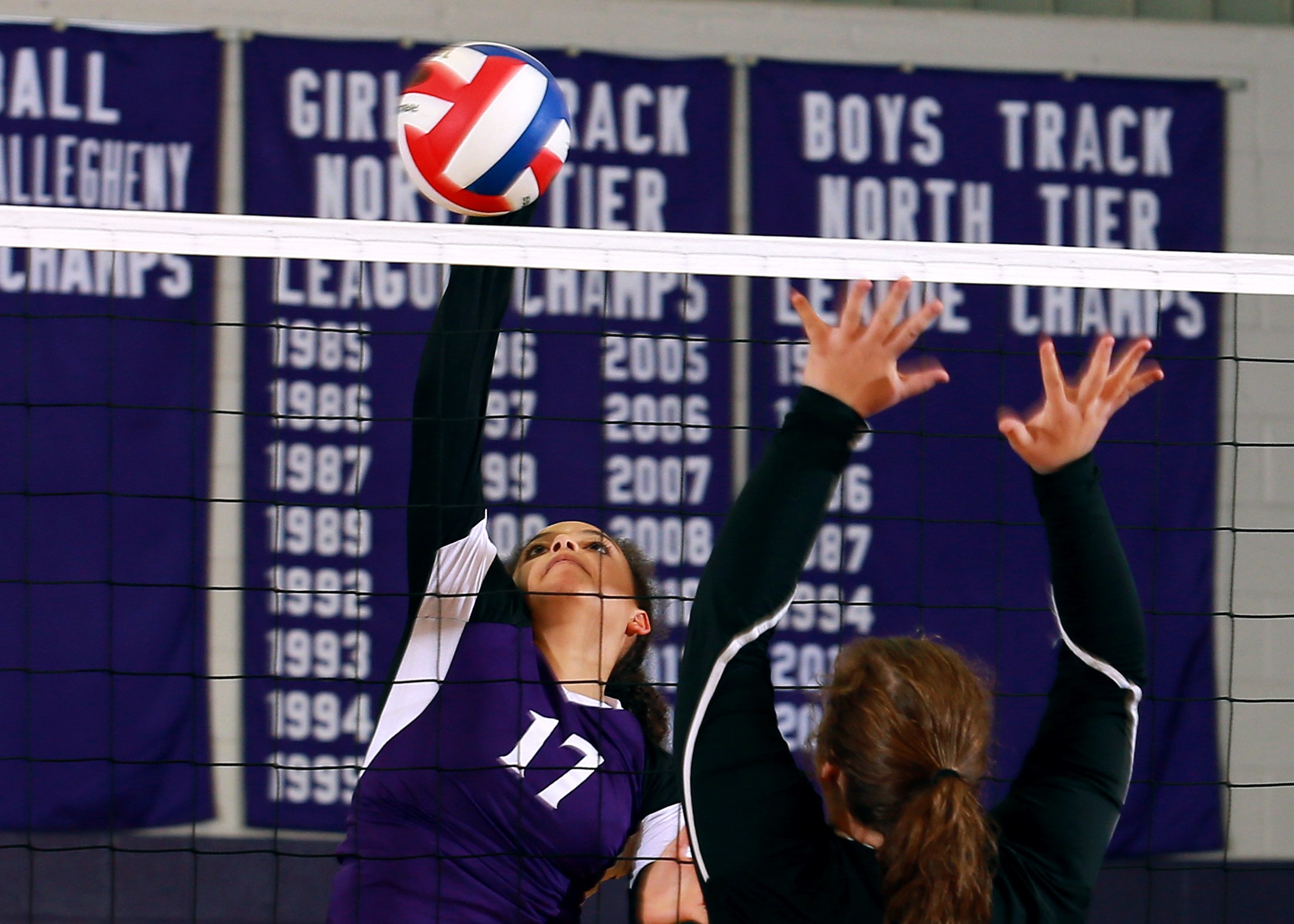 Oct. 6 volleyball and soccer recaps.
KANE 3, BROOKVILLE 0
BROOKVILLE, Pa. – Thanks to nine kills apiece from Trinity Clark and Alyssa Zampogna, visiting Kane came home with a 3-0 (25-9, 25-17, 25-14) win at Brookville.
Ella Marconi added six kills and three blocks for the Lady Wolves, while Camryn Cummings had four kills, Ashley Jordan 15 set assists and Hannah Buhl 10 set assists and three aces.
Brookville was missing five regulars because of disciplinary reasons. The Lady Raiders five kills, one each from Lauren Hergert, Emily McAninch, Mikayla Aikens, Tessa Shaffer and Lexis Hatzinikolas.
CLARION 3, UNION 0
CLARION, Pa. – Clarion continued to roll getting 27 combined kills from Maya Thornton and Olivia Burns to sweep visiting Union, 3-0 (25-7, 25-13, 25-14).
Thornton led the unbeaten Lady Cats with 14 kills with Burns adding 13 kills. Gloria Kroh had 29 set assists and 11 digs, and Alexis Constantino added 10 digs.
Hannah Atzeni led Union with eight digs and eight assists. Bryn Davis had five kills and four digs, and Marli Hawk added five digs.
DUBOIS 3, CURWENSVILLE 0
DUBOIS, Pa. – Thanks to 15 Danessa Allison kills, DuBois got back on the winning track with a 3-0 (25-19, 25-15, 25-17) win over visiting Curwensville.
Lexi Ray added eight kills, Ashley McCluskey had 22 set assists, Kylee Bundy 14 digs and Kelli Hoffer five aces for the Lady Beavers.
REDBANK VALLEY 3, KEYSTONE 0
KNOX, Pa. – Redbank Valley stayed unbeaten with a 3-0 (25-12, 25-20, 25-14) win at Keystone.
Josie Rupp had seven kills for the Lady Bulldogs, Heather Traister added five kills and a block, Macy King four kills and two aces, McKenna Shirey four kills and four blocks and Hannah Adams 10 digs and two aces.
Makenzie Hovis had a pair of kills for Keystone.
SMETHPORT 3, NORTHERN POTTER 0
SMETHPORT, Pa. – Thanks to big offensive nights from Abbey Woodard and Katie Treat, Smethport rolled to a 3-0 (25-10, 25-20, 25-8) win over visiting Northern Potter.
Woodard had 20 kills, four blocks and an ace, while Treat added 15 kills and eight blocks for the Lady Hubbers. Olivia Goodwill chipped in 11 kills and six aces.
Jenna Hyde led Northern Potter with six kills and five set assists, Gracie Hamilton had four kills, two blocks and two aces and Tory McCutcheon two kills and six set assists.
A-C VALLEY 3, VENANGO CATHOLIC 0
OIL CITY, Pa. – Visiting A-C Valley got 18 combined kills and 19 total aces from Olivia Boocks, Kylee Eaton and Josie Terwilliger in a 3-0 (25-12, 25-7, 25-7) win at Venango Catholic.
Eaton led the Lady Falcons with seven kills and five aces, Terwilliger added six kills and 10 aces and Boocks five kills and four aces.
Sydney Rankin ran the offense with 13 set assists while adding seven aces and two digs.
OSWAYO VALLEY 3, AUSTIN 0
AUSTIN, Pa. – Shayla Bickel had nine kills, six digs and two aces to lead visiting Oswayo Valley to a 3-0 (25-13, 25-16, 25-11) win at Austin.
Sarah Malogrino added three kills, six aces and six digs for the Green Wave,w ho also got nine set assists and two blocks from Jessica Edwards.
For Austin, Madison Hootfallen had three aces and six digs and Angie Watson seven set assists and three aces.
NORTH CLARION 3, KARNS CITY 0
KARNS CITY, Pa. – Behind another strong night from Tori Obenrader and Cassie Wagner, North Clarion went on the road and came away 3-0 (25-22, 25-21, 25-18) winners at Karns City.
Obenrader had 11 kills, eight digs and six blocks, and Wagner added seven kills, seven blocks and seven aces.
Sydney Greenawalt (11 set assists) and Paige Sherbine (10 set assists) ran the She-Wolves offense with Abby Karg adding five digs and seven aces.
Mackenzie Craig led Karns City with five kills. Brooke Moore had seven set assists and Makala Bailey two digs and three aces.
COUDERSPORT 3, PORT ALLEGANY 0
COUDERSPORT, Pa. – Ally Easton had 15 kills, seven digs and two aces to lead Coudersport to a 3-0 (25-9, 25-13, 25-7) win over visiting Port Allegany.
Kiara Perkins had a fantastic night serving for the Lady Falcons recording 11 aces, while Haley Keck had 25 set assists and Joplin Osgood and Macy Gleason 17 digs each. Ady Page led Coudy with 19 digs and also had five kills. EmmaRae Easton chipped in five kills as well.
ELK COUNTY CATHOLIC 3, BRADFORD 0
BRADFORD, Pa. – Reilly Herzing had 16 kills to give visiting Elk County Catholic a 3-0 (25-23, 25-22, 25-21) win at Bradford.
Cassidy Cunningham chipped in 13 kills for the Lady Crusaders.
Ashton McGriff led Bradford with nine kills, Bri Buck added 11 digs for the Lady Owls, who also got seven kills, five digs and two blocks from Kam Piscitelli.
RIDGWAY 3, DUBOIS CENTRAL CATHOLIC 1
DUBOIS, Pa. – Visiting Ridgway picked up a 3-1 (25-11, 20-25, 25-19, 25-9) win over DuBois Central Catholic.
Emily Fullem led Ridgway with 11 kills. Hannah Park added six aces, and Lacie Cherry 16 set assists
Macey Hanes led the home team with 10 kills, Ashley Wruble had 17 set assists, Libby Maurer five kills and Maddy Nasuti five digs.
JOHNSONBURG 3, SHEFFIELD 1
SHEFFIELD, Pa. – After dropping the first set to Sheffield, visiting Johnsonburg won the next three to pick up a 3-1 (18-25, 25-23, 25-20, 25-17).
Nicole Myers led the Ramettes with 12 kills, while Skylar Sherry had eight set assists. Emily Dillinger chipped in five kills and five blocks, Jensen Furlong eight kills and Emily Cardoni 10 set assists.
Lexi Lyon had a strong game for Sheffield with 14 kills and nine blocks. Mya Grubs added eight kills and 14 set assists, Rachel Lemay had 19 set assists and seven kills and Taya Bailey paced the defense with 11 digs.
OTTO-ELDRED 3, GALETON 0
GALETON, Pa. – Emily Smith had 31 set assists to help visiting Otto-Eldred to a 3-0 (25-18, 25-10, 25-19) win at Galeton.
Ali Cousins added 12 kills, Tiffany Bair eight kills and Camryn Thomas seven kills for the Lady Terrors.
BOYS' SOCCER
BROCKWAY 4, RIDGWAY 0
BROCKWAY, Pa. -Four different Brockway players scored, as the Rovers shutdown visiting Ridgway, 4-0.
Anthony Esposito, Carter Adams, Zane Puhala and Eric Botwright scored for Brockway with Puhala and Botwright each picking up a pair of assists.
Jarrett Esposito got the shutout in net.
ELK COUNTY CATHOLIC 2, SMETHPORT 1
ST. MARYS, Pa. – Erick Mader and Frank Singer both scored to lead Elk County Catholic to a 2-1 win over visiting Smethport.
Andrew Gallup scored for Smethport.
PUNXSUTAWNEY 3, BROOKVILLE 2
PUNXSUTAWNEY, Pa. – Vincent Gigliotta's second goal of the game late in the 75th minute gave Punxsutawney a 3-2 win over visiting Brookville.
Jacob Horner also scored for the Chucks, while Thad Johnson and Jacob Cable had tallies for Brookville.
BRADFORD 4, SAEGERTOWN 1
SAEGERTOWN, Pa. – Colton Swanson and Rob Jimmerson each scored twice, and Jack Kellam made 13 saves to give visiting Bradford a 4-1 win at Saegertown.
Ian Grady had a pair of assists for the Owls, while Mitch Forbes and Mike Bosworth also had helpers.
Griffin Hohn scored for Saegertown, who got seven saves from Peyton Grays.
Bradford led 1-0 at halftime.
PORT ALLEGANY 4, ST. MARYS 0
PORT ALLEGANY, Pa. – Four different Port Allegany players scored to lead the Gators to a 4-0 win over visiting St. Marys.
Jordan Bell, Payton Caden, Mackenzie Elliott and Brandon McCaslin all had tallies for the victors, who are now 12-1 on the year.
NORTHERN POTTER 2, TOWANDA 2
TOWANDA, Pa. – Seth Bouse scored the tying goal in the second half for Towanda and the Black Knights earned a 2-2 tie against visiting Northern Potter.
The Panthers twice had leads in the game going up 1-0 in the first half on an Austin Outman goal assisted by Levi Kio.
That scored stood until the second half when Demetrius Hill tied the game for Towanda.
Northern Potter retook the lead on a Tanner Hess tally off a Ryan Slawson pass.
GIRLS' SOCCER
BROCKWAY 3, RIDGWAY 0
BROCKWAY, Pa. – Mackenzie Overbeck picked up the shutout in goal, as Brockway blanked visiting Ridgway, 3-0.
Chanel Britten scored twice for the Lady Rovers, who also got a goal from Lauren Duttry.
DUBOIS CENTRAL CATHOLIC 4, ELK COUNTY CATHOLIC 2
DUBOIS, Pa. – Jordy Frank netted the hat trick to give DuBois Central Catholic a 4-2 win over visiting Elk County Catholic.
Anne Latuska also scored for the Lady Cardinals.
Maddie Kear and Jenna Weisner had the goals for ECC.
REDBANK VALLEY 4, BROOKVILLE 1
BROOKVILLE, Pa. – Zoie Stewart scored twice to lead visiting Redbank Valley to a 4-2 win at Brookville.
Haley Minich and Reagan Neiswonger also scored for the Lady Bulldogs with Minich and Molly Nolf picking up helpers.
Hannah Kirkwood scored for Brookville.
BRADFORD 3, SMETHPORT 1
SMETHPORT, Pa. – Three different players scored to pace a 3-1 win for visiting Bradford over Smethport.
Brooke McGriff, Regan Johnson and Payton Kloss all scored for the Lady Owls.
Sami Newton scored for Smethport.
BELLEFONTE 2, CLEARFIELD 0
BELLEFONTE, Pa. – Mallorie Smith scored twice to lead Bellefonte to a 2-0 win over Clearfield.
Gabbie Pighetti had assists on both goals.