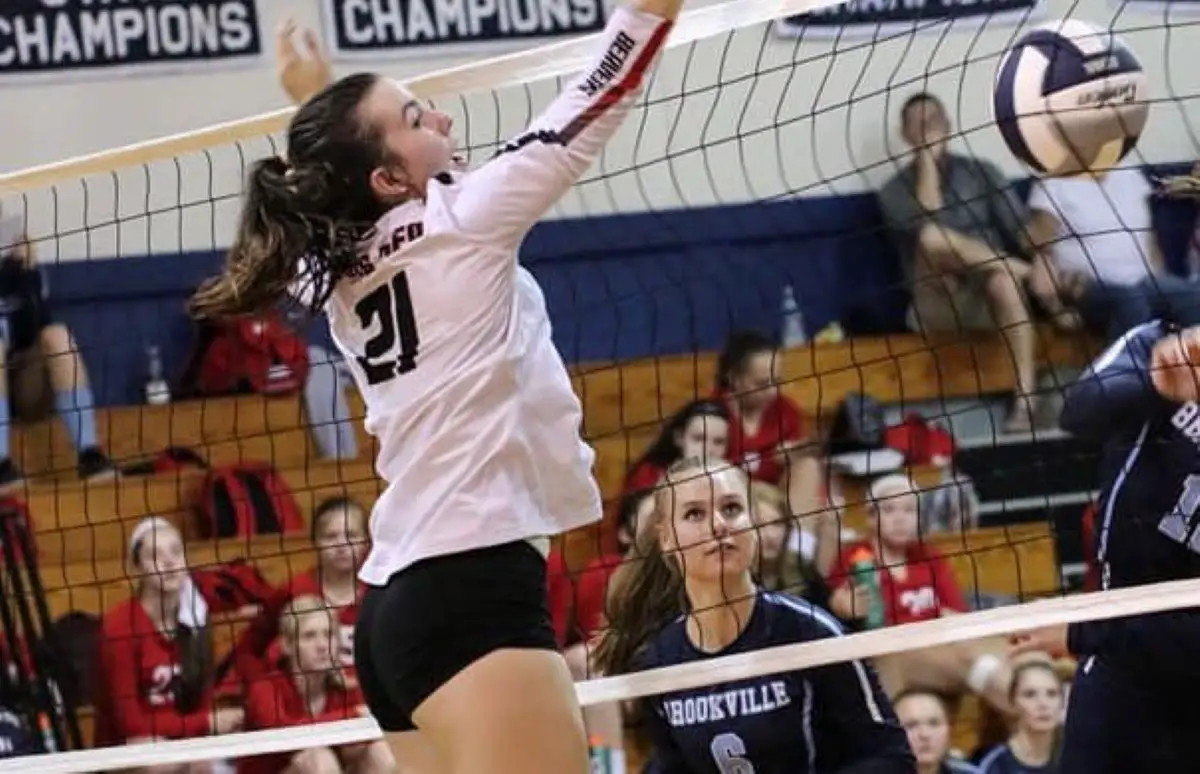 Oct. 8 volleyball/soccer recaps.
(Photo of DuBois Sydney Kaschalk. Submitted photo)
VOLLEYBALL
DUBOIS 3, BROOKVILLE 2
DUBOIS, Pa. – A monster match by Sydney Kaschalk helped DuBois fend off visiting Brookville, 3-2 (25-14, 18-25, 25-12, 23-25, 15-13).
Kaschalk had 25 kills, 10 blocks, 12 digs and five aces to pace the Lady Beavers with Cayla Donahue adding 10 kills and Alayna Cornelius 20 digs.
Cate Gregory ran the DuBois offense with 55 set assists while adding nine digs and three aces.
A-C VALLEY 3, KEYSTONE 2
KNOX, Pa. – Behind 10 kills apiece from Andrea Meals and Meah Ielase visiting A-C Valley hung on to beat Keystone, 3-2 (27-25, 22-25, 25-23, 22-25, 15-9).
Ielase added 25 digs with Meals contributing 11 digs, five blocks and two aces.
Also for the Lady Falcons, Mia Sherman had nine kills, 10 digs and four blocks, Hannah Farrington added seven kills, 19 digs and two aces, Emily Wetzel had 18 set assists, 24 digs, two kills and two aces and Tarra Stefanacci chipped in 16 set assists and 20 digs.
Alyssa Dunlap (15 kills, 18 digs), Ceayra Altman (12 kills, 18 digs, 1 ace) and Jozee Weaver (11 kills, 7 digs, 4 blocks, 3 aces) led the way for Keystone, while Alexandria Johnston ran the offense with 28 set assists and added 16 digs. Also for the Lady Panthers, Leah Exley had five digs, five blocks and six aces and McKenna Kaye added 10 digs, 11 set assists and seven kills.
VENANGO CATHOLIC 3, FOREST AREA 2
OIL CITY, Pa. – Behind 10 kills and five aces from Emmy Ekis Venango Catholic beat visiting Forest Area, 3-2 (25-19, 22-25, 26-24, 20-25, 15-8).
Hope Winger added eight kills and two blocks for the Lady Vikings with Meadow Hartle chipping in six aces and eight set assists.
MONITEAU 3, CLARION LIMESTONE 0
WEST SUNBURY, Pa. – Moniteau used three aces and six digs from Emily Zang to beat visiting Clarion-Limestone 3-0 (25-16, 25-15, 25-9).
Also for the Lady Warriors, Aslyn Pry added seven kills and one block with Logan Barnhart running the offense with 16 set assists and one ace. Abby Regal chipped in one ace and four kills.
Brooke Kessler had eight kills for C-L with Ruby Smith and Emma Smith each adding three kills. Ruby Smith also had nine digs with Bailey Smith chipping in five digs. Kendall Dun (9 set assists) and Regan Husted (8 set assists) ran the offense for the Lady Lions.
REDBANK VALLEY 3, KARNS CITY 0
KARNS CITY, Pa. – Taylor King recorded 13 kills while adding a block and an ace to lead Redbank Valley to a 3-0 (25-14, 25-17, 25-16) road win over Karns City.
Montana Hetrick added seven kills with Kianna Shrecekngost added four kills and four set assists, while Tara Hinderliter ran the offense for the Lady Bulldogs with 30 set assists.
Cassidy Nolan led Karns City with nine kills and two aces, Emily Huff added four kills and five digs and Mackenzie Dunn had three kills, 18 digs, two aces, two set assists and a block. Peyton Turner (10 set assists, 6 digs), Rosalie Carden (7 set assists, 4 digs, 1 ace) and Ashley Fox (22 digs) also contributed for the Lady Gremlins.
ELK COUNTY CATHOLIC 3, ST. MARYS 0
ST. MARYS, Pa. – Elk County used 13 kills and two blocks from Taylor Newton to beat St. Marys, 3-0 (25-10, 25-19, 25-9).
Also for the Lady Crusaders, Julia Aikens added six kills and five aces with Ellie Fledderman running the offense with 26 set assists and five kills. Brooke Bauer chipped in four kills, while Madyson Delladuila recorded four kills.
Maddie Bowes had 33 digs for St. Marys with Meghan McGonnell recording six kills, Payton Bauer six blocks and Sara Heigel five blocks.
BRADFORD 3, SHEFFIELD 0
BRADFORD, Pa. – Bradford topped visiting Sheffield, 3-0 (25-15, 25-8, 25-16)
For Sheffield, Annabel Sheldon had 14 points and Megan Johnson had 13 digs and six set assists.
Bradford stats weren't available.
PUNXSUTAWNEY 3, DUBOIS CENTRAL CATHOLIC 2
DUBOIS, Pa. – Punxsutawney used 13 kills and 24 digs from Katelyn Griebel to beat Dubois Central Catholic, 3-0 (17-25, 25-8, 10-25, 25-15, 15-13).
Also for the Lady Chucks, Lizzie Neal added seven kills and three blocks with Grace Hall running the offense with 28 set assists and 21 digs. Elliot Ferrent chipped in five kills and six aces, while Haley Maines recorded five kills and 16 digs.
Bella Mangiantini had 11 kills and two blocks for DCC with Martina Swalligan adding five kills and two blocks and Jordy Kosko five kills and two aces. Hannah Holdren also had four kills, while Maia Cogley ran the offense with 20 set assists while adding 38 digs and four kills. Shay Gulvas also had 38 digs and six aces.
JOHNSONBURG 3, BROCKWAY 0
BROCKWAY, Pa. – Johnsonburg used seven kills from Jenna Morgan to beat Brockway, 3-0 (25-12, 25-18, 25-16).
Also for the Ramettes, Ella Stauffer added six kills with Emma King chipping in six digs.
KANE 3, CURWENSVILLE 1
CURWENSVILLE, Pa. – Sarri Swanson had 10 kills to lead visiting Kane to a 3-0 (25-12, 17-25, 25-11, 25-20) win over Curwensville.
Audri Marconi added seven kills and two blocks for the Lady Wolves with Sierra Hillman chipping in six kills and two blocks. Kalen Johnson had three aces, Emma Ely added 17 digs and Moira Stanisch ran the offense with 31 set assists.
BOYS' SOCCER
DUBOIS CENTRAL CATHOLIC 3, FOREST AREA 0
DUBOIS, Pa. – Tristen Engle scored twice and added an assist to lead DuBois Central Catholic to a 3-0 win over visiting Forest Area.
Harry Starr added a goal and a helper for the Cardinals.
Braden Ochs made 14 saves for Forest Area.
NORTHERN POTTER 2, NORTH PENN-LIBERTY 1
LIBERTY, Pa. – Ryan Langworthy scored twice to lead Northern Potter to its first win of the year with a 2-1 victory on the road at North Penn-Liberty.
Ezra Sprow and Aiden Swetland had assists for the Panthers.
Cadian Alexander scored for North Penn-Liberty.
CLEARFIELD 2, PHILIPSBURG-OSCEOLA 0
HYDE, Pa. – Goals from Nick Ryan and Andrew Lopez paced a 2-0 Clearfield win over visiting Philipsburg-Osceola.
Graeson Graves made two saves for the Bison in net.
Dakota Fetterolf had five saves for P-O.
BRADFORD 4, WARREN 1
BRADFORD, Pa. – Bradford topped visiting Warren, 4-1.
The Owls got goals from Gavin McGee, Ian Grady, Isaiah Pingie and Alex Marrone.
Evan Schmidt made 12 saves in the victory.
CLARION-LIMESTONE 5, REDBANK VALLEY 1
STRATTANVILLE, Pa. – Paul Leonhardt scored a pair of goals and added two helpers in Clarion-Limestone's 5-1 victory over visiting Redbank Valley.
Beau Verdill also had a goal and a pair of helpers for the Lions while Cody Whitling and Bailee Verdill each scored once.
Quinlan Griffith scored for Redbank Valley.
KARNS CITY 9, KANE 1
KARNS CITY, Pa. – Behind four goals and three assists from Nate Rondinelli Karns City shrugged off its first loss of the season Monday (to Slippery Rock) to beat visiting Kane, 9-1.
Dakota King also had a hat trick for the Gremlins while adding an assist, and Brayden Christie, Owen Colwell and Chase Beighley also scored. David Friel added an assist.
Josh Greville had the goal for Kane, while Alex Huckabone made 10 saves.
GIRLS' SOCCER
FOREST AREA 4, KANE 3, OVERTIME
KANE, Pa. – Olivia Siegel scored with 1:20 left in the first overtime to lift Forest Area to a 4-3 come-from-behind victory at Kane.
Abby Gatesman forced overtime with a goal with four minutes to play in regulation, as the Fires overcame a 3-1 deficit to get the win.
Reagan Pack started the comeback for Forest Area with a goal with about 15 minutes remaining.
Gatesman scored the first goal of the game for the Fires as well.
Rachael Buhl had the hat trick for Kane.
CLARION 2, KEYSTONE 0
STRATTANVILLE, Pa. – Goals from Anna Gribik and Jenna Miller lifted Clarion to a 2-0 win over visiting Keystone at Clarion-Limestone.
Chesney Boggess had the shutout in goal for the Lady Cats.
PORT ALLEGANY 2, ELK COUNTY CATHOLIC 0
PORT ALLEGANY, Pa. – Brielle Budd made 11 saves to record her third clean sheet of the year, as Port Allegany topped visiting Elk County Catholic, 2-0.
Emma Fox scored off a feed from Bree Garzel, and Evin Stauffer scored unassisted for the Lady Gators.
Allison Geci made three saves for ECC.