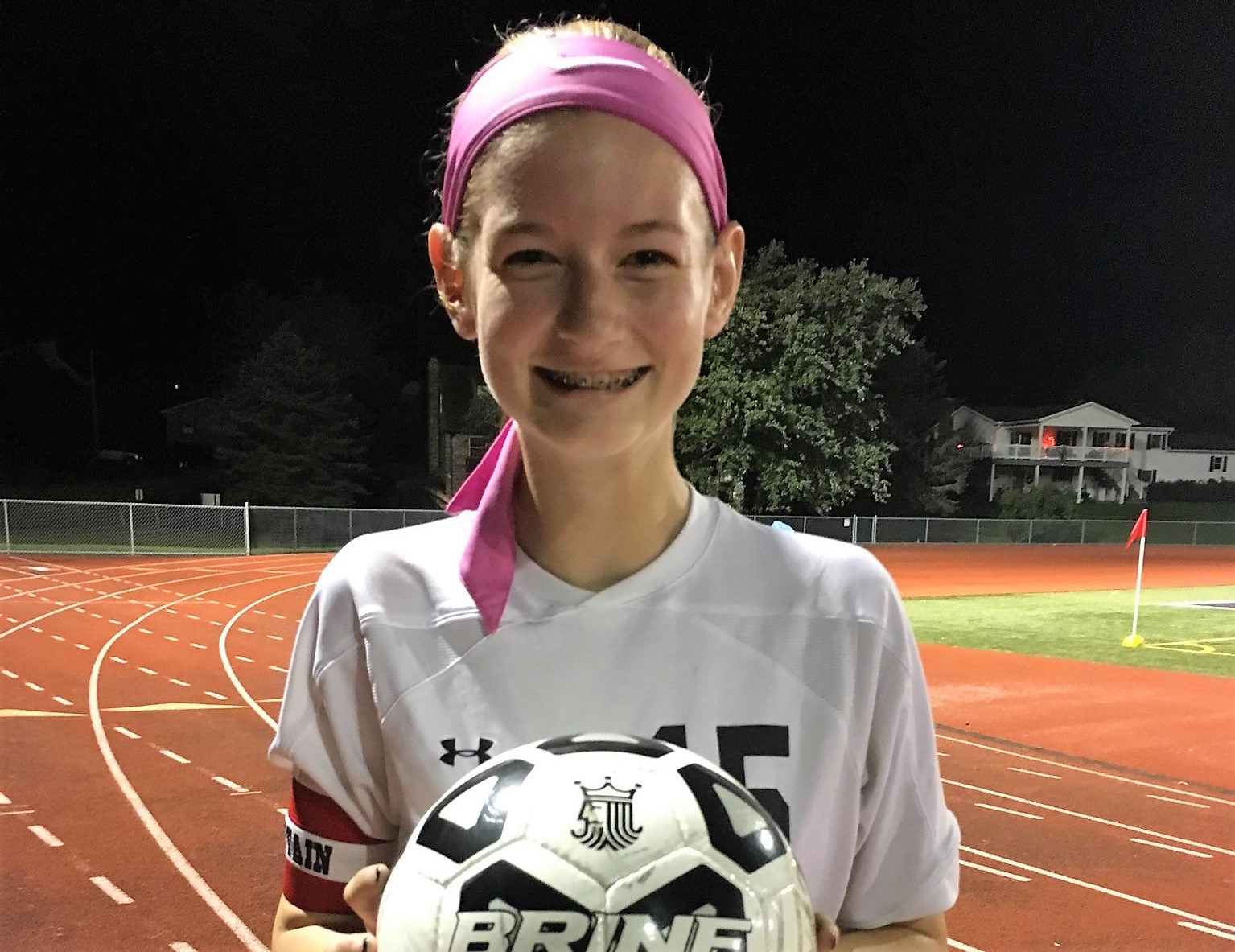 Oct. 8 soccer and volleyball recaps.
(Photo: Chanell Britten of Brockway with the game ball after scoring her 100th career goal on her third goal of the night in a 4-0 win over DuBois Monday. Submitted photo)
GIRLS' SOCCER
BROCKWAY 4, DUBOIS 0
DUBOIS, Pa. – Chanell Britten scored three goals, including the 100th goal of her career, to lead visiting Brockway to a 4-0 win over DuBois.
Britten, a junior, came into the game needing three tallies for 100.
Morrigan Decker added a goal and an assist for the Lady Rovers with Katie McMeekin, Callie Barber and Kayla Jamison also picking up helpers.
BROOKVILLE 4, REDBANK VALLEY 0
BROOKVILLE, Pa. – Brookville scored four goals in a span of just over 12 minutes midway through the second half to beat visiting Redbank Valley, 4-0.
Madisyn Wolfe got the scoring started when she lofted a shot just over the outstretched hands of Redbank Valley keeper Alena Keller in the 55th minute.
Seven minutes later, Jillian Taylor made it 2-0 Lady Raiders on a penalty shot tally.
Alayna Haight and Emily Kramer, who assisted on Haight's goal, then scored just over three minutes apart to set the final score.
Brookville keeper Avery Gilhousen, who made a pair of saves to get the shutout, preserved that shut out when she stopped a Redbank Valley free kick from just outside the box in the 65th minute.
Keller played strong in goal for Redbank Valley despite allowing the four quick goals making nine saves, including six in the first half to keep the game scoreless at halftime.
RIDGWAY 5, KANE 0
RIDGWAY, Pa. – Amanda Williams and Madeline Cowan each scored twice to lift Ridgway to a 5-0 win over visiting Kane.
Haylee Zimmerman also scored for the Lady Elkers.
FOREST AREA 4, CLARION 3
CLARION, Pa. – Mackenzie Bauer scored twice to help visiting Forest Area to a 4-3 win over Clarion.
Shawna Pack also scored for the Fires, who tallied another goal on a Clarion own goal.
Wendy Beveridge, Lindsey Kemmer and Lauren Troutman scored for Clarion.
Abby Gatesman stopped 13 shots to get the win for Forest Area.
WARREN 3, BRADFORD 1
WARREN, Pa. – Kyra Wotorson scored twice to lead Warren to a 3-1 win over visiting Bradford.
Kyleigh Wilson also scored for the Lady Dragons.
Regan Johnson scored for Bradford.
BOYS' SOCCER
CLARION-LIMESTONE 4, RIDGWAY 2
STRATTANVILLE, Pa. – Four different players scored to lead Clarion-Limestone to a 4-2 win over visiting Ridgway.
Kyle Schonbachler, Isaac Kim, Johannes Kuehn and Cody Whitling scored for the Lions.
BROOKVILLE 8, REDBANK VALLEY 0
BROOKVILLE, Pa. – Jace Miner had the hat trick to lead Brookville to an 8-0 win over visiting Redbank Valley.
Brian Pangallo, Hayden Kramer, Logan Oakes and Time Steele also scored for the Raiders.
Darius Sobrin, in his first action after missing nine games with an injury, made six saves to record the shutout.
VOLLEYBALL
COUDERSPORT 3, AUSTIN 0
AUSTIN, Pa. – Shaelyn Black had nine kills and nine aces to help visiting Coudersport to a 3-0 (25-16, 25-13, 25-12) win over Austin.
Erica Williams added six kills for the Lady Falcons with Mikayla Kavounas recording seven aces and seven assists.
Taylor Brewer had three kills, six aces and two blocks for Austin. Angelina Watson added two kills, seven digs, four aces and two blocks for the Lady Panthers with Cerissa Glover chipping in two kills and three aces.
PUNXSUTAWNEY 3, BROCKWAY 0
PUNXSUTAWNEY, Pa. – Despite eight kills and nine digs from Abby Alford, visiting Brockway dropped a 3-0 (25-12, 25-15, 25-17) decision to Punxsutawney.
Punxsutawney stats weren't available.
REDBANK VALLEY 3, CLARION-LIMESTONE 0
NEW BETHLEHEM, Pa. – Josie Rupp had nine kills and three aces to lead Redbank Valley to a 3-0 (25-12, 25-22, 25-5) win over visiting Clarion-Limestone.
Jordan Milliron added six kills for the Lady Bulldogs with TL Nelson and Taylor King each coming up with four kills. King chipped in two aces and a block as well. Carissa Rearick ran the offense with 22 assists and added an ace, and Hope Spence paced the defense with 14 digs.
Rachel Greeley had five kills, six digs and three blocks for C-L with Keara Henry adding six assists and Madison Craig and Sadie Mahle five digs apiece.
CAMERON COUNTY 3, GALETON 2
GALETON, Pa. – Visiting Cameron County outlasted Galeton, 3-2 (25-22, 24-26, 25-22, 19-25, 20-18) in an epic match that went five points past the 15 set points needed to win the fifth-and-deciding set.
Taylor Britton led the Lady Raiders with 10 kills and three aces with Hailey Hilfiger chipping in eight kills and three blocks.
Alyvia McKimm ran the offense for Cameron County with 19 assists while adding 17 digs and three kills, and Mallory McKimm had five aces.
UNION 3, FOREST AREA 0
RIMERSBURG, Pa. – Using a strong serving game, Union swept past visiting Forest Area, 3-0 (25-4, 25-7, 25-8).
Morgan Cumberland had 11 aces and 10 set assists for the Golden Damsels with Vanessa Reddick adding seven aces and Jada Zitzman four aces. Dominika Logue had a match-high four kills with Bryn Davis adding two kills.
A-C VALLEY 3, WEST MIDDLESEX 1
FOXBURG, Pa. – Kylee Eaton's double-double of 15 kills and 22 digs led A-C Valley to a 3-1 (25-23, 25-20, 21-25, 26-24) win over visiting West Middlesex.
Olivia Boocks added nine kills, 16 digs and four aces for the Lady Falcons with Emily Wetzel recording 11 set assists and 15 digs and Andrea Neaks adding 13 digs and four kills.
OTTO-ELDRED 3, SMETHPORT 2
DUKE CENTER, Pa. – Behind 10 kills and 19 digs from Reilly Raught Otto-Eldred outlasted visiting Smethport, 3-2 (23-25, 25-22, 24-26, 25-13, 15-8).
Morgan Dalton added three kills, 14 digs and 14 aces for the Lady Terrors, while Emily Reitler added 11 set assists and two aces and Emmalee Sheeler had 10 set assists and six aces.
RIDGWAY 3, JOHNSONBURG 1
RIDGWAY, Pa. – Ridgway topped visiting Johnsonburg, 3-1 (22-25, 25-17, 25-22, 25-17).
Lindsey Kocjancic had 11 kills for Jburg with Kenzie Sallack adding eight kills and Amanda Williams and Jena Morgan each added seven kills.
Ridgway stats weren't available.
NORTHERN POTTER 3, OSWAYO VALLEY 0
ULYSSES, Pa. – Savannah Herring had 10 kills, two blocks and an ace to lead Northern Potter to a 3-0 (25-18, 25-23, 25-23) win over visiting Oswayo Valley.
Mirissa Bliss had 14 set assists and four aces with Madison Hoopes chipping in nine aces, three kills and two aces and Courtney Martin had 11 digs, two kills and an ace.