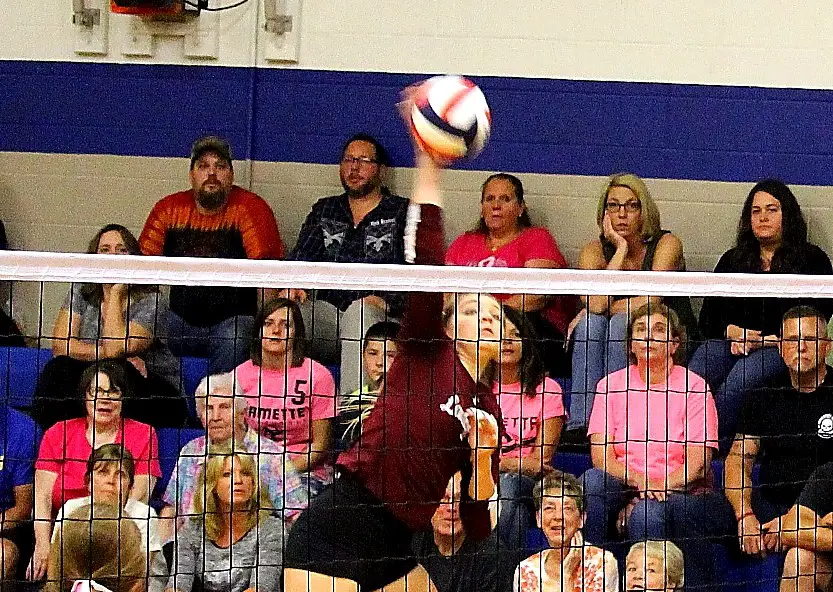 Oct. 9 volleyball and soccer recaps.
(Cover photo of Ridgway's Emily Fullem. Photo by Rich Quiggle)
VOLLEYBALL
RIDGWAY 3, JOHNSONBURG 1
JOHNSONBURG, Pa. – Emily Fullem had 12 kills to lead visiting Ridgway to a 3-1 ((25-17, 25-9, 26-24, 25-18) win over Johnsonburg.
Toniemarie Della added seven kills for the Lady Elkers with Erica Delullo chipping in five kills.
Jensen Furlong paced Johnsonburg with 18 kills, Brianna Quiggle added seven kills and 12 digs, Skylar Sherry had five kills and 11 digs and Riley Casilio had 16 set assists.
BROOKVILLE 3, CLEARFIELD 1
BROOKVILLE, Pa. – Olivia Pearson had 11 kills and three blocks to help Brookville to a 3-1 (25-19, 20-25, 25-6, 25-16) win over visiting Clearfield.
Cheyanne Gotwald chipped in five aces and five kills for the Lady Raiders who also got five kills and three aces from Kira Powell, six aces from Tessa Shaffer and four kills each from Lexis Hatzinkolas and Mikayla Aikins.
Nicole Broussard had four kills and six blocks to pace Clearfield who also got five set assists from Breanna Luzier.
COUDERSPORT 3, GALETON 0
COUDERSPORT, Pa. – Behind 13 kills and three aces from EmmaRae Easton Coudersport handled visiting Galeton, 3-0 (25-17, 25-18, 25-12).
Adrian Page added eight kills and 26 digs for the Lady Falcons who also got nine kills from Shaelyn Black, 34 set assists from Haley Keck and 27 digs from Joplin Osgood.
Katie Pagano had 20 digs for Galeton.
SMETHPORT 3, AUSTIN 0
SMETHPORT, Pa. – Abbey Woodard put down 12 kills and added eight digs, five aces and a block to help Smethport top visiting Austin, 3-0 (25-7, 25-22, 25-4).
Haleigh Larson chipped in seven kills, five digs, four set assists and an ace for the Lady Hubbers who also got seven kills from Emily Gustafson, five kills, five digs and eight aces from Emily Treat, 18 set assists and five aces from Kiara Orner and 18 digs and three aces from Alana Durphy.
OSWAYO VALLEY 3, PORT ALLEGANY 2
SHINGLEHOUSE, Pa. – Oswayo Valley topped visiting Port Allegany, 3-2 (25-18, 25-27, 25-7, 20-25, 15-10).
For the visitors, Jenna Sprankle had 20 set assists, Erin Stauffer added 48 digs, Kenzie Burr had five kills and 25 digs, Hannah Lathrop chipped in nine kills and four blocks, Kierra Keck added seven kills and 11 digs, Kayla Pescock had five kills and four blocks and Kalyn Naylor added six kills.
Oswayo Valley stats weren't available.
ROCKY GROVE 3, VENANGO CATHOLIC 0
OIL CITY, Pa. – Despite three kills, five digs and two aces from Sarah Lander and three aces and three digs from Emmy Ekis Venango Catholic lost, 3-0 (25-17, 25-7, 25-20), to visiting Rocky Grove.
Rocky Grove stats weren't available.
PUNXSUTAWNEY 3, BROCKWAY 0
BROCKWAY, Pa. – Kaitlyn Morelli had five kills but Brockway dropped a 3-0 (25-9, 25-9, 25-13) decision to visiting Punxsutawney.
Punxsutawney stats weren't available.
MOSHANNON VALLEY 3, CURWENSVILLE 1
CURWENSVILLE, Pa. – Elizabeth Mathews and Anna Hoover combined for 13 kills and nine digs but it wasn't enough as Curwensville fell, 3-0 (23-25, 25-13, 25-22, 25-16), to visiting Moshannon Valley.
Mathews had seven kills and six digs for the Lady Tide while Hoover added six kills and three digs. Tarah Jacobson chipped in three kills and 10 digs.
Moshannon Valley stats weren't available.
BOYS' SOCCER
BROCKWAY 9, KANE 1
KANE, Pa. – Elijah Fremer, Hunter Allenbaugh and Anthony Esposito each scored twice, as visiting Brockway rolled to a 9-1 win over Kane.
Nate Bennett added his first varsity tally for the Rovers who also got goals from Angelo Inzana and Carter Adams.
Esposito chipped in four assists with Allenbaugh adding two helpers and Zane Puhala and Santino Inzana one assist apiece.
PUNXSUTAWNEY 6, ELK COUNTY CATHOLIC 1
ST. MARYS, Pa. – Behind four Robin Wagner goals visiting Punxsutawney cruised to a 6-1 win over Elk County Catholic.
Matt Wehrle and Caleb Bodenhorn also scored for the Chucks.
RIDGWAY 13, SMETHPORT 4
RIDGWAY, Pa. – Lukas McClain had a hat trick and Kyle Bush, Alex Vogt and Logen McClain each scored twice to lead Ridgway to a 13-4 win over visiting Smethport.
Joel Tutton, Patrick Duffield, Gary Emerick and Danny Ouellette also scored for the Elkers.
BROOKVILLE 10, REDBANK VALLEY 2
NEW BETHLEHEM, Pa. – Jacob Cable, Bryce Kunselman and A.J. Lachnicht each scored twice to lead visiting Brookville to a 10-2 win over Redbank Valley.
Zakk Wolfe, Tim Steele and Kyle Gotwald also netted goals for Brookville.
Declan Fricko had a pair of tallies for Redbank Valley.
GIRLS' SOCCER
BROOKVILLE 3, CURWENSVILLE 1
BROOKVILLE, Pa. – Three different Brookville players scored to help the Raiders to a 3-1 win over visiting Curwensville.
Emily Kramer, Megan Mealy and Madison Wolfe scored for Brookville with Sarah Muders and Madison McAninch getting assists.
Chloe Davis scored off a feed from Madison Weber for Curwensville.
ELK COUNTY CATHOLIC 10, PUNXSUTAWNEY 0
ST. MARYS, Pa. – Maddie Sorg scored four times to lift Elk County Catholic to a 10-0 win over visiting Punxsutawney.
Catherine Cerroni added a pair of tallies for the Lady Crusaders who also got goals from Vivian Mader, Gina Carnovale, Maddie Kear and Mary Cerroni.
ST. MARYS 5, REDBANK VALLEY 0
ST. MARYS, Pa. – Lauren Eckert netted four goals in a 5-0 St. Marys win over visiting Redbank Valley.
Nicole Muccio also scored for the Lady Dutch.
PORT ALLEGANY 6, DUBOIS CENTRAL CATHOLIC 1
PORT ALLEGANY, Pa. – Behind a pair of Rylie Lawton goals Port Allegany handled visiting DuBois Central Catholic, 6-1.
Tara Briggs, Cailey Barnett, Emma Fox and Julia Young also scored for the Lady Gators.
Rachel Aravich had the DCC goal.