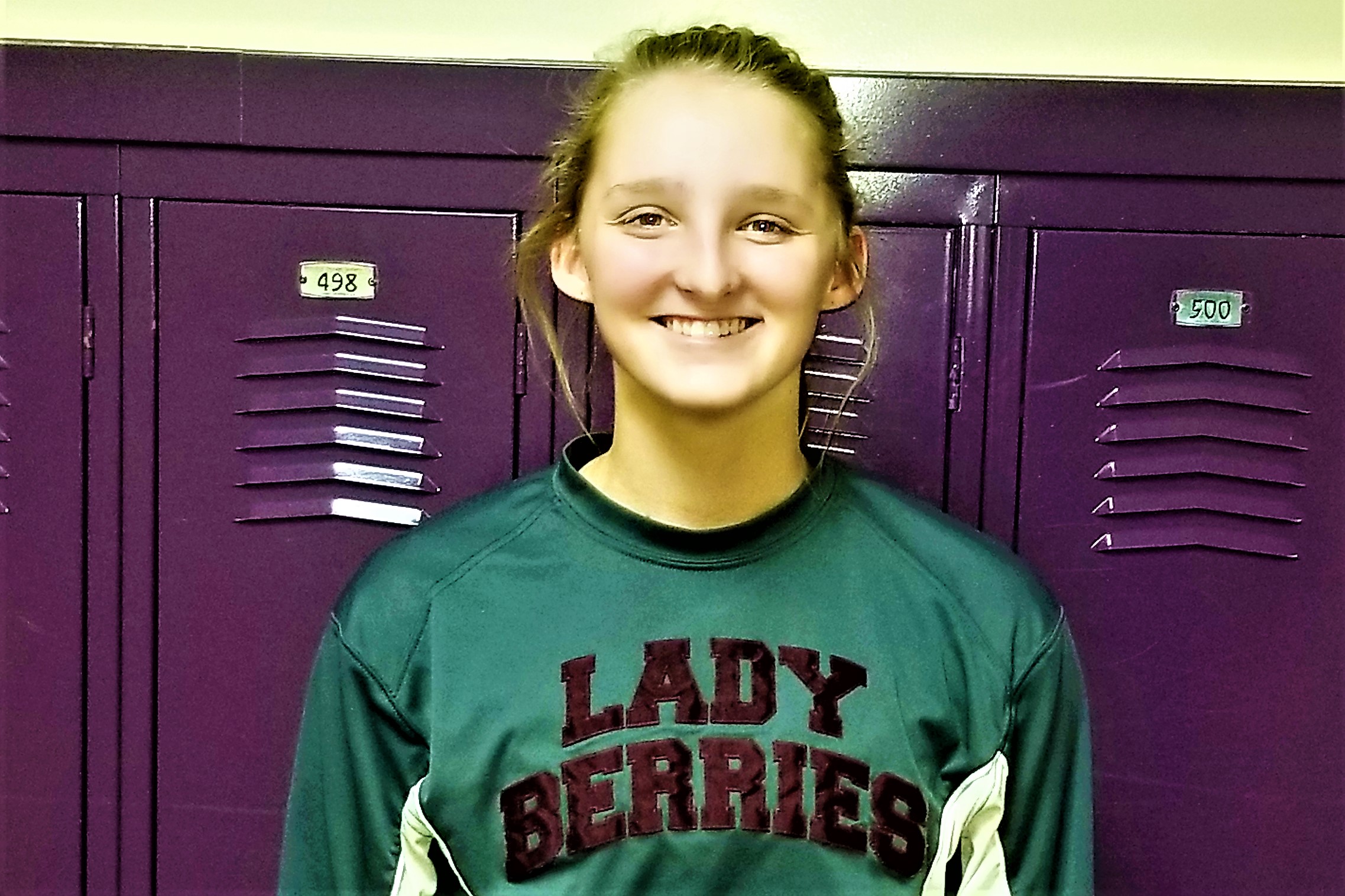 Oct. 9 volleyball and soccer recaps.
(Photo of Malliah Schreck of Cranberry)
VOLLEYBALL
CRANBERRY 3, NORTH CLARION 0
FRILLS CORNER, Pa. – A double-double of 18 kills and 13 digs from Malliah Schreck helped visiting Cranberry defeat North Clarion, 3-0 (25-22, 25-9, 25-3).
Also for the Berries, Ava Ferringer had five kills, 11 digs and a block, Kaylee Bruce tallied 10 digs and Ally Young had a game-high 17 digs. Emily Duncan ran the offense with 25 assists, four kills and seven digs.
REDBANK VALLEY 3, KARNS CITY 0
NEW BETHLEHEM, Pa. – A balanced team effort helped Redbank Valley defeat visiting Karns City, 3-0 (25-12, 25-16, 25-9).
Hope Spencer led the Lady Bulldogs with 19 digs, Josie Rupp tallied eight kills and Taylor King had six kills and two blocks. TL Nelson (six kills), Jordan Milliron (four kills) and Montana Hetrick (four kills) all made contributions in the win.
Emma Clark had three kills for Karns City with Mackenzie Dunn adding 16 digs and Kaley Byerly 12 digs for the Lady Gremlins.
A-C VALLEY 3, KEYSTONE 0
FOXBURG, Pa. – Led by Olivia Boocks' 13 digs and 13 kills, A-C Valley took care of Keystone, 3-0 (25-11, 25-12, 25-13).
Kylee Eaton added 10 digs, 12 kills and three blocks while Andrea Meals chipped in for seven digs, four kills and an ace for the Lady Falcons. Emily Wetzel ran the offense with 20 assists.
For Keystone, McKenna Kay had six digs, four assists and two kills, Emma Weaver added six assists, McKenzie Hovis had five kills and Danae Hurrelbrink added three blocks and three kills.
VENANGO CATHOLIC 3, FOREST AREA 0
MARIENVILLE, Pa. – Venango Catholic swept Forest Area, 3-0 (25-17, 25-12, 25-19).
Mackenzie Metz led the way for Venango with eight aces and nine assists while Hope Winger chipped in for six aces, two kills and a block. Chenoa Rudder had a game-high 10 aces.
Shawna Carbaugh had two kills, an ace, a dig and an assist for Forest Area with Angelina Harp adding two kills and Lauren McLaughlin an ace and a dig.
DUBOIS 3, BROOKVILLE 0
BROOKVILLE, Pa. – Thanks to 12 kills and three blocks from Sydney Kaschalk, DuBois defeated Brookville, 3-0 (25-21, 25-17, 25-21).
Kelli Hoffer added nine kills and 10 digs while Care Gregory ran the offense with 27 assists and two aces for the Lady Beavers.
KANE 3, CURWENSVILLE 1
KANE, Pa. – A strong offensive night from Hannah Buhl helped Kane to 3-1 (25-12, 26-28, 25-10, 25-10) victory over visiting Curwensville.
Buhls strong offensive night for the Lady Wolves consisted of 44 assists and five aces. Ella Marconi had 22 kills and Audri Marconi tallied 11 kills and three aces. Kalen Johnson chipped in for seven kills and five aces with Emma Ely adding six digs.
ELK COUNTY CATHOLIC 3, ST. MARYS 0
ST. MARYS, Pa. – Taylor Newton and Hannah Barnett combined for 20 kills to help ECC defeat St. Marys, 3-0 (27-25, 25-16, 25-18).
Newton tallied 15 kills for the Lady Crusaders while Barnett had five. Jenna Weisner served six aces and Ellie Fledderman had a game-high 21 assists.
JOHNSONBURG 3, BROCKWAY 1
BROCKWAY, Pa. – Lindsey Kocjancic had 11 kills to lead Johnsonburg to a 3-1 (25-16, 25-27, 25-12, 25-18) victory at Brockway.
Jenna Morgan chipped in 10 kills for the Ramettes.
Kenzie Webster had six kills and two blocks for Brockway with Abby Alford adding five kills and three aces for the Lady Rovers.
GIRLS SOCCER
FOREST AREA 5, KANE 3
MARIENVILLE, Pa. – A strong offensive game from Mackenzie Bauer helped Forest Area defeat visiting Kane, 5-3.
Bauer had two goals and two assists for the Fires with Jennifer Lander, Morgan Miller and Shawna Pack each netting a goal apiece. Haley Sherman also tallied an assist.
For the Lady Wolves, Rachel Ruhl, Layla Michalak and Rylee Johnston each tallied a goal.
CLARION 6, KEYSTONE 0
KNOX, Pa. – Ava Cherico scored twice to help visiting Clarion to a 6-0 win over Keystone.
Lindsey Kemmer, Wendy Beveridge, Joyce Kim and Megan Stahlman also scored for the Lady Cats.
CLEARFIELD 9, PHILIPSBURG 1
HYDE, Pa. – Six different Clearfield players score to help Clearfield defeat Philipsburg-Osecola, 9-1.
Sarah Snyder, Alayna Ryan and Amanda Hazel each netted two goals apiece for the Lady Bison. Emma Hipps, Maddie Davis and Lily Rosinsky all netted one goal respectively. Hazel also assisted on the Snyder and Rosinsky goals.
Clearfield goalkeeper Hayley Moore made four saves.
BOYS SOCCER
PORT ALLEGANY 7, COUDERSPORT 3
COUDERSPORT, Pa. – Howie Stuckey and Noah Costa led the way for visiting Port Allegany in a 7-3 victory over Coudersport.
Stuckey racked up four goals and an assist for the Gators with Costa netting two goals and assisting on two. Simon Burleson chipped in for a goal and an assist.
Aristotle Smith, Christian Furman and Donovan Olney tallied the goals for Coudersport.
Brandon Peterson made nine saves for the Gators and Rosalyn Page had five for the Falcons.
RIDGWAY 4, FOREST AREA 0
RIDGWAY, Pa. – Ridgway blanked visiting Forest Area, 4-0.
Dominick Stage and Cole Salberg netted two goals apiece for the Elkers.
Forest goalkeeper, Daniel Schwab made nine saves.
REDBANK VALLEY 2, CLARION-LIMESTONE 1
NEW BETHLEHEM, Pa. – Declan Fricko had a goal and an assist to help Redbank Valley to a 2-1 win over visiting Clarion-Limestone.
Kolton Kline also scored for the Bulldogs.
Jake Burns netted the goal for C-L.
WARREN 3, BRADFORD 0
WARREN, Pa. – In a big District 10, Region 5 match, Caleb Lindell scored twice to help Warren to a 3-0 win over visiting Bradford.
Griffin Suppa also scored for the Dragons.