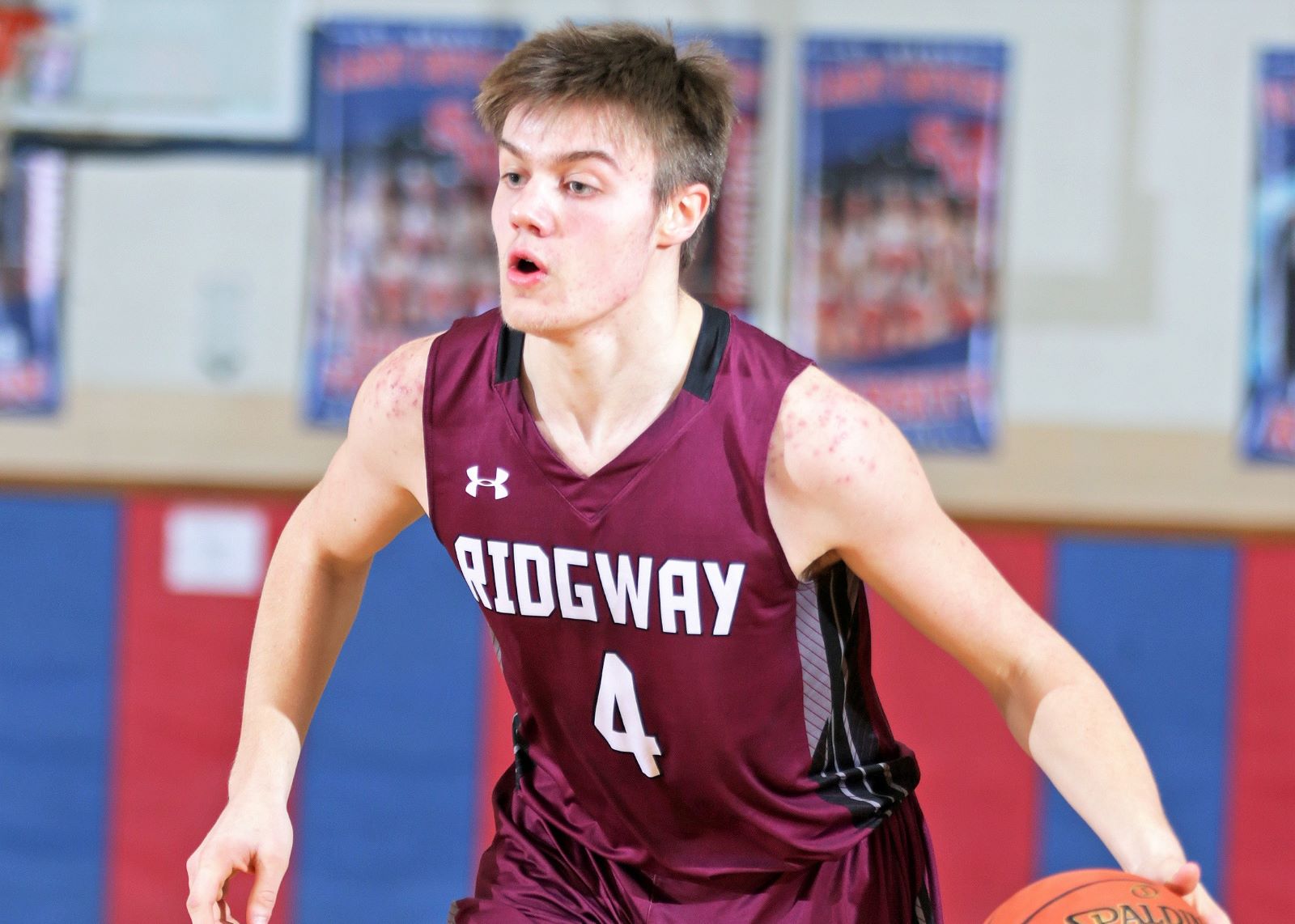 OIL CITY, Pa. – A pair of third-quarter 3-pointers from Dante Spadafora helped Our Lady of Sacred Heart (OLSH) break open a 27-all game at the half and pick up a 68-54 win over Ridgway in the PIAA Class 2A boys' quarterfinals Saturday afternoon at Oil City High School.
(Photo: Jake Reynolds had 16 points for Ridgway in Saturday's loss. Photo by Paul Burdick. Check out more of Burdick's work here)
"We knew it was going to be a tough task coming in," Ridgway head coach Tony Allegretto said.
The District 9 champion Elkers and the WPIAL champion Chargers went into the break tied up after Daunte Allegretto was fouled taking a 3-pointer at the first-half horn and made two of three charity shots.
Ridgway then took the lead, 29-27, when Jake Reynolds hit two free throws to start the second half after the OLSH bench was whistled for a technical foul at the conclusion of the first half arguing the foul call that led to Allegretto's shots.
However, that was the Elkers last lead of the game, as OLSH went on a 14-3 run to put the game away building a 49-34 lead at the end of the third quarter.
"We came out the third quarter, a couple of plays here and there, they made," Tony Allegretto said. "They have a lot of athletes and a lot of quickness. They were able to take pressure to us, and we weren't able to handle it there for a quick spurt. The next thing you know, we were down 10."
Ridgway trailed 18-12 at the end of the first quarter after an 8-2 OLSH run, and the Elkers were still down, 24-20, with just under three minutes to play in the second quarter before ending the half with a 7-3 spurt.
"I thought in the first half, we started off a little bit scared," Tony Allegretto said. "We made some plays and got back in the game. All of a sudden, we got excited and started playing with a little more energy and made some shots. We have been doing that all year."
Daren DiMichele led OLSH with 28 points with Jake DiMichele and Spadafora each added 13 points.
Jake Reynolds paced Ridgway with 18 points while making four 3-pointers. Allegretto added 10 points.
"Our guys never quit," Tony Allegretto said. "I am proud of these kids. They never quit. They worked hard. This group of seniors, those four guys were together for a long time. The last two years, they won 52 basketball games."
Watch all of Tony Allegretto's postgame thoughts.
OLS 68, RIDGWAY 54
Score by Quarters
OLSH 18 9 22 19 — 68
Ridgway 12 15 7 20 — 54
OLSH – 68
Spadafora 2 7-9 13, D. DiMichele 11 4-5 28, J. DiMichele 5 1-2 13, Dugan 1 0-0 2, Wigley 3 1-1 7, Tate 2 0-0 4, Kocent 0 1-2 1, Bradley 0 0-0 0, Polar 0 0-0 0, Gartley 0 0-0 0. Totals 24 14-19 68.
RIDGWAY – 54
Dush 3 0-0 6, Reynolds 6 2-2 18, Da. Allegretto 2 6-9 10, Rohr 2 0-0 5, Thompson 2 3-4 7, Zameroski 3 2-2 8, Simon 0 0-0 0, Do. Allegretto 0 0-0 0, Park 0 0-0 0, Gresco 0 0-0 0. Totals 18 13-17 54.
Three-pointers: OLSH 6 ( D. DiMichele 2, J. DiMichele 2, Spadafora 2), Ridgway 5 (Reynolds 4, Rohr)