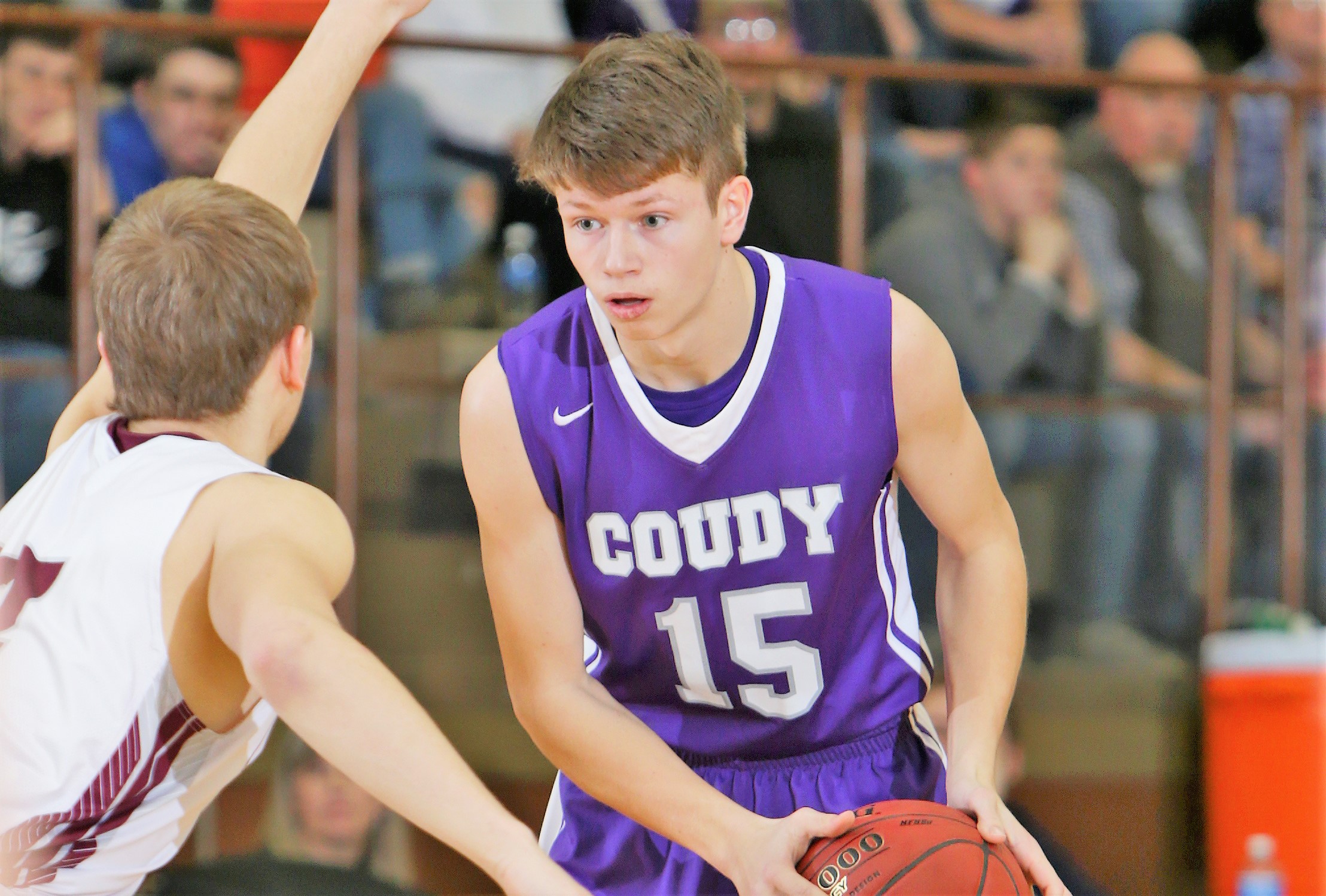 BROOKVILLE, Pa. – Late in the third quarter, Coudersport had WPIAL runner-up Our Lady of the Sacred Heart in a bad spot.
(Photo by Paul Burdick. Check out more of Burdick's work here)
Up eight points, the Falcons were giving the Chargers plenty of problems.
But, almost on cue, the Chargers embarked on a 17-4 run, then grinded out a 74-66 win in the second round of the PIAA Class 2A playoffs at Brookville Area High School Tuesday night.
OLSH (24-3) heads to Friday's quarterfinals against District 10 champion West Middlesex at a site to be determined.
Meanwhile, Coudersport's season ends at 23-4. The Falcons led 47-39 on Jared Green's putback with 2:44 left in the third. But that big OLSH run started with a 10-0 to close the quarter for a 49-47 lead and when it ended, the Chargers were up 56-51 at the 5:42 mark of the fourth quarter.
"We had a little momentum and they turned their defense up a little bit and got back into the game," Falcons head coach Brian Furman said. "My guys hung in there and down the stretch, they were making shots and we weren't."
Indeed, that was the case as Austin Wigley, a 6-foot-1 junior hit some huge shots and scored 16 of his 23 points in the fourth quarter. Wigley nailed four 3-pointers in the fourth and was 6-for-8 from downtown for the game.
Donovan Johnson finished with 17 points and 11 rebounds and Dante Spadafora scored 15 points.
The Falcons got another big scoring night from Owen Chambers, who scored 27 points on 8-for-19 shooting with four 3-pointers. Hunter Ricke added 14 points, Derek Keglovits finished with 12 points, and Green, who finished his career at Coudy with 1,514 career points, fouled out in the final minute with seven points and a team-high eight rebounds.
The big run didn't put things away for good for OLSH as the Falcons answered that 17-4 run with a 6-0 run of their own to go up 57-56 on Ricke's 3-pointer at the 4:10 mark. But that was the last lead for the Falcons as Wigley took over.
His 3-pointer put the Chargers up for good at 59-57 with 3:49 left and followed that up with a steal and layup 33 seconds later. After two free throws by Chambers got the Falcons back to within two points, Wigley rebounded a missed second free throw, missed the putback, got his own rebound then went out and drilled a 3-pointer to put OLSH up 65-59.
A missed Falcons 3-pointer was followed by another Wigley bomb and the game was essentially out of reach at 68-59 with 2:09 left. The closest Coudersport got was six points the rest of the way.
Coudersport led 15-14 after the first quarter with Wigley nailing a three to cut the lead to one with three seconds left. The closely played game continued in the second quarter with the Falcons taking a 33-32 lead into halftime. Chambers hit a long two to beat the buzzer to give his team the one-point lead.
It was a 14-7 start to the third quarter that gave Coudersport its biggest lead.
"That's certainly the biggest team we've faced this year with a lot of talent too," Furman said. "But our guys battled, nobody backed down and we got a lot of scores at the rim. We kept attacking the rim and it shows the character of the guys. They were going to attack."
Coudersport was 23-for-47 from the field, but just 7-for-28 from beyond the 3-point line. OLSH was 23-for-50 from the field and was 9-for-21 from the 3-point line.
"That's our game, attack the rim and open things up for threes and we were able to do that," Furman said. "But, they were able to do it a little bit better at the end."
OLSH 74, COUDERSPORT 66
Score By Quarter
OLSH 14 19 16 25 – 74
Coudersport 15 17 15 19 – 66
OLSH – 74
Dante Spadafora 4 5-6 15, Daren DiMichele 4 1-4 9, Donovan Johnson 5 6-7 17, Austin Wigley 7 3-4 23, Rico Tate 1 1-2 3, Alex Boyden 0 0-0 0, Michael Dugan 2 3-6 7, Jake Kocent 0 0-0 0. Totals: 23 19-29 74.
COUDERSPORT – 66
Owen Chambers 8 7-7 27, Derek Keglovits 6 0-0 12, Jared Green 2 2-6 7, Dillon Keglovits 0 2-2 2, Hunter Ricke 5 2-3 14, Hayden Keck 1 0-0 2, Kolby VanWhy 1 0-0 2, Travis Gleason 0 0-0 0. Totals: 23 13-18 66.
3-pointers: OLSH 9 (Spadafora 2, Johnson, Wigley 6), Coudersport 7 (Chambers 4, Green, Ricke 2).