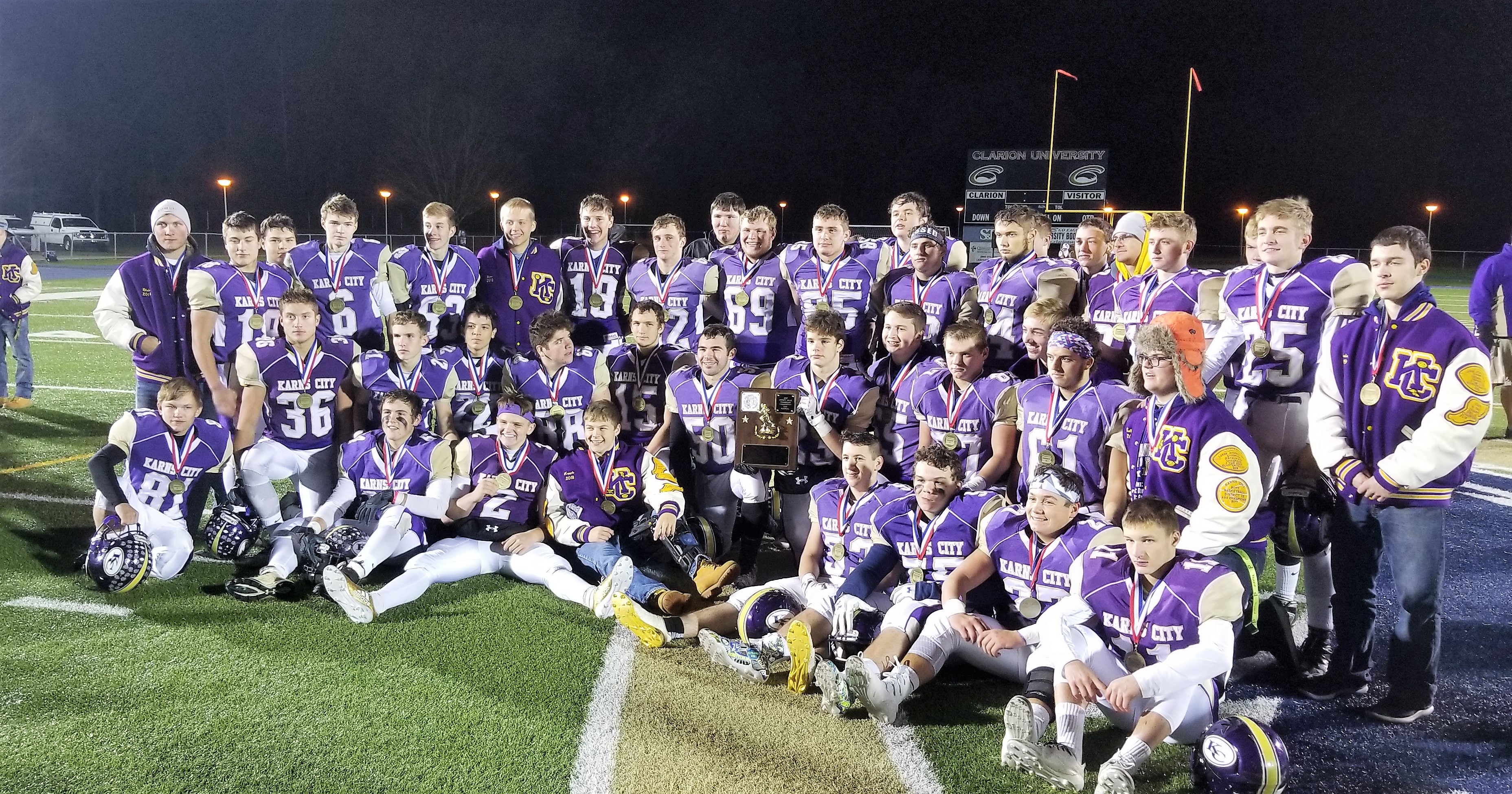 CLARION, Pa. – Six in a row.
Karns City won its sixth straight District 9 title and its second in a row in Class 3A with a 42-14 thrashing of Punxsutawney at Clarion University's Memorial Stadium.
"No (it never gets old) and it never will," Karns City head coach Ed Conto, who has won 11 titles in 18 years at the school said. "The big thing is, as Penn State learned, you have to take it one game at a time. You have to start over again next week and keep your focus."
Dalton Beham and Clay Garing combined to run for 235 yards and five touchdowns in the victory with Beham leading the way with 14 carries for 121 yards and four touchdowns while adding an interception on defense.
"Our line pretty much opened up the holes and let me run," Beham said.
Watch Beham's full interview.
A close game turned on a sequence of plays that started towards the latter part of the second quarter with Karns City leading 14-7.
Tyler Richardson, who caught a pair of touchdown passes for Punxsutawney, returned a punt 53 yards to the Karns City 32-yard line with 4:10 left.
But the Gremlins stuffed Stone Smith for a loss of two yards on first down then held Alex Gianvito to three yards before forcing a pair of incomplete passes from Dylan Ishman.
Taking over with 2:41 left in the half, Karns City went 69 yards in just four plays scoring on a 5-yard Beham run with 1:26 to go to go ahead 21-7. A 44-yard run by Garing on the first play of the drive that had a personal foul on Punxsutawney at the end of it was the big play.
Karns City's defense then forced a three-and-out, and Mitchell Kelsea blocked an Alexander Neal punt and then recovered the loose ball at the Punxsutawney 12-yard line.
That set up a 7-yard Beham run that all but put the game away at halftime with the Gremlins leading 28-7.
"We work on that stuff (blocked punts)," Conto said. "I was disappointed this year because I think we might have only got one other one and in the past, we have always gotten two or three or four a year. We just haven't executed. So I was glad to see it happen tonight."
If there was any thought of a Punxsutawney comeback attempt after the break, that was put away in a hurry when Karns City scored twice in the opening three minutes of the second half to get the PIAA Mercy Rule rolling up 35, 42-7.
Right out of halftime it took the Gremlins just three plays to make it 35-7 on a 33-yard Beham run.
Beham then intercepted an Ishman pass at the Karns City 34-yard line and returned it all the way to the Punxsutawney 23-yard line.
"Our coach called cover-2 and it just seemed to work," Beham said.
From there, Gremlin quarterback Anthony Kamenski fooled the entire Punxsutawney defense when he kept the ball and walked into the end zone untouched with 9:08 to play in the third quarter.
With the running clock, the rest of the game went quickly with Punxsutawney managing a 14-yard Ishman to Richardson touchdown pass with 1:45 left against some Karns City reserves.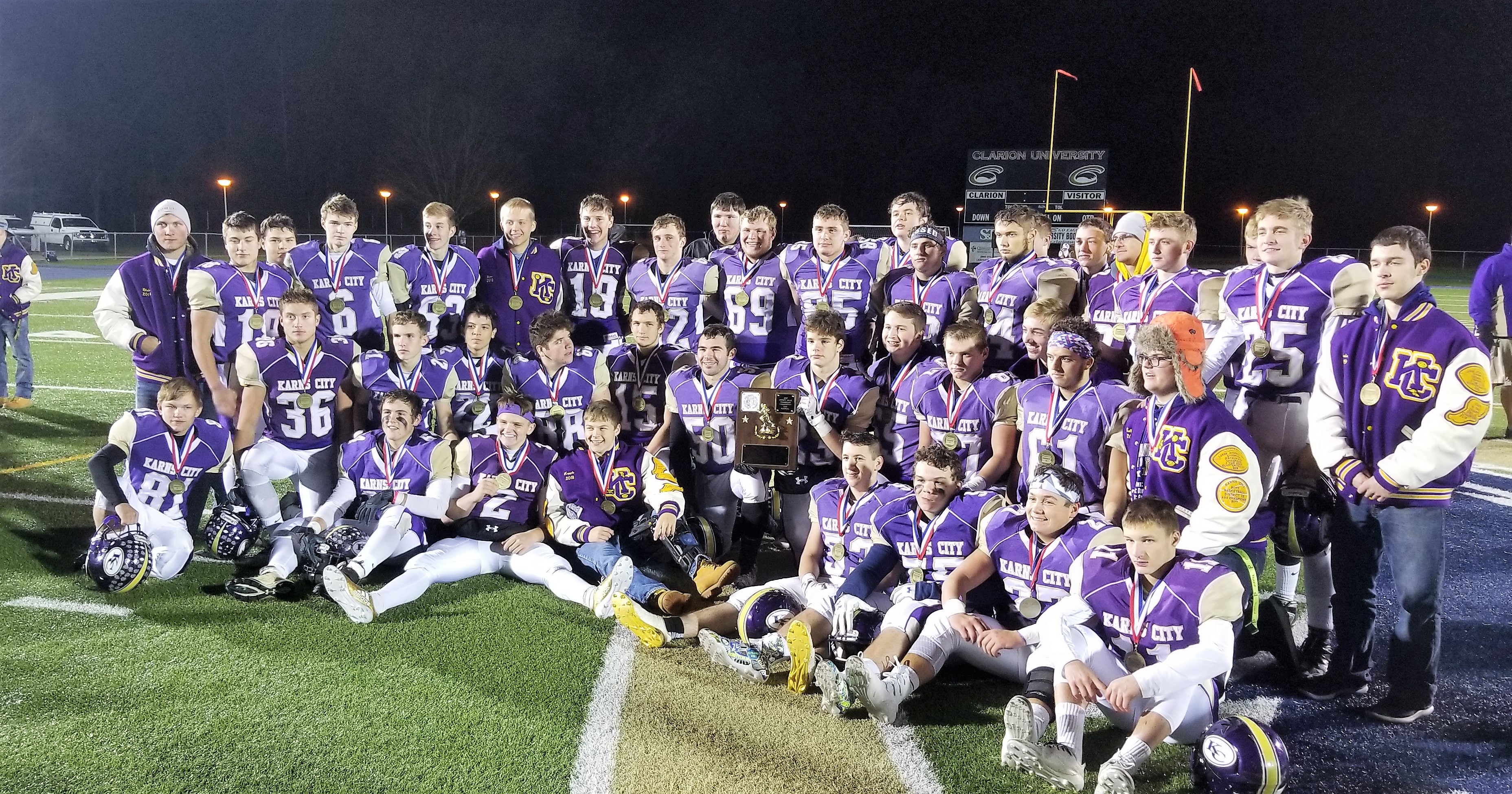 Ishman and Richardson started the game strong for the Chucks completing a game-opening 80-yard drive with a 7-yard scoring pass that put Punxsutawney ahead 7-0 less than four minutes into the game.
But after that drive, the Punxsutawney offense mustered just 167 yards the rest of the game with 76 of those coming on the final touchdown drive. That was in stark contrast to Karns City's 42-32 win over the Chucks in Karns City Sept. 22 when Punxsutawney rolled up 410 yards of offense including 310 passing from Ishman. This time, Ishman was held to 14 of 32 for 147 yards and the two touchdowns with an interception.
"We had a lot of (defensive backs) out when we first played them," Conto said. "This time, we had a lot of linemen out. We switched from our standard 3-4 and played a 4-3 and did a different blitz package. We got a couple of kids back and just overall I thought the DBs were a little bit more aggressive and we had a little more pressure. Ishman couldn't be quite as comfortable. We made him throw the ball a little earlier than he wanted to. Last time, we weren't getting any pressure on him at all. I think that was the biggest difference."
Karns City immediately answered the early Punxsutawney touchdown with a 70-yard scoring drive of its own that ended on a 3-yard run by Beham that tied the game at seven midway through the first quarter.
"It was really, really important to answer them right away," Conto said. "We had to respond offensively and score. If we didn't get confidence and the defense didn't settle down, we are in trouble."
On its next drive, Punxsutawney moved from its 26 following a false start penalty to the Karns City 30-yard line, but a sack of Ishman by Lucas Williams and Sebastian Troutman on first down for a loss of 11 stalled the drive and forced the Chucks to punt.
"In the first game, that was one of the issues we had not getting to the quarterback until late in the game," Conto said. "The quarterback has to know you are coming. He can't stand there all night long. That helped a lot."
Taking over at its 20-yard line following the Neal punt, Karns City went backward and had a third-and-15 from the 15 when Kamenski hit Garing with a pass that came up about two yards short of the first down. But the Gremlins were whistled for holding, and fearing that Karns City being two yards shy of the first down at its own 28 in a tie game midway through the second quarter, Punxsutawney elected to take the penalty pushing the Gremlins back to the 6-yard line and setting up a third-and-24.
The decision backfired when Kamenski hit Beham with a 32-yard pass out to the 38-yard line for a first down. A 13-yard pass to Nick Schill, who had five catches all season, moved the ball across midfield to the Punxsutawney 49-yard line, and four runs later the Gremlins were in the end zone thanks to a 7-yard Garing run making it 14-7.
While Karns City's defense was limiting Punxsutawney, the Gremlins offense was in high gear gaining 383 yards including 324 on the ground while averaging 8.3 yards per carry.
"We finished our drives," Conto said. "We didn't have the turnovers we did the first game that kept us from putting it away."
Karns City will face the winner of the District 10 title game between Sharon and Mercyhurst Prep next week at a site, date and time to be announced.
Watch the Gremlins receive their championship trophy.
KARNS CITY 42, PUNXSUTAWNEY 14
Score by Quarters
Scoring Summary
First Quarter
P – Tyler Richardson 7 pass from Dylan Ishman (Alexander Neal kick), 8:15
KC – Dalton Beham 3 run (Clay Garing kick), 5:24
SECOND QUARTER
KC – Garing 7 run (Garing kick), 9:34
KC – Beham 5 run (Garing kick), 1:26
KC – Beham 7 run (Garing kick), 0:46
THIRD QUARTER
KC – Beham 33 run (Garing kick), 10:50
KC – Anthony Kamenski 23 run (Garing kick), 9:01
FOURTH QUARTER
P – Richardson 14 pass from Ishman (Neal kick), 1:45
TEAM STATS
PUNXSY STAT KARNS CITY
15 First Downs 20
21-100 Rushes-Yards 39-324
147 Passing-Yards 59
14-32-1 Comp-Att-Int 4-10-2
247 Total Yards 383
0-0 Fumbles-Lost 4-1
4-24.8 Punts-Avg. 1-37.0
5-28 Penalties-Yds 5-44
INDIVIDUAL STATS
RUSHING – Punxsutawney: Dylan Ishman 6-9, Stone Smith 9-49, Alex Gianvito 6-42. Karns City: Dalton Beham 14-121, Clay Garing 8-114, Anthony Kamenski 8-43, Sebastian Troutman 3-14, Mitchell Kelsea 2-12, Henry Leroy 1-7, Dalton Pyle 1-5, Josh Wimer 1-5, Hunter Rowe 1-3.
PASSING – Punxsutawney: Dylan Ishman 14-for-32, 147 yards, 2 touchdowns, 1 interceptions. Karns City: Anthony Kamenski 4-for-10, 59 yards, 2 interceptions.
RECEIVING – Punxsutawney: Tyler Richardson 5-76, Carter Newcome 4-40, Stone Smith 1-negative 1, Alex Gianvito 4-32. Karns City: Dalton Beham 1-32, Nick Schill 1-13, Mitchell Kelsea 1-3, Brandon Hesidence 1-11.
INTERCEPTIONS: Punxsutawney 2 (Tyler Richardson, Andrew Pifer). Karns City 1 (Beham).