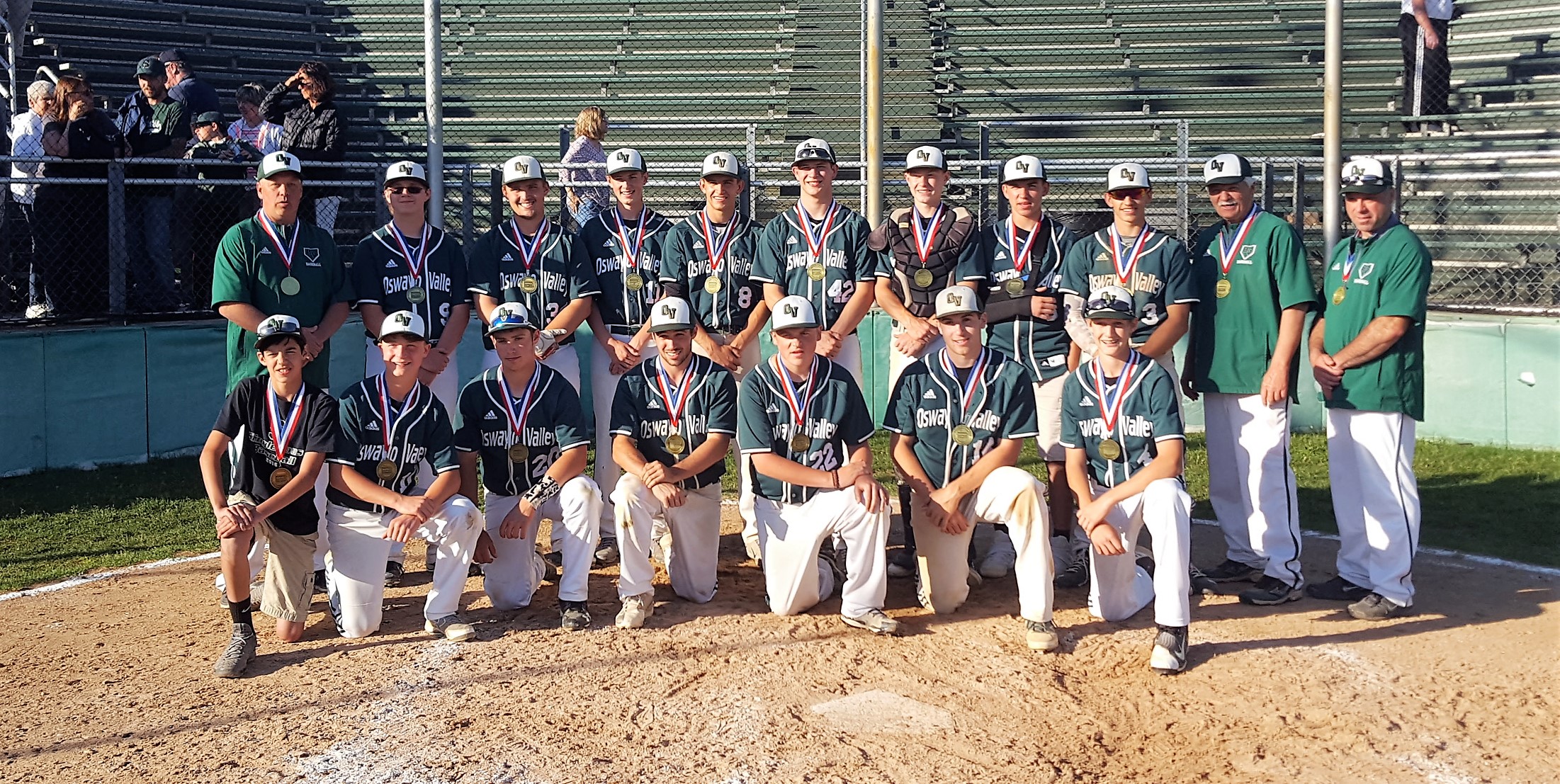 ST. MARYS, Pa. – In what was a game that nobody deserved to lose, Oswayo Valley plated three runs in the top of the eighth inning to win its second District 9 Class 1A baseball title in the last three years with a 4-1 victory over Clarion Thursday afternoon at Berwind Park in St. Marys.
Listen to the game:
The Green Wave (19-2), who were making their third straight trip to the finals, beat Clarion for the title for the second year having also downed the Bobcats in 2015 before losing to DuBois Central Catholic a year ago.
"It's been a heck of a run," Oswayo Valley manager Brad Buchholz said of his team's three straight trips to the title game. "I don't know what title you give it, but it's been a heck of a sure and it sure has been a lot of fun. I've been with these kids since T-ball, which makes it a lot of extra special."
With the game tied at one going to the eight, Camden Graves, the ninth man in the order, led off with a single to center. Gage Babcock then tried to bunt him over, but after fouling off two pitches he swung away and grounded a singel to left putting runners at first and second with no out. After a fly out, Garren Black singled to right, and Buchholz looked like he was going to hold Camden Graves at third. But right fielder Skylar Rhoades bobbled the ball, and Graves scored the go-ahead run with Babcock going to third and Black to second.
That ended the day for Clarion starter Reed Anthony, who was the tough-luck loser allowing four runs, all earned – he came into the day having allowed one earned run – on 10 hits and a walk while striking out four.
"Reed must have gotten a little tired toward the end," Clarion manager Rob Jewett said. "He's been throwing a ton of inning for me. But he was hitting his spots and keeping them off balanced. He did enough to win the game."
Jewett summoned Sterling Conner out of center field to pitch, and Conner had trouble finding the zone walking Grant West to load the bases.
Jacob Karr then hit a ground to shortstop Spencer Miller, who was playing in. Miller fired to catcher Kyle Patterson beating the runner Gage Babcock by three or four feet. But the home plate umpire called Babcock safe to the disbelief of Patterson and Jewett as well as many in the crowd.
"I don't know (what the explanation was)," Jewett said. "I got two. The catcher said (the umpire told him) the guy beat him to the plate. I definitely did not see that. And the umpire told me he (Patterson) pulled his foot before he caught it. I didn't see that either. But that's a judgment call. You can't do much with it.
"I can blame some things. I was hoping it would be 2-1 going to the bottom of the eight, but things didn't go our way. We battled and made it interesting in the end there but came up short again."
After the fielder's choice, Conner walked Ryan Graves to force home another run making it 4-1, and Jewett went to Miller, who got Theo Henry to bounce into a 1-2-3 double play with the umpire this time getting the call right at home plate.
"I wanted a few more (runs)," Buchholz joked. "But (getting three) was huge. I thought if we could get through the seventh and get to extra innings, we had the top of our order coming up. I thought we could put a run up. Those runs were nice. It would have possibly taken four to six hits to score three runs, so I felt pretty comfortable."
Through seven innings it was a classic pitcher's duel, which came as no surprise since top-seeded Clarion (18-3) entered the game with a team ERA of 1.07 including a minuscule 0.15 from Reed Anthony, and Oswayo Valley had an even lower team ERA of 0.92, including a 0.87 from starter Ryan Graves.
And both pitcher's were on top of their game with Anthony giving up a run in the fifth on a two-out single to center by Gage Babcock, and Clarion earning the run back in the sixth on a two-out single to center by Spencer Miller, which was the first hit of the game by the Bobcats off Graves, who had allowed just two base runners prior to the Miller single.
Graves finished with a gem going eight innings and allowing one unearned run on three hits and a walk needing just 80 pitches.
"I haven't been this kind of pitcher before," Graves said. "It's really nice to be able to do that this year."
Watch Graves' full interview.
Clarion manager Rob Jewett said the key to Graves' success was his ability to throw strikes.
"He was just feeding the zone," Jewett said. "We got some good pitches and some of them weren't so good, but I think he trusts his defense. He throws strikes. That's what you have to do: pitch, throw strikes and play defense. That's exactly what they did."
After four scoreless innings, Oswayo Valley used some small ball to break through in the fifth.
Henry led off the inning with a single to center, and after Justice Rees popped up a bunt, Camden Graves put down a two-strike bunt to move Henry to second, and Gage Babcock came up with a single to center to make it 1-0.
Clarion used the same method to tie the game in the sixth.
Rhoades led off by reaching on an error by Gage Babcock, one of the few miscues on defense by the Green Wave, who flashed the leather most of the day.
Patterson sacrificed Rhoades to second, and Rhoades got a bit lucky when he took off for third on a ball hit in front of him to shortstop Garret Babcock, who wanted to throw to third but juggled the ball and had to go to first for the sure out.
Miller then singled to center just passed a diving Gage Babcock to tie the score.
"It was set up nicely with Kyle's bunt," Jewett said. "That's how you manufacture a run. It was old school, kind of like what they did to get their run a little bit, too. That's what is going to split the difference between a champion team and not. I was proud of how they manufactured."
Ryan Anthony followed with a single to right to moved Miller to third and then stole second putting runners on second and third for Nate Datko.
But Datko hit a slow chopper to third, and Henry was able to throw him out to end the threat.
"That has kind of been the Achille's heel for us the entire season, getting those clutch hit," Jewett said. "We've been able to get away with it here and there but it finally caught up with us a little bit. Nate was struggling today hitting off his front foot and just chopped it to third. I was hoping for something different. It was almost like a safety squeeze, but it just didn't work out that way."
Both teams move into the PIAA playoffs.
Oswayo Valley plays the WPIAL third-place team, Union-New Castle, while Clarion plays the runner-up out District 5, Berlin Brothersvalley.
EXTRA BASE HITS
It marked only the second time since the PIAA started playing Class 1A in 1999 that a District 9 1A game went to extra innings. The other time was in 2002 when Clarion-Limestone beat DuBois Central Catholic, 3-2.
The game was quite different than the last time the two teams met in the title game in 2015 and Oswayo won 10-0 in six innings
Each of Oswayo Valley's last four District 9 playoff games have been decided by three runs or less. Last year, the Green Wave lost to DCC 2-1 in the title game and this year they beat DCC 2-1 in the quarterfinals and Elk County Catholic 3-1 in the semifinals.
OSWAYO VALLEY 4, CLARION 1, 8 INNINGS
Score by Innings
Oswayo 000 010 03 – 4
Clarion 000 001 00 – 1
OSWAYO VALLEY – 4
Gage Babcock 2b 4121, Garret Babcock 2b 4010, Garren Black 1b 4120, Colton Gietler pr 0000, Grant West cf 3000, Jacob Karr c 2011, Ryan Graves p 2011, Theo Henry 4120, Justice Rees dh 3000, Noah Wichert rf 3000, Camden Graves lf 2110. Totals 31-4-10-3.
CLARION -1
Spencer Miller ss/p 3011, Ryan Anthony 2b 3010, Nate Datko lf/rf 3000, Reed Anthony p/lf 3000, Sterling Conner cf/p/ss 3000, Cam Craig 3b 3000, Skylar Rhoades rf/cf 3110, Kyle Patterson c 2000, Dominic Fleming 1b 3000. Totals 26-1-3-1.
LOB: Oswayo Valley 6. Clarion 3. Errors: Oswayo Valley 1. Clarion 1. SAC: Camden Graves, Ryan Graves, Patterson. SB: Ryan Graves, Henry, Ryan Anthony. CS: Garret Babcock. DP Turned: Oswayo Valley 1 (Gage Babcock-Garret Babcock-Black). Clarion 2 (Miller-Ryan Anthony-Fleming; Miller-Patterson-Fleming).
PITCHING
Oswayo Valley
Ryan Graves – 8 IP, 3 H, 1 R, 0 ER, 1 BB, 0 K
Clarion
Reed Anthony – 7 ⅓ IP, 10 H, 4 R, 4 ER, 1 BB, 3 K
Sterling Conner – 0 IP, 0 H, 0 R, 0 ER, 2 BB, 0 K
Spencer Miller – ⅔ IP, 0 H, 0 R, 0 ER, 0 BB, 0 K
TOTALS – 8 IP, 10 H, 4 R, 4 ER, 3 BB, 3 K
Winning pitcher – Ryan Graves
Losing pitcher – Reed Anthony