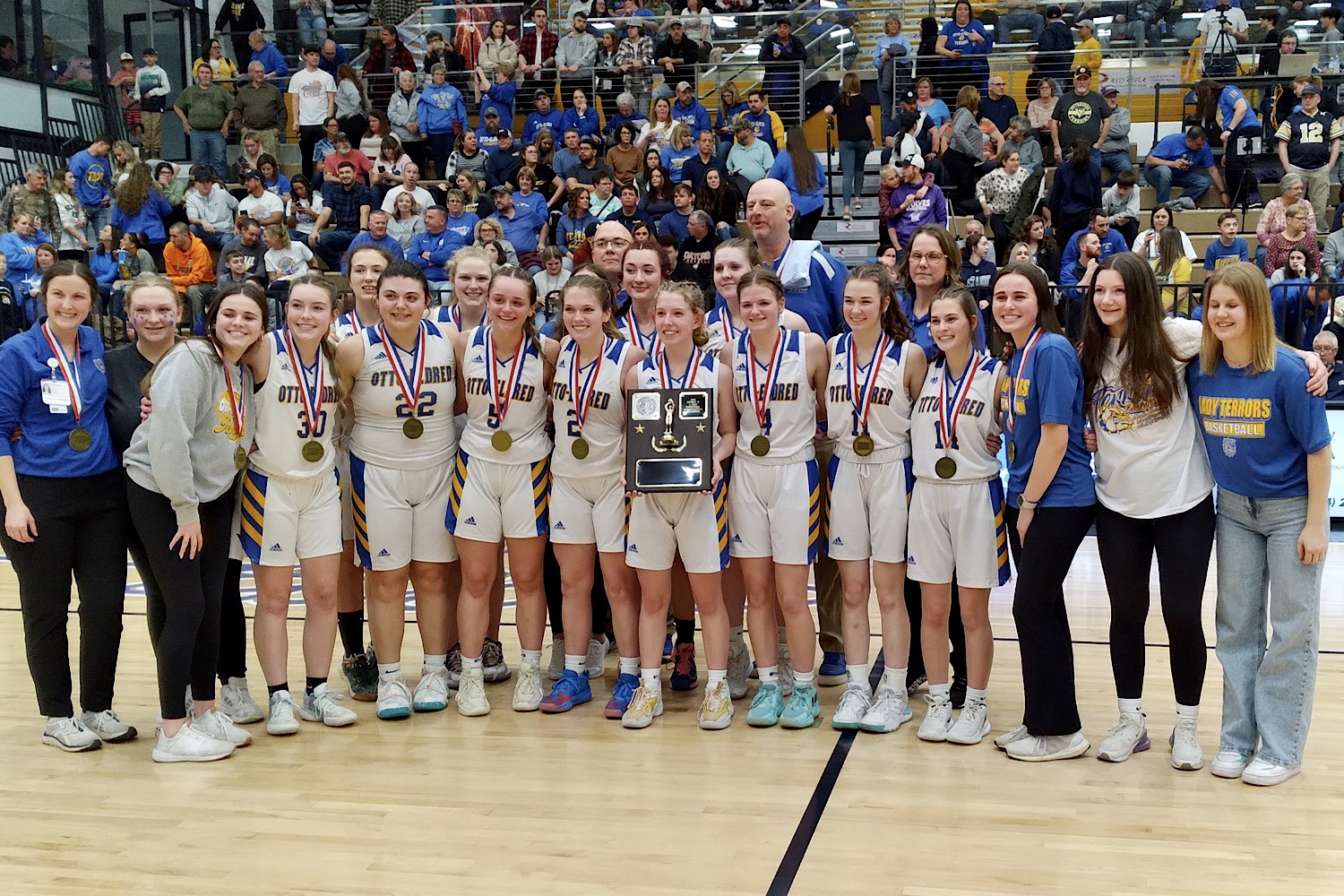 CLARION, Pa. (EYT/D9) — The Otto-Eldred girls basketball team made 8-of-9 free throws in the fourth quarter, while Elk County Catholic made just 1-of-6 free throws in the final quarter, which turned out to be the difference in a 45-40 victory for the Terrors in the District 9 Class A championship Saturday afternoon at Tippin Gym.
It is the first district championship for Otto-Eldred and the win avenged a loss to ECC in last year's title game.
Katie Sheeler led Otto-Eldred with 15 points, nine coming in the second half. Brooke Close added 10 while Anna Merry and Bri Heller each added eight points.
ECC took control early in the contest by jumping out to an 8-0 lead. Otto-Eldred cut the lead to five at 10-5 before the Crusaders finished the first quarter with a 16-8 lead.
ECC would increase their lead to 11 by halftime with an 11-8 scoring edge in the second quarter for a 27-16 lead.
The second half would belong to the Terrors as they not only heated up offensively, but they shut down the Crusaders defensively, holding ECC to just 13 second half points.
ECC would still hold a six point lead by the end of the third quarter at 35-29.
An 11-3 run by Otto-Eldred to start the fourth quarter would give the Terrors their first lead of the contest 40-38 with 2:17 to play.
A basket by Emily Mourer would tie the game 40-all at the 1:25 mark. Three different players would connect on 5-of-6 free throws over the final 33 seconds to set the final score.
Mourer paced ECC with 13 points while Tori Newton added eight. Lucy Klawuhn and Syd Alexander each added seven.
CHESTNUT RIDGE 36, KARNS CITY 17
Things started out well for the Gremlins in a Class 3A subregional final at Tippin Gym on Saturday afternoon.
Karns City led 8-2 in the first quarter, but the Lions turned up their defensive intensity, forcing 25 turnovers in running away with the win.
Karns City was only down 14-12 at the half, but Chestnut Ridge outscored the Gremlins 22-5 in the second half.
Chloe Fritch scored eight points to lead the Gremlins. Emma Dailey added seven.
Belle Bosch scored 11 points and Ashlie Weaver 10 to lead the Lions.
Karns City will host Shady Side Academy on Saturday in the first round of the state playoffs.