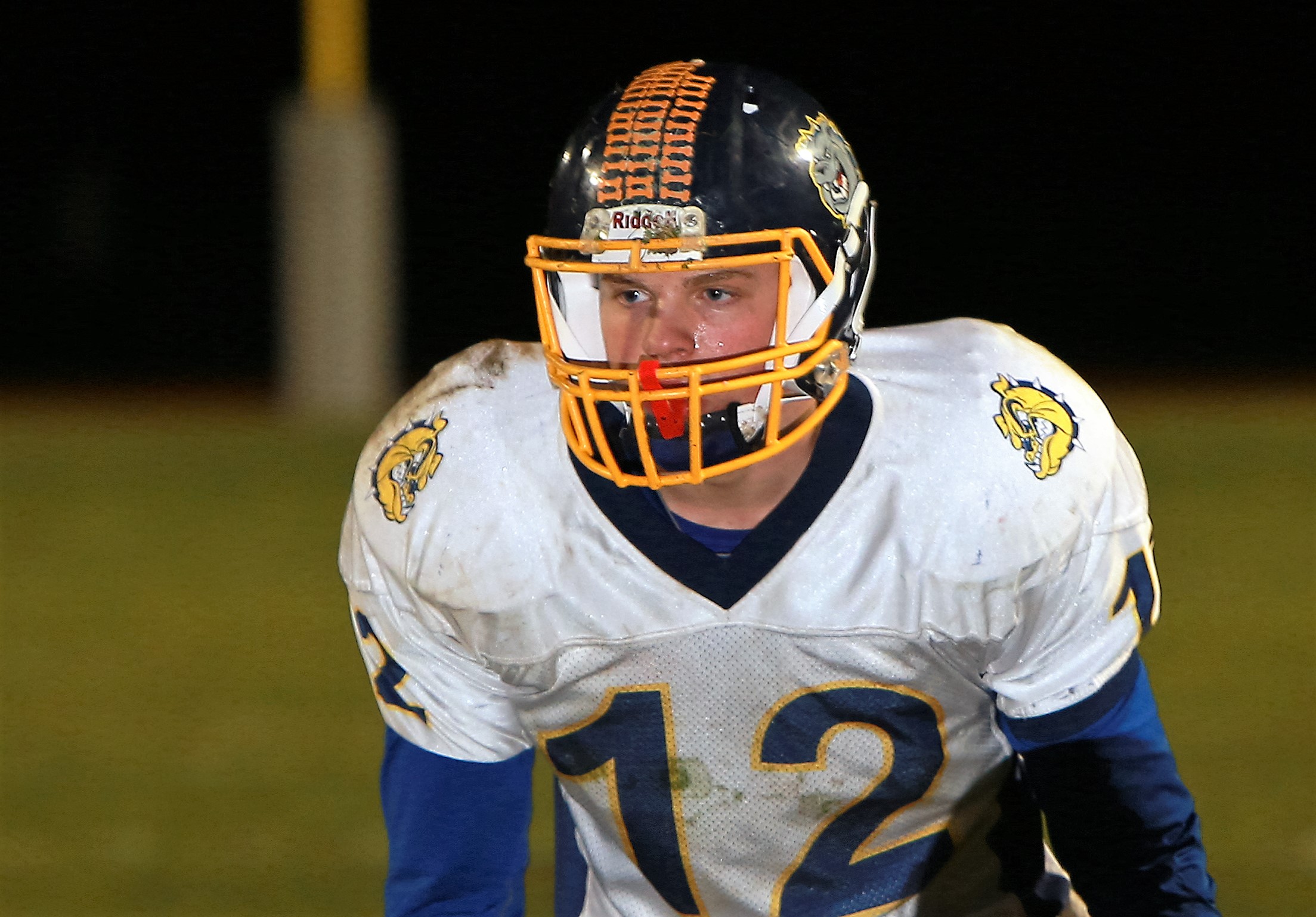 SHIPPENVILLE, Pa. – Otto-Eldred quarterback Sawyer Drummond showed superior dual-threat ability in the Terrors 32-23 win over Elk County Catholic Friday night, and he is the Week Two 2017 D9Sports.com District 9 Football Player of the Week.
(Cover Photo by Paul Burdick. Check out more of Burdick's work here)
Drummond ran and threw for over 100 yards in the victory, the first of the year for Otto-Eldred, going 15 of 20 passing for 174 yards and three touchdowns and adding 136 yards rushing on 24 carries.
Joining Drummond in being honored are 15 players on the District 9 Honor Roll.
The Player of the Week and Honor Roll honors will continue through the conclusion of the regular season.  
D9SPORTS.COM PLAYER OF THE WEEK
Sawyer Drummond – Otto-Eldred: 15-for-20, 174 yards, 3 touchdowns; 24 carries, 136 yards – Otto-Eldred 32, Elk County Catholic 23
D9SPORTS.COM HONOR ROLL
John Eakin – Bradford: 6 carries, 102 yards, 3 touchdowns; 1 catch, 53 yards, 1 touchdown – Bradford 47, Cameron County 8
Peter Downer – Brockway: 7-for-9, 175 yards, 4 touchdowns – Brockway 57, Port Allegany 18
Colton Rapp – Clarion: 27 carries, 227 yards, 3 touchdowns; 2 catches, 46 yards, 1 touchdown – Clarion 58, Brookville 22
Riley Hummell – Clarion-Limestone: 3 catches, 113 yards, 2 touchdowns; 7 carries, 86 yards – Clarion-Limestone 52, St. Marys 0
Brenden Makray – Clarion-Limestone: 8-for-12, 277 yards, 5 touchdowns – Clarion-Limestone 52, St. Marys 0
Nick Stewart – Curwensville: 16 catches, 161 yards, 3 touchdowns; 2 catches, 38 yards; Moved into second all-time in District 9 history in rushing with 5,817 yards and needs 147 to become the all-time leading rusher in D9 history. – Curwensville 56, Sheffield 8  
Bryce Timko – Curwensville: 9-for-14 for 186 yards, 4 touchdowns – Curwensville 56, Sheffield 8
Kyle Hopson – DuBois: 10 catches, 154 yards, 1 touchdown – Meadville 55, DuBois 21
Matt Miller – DuBois: 21-for-37, 256 yards, 2 touchdowns; 1 interception; 3 carries, 19 yards – Meadville 55, DuBois 21
Dylan Close – Otto-Eldred: 7 catches, 65 yards, 2 touchdowns; 9 carries, 52 yards, 1 touchdown – Otto-Eldred 32, Elk County Catholic 23
Dalton Beham – Karns City: 17 carries, 131 yards, 4 touchdowns; Scored two fourth-quarter touchdowns to help the Gremlins erase a 28-21 deficit – Karns City 42, Redbank Valley 28
Corey Rapp – Keystone: 15 carries, 87 yards, 1 touchdown; 4 carries, 63 yards, 2 touchdowns; 7 tackles; Scored two fourth-quarter touchdowns to help Keystone break a 12-game losing streak – Keystone 34, Union/A-C Valley 26
Dylan Ishman – Punxsutawney: 8-for-26, 165 yards, 4 touchdowns; 13 carries, 22 yards; With the Chucks trailing by 16 he threw two touchdown passes and two 2-point conversions in the final 58 seconds of regulation to force overtime and then threw a third scoring pass in overtime to secure the victory. – Punxsutawney 34, Moniteau 28
Tyler Richardson – Punxsutawney: 7 catches, 135 yards, 4 touchdowns; 2 carries, 10 yards; Made 7 tackles on defense; With the Chucks trailing by 16 he caught two touchdown passes and a two-point conversion in the final 58 seconds of regulation and then caught a touchdown pass in overtime to win the game. – Punxsutawney 34, Moniteau 28
Clint Thurston – Redbank Valley: 17 carries, 121 yards, 3 touchdowns, 1 catch, 5 yards – Karns City 42, Redbank Valley 28
2017 PLAYERS OF THE WEEK
Week Zero: Jack Krug, Brookville
Week One: Clint Thurston, Redbank Valley
Week Two: Sawyer Drummond, Otto-Eldred
Week Three:
Week Four:
Week Five:
Week Six:
Week Seven:
Week Eight:
Week Nine: