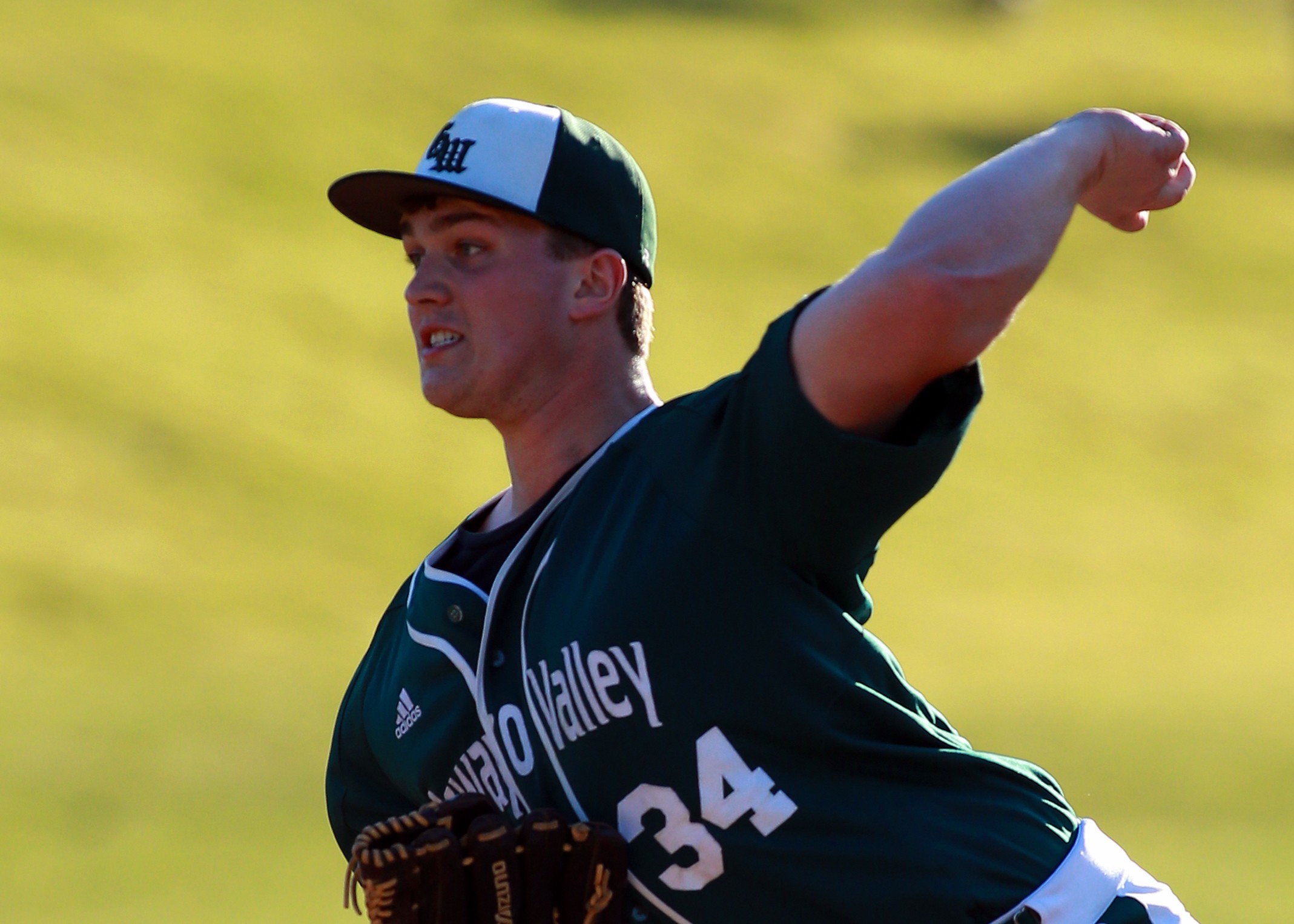 District 9 pushed two more teams through to the PIAA Class 1A baseball quarterfinals Tuesday giving the district three of the eight remaining teams after Clarion advanced Monday.
(Cover photo of Oswayo Valley's Garren Black. Photo by Paul Burdick. Check out more of Burdick's work here)
On Tuesday, D9 champion Oswayo Valley beat WPIAL third-place finisher Union-New Castle, 8-3, while D9 third-place finisher Elk County Catholic upset WPIAL champion Jeannette 7-4.
OSWAYO VALLEY 8, UNION-NEW CASTLE 3
DUBOIS, Pa. – Oswayo Valley used a three-run first and a three-run third to beat Union-New Castle, 8-3.
The Green Wave, who fell behind 1-0 after a half inning when Seth Pinkerton scored on a throwing error, scored three times in the bottom of the first to take the early lead.
Gage and Garret Babcock had back-to-back singles to start the inning, but Garret Babcock got caught stealing second with his brother on third. Garren Black, though, walked, and courtesy runner Colton Gietler swiped second. Grant West followed with a game-tying single to center and took second on the throw. Jacob Karr's RBI groundout gave the Green Wave a lead they never relinquished, and West came home on a passed ball.
Oswayo Valley added to its lead in the third, although it had to sit through a 30-minute rain delay before doing so.
Gage Babcock led off the inning with a walk, and then rain halted play.
When play resumed, Garret Babcock and Black both walked as well to load the bases for West, whose grounder to shortstop resulted in an error that scored two more runs making it 5-1. Theo Henry's sac fly then made it 6-1.
The teams exchanged runs in the fifth with Union-New Castle loading the bases after one out on three straight singles off Black but were only able to score a solo run when Nick Jacobs grounded into a fielder's choice. Black then got Braydon Porter to lineout to second baseman Gage Babcock.
Black helped get the run back in the bottom of the inning when he walked leading off, and West doubled Gietler, again courtesy running, to third. Ryan Graves then walked with one out to load the bases, but like Union-New Castle, the Green Wave were only able to get a single run when Henry hit another sac fly.
A two-out single to center by Black in the sixth gave Oswayo Valley an insurance run, but it wasn't really needed as, despite having the bases loaded with one out on three walks issued by Graves, Union-New Castle again scored just once in the seventh on another fielder's choice.
West was 2-for-3 with a double, a run scored and three RBIs to lead Oswayo Valley, while Pinkerton was 2-for-4 with two runs scored for Union-New Castle.
Black got the win going six innings allowing two runs, one earned, on seven hits while striking out seven. He was removed at 100 pitches. Graves went an inning allowing a run on three walks.
Matt Costello got the loss going two-plus innings allowing six runs, three earned, on three hits and four walks while striking out one. Rob King gave up two runs, one earned, on two hits and four walks while striking out two in four innings of work.
Oswayo Valley will take on WPIAL runner-up Greensburg Central Catholic at 4 p.m. Thursday at Showers Field. It will be part of a Class 1A quarterfinal doubleheader with Elk County Catholic vs. Clarion to follow at 6:30 p.m.
(See box score at bottom of post)
ELK COUNTY CATHOLIC 7, JEANNETTE 4
LATROBE, Pa. – Nate DaCanal pop fly bloop single with the bases loaded and one out in the fifth inning led directly to three runs breaking a four-all tie and giving Elk County Catholic a 7-4 upset of Jeannette in Latrobe.
DaCanal popped a ball over the head of first baseman Drake Petrillo that landed safely to the ground allowing Dan Stauffer, who had walked leading off the inning to score. Petrillo then compounded things by throwing the ball away allowing two more runs to score.
After the three-run fifth, Gabe Kraus had to bare down in the bottom of the inning after giving up a one-out double to Brendt Billeck and back-to-back walks with two outs to Blaze Tran and Seth Howard that loaded the bases. He then went 3-1 on Zander Malik before coming back to strike out Malik looking to end the threat.
The strikeout started a string of seven straight retired by Kraus and Alex Wehler to close out the game.
The game was a back-and-forth affair until the fifth with the teams trading a pair of runs in the second and third.
ECC used the long ball to gets its runs with Wehler lofting a two-run home run to center in the second to put the Crusaders up 2-0, and Stauffer jacking a two-run homer to left in the third to make it 4-2.
While ECC was using the long ball to score, Jeannette was grinding out runs against Brad Dippold taking advantage of two errors and two walks in the second to tie the game at two.
Dippold walked Billeck leading off the second, and Eric Hall reached on an error by first baseman Ryan Heary to put runners on first and second with no outs. After a strikeout, Howard singled to load the bases before Dippold caught Malik looking for the second out.
But a walk to Petrillo brought home a run, and the tying run scored when Michael Pompei reached on an error by third baseman Eric Gerber.
It was more of the same in the third for the Jayhawks.
With one out, Billeck walked and went to second on a single by Hall. Then, with two outs, Howard singled home Billeck and Malik reached on an error by Wehler, the shortstop at the time, to tie the contest.
In addition to picking up the win, Dippold was 2-for-4 with a run scored for ECC. Stauffer was 1-for-3 with two runs scored and two RBIs.
Howard was 2-for-2 with an RBI for Jeannette.
Dippold worked four innings allowing four runs, one earned, on three hits and three walks while striking out four. Kraus pitched two scoreless inning allowing a hit and two walks while striking out three, and Wehler got the save going a scoreless seventh striking out one.
Both Kraus (42 pitches) and Wehler (14 pitches) are eligible to pitch in the quarterfinal game against Clarion, which is at 6:30 p.m. Thursday at Showers Field in DuBois. Dippold (81 pitches), however, is not.
Tran took the loss going four-plus innings allowing five runs, all earned, on five hits and two walks. Tre Cunningham gave up a pair of unearned runs on a hit while striking out five.
(See box score below)
BOX SCORES
OSWAYO VALLEY 8, UNION-NEW CASTLE 3
Score by Inning
Union-NC 100 010 1 – 3
Oswayo 303 011 x – 8
UNION-NEW CASTLE – 3
Seth Pinkerton 4220, Matt Costello 3020, Tyler Benedict 3010, Nick Jacobs 3001, Zach Montswil 1001, Braydon Porter 4010, Evan Pinkerton 3010, Sean Louis 3000, Bryce Smith 3000, Nate Meeks 2100. Totals 29-3-7-2.
OSWAYO VALLEY – 8
Gage Babcock 3210, Garret Babcock 2210, Garren Black 1011, Colton Gietler 0300, Grant West 3123, Jacob Karr 3001, Ryan Graves 1000, Theo Henry 1002, Justice Rees 3000, Camden Graves 3000, Noah Wichert 0000. Totals 20-8-5-7.
LOB: Union-New Castle 8. Oswayo Valley 4. Errors: Union-New Castle 1, Oswayo Valley 2. 2B: Porter, West. SF: Henry (2). SB: Gage Babcock, Gietler. CS: Garret Babcock.
PITCHING
Union-New Castle
Matt Costello – 2 IP, 3 H, 6 R, 3 ER, 4 BB, 1 K, 0 HP
Rob King – 4 IP, 2 H, 2 R, 1 ER, 4 BB, 2 K, 0 HP
TOTALS – 6 IP, 5 H, 8 R, 4 ER, 8 BB, 3 K, 0 HP
Costello pitched to 4 batters in the third
Oswayo Valley
Garren Black – 6 IP, 7 H, 2 R, 1 ER, 0 BB, 7 K, 0 HP
Ryan Graves – 1 IP, 0 H, 1 R, 1 ER, 3 BB, 0 K, 0 HP
TOTALS – 7 IP, 7 H, 3 R, 2 ER, 3 BB, 7 K, 0 HP
Winning pitcher: Garren Black
Losing pitcher: Matt Costello
ELK COUNTY CATHOLIC 7, JEANNETTE 4
Score by Inning
Elk Co. Cath. 022 030 0 – 7
Jeannette 022 000 0 – 4
ELK COUNTY CATHOLIC – 7
Frank Singer 4000, Brad Dippold 4120, Dan Stauffer 3212, Ryan Heary 4000, Eric Gerber 4100, Gabe Kraus 3110, Nate DaCanal 2011, Jared Braun 2100, Alec Wehler 3112, Jordan Nasoni 0000, Will Uberti 0000. Totals 29-7-6-5.
JEANNETTE – 4
Michael Pompei 4000, Tre Cunningham 4000, Tyler Elliott 4000, Brendt Billeck 2210, Eric Hall 4210, Blaze Tran 2000, Seth Howard 2021, Zander Malik 3000, Drake Petrillo 2001,Nick Caesar 0000. Totals 27-4-4-2.
LOB: ECC 5, Jeannette 6. Errors: ECC 3, Jeannette 3. 2B: Billeck. HR: Wehler, Stauffer. HBP: Braun by Tran. Kraus by Cunningham. SB: Stauffer, Braun. CS: Malik.
PITCHING
ECC
Brad Dippold – 4 IP, 3 H, 4 R, 1 ER, 3 BB, 4 K, 0 HP
Gabe Kraus – 2 IP, 1 H, 0 R, 0 ER, 2 BB, 3 K, 0 HP
Alec Wehler – 1 IP, 0 H, 0 R, 0 ER, 0 BB, 1 K, 0 HP
TOTALS – 7 IP, 4 H, 4 R, 1 ER, 5 BB, 8 K, 0 HP
Jeannette
Blaze Tran – 4 IP, 5 H, 5 R, 5 ER, 2 BB, 0 K, 1 HP
Tre Cunningham – 3 IP, 1 H, 2 R, 0 ER, 0 BB, 5 K, 1 HP
TOTALS – 7 IP, 6 H, 7 R, 5 ER, 2 BB, 5 K, 2 HP
Tran pitched to 1 batter in the fifth
Winning pitcher: Brad Dippold
Losing pitcher: Blaze Tran
Save: Alec Wehler