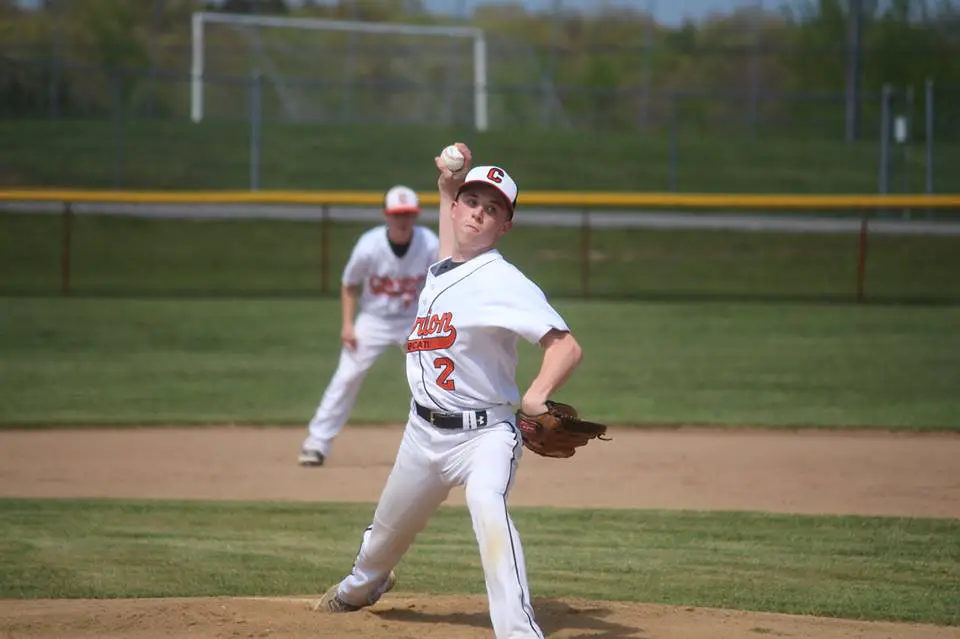 DUBOIS, Pa. – Sterling Conner's one-out double to right-center field capped a four-run fifth inning, as District 0 runner-up Clarion rallied past District 5 runner-up Berling Brothersvalley for a 4-3 victory in the opening round of the PIAA Class 1A baseball playoffs Monday afternoon at Showers Field in DuBois.
"We were elated," Ryan Anthony said. "Us, as a school, we've never made it this far (Clarion is actually in the PIAA quarterfinals for just the second time in school history). To be able to make it this far is something truly incredible."
Watch Ryan Anthony's complete interview.
Ryan Anthony played a key role in the victory.
First, he got the Bobcats out of a bases-loaded, two-out jam in the second when he relieved Sterling Conner, who had just walked two and hit a third to load the bases, and got No. 2 hitter Kyle Boyce to fly out to center to keep Clarion down just a run, 1-0.
Then, with the Bobcats trailing 3-0 in the fifth and runners on second and third, Ryan Anthony delivered a base hit to right scoring two runs. He then set up the tying run by stealing second on a delayed steal and going to third on an error by the catcher before scoring on a grounder by his twin brother Reed Anthony that got through the shortstop Tyler Cusker for an error – with the infield back Ryan Anthony would have scored anyhow.
Reed Anthony then scored all the way from first on Conner's double to the gap.
Reed Anthony, who came on in relief in the fourth, made the lead stand up retiring all but two of the 14 Berling Borthersvalley batters he faced.
Clarion will take on the winner of the game between Elk County Catholic and Jeannette that was postponed Monday and moved to 4 p.m. Tuesday at Greater Latrobe High School.
CLARION 4, BERLIN BROTHERSVALLEY 3
Score by Inning
Berlin 102 000 0 – 3
Clarion 000 040 x – 4
BERLIN BROTHERSVALLEY – 3
Nick Gooden p 3130, Kyle Boyce cf 4000, Chandler McClucas 3b 3110, Tyler Custer ss 4111, Logan Walker c 4010, Sam Marker 1b 3011, Gideon Snyder dh 3000, Eric Bond cf 0000, Isaiah Paul rf 2001, Nate Thomas 2b 2000. Totals 28-3-7-3.
CLARION – 4
Spencer Miller ss 3110, Ryan Anthony 2b/p 3112, Reed Anthony lf/1b/p 3101, Conner Sterling p/cf 3011, Cam Craig 3b/2b 3020, Nate Datko rf/lf 3020, Skylar Rhoades cf/rf 2000, Kyle Patterson c 3000, Dominic Fleming 1b/3b 3110. Totals 26-4-8-4.
LOB: Berlin 8. Clarion 4. Errors: Berlin 3. Clarion 0. 2B: Gooden (2), Conner. SAC: Rhoades. HBP: Thomas by Conner. SB: Gooden, McClucas,Ryan Anthony, Reed Anthony ,Craig.
PITCHING
Berlin Brothersvalley
Nick Gooden – 7 IP, 8 H, 4 R, 3 ER, 0 BB, 3 K, 0 HP
Clarion
Sterling Conner – 1.2 IP, 1 H, 1 R, 1 ER, 3 BB, 1 K, 1 HP
Ryan Anthony – 2.1 IP, 5 H, 2 R, 2 ER, 0 BB, 1 K, 0 HP
Reed Anthony – 3 IP, 1 H, 0 R, 0 ER, 0 BB, 4 K, 0 HP
TOTALS: 7 IP, 7 H, 3 R, 3 ER, 3 BB, 6 K, 1 HP
Winning pitcher: Reed Anthony
Losing pitcher: Nick Gooden
Records: Clarion (19-3), Berlin Brothersvalley 16-5
Time of Game: 1:43