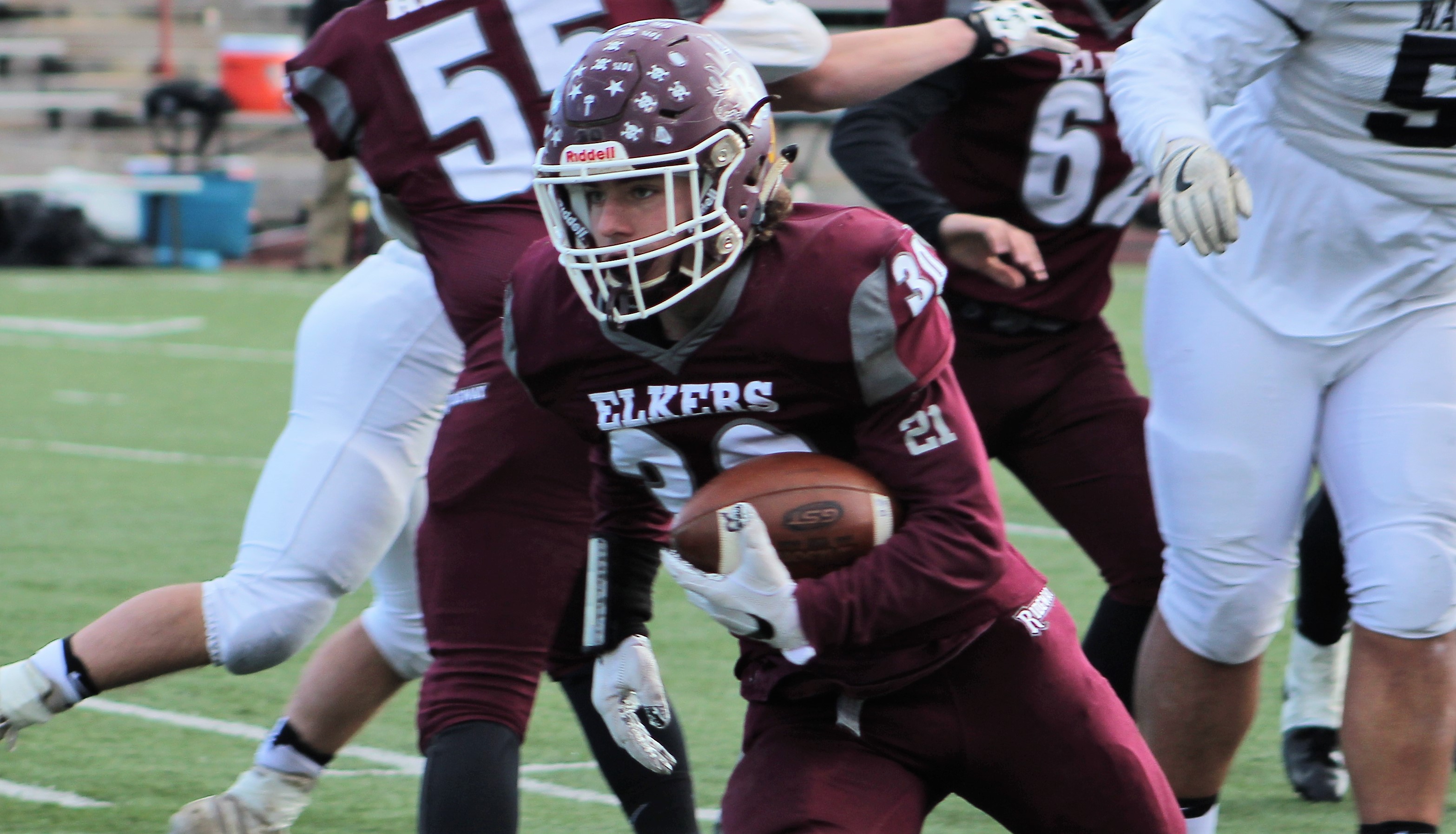 KARNS CITY, Pa. — It's back to the state playoffs for the Ridgway Elkers, and it's right back to the same field where they won their third straight District 9 title on Monday.
(Photo: Ridgway's Jake Wickett helps lead the Elkers into their PIAA quarterfinal game against District 10's Wilmington Saturday afternoon at Karns City High School. Photo by Jared Bakaysa of JB Graphics. See more of Bakaysa's work here)
It'll be just five days since their 14-7 win over Brockway in the Class 2A final when the Elkers take on District 10 champion Wilmington at Karns City High School. Saturday's kickoff is set for 1 p.m.
The winner gets the WPIAL champion — South Side Beaver or Steel Valley — in next week's semifinals. Those teams square off Saturday at Robert Morris University starting at noon.
The last two years, the Elkers were ousted by another D10 power in Farrell in Class A matchups — 36-0 last year and 20-7 in 2016. They take another crack at winning the program's first PIAA state playoff game.
It won't be easy. Wilmington reached last year's championship game in Class 2A after beating D9 champion Clarion 33-6 in the quarterfinals and WPIAL champion Washington 49-42. The Greyhounds were routed by Southern Columbia in the final, 48-0.
And so far this year, the Greyhounds have cruised to an 11-1 season — their only loss coming to D10 Class 1A champion Farrell in the second game of the season, 31-19 — and are coming off a PIAA first-round shoot-out 40-33 win over District 5's Chestnut Ridge last week.
Those are the only two tests all season long for the Greyhounds, who score 48 points per game while giving up just 13. In last week's win, Wilmington scored the game-winning touchdown with 20 seconds left on the clock, then knocked down a would-be game-tying TD pass in the end zone with on time on the clock to preserve the win.
Wilmington senior running back Cam Marett ran for 290 yards on 39 carries and scored two touchdowns. The Greyhounds mostly run the ball in an offense that piles up 471 yards per game.
For the season, Marett (166-1,507, 18 TDs) leads the running game while Ethan Susen (58-731, 13 TDs) averages a whopping 12.6 yards per carry. Quarterback Robert Pontius (67-for-107, 1,195 yards, 13 TDs, 5 Ints.) is over 1,000 yards passing while also running for 472 yards and 15 TDs. His top receiving target is Junior McConahy (21-431, 4 TDs).
It's the first season for head coach Brandon Phillian, who replaced legendary and longtime coach Terry Verrelli.
The past two years, Verrelli's teams knocked out D9 teams in the quarterfinals, Clarion last year and Kane in a 42-0 win in 2016. The Greyhounds won the state title in Class 2A back in 2008.
Wilmington is 6-1 all-time against D9 teams in the state playoffs, its lone loss coming in a 23-14 loss to Brookville in 1994.
The Elkers try to become the first D9 team to win a Class 2A quarterfinal game. Monday, they won their second straight postseason game after trailing going into the fourth quarter. After rallying to beat Moniteau in the semifinals, the Elkers were down 7-0 against Brockway before scoring twice in the fourth. Jake Wickett and Matt Dush ran for touchdowns, Dush's 6-yarder coming with 25 seconds in the game.
Ridgway outgained the Rovers, 233-120, and forced three turnovers. That continues a season-long trend where the Elkers have forced 30 turnovers.
Offensively, the Elkers average a modest 291 yards per game — 176 rushing 115 passing. Gabe Watts (108-687, 8 TDs) and Wickett (102-545, 9 TDs) lead the running game. Quarterback Paul Gresco (115-for-183, 1,281 yards, 11 TDs, 8 Ints) runs the passing game with his top receiving targets Daunte Allegretto (16-333, 3 TDs), Austin Green (20-261, 5 TDs) and Isaac Schloder (23-244, 3 TDs).
Robert Briggs led the Elkers' defense in tackles per game going into the Brockway game at 9 per game. Allegretto has a team-high seven interceptions.