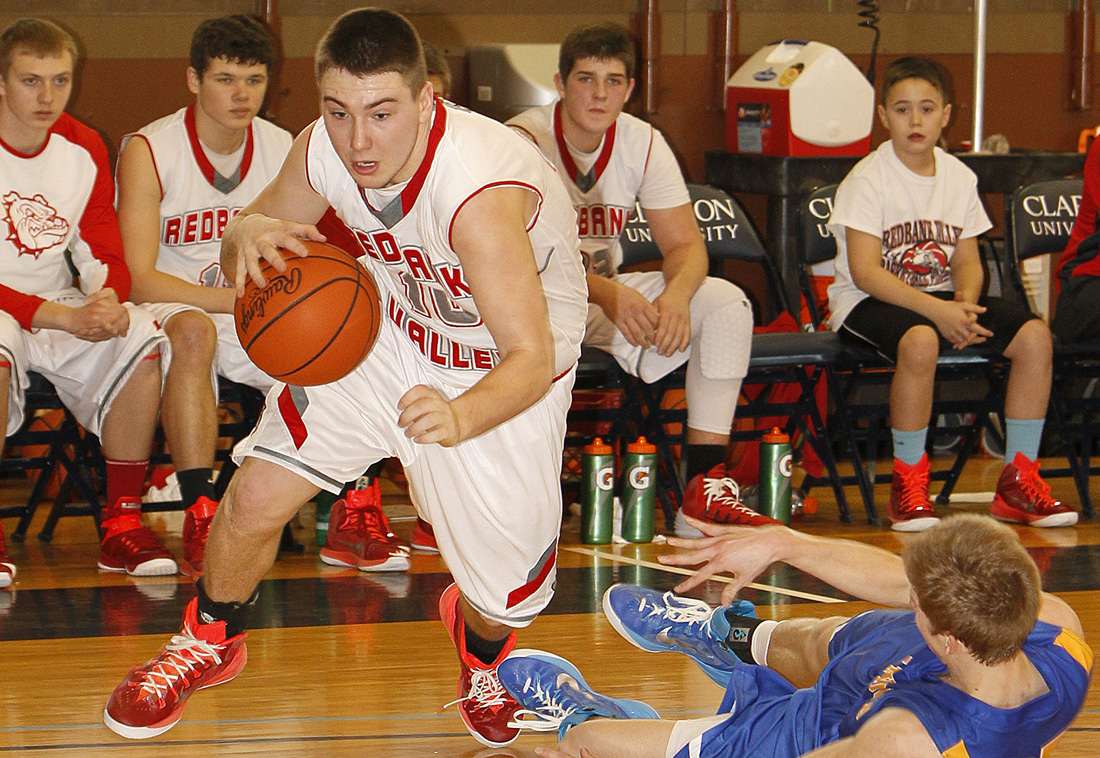 (9-1) REDBANK VALLEY (22-6) VS. (7-1) ALIQUIPPA (27-0)
When: 4:30 p.m. Saturday
Where: Plum High School
How they got here: Redbank Valley beat District 6 third-place finisher Bellwood-Antis, 60-53, in the first round and then downed District 6 runner-up West Branch, 62-46, in Wednesday's second round. Aliquippa opened with an 83-49 win over District 6 fourth-place finisher Central Cambria before beating District 10 runner-up Fairview, 58-28.
Winner gets: Winner of the (10-1) West Middlesex vs. (7-3) Greensburg Central Catholic game Wednesday, March 18 at a site to be determined.
About Redbank Valley: In their first trip to states since 1991, The Bulldogs won their first state playoff game since their only one (over Chestnut Ridge) back in 1979 in win their over Bellwood-Antis and then won a second-round game for the first time against West Branch. … Jake Dougherty (16.2 ppg.), Devin Shumaker (11.7 ppg.), Sam Heeter (9.6 ppg.) and Zach Westover (9 ppg.) and Dalton Dougherty (7.8 ppg.). … In the five postseason games, Jake Dougherty (59), Westover (58), Shumaker (54) and Dalton Dougherty (47) are scoring virtually at the same rate. … Going into the playoffs, Jake Dougherty was averaging a double-double with 10 rebounds per game. Westover was second in rebounding at 9.8 per game. … Against West Branch, the Bulldogs limited West Branch to 13 second-half points. Jake Dougherty and Westover each scored 14 points while Shumaker and Heeter finished with 11 and 10 points respectively. Westover and Dalton Dougherty finished with double-doubles with 12 and 10 boards. … Since the PIAA expanded to four classifications for the 1983-84 season, no District 9 Class AA team has advanced beyond the quarterfinals. Only Keystone (2004), Kane (2001), Brockway (1994 and 1995) had reached the quarterfinals before losing. … The Bulldogs ended a 14-game District 9 Class AA losing streak in the state playoffs. Keystone was the last team to win in 2004. Since 1984, D9 Class AA teams are 18-57 in the state playoffs.
About Aliquippa: The Quips are the top-ranked team in the state according to Pennlive.com. … They won their 11th WPIAL title and first in Class AA since back-to-back crowns in 2006 and 2007 with an 11-point win over defending champion Seton-LaSalle, becoming the first WPIAL team to go unbeaten going into the PIAA playoffs since Washington did it in 1985. … Aliquippa, widely known in Western Pennsylvania as a high school football powerhouse, has won four state titles in basketball — 1997, 1994, 1989 and 1949 — with four runner-up finishes in 2007, 2001, 1987 and 1986. … Last year, the Quips qualified for the state playoffs for the first time since 2009 and reached the quarterfinals, losing to Seton-LaSalle and finishing 20-7. … Longtime Quips assistant Nick Lackovich is in his second season as head coach. His wife died in December and the team is dedicating the season to her. … Stephon McGinnis, who transferred from Ambridge before the school year, is the team's top scorer at 20.6 ppg. Jassir Jordan (15.6 ppg.) and Charles Humphries (13.6 ppg.). … In the win over Fairview, four players reached double figures, led by Kaezon Pugh's 13 points. Pugh rushed for over 1,600 yards for the football team. Darrien Fields, the team's quarterback, scored 12 points while Humphries and McGinnis scored 11 and 10 points respectively. … The Quips are 4-0 lifetime in the PIAA playoffs against District 9 — Brockway (2009 first round, 62-54), Brockway (1994 quarterfinals, 64-49), Punxsutawney (1983, Class AAA first round) and DuBois (1975, Class AAA first round).