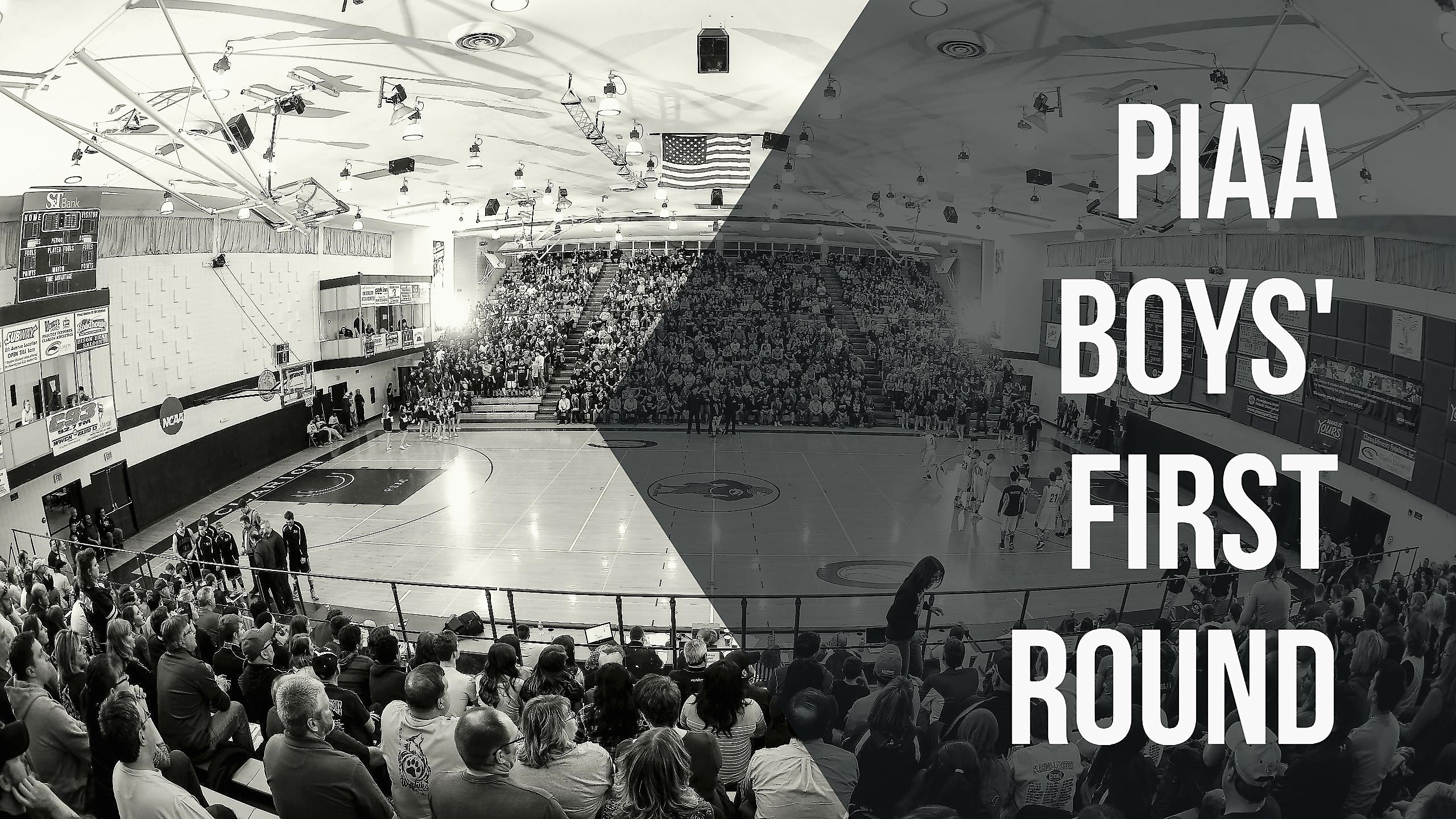 Nine District 9 boys' basketball teams start their quest for PIAA gold this weekend with five games Friday and four Saturday.
Poll – Which Boys' Team Will Go the Farthest in the PIAA Playoffs
Here is a quick breakdown of each matchup.
CLASS 1A – GAMES FRIDAY, MARCH 10
9-1 Elk County Catholic Crusaders (26-0) vs. 7-5 Eden Christian Warriors (12-10), 8 p.m. at Clarion University's Tippin Gym
The District 9 champion Crusaders ripped Johnsonburg 62-44 in the District 9 title game Saturday, while Eden Christian hasn't played since losing to Monessen, 79-61, in the WPIAL quarterfinals Feb. 23.
ECC is paced by one of the top players in District 9 in senior guard Nate DaCanal, who averages 15.3 ppg. He is one of three Crusaders in double figures being joined by Gabe Kraus (14.6 ppg) and Ryan Newton (10.9 ppg).
The Warriors, who beat West Greene in the WPIAL first round using a strong zone defense before falling to eventual champion Monessen, is paced by a pair of players averaging over 16 points per game.
Chase Haring leads Eden at 16.8 ppg and had 15 in the playoff win over West Greene, while Drew Aikens adds 16.7 ppg.
9-2 Johnsonburg Rams (12-13) vs. (10-2) Jamestown Muskies (8-16), 6:30 p.m. at Clarion University's Tippin Gym
If there was ever a matchup that showed how watered down the PIAA playoffs have become with six classifications, this one, between two sub-.500 teams might be it.
Take nothing away from Johnsonburg, the seventh seed who made a nice run through the D9 playoffs before falling to ECC in the title game, but if last year's classification with Coudersport, Clarion-Limestone, Ridgway and Clarion, was in use this year the Rams shot at a state playoff berth would have been considerably more difficult.
Jamestown's path is even more noticeable. Only three teams entered the District 10 Class 1A playoffs, and two of them – Jamestown and Commodore Perry – were under .500 by large margins. The Muskies beat Commodore Perry, 49-42, to "earn" a berth in the title game against defending state champion Kennedy Catholic, which destroyed Jamestown, which has gone 3-5 in its last eight games, 95-22.
Johnsonburg is paced by Ryan Kilhoffer's 10.1 ppg with Drew Akers adding 9.6 ppg and Kacey Raubenstrauch 7.5 ppg.
Jamestown doesn't have a player in double figures. The Muskies are paced by Jacob Rhoades' 9.7 ppg with Austin Smith adding 8.5 ppg, Cameron Stacy 7.4 ppg, Matthew Clark 7.2 ppg, Cole Hatton 6.9 ppg and Dawson Ubransky 6.3 ppg. The one thing Jamestown does have is height with Smith coming in at 6-foot-5, Clark at 6-4 and Hatton at 6-3.
9-3 Otto-Eldred Terrors (15-10) vs. 10-1 Kennedy Catholic Golden Eagles (21-2), 6 p.m. at Sharon High School
The Terrors held a 15-point lead heading into the fourth quarter of the District 9 semifinals against Johnsonburg only to have a collapse for the ages. That collapse cost the Terrors a considerably easier PIAA matchup, and, despite winning the consolation game over North Clarion, Otto-Eldred draws the defending state champion Golden Eagles, who crushed Jamestown, 95-22, in the D10 title game.
Dylan Close leads Otto-Eldred averaging 10.1 ppg with Sawyer Drummond chipping in 7.0, Bosco Ramiro Alonzo, an exchange student from Spain, 6.9 ppg and Damen Palmer 6.8 ppg.
If the Terrors would happen to win the opening tip, they might just want to hold the ball the entire first quarter against a Kennedy Catholic team that is loaded with talent, some of which isn't exactly home grown.
Drew Magestro paces the Golden Eagles at 20.8 ppg followed by Maceo Austin at 19.7 ppg. Senior newcomer Marcin Wiszormirsky, a 6-7 post player, adds 10.7 ppg, while Mohamed Konate chips in 9.9 ppg. Magestro is the smallest of those four at 6-foot-2.
9-4 North Clarion Wolves (14-11) vs. 7-1 Monessen Greyhounds (18-7)
Believe it or not, North Clarion might have gotten the slightly better draw by losing to Otto-Eldred in the consolation game, but only by a little bit.
Monessen, which topped Imani Christian, 74-59, to win the WPIAL title, is a run-and-gun, full-court press team that averages nearly 80 points per game (79.4) and is led by a pair of 1,000-point career scorers in Jaden Altmore (21.2 ppg) and Justice Rice (20.1 ppg). Lydon Henderson adds 13.9 ppg for good measure for legendary coach Joe Salivino, who has 623 career wins.
North Clarion is paced by Nathan Banner's 15.0 ppg with Chase Schmader adding 11.4. Keeven Weaver chips in 7.6 ppg, Sam Minich 7.4 ppg and Zander Hargenrader 7.1 ppg.
CLASS 2A – GAMES SATURDAY, MARCH 11
9-1 Coudersport Falcons (24-0) vs. 6-4 United Lions (14-12) – 4:30 p.m. at Bradford High School
To Coudersport, the whole world might have seemed against it in the District 9 title game with starter Aaron Wolfinger suspended following a controversial technical foul and ejection after making some type of contact with referee Kevin Teribery in the semifinal win over C-L and leading scorer Jared Green nursing an ankle injury and then getting in foul trouble in the title game vs. Brockway before fouling out with just under six minutes to play.
But despite all that noise, the Falcons found a way to win the D9 title with a 67-61 win over Brockway.
Sophomore Owen Chambers played a huge role in the win scoring 22 points, not a surprise since Chambers is second on the team behind Green in scoring at 16.1 ppg. Green, who was named the NTL Player of the Year earlier this week, averages 16.1 ppg with Wolfinger adding 9.9 and Zach Layag 9.1 ppg.
United, which has gone 3-5 in its past eight games, lost to Bishop Guilfoyle, 69-62, in the District 6 semifinals before falling, 61-59, to Purchase Line in the consolation game.
The Lions are paced by Collin Moore's 11.7 ppg with Kyle Silk, only a freshman, adding 11.5 ppg and Nate Fabrizio 10.1 ppg. Devin Mack chips in 8.1 ppg.
9-2 Brockway Rovers (16-10) vs. 7-3 Bishop Canevin Crusaders (19-5), 6 p.m. at Clarion University's Tippin Gym
It's been an interesting season for Brockway, which started strong, tailed off some in the middle but came alive in the D9 playoff making the title game from the sixth seed before losing to Coudersport, 67-61, in the title game.
The Rovers are a balanced group led by Jarrett Esposito, who had a double-double of 20 points and 15 rebounds in the title game with 13 offensive boards, leading the way at 10.6 ppg. Jake Wineberg adds 10.2 ppg and Carter Adams 10.0 ppg.
Brockway has been so balanced this year that eight different Rovers have led the team at least once in scoring in a game.
Bishop Canevin, which lost to WPIAL champion Sewickley Academy, 67-51, in the semifinals, is a high-scoring team that averaged 69.1 ppg led by 1,000-point career scorer Mitchell King's 21.9 ppg. Walter Bonds adds 18.8 ppg with Eugene Goodwine chipping in 15.2 ppg, Kellen Gustine 13.7 ppg and Julian Bonds 13.3 ppg.
9-3 Ridgway Elkers (21-5) vs. 4-1 North Penn-Mansfield Tigers (21-5), 6 p.m. at Mansfield University's Decker Gymnasium
Ridgway entered the D9 playoffs as the second seed but a long layoff might have hurt the Elkers in a semifinal loss to Brockway.
The Elkers pride themselves on defense but used a more open style to beat Clarion-Limestone, 65-62 in overtime, in the D9 consolation game to earn the PIAA playoff berth.
Justin Kasmierski paces the balanced Elkers at 12.9 ppg with Neil MacDonald adding 10.8 ppg and Andy Breier 10.0 ppg.
NPM, which beat Northeast Bradford, 35-16, in a game that NEB tried to slow down by evidence of the score in the D4 title game, has some height including 6-foot-5 guard Brock Burleigh, a 1,000-point scorer who averages 21.2 ppg. Another 6-5 senior, Shane Kelly, adds 11.5 ppg with Konnor Manikowski chipping in 11.0 ppg.
In a strange twist for District 9 in basketball, this game is in the "eastern" half of the bracket meaning it's possible that Ridgway could move to the PIAA title game against another District 9 opponent.
CLASS 3A – GAMES FRIDAY, MARCH 10
9-1 Karns City Gremlins (17-7) vs. 10-3 Erie First Christian Eagles (16-9), 5 p.m. at Clarion University's Tippin Gym
Erie First Christian was hot down the stretch winning 6 of 7 with the lone loss coming 66-61 to Greenville in the D10 semifinals. The Eagles responded by beating Seneca, 43-40, in the consolation game.
Hunter Kallay lead EFC averaging 16.5 ppg while 6-7 senior Samuel Lawal adds 11.5 ppg. Lawal isn't bulky coming in listed at 200 pounds.
Karns City, which is 6-2 in its last eight, won its first D9 title since 2005, and the Gremlins are led by Ian McElroy's 14.0 ppg. Noah Pollock chips in 11.8 ppg while window-cleaner Chandler Turner chips in 11.2 ppg.
CLASS 4A – GAMES SATURDAY, MARCH 11
9-1 Clearfield Bison (23-1) vs. 7-5 McGuffey Highlanders (18-6), 6 p.m. at DuBois Middle School
Clearfield still has the taste of last year's Class 3A playoffs in its mouth. In that game, the Bison led Mars, which finished second in the state, going to the fourth quarter before coming up just short.
The core of that team is back with 1,000-point scorers Will Myers, the all-time leading scorer in school history, and Tommy Hazel, being joined by Evan Brown to form a lethal threesome for the Bison.
Hazel is the leading scorer at 18.7 ppg followed closely by Myers at 17.5 ppg with Brown adding 14.8 ppg.
McGuffey has been off since losing in the WPIAL quarterfinals to New Castle, 73-40, Feb. 25.
The Highlanders are paced by the high-scoring duo of Colin Chapman (16.4 ppg) and Trent Bellville (15.6 ppg).