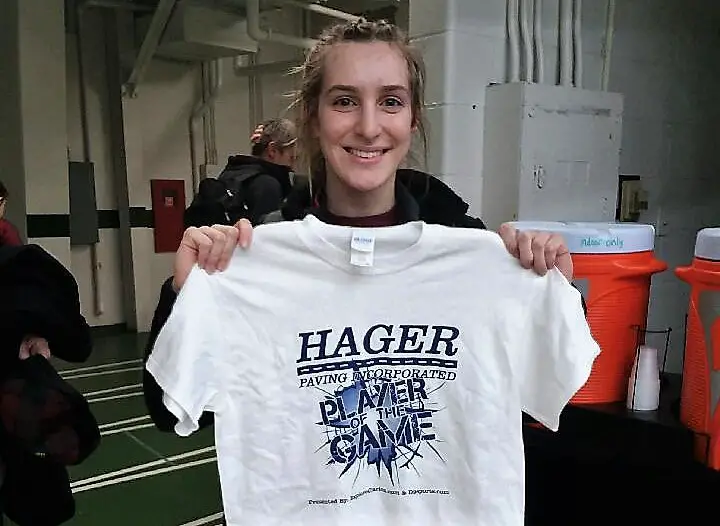 MECHANICSBURG, Pa. – The PIAA basketball playoffs continue this weekend with quarterfinal action.
(Photo of Kennedy Catholic's Leah Magestro, whose team will take on Bishop Carroll Saturday in the PIAA Class 1A Saturday)
While there are no District 9 teams left playing, there is plenty of exciting action.
Here is a look at the weekend matchups.
Class 1A Boys
Friday, March 16
(1-3) Plumstead Christian vs. (1-1) Faith Christian, 7:30 p.m. at Spring-Ford High School
(4-1) Lourdes Regional vs. (2-1) Susquehanna, 7 p.m. at Wyoming Area High School
(5-1) Shade vs. (6-1) Bishop Carroll, 7 p.m. at Richland High School
(5-2) Shanksville-Stoneycreek vs. (10-1) Kennedy Catholic, 7:30 p.m. at Baldwin High School
Class 2A Boys
Saturday, March 17
(12-1) Math, Civics & Science vs. (2-1) Holy Cross, 2:30 p.m. at Liberty High School in Bethlehem
(12-2) Constitution vs. (11-1) Moravian Academy, 1 p.m. at Spring-Ford High School
(7-1) Sewickley Academy vs. (7-4) Jeannette, 1 p.m. at North Hills High School
(7-2) Our Lady of the Sacred Heart vs. (10-1) West Middlesex, 4 p.m. at Armstrong High School
Class 3A Boys
Saturday, March 17
(12-1) Neumann-Goretti vs. (12-3) Bishop McDevitt, 1 p.m. at Jefferson University
(4-2) Loyalstock Township vs. (3-1) Trinity, 2:30 p.m. at Martz Hall in Pottsville
(3-4) Lancaster Mennonite vs. (10-2) Greenville, 2 p.m. at Altoona Area High School
(6-2) Richland vs. (10-1) Fairview, 4 p.m. at North Hills High School
Class 4A Boys
Friday, March 16
(3-1) Berks Catholic vs. (11-1) Bethlehem Catholic, 6 p.m. at Martz Hall in Pottsville
(12-1) Imhotep Charter vs. (3-3) Middletown, 6 p.m. at Geigle Complex in Reading
(6-1) Huntingdon vs. (7-2) Quaker Valley, 7:30 p.m. at Greater Johnstown High School
(7-1) New Castle vs. (10-1) Sharon, 7:30 p.m. at Slippery Rock University's Morrow Field House
Class 5A Boys
Friday, March 16
(3-3) Northeastern vs. (2-1) Abington Heights, 7:30 p.m. at Martz Hall in Pottsville
(12-1) Bonner-Prendergast Catholic vs. (11-1) Allentown Central Catholic, 7:30 p.m. at Geigle Complex in Reading
(3-1) Milton Hershey vs. (12-3) Archbishop Carroll, 7 p.m. at Garden Spot High School
(7-4) Highlands vs. (7-1) Mars, 7:30 p.m. at Gateway High School
Class 6A Boys
Saturday, March 17
(1-1) Abington vs. (2-1) Hazelton, 1 p.m. at Liberty High School in Bethlehem
(12-1) Lincoln vs. (1-8) Neshaminy, 2 p.m. at Archbishop Ryan High School
(1-4) Central Bucks West vs. (12-2) Roman Catholic, 2 p.m. at Bensalem High School
(7-2) Pine-Richland vs. (8-1) Alderdice, 2:30 p.m. at Canon-McMillen High School
Class 1A Girls
Saturday, March 17
(3-1) Lebanon Catholic vs. (1-3) The Christian Academy, Noon at Garden Spot High School
(4-1) Lourdes Regional vs. (1-1) Jenkintown, Noon at Hamburg High School
(6-2) Bishop Carroll vs. (10-1) Kennedy Catholic, 1 p.m. at Armstrong High School
(6-1) Juniata Valley vs. (10-2) Farrell, 2:30 p.m. at Armstrong High School
Class 2A Girls
Friday, March 16
(12-1) West Catholic vs. (11-1) Mahanoy Area, 6 p.m. at Freedom High School
(11-2) Minersville vs. (6-4) Penns Manor, 7:30 p.m. at Bald Eagle Area High School
(6-2) Blairsville vs. (10-2) Reynolds, 6 p.m. at Slippery Rock University's Morrow Field House
(7-2) Chartiers-Houston vs. (6-3) Bellwood-Antis, 6 p.m. at Greater Johnstown High School
Class 3A Girls
Friday, March 16
(12-1) Imhotep Charter vs. (2-1) Dunmore, 7:30 p.m. at Freedom High School
(1-1) Saint Basil vs. (12-2) Neumann-Goretti, 5 p.m. at Bensalem High School
(3-2) York Catholic vs. (7-2) East Allegheny, 6 p.m. at Bald Eagle High School
(7-1) Bishop Canevin vs. (7-3) Mohawk, 6 p.m. at Gateway High School
Class 4A Girls
Saturday, March 17
(3-1) Lancaster Catholic vs. (2-1) Scranton Prep, 1 p.m. at Martz Hall in Pottsville
(12-1) Bonner-Prendergast Catholic vs. (1-1) Gwynedd Mercy, 2:30 p.m. at Jefferson University
(3-2) Berks Catholic vs. (3-3) Bishop McDevitt, 1:30 p.m. at Garden Spot High School
(7-1) Cardinal Wuerl North Catholic vs. (10-1) Villa Maria, 2:30 p.m. at North Hills High School
Class 5A Girls
Saturday, March 17
(3-1) Harrisburg vs. (11-1) Southern Lehigh, 1:30 p.m. Hamburg High School
(12-1) Archbishop Wood vs. (1-1) West Chester Henderson, 2:30 p.m. at Spring-Ford High School
(12-3) Archbishop Carroll vs. (7-2) Oakland Catholic, 2 p.m. at Chambersburg High School
(7-1) Gateway vs. (7-4) Mars, 1 p.m. at Canon-McMillen High School
Class 6A Girls
Friday, March 16
(1-1) Souderton vs. (1-8) Neshaminy, 8 p.m. at Bensalem High School
(1-9) Upper Dublin vs. (1-5) Abington, 6:30 p.m. at Bensalem High School
(11-4) William Allen vs. (1-2) Central Bucks South, 6 p.m. Spring-Ford High School
(7-4) Bethel Park vs. (7-1) North Allegheny, 6 p.m. at Baldwin High School