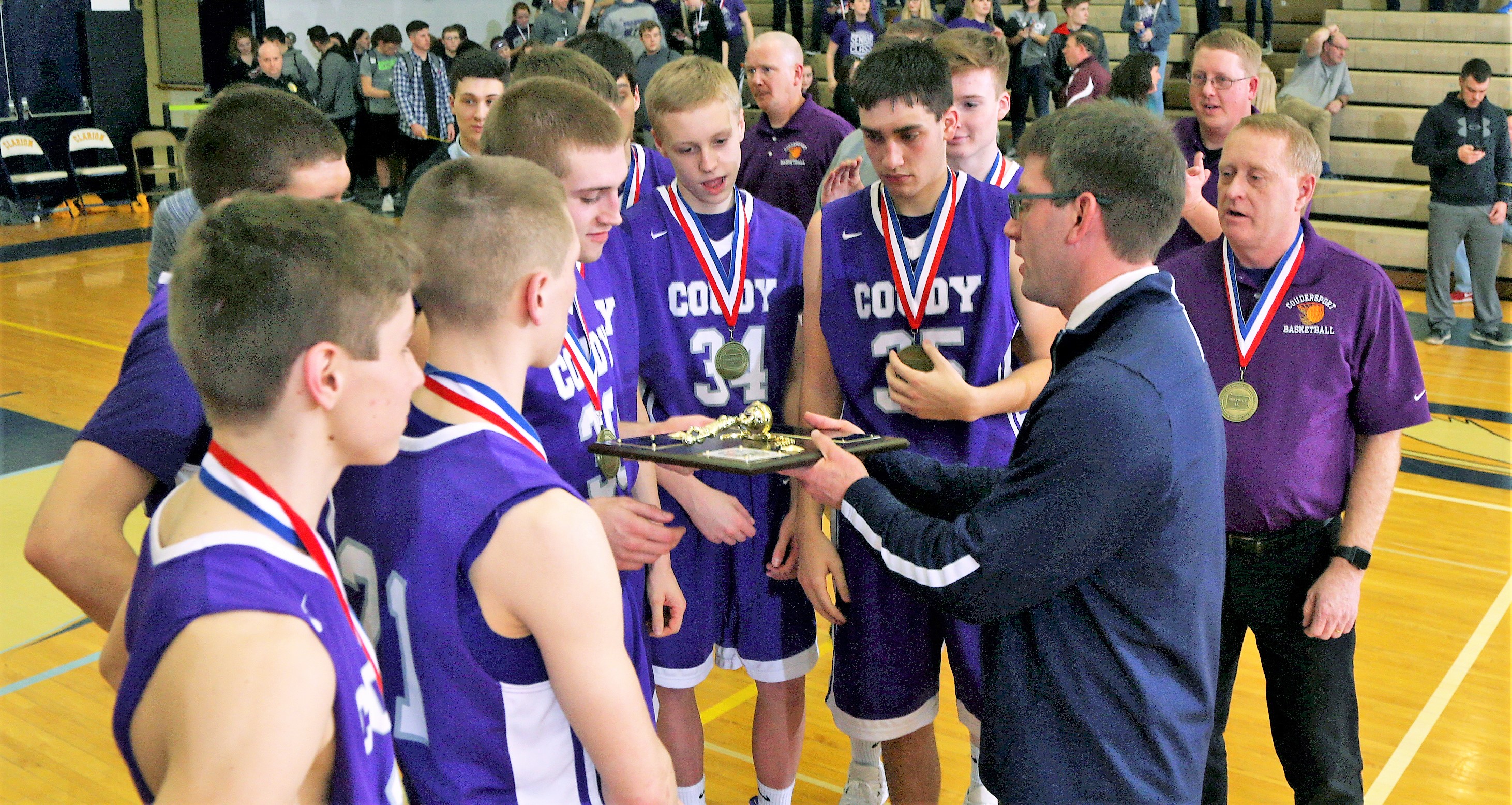 MECHANICSBURG, Pa. – The PIAA released its 2018 basketball championship brackets Sunday.
(Photo by Paul Burdick. Check out more of Burdick's work here)
Eighteen District 9 teams – nine boys and nine girls – will compete for PIAA titles over four classifications starting with first-round games Friday and Saturday.
Here are the first-round matchups, sites and times.
FRIDAY, MARCH 9 
Class  1A Boys (See Bracket)
(9-1) Johnsonburg vs. (7-6) Eden Christian, 7:30 p.m. at Clarion University's Tippin Gym
(9-2) Elk County Catholic vs. (10-2) Jamestown, 6 p.m. at Clarion University's Tippin Gym
(9-3) North Clarion vs. (7-2) Union-New Castle, 6 p.m. at Butler High School
(9-4) Cameron Couty vs. (7-1) Vincentian Academy, 7:30 p.m. at Northgate High School
Class 4A Boys (See Bracket) 
(9-1) Clearfield vs. (7-5) South Fayette, 7:30 p.m. at St. Marys High School
Class 2A Girls (See Bracket) 
(9-1) Coudersport vs. (7-5) California, 6 p.m. at St. Marys High School
(9-2) Kane vs. (6-3) Bellwood-Antis, 6 p.m. at Clarion High School
(9-3) Keystone vs. (7-1) Vincentian Academy, 6 p.m. at Northgate High School
Class 3A Girls (See Bracket) 
(9-1) Brookville vs. (10-2) Northwestern, 7:30 p.m. at Clarion High School
SATURDAY, MARCH 10
Class 1A Girls (See Bracket) 
(9-1) North Clarion vs. (7-5) Cornell, 5:30 p.m. at Clarion University's Tippin Gym
(9-2) A-C Valley vs. (7-3) Sewickley Academy, 4 p.m. at Keystone High School
(9-3) Otto-Eldred vs. (6-1) Juniata Valley, 5:30 p.m. at Hollidaysburg High School
(9-4) Elk County Catholic vs. (7-1) Winchester Thurston, 3 p.m. at Cannon-McMillen High School
Class 4A Girls (See Bracket) 
(9-1) Punxsutawney vs. (7-5) Ambridge, 4 p.m. at Clarion University's Tippin Gym
Class 2A Boys (See Bracket) 
(9-1) Coudersport vs. (10-3) Wilmington, 5:30 p.m. at St. Marys High School
(9-2) Ridgway vs. (5-3) North Star or (4-3) North Penn-Mansfield*, 4 p.m. at St. Marys High School
(9-3) Brockway vs. (6-1) Bishop Guilfoyle, 7 p.m. at Hollidaysburg High School
*North Star and North Penn-Mansfield will playoff Tuesday to determine who plays Ridgway
Class 3A Boys (See Bracket) 
(9-1) Karns City vs. (10-3) Mercyhurst Prep, 6 p.m. at Keystone High School