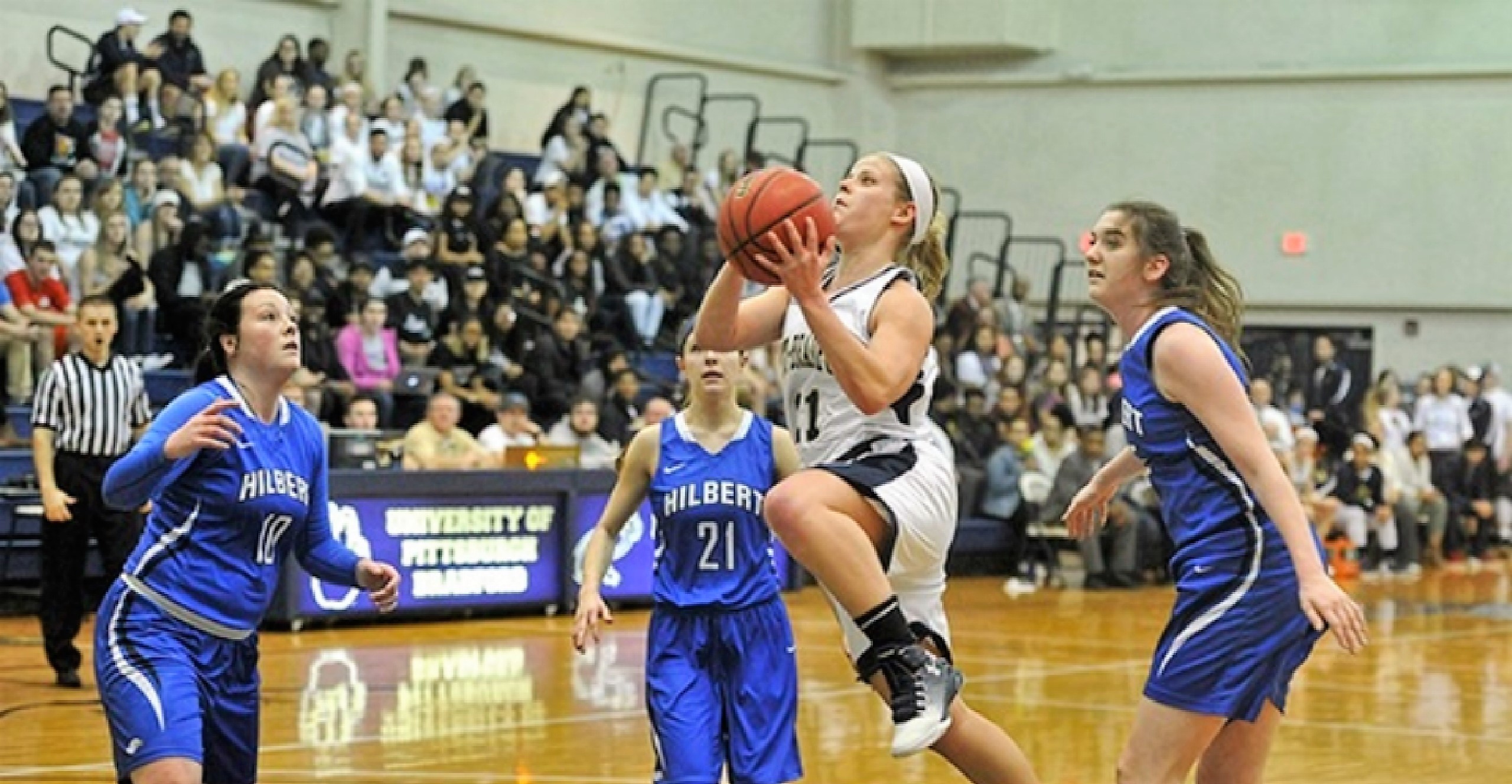 AUSTIN, Texas – Senior guard Ali Rinfrette of the University of Pittsburgh at Bradford women's basketball team has been nationally honored for her performance both on the court and in the classroom as she was named 2017-18 College Sports Information Directors of America (CoSIDA) NCAA Division III Women's Basketball Third Team Academic All-America, officials announced Wednesday.
(Photo courtesy of Pitt-Bradford Athletics. Photo by Wade Aiken)
"This such an outstanding honor for not only Ali, but also for Pitt-Bradford women's basketball," Director of Intercollegiate Athletics Bret Butler said. "Players like Ali Rinfrette are extremely rare and having the privilege of watching her the last four years was a treat for all of us. We all were fans. As elite of a player as she is, she is an even better person. Players with her ability are like Haley's Comet – they do not come around very often. I am so happy for her and her wonderful family. This honor is so deserved – I cannot begin to describe my happiness that Ali has been named an Academic All-American! Good for Ali, good for UPB, good for Bradford!"
The Bradford native carries a 3.75 GPA in the rigorous and prestigious Pitt-Bradford nursing program. As a student at Pitt-Bradford, she has been named to the AMCC's Academic All-Conference team three times so far and has appeared on the University's Dean's List all seven semesters she has completed. She is a three-time Scholar-Athlete Award recipient while also winning both the Sophomore Academic Excellence and Junior Academic Excellence awards.
On Feb. 23, CoSIDA released its 2017-18 Academic All-District teams, and Rinfrette was named NCAA Division III Women's Basketball First Team All-District 4. She then appeared on the national ballot, and Division III women's basketball Sports Information Directors voted her as All-America.
"This is a great honor and achievement for Ali," Head Coach Sharay Hall said. "She has been a stellar performer on the court as well as in her studies. She has shown maturity in all her years here, managing the nursing program and balancing sports as well. She deserves it, and I am proud to see her gain another recognition and accomplishment."
She excelled just as much on the court this year during her senior campaign, finishing fourth in NCAA Division III and first in the AMCC in scoring at 22.5 points per game.
Rinfrette helped lead the Panthers to a successful 2017-18 season that resulted in a trip to the conference semifinals and stayed on the court more than just about everyone in the country, finishing second in NCAA Division III with 39.54 minutes played per game.
She also made 40.9 percent of her three-point field goal attempts and averaged 4.6 assists per game to help land her on the All-AMCC First Team for the third-straight season.
The senior leaves Pitt-Bradford as the women's basketball program's All-Time leading scorer with 2,099 career points – the lone 2,000-point scorer in the history of the program. She assisted 374 buckets during her career while pulling in 767 rebounds and 246 steals in 3,777 total minutes on the floor.
This is the second national post-season honor so far for Rinfrette, who on Feb. 27 was named one of 10 women's basketball finalists for the Jostens Trophy – one of the highest honors in Division III hoops awarded to one men's and one women's player who most exemplifies the ideal of a well-rounded NCAA Division III student-athlete in basketball ability, academic prowess and community service.