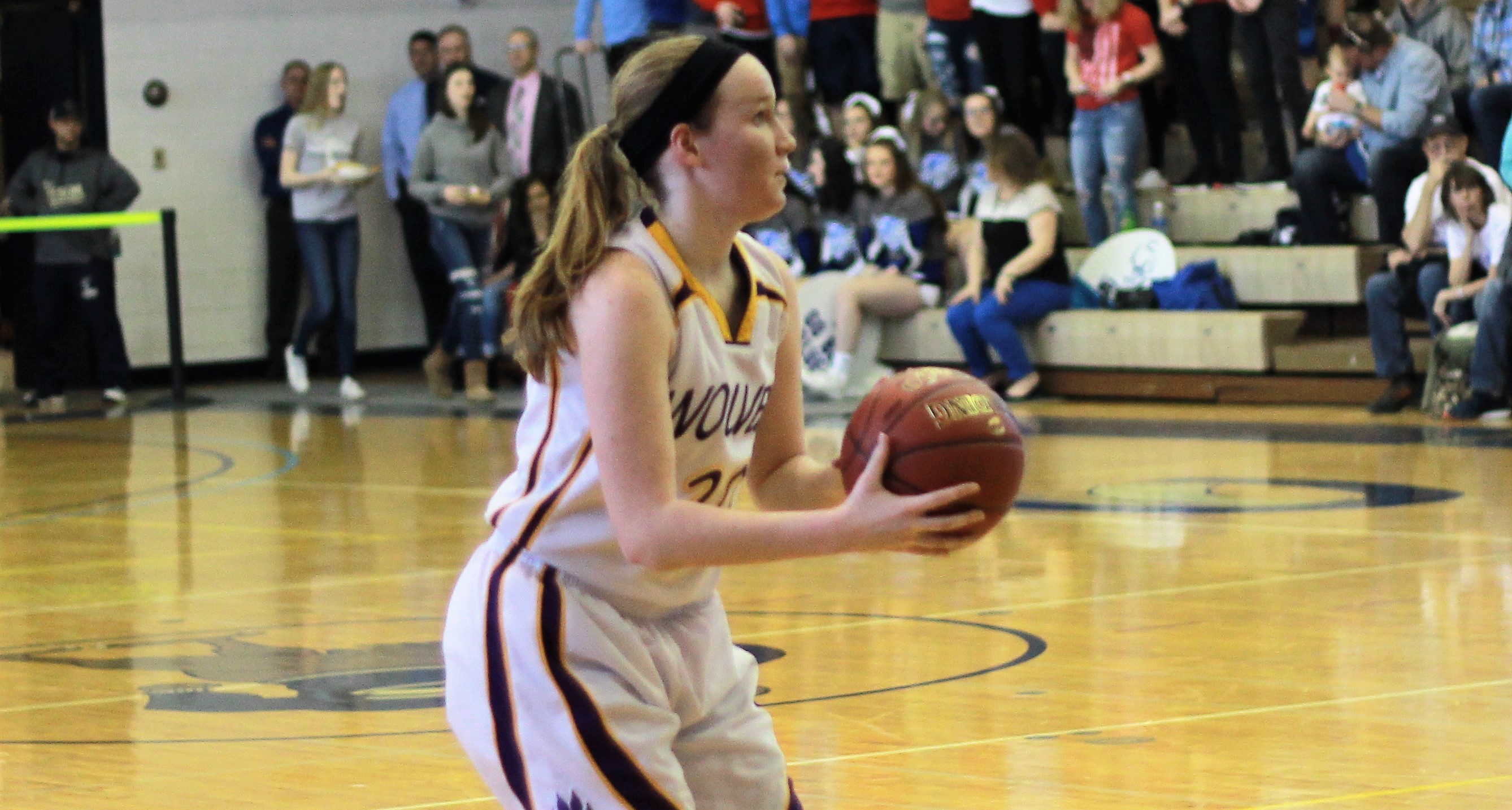 D9Sports.com/EYT Media is doing a series of player profiles on returning high-school athletes this summer. The year in school listed by the athlete is the year the athlete is entering this fall.
(Photo by Jared Bakaysa of JB Graphics. See more of Bakaysa's work here)
ABBY GATESMAN – JUNIOR – NORTH CLARION
Daughter of: Lori and Matt Gatesman
Sports Played: Soccer (at Forest Area as part of a co-op), basketball
Family Members Playing/Played Sports: My sister, who graduated in 2016, played soccer and basketball. My brother currently plays basketball and baseball.
2017-18 Highlights: Helped lead North Clarion to second consecutive KSAC and District 9 (Class 1A) titles as well as a third straight KSAC North championship by averaging 10.8 points per game, which was second on the team. She scored in double digits 15 times including scoring 20 or more points twice with a career-high of 24 points in a win over Clarion, as North Clarion won the D9 title in unbeaten fashion and finished 27-1 advancing to the second round of the PIAA playoffs. Her steal in the final seconds of the District 9 title game against A-C Valley secured the title for the She-Wolves. In soccer, she was a U.V.A.S.L all-star with her teammate, Mackenzie Bauer.
Post-High School Plans: She plans on attending college and would love to continue her athletic career.
Q&A With Abby Gatesman
D9Sports: What is your favorite sport to participate in and why?
AG: Basketball. I love the mentality of basketball and when teammates can clock together and make a perfect play. Every player strives for those types of plays, and the feeling you get after it is like nothing else.
D9Sports: What is your favorite memory, moment, game from playing high school sports?
AG: Playing in the KSAC and D9 championships this past year was a great experience. Those were really competitive games and had great basketball from both teams, which made it an exciting atmosphere.
D9Sports: Why do you play high school sports?
AG: I like the teamwork it takes and the opportunity to make memories with your teammates.
D9Sports: Who has had the most influence on your athletic career and why?
AG: My parents have influenced me the most because are always supporting me and pushing me to be better every day.
D9Sports: Do you remember the first sport you played and did you like it right away or did it grow on you?
AG: Basketball grew on me right away. I really enjoyed the sport and the ability to play pretty much anywhere.
D9Sports: Do you have a favorite number for a uniform? If so, what is the story behind that number?
AG: No. 20 is my favorite number to wear. I was given the number when I was young, and it stuck from there. My sister also wore it in basketball, so it was cool to have her jersey handed down to me.
D9Sports: What would someone who doesn't know you be surprised to find out about you?
AG: I have a twin brother.
D9Sports: If you could eat dinner with anyone famous (living or dead) who would it be and why?
AG: It would be cool to meet a lot of people, but I think meeting Walt Disney would be really cool. He had such a creative mind, and I love Disney movies.
D9Sports: Iphone or Android or Neither and why?
AG: I have an iPhone, but to me, a phone is a phone, so I don't have a preference.
D9Sports: What is your go-to Social Media and why?
AG: I like both Instagram and Twitter because they are both ways to socialize with your friends and see the world.
D9Sports: What do you like most about high school and why?
AG: I like that I am able to learn while hanging out with my friends while in school.
D9Sports: What do you like least about high school and why?
AG: State testing. I feel that it is unnecessary and pointless to do.
D9Sports: What question do you wish I would have asked you? And what is the answer to it?
AG: What's one thing you have learned about playing in high school sports? The biggest thing I have learned is that it's not how many games you lose, but it's the ones that hurt that have the most impact.