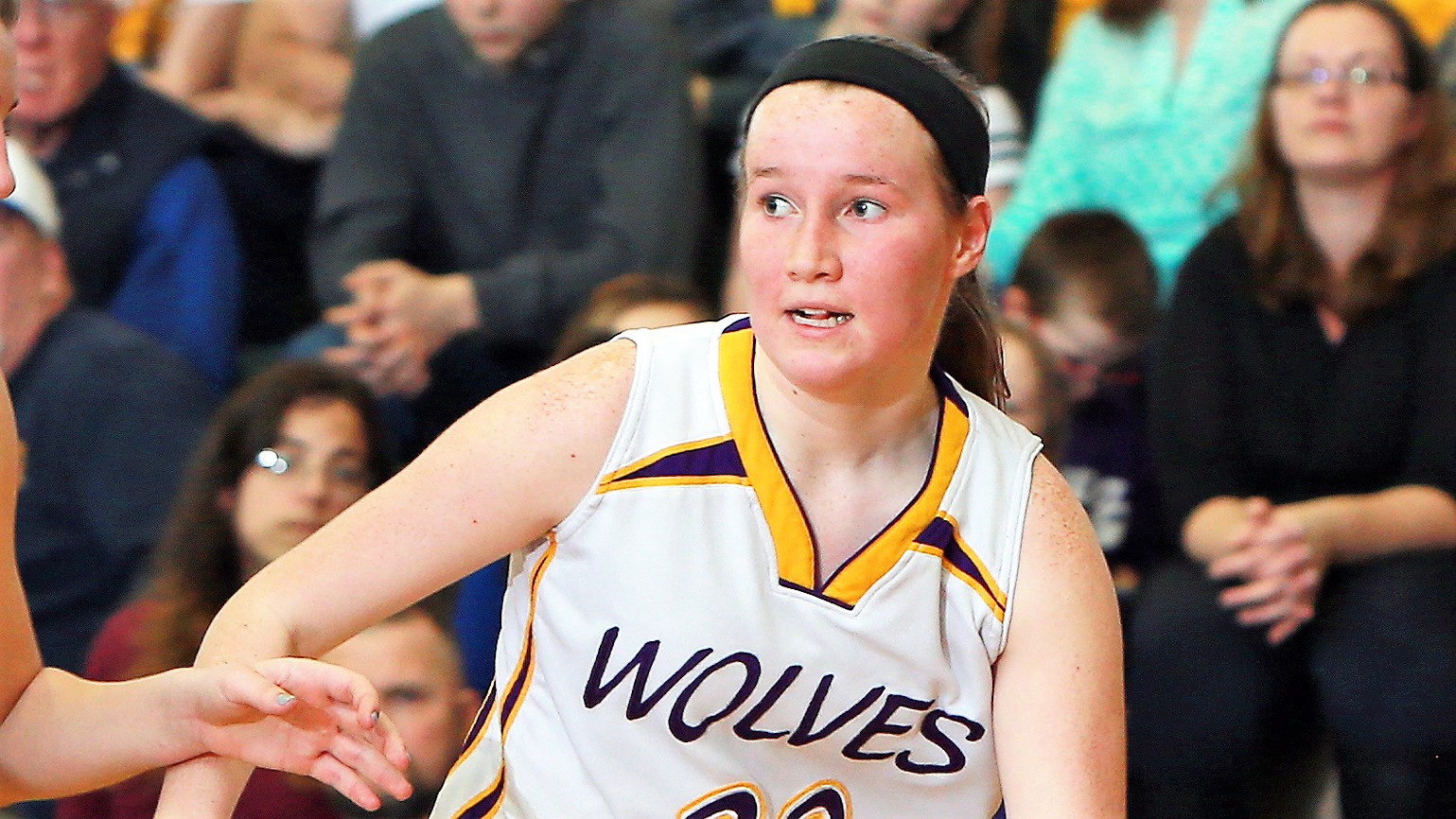 D9Sports.com and EYT Media are doing a series of player profiles on returning high-school athletes this summer. The year in school listed by the athlete is the year the athlete is entering this fall.
ABBY GATESMAN – SOPHOMORE – NORTH CLARION
Daughter of: Matt & Lori Gatesman
Sports Played: Soccer (in co-op with Forest Area), basketball, track & field
2016-17 Highlights: Abby had a strong freshman campaign and earned a starting spot on North Clarion's girls' basketball team that ended up winning the school's first D9 girls' hoops title in Class 1A after capturing the KSAC North and KSAC Titles. The team advanced to the PIAA Elite Eight. She averaged 5.8 points, 3.8 rebounds, 2.1 assists, 1.4 steals and 1.0 blocks per game. It was her layup with 7.3 seconds left that gave the She-Wolves their first-ever conference title with a 44-43 win over Moniteau in the KSAC championship game.
Post-High School Goals: Abby plans on attending college. Being only a sophomore, she hasn't decided what she wants to major in yet. A goal of hers is to play either basketball or soccer in college.
Q&A With Abby Gatesman
D9Sports: What is your favorite sport to participate in?
AG: Basketball is my favorite sport. I just love the teamwork and intensity needed to play.
D9: What is your favorite memory, moment, game from playing high school sports?
AG: There were so many awesome moments from this year, and one of the best would definitely have to be bringing home the first KSAC or D9 championships for our girls' basketball team.
D9: Why do you play high school sports?
AG: I love playing sports because I get the opportunity to build friendships, and get the chance to accomplish so many great things, it's just an awesome experience.
D9: Is there a high school player on your team or another team that you enjoy watching play? If so, why?
AG: I enjoy watching so many players, but I really enjoy being able to play with Tori Obenrader. She's a tremendous athlete, and I have learned so much from her. She's always helping me become a better player and teammate. I also like watching numerous players from other teams, including Ellie Thompson, Olivia Boocks, and Emily Hegedus. All of those players are incredible to watch and play against.
D9: When not playing sports I would rather (pick one) – Go to work, play video games, shop, hang out with friends, play pickup sports, go the movies
AG: Play pickup sports.
D9: If you could go anywhere in the world, where would it be and why?
AG: There are so many places I would love to visit. It would be great to see Venice, Italy, and all its historic sites. I would also love to visit the beaches in Australia.
D9: Who has had the most influence on you as a person?
AG: My coaches, as well as my parents, have had a huge impact on my life. They always push me to my greatest potential, on and off the court.
D9: What do you like most about growing up in your hometown?
AG: I really love the support the community has for high school sports. It's great being apart of that.
D9: What do you wish you could change about growing up in your hometown?
AG: The hardest part about living where I do, is that it is a very rural area. Conveniences are hard to come by, especially not having a license.
D9: What question do you wish I would have asked you? And what is the answer to it?
AG: What is the best part about being a freshman in a high school sport? In soccer, you get to carry all the equipment and in basketball, you are always the last one in line for food.
D9: Do you or have you had any siblings or other immediate relatives who have played high school sports?
AG: My sister, Taylor, graduated in 2016, and I was fortunate enough to be handed down her jersey in both basketball and soccer, which really meant a lot to me. I have had the chance to play on the same team as my brother, Drew, for most of my childhood. Since we are now in high school, we play on separate teams, but he plays basketball and baseball.