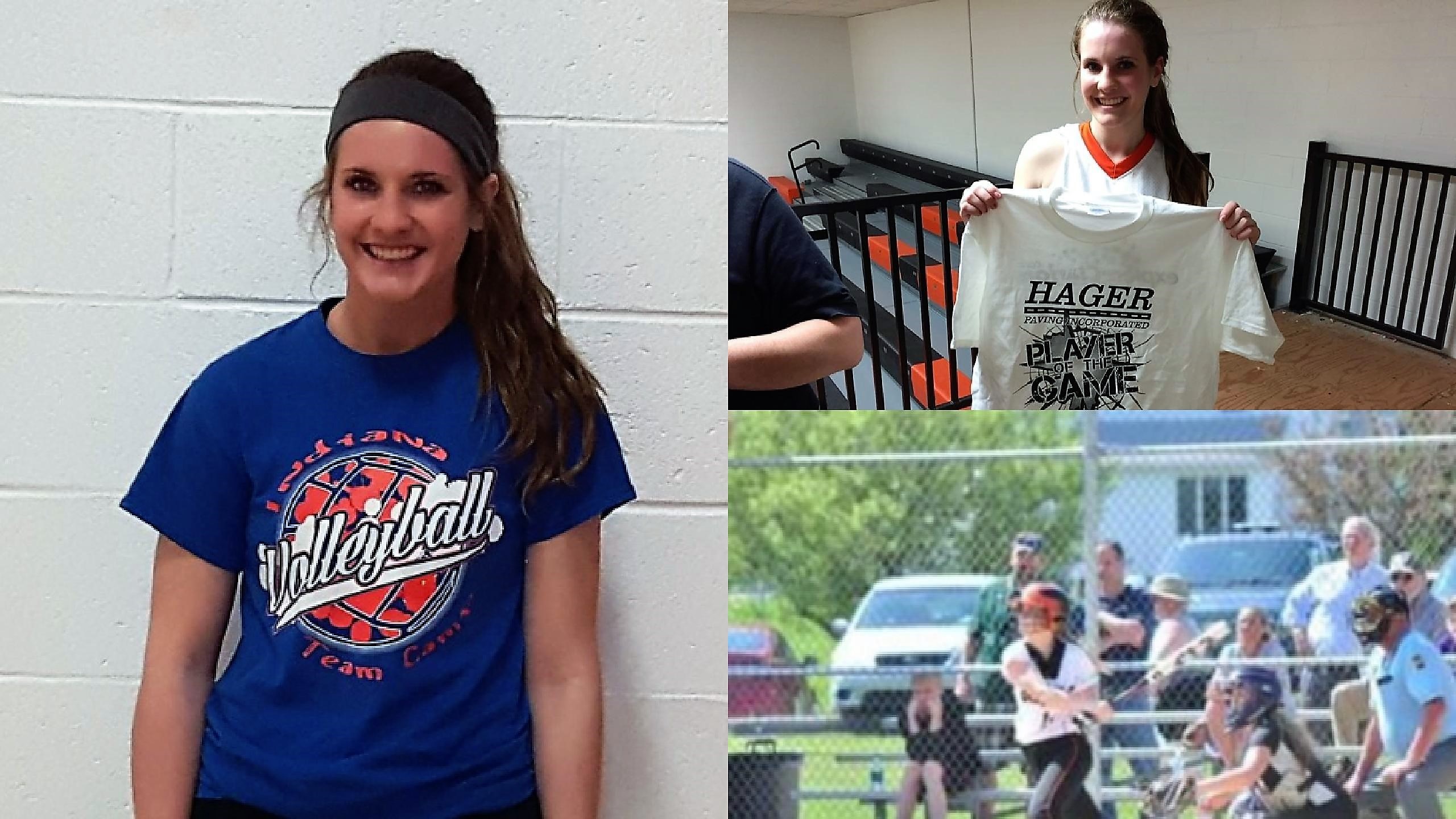 D9Sports.com and EYT Media are doing a series of player profiles on returning high-school athletes this summer. The year in school listed by the athlete is the year the athlete is entering this fall.
ALEXIS CONSTANTINO – SENIOR – CLARION
Daughter of: Dave and Kim Constantino
Sports Played: Volleyball, Basketball, Softball
2016-17 Highlights: A three-sport star for Clarion, Alexis was the starting Libero for the Lady Cats volleyball team that finished fourth in District 9. She also was the leading scorer and the 13th-leading scorer in District 9 for Clarion in basketball averaging 16.2 points per game. In softball, she hit .500 with five doubles, three triples and 17 RBIs while putting together an OPS of 1.252 and stealing six bases. She also pitched in three games picking up a save.
Post High School Goals: She plans on going to college to study ultrasound/sonography, and she is considering playing a sport in college.
Q&A With Alexis Constantino
D9Sports: What is your favorite sport to participate in?
AC: I enjoy all three sports equally.
D9: What is your favorite memory, moment, game from playing high school sports?
AC: One of my favorite memories was when we won the D9 championship (in volleyball) against A-C Valley in five sets (in 2015).
D9: Why do you play high school sports?
AC :For one, I have grown up all my life playing sports and it has just become a part of my life. Also, I enjoy being able to share the love of the game with my friends who love the game as well.
D9: Is there a high school player on your team or another team that you enjoy watching play? If so, why?
AC :My sister Kaitlyn. I enjoy playing with her especially in softball because she is a way better pitcher than me!! Haha
D9: When not playing sports I would rather (pick one) – Go to work, play video games, shop, hang out with friends, play pickup sports, go the movies
AC : I love spending time with my friends, family, and of course Bryan(:
D9: If you could go anywhere in the world, where would it be and why?
AC :Back to the Philippines (where she went on a mission trip in 2016) because I loved being surrounded by people who were thankful for the things that they had even if it wasn't much. Also, their love for one another as they always put others needs before themselves.
D9: Who has had the most influence on you as a person?
AC :My dad because he has not only been my dad but my coach and teacher. He is the reason I am the player and person I am today. He has given up his time to help teach me at a young age the basics of the game and how to always be humble doing it.
D9: What do you like most about growing up in your hometown?
AC :One of the best parts about growing up in Clarion is ALF every year in the fall.
D9: What do you wish you could change about growing up in your hometown?
AC :I wish we had more activities to do around town.
D9: What question do you wish I would have asked you? And what is the answer to it?
AC :Last year you asked me what goals I had for my junior year and what I wanted to accomplish. You could have asked me did you accomplish the goals you set last year for yourself? The answer is yes. I managed to make all conference in all 3 of my sports this year!
D9: Do you or have you had any siblings or other immediate relatives who have played high school sports?
AC :Yes, my sister Kaitlyn is playing beside me in all three sports right now.