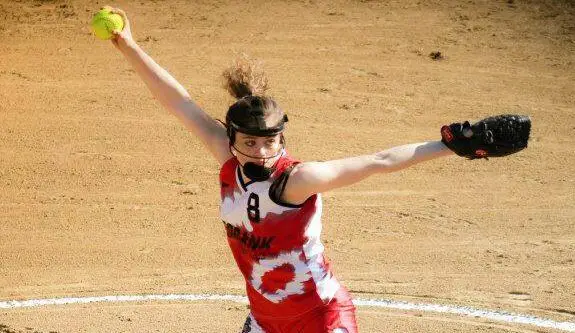 D9Sports.com and EYT Media are doing a series of player profiles on returning high-school athletes this summer. The year in school listed by the athlete is the year the athlete is entering this fall.
ALYSSA BURKETT – Senior – Redbank Valley
Daughter of: Chris and Tonnia Burkett
Sports Played: Softball, Competitive Spirit, Cheerleading
2015-16 Highlights: Helped Redbank Valley to a third-place finish and a spot in the PIAA Championships in the Small Varsity Division of Competitive Spirit. Was the ace pitcher the Lady Bulldogs District 9 Class AA semifinalist team striking out 119 batters in 106 innings while walking just 23.
Post High School Goals: Alyssa plan on going to college to become an elementary school teacher. She would love to play softball and be active in cheer if given the chance.
Q&A With Alyssa Burkett
D9Sports: Do you have a favorite sport, and if so why?
AB: I don't really like one sport better than the other because softball and cheerleading are so different in many ways. I love them both!
D9: What is your best high-school related sports memory and why?
AB: Getting my 100th strikeout of the season against Keystone last year, which was my season goal.
D9: Has there been a coach and/or teacher who has influenced you the most in your high-school career to this point, and if so, why?
AB: John Sayers (Redbank Softball head coach) has worked with me for almost eight years with my pitching. He sets goals for me and pushes me so I can achieve them.
D9: What do you like best about playing sports in high school?
AB: I'm very competitive, and I love the challenges I face with each batter when pitching.
D9: What is the hardest part about playing sports in high school?
AB: Having enough time to have a personal life and spend time with my friends and still dedicate time to my team.
D9: How much offseason work do you put into your sports?
AB: I attend a pitching clinic all winter, and I take tumbling classes for competitive cheer in the fall.
D9: What is your favorite subject in school?
AB: Math has always been my favorite subject.
D9: What do you like to do for fun when you aren't playing sports?
AB: I like to go to dirt track races with my boyfriend. I also like to swim and shop till I drop.
D9: What are your goals for the upcoming school year both sports wise and academically?
AB: My goal in softball is breaking the school strikeout record and going to states in spirit again for the fourth year in a row. I also would like to maintain my 4.0 GPA.